Roblox: DeepWoken - The Loop
Play Sound
For more uses of "Arthur", see Arthur (disambiguation).
King Arthur (アーサー王, Āsā-ō?), also known as the Black Knight (黒の騎士, Kuro no kishi?), is a character that appears in the Sonic the Hedgehog series. He is a being from the world of Camelot and was a magical illusion created by Merlin for the purpose of becoming a benevolent ruler over England. Under the guiding hand of his creator, Arthur achieved his purpose and became a legend. When he obtained the scabbard of Excalibur however, Arthur was corrupted by its power and became an evil tyrant who enslaved his kingdom. His reign came to an end when Sonic the Hedgehog was called into the world of Camelot and slew Arthur.
History
Past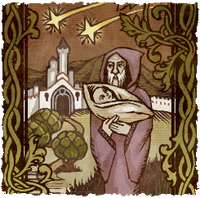 Long ago, King Arthur was created by the wizard Merlin as a illusionary Knight of the Underworld, for the purpose of bringing peace and a just rule to the kingdom as its monarch. Apparently using King Uther Pendragon, and Lady Igraine as surrogate parents, Merlin used his trickery to have this couple conceive Arthur. Against the King's wishes, the newborn Arthur was taken away by Merlin and given to Sir Ector to be raised.[2]
While as a young boy, Arthur came across the sacred sword Caliburn which was embedded in a stone and could only be pulled out by, as Merlin had claimed, the true King of England. Where all others failed, Arthur successfully pulled out Caliburn, making him the ruler of all of England.[3] Over time, Arthur proved himself to be a wise and just king, making him praised by all, and he gathered a powerful group of noble knights under his service, named the Knights of the Round Table. For some time, King Arthur led his kingdom into an era of peace and prosperity.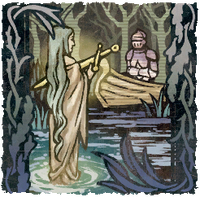 During his youth, Arthur broke his own sword. Guided by Merlin, Arthur went to a lake in the Deep Woods where he found the legendary sword Excalibur. Using a boat, Arthur sailed out into the lake where Nimue bestowed Excalibur and its scabbard to Arthur as he had proven himself worthy to wield them. Using Excalibur, Arthur was able to save his kingdom countless times.[4]
With the scabbard of Excalibur's magic, Arthur became an immortal being. However, the mystical forces of the scabbard and power bewitched and corrupted King Arthur,[5] turning him into a power-hungry tyrant and was renamed the Black Knight. At some point Arthur lost Excalibur when it was corrupted by his evil, but gained a new sword called Deathcalibur. Using his dark magic, Arthur began summoning the Knights of the Underworld to do his bidding and began plunging his kingdom into turbulence and chaos. He nevertheless proved to still have strong relations with the Knights of the Round Table despite his change and they still chose to serve him as well.
Sonic and the Black Knight
At the beginning of Sonic and the Black Knight, Arthur was chasing after the granddaughter of his creator and Royal Wizard, Merlina the Wizard, for unknown reasons. Using Deathcalibur, Arthur summoned the Knights of the Underworld to trap her, but as Arthur approached her, Merlina used her own magic to summon Sonic the Hedgehog to their world. After Sonic dispatched Arthur's minions, Arthur prepared to battle the hedgehog, but Merlina teleported them both away before the battle could begin. Not distraught by his enemies' escape, Arthur met up with Sir Lancelot, Sir Gawain, and Sir Percival and ordered them to seek out Sonic and Merlina and slay them on sight, while he chased after them himself.
After Sonic obtained Caliburn, Arthur finally caught up with Sonic and Merlina and fought Sonic but as Sonic lacked both resources and skills, and as the scabbard of Excalibur had made Arthur immortal, Arthur decided to leave after deeming Sonic "a fool of a knight" who is not worth slaying. Much later, the two of them met a second time at Avalon, when Sonic sought out Arthur to stop him once and for all. Arthur dryly remarked that Sonic had only somewhat improved his impersonation of a knight, but this time he was determined to kill Sonic in a duel.
After a more heated duel, Arthur was knocked off his horse, but told Sonic that he could not win because of his immortality. However, as Arthur called upon the scabbard's power, Sonic used the sacred swords he gained from the Knights of the Round Table to nullify the scabbard's power. Arthur stood up in disbelief of what was happening, and was defeated when Sonic attacked him one last time.
After being bested by Sonic, Arthur faded away, leaving nothing but the scabbard. When Sonic brought the scabbard to Merlina, she revealed that King Arthur was never there, just an illusion created by Merlin, and it was merely part of her plan to acquire the scabbard of Excalibur for her own ends.
After the battle with the Dark Queen, Caliburn revealed that as his status as a legendary sacred sword, his duty is to decide who was fit for the crown, thus making Sonic the one worthy to be King Arthur.
Personality
Prior to his corruption, King Arthur was noted to be a wise, loyal, and just ruler, as well as an honorable knight of great virtues. He also cared greatly for his kingdom and its inhabitants, having willingly saved it on countless occasions.
When he was bewitched by the scabbard of Excalibur, Arthur's personality underwent a drastic change. Corrupted by power, Arthur became an evil and cruel tyrant, perfectly willing to enslave, terrorize, and murder his own people, plunging his kingdom into horror and chaos without showing a hint of remorse.
As the Black Knight, King Arthur was incredibly arrogant. Confident in his own superiority, Arthur viewed those beneath him as weaklings and not worth his time. As a result, Arthur took a very limited interest in the subject he was presented with to the point where he considered whether or not he should participate, and could even withdraw from a battle with opponents he deemed unworthy on a whim.
Battle
King Arthur is fought as the first and fifth boss in Sonic and the Black Knight. He is first fought at the end of Misty Lake and at the beginning of Faraway Avalon.
In other media
Archie Comics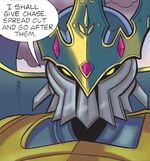 In the Sonic the Hedgehog comic series and its spin-offs, King Arthur appeared in the comics' adaptation of Sonic and the Black Knight. In this media, he is a being from another Zone connected to the reality of the In Another Time, In Another Place reality.
Like in the game, Arthur cornered Merlina who summoned Sonic to help her. After the duo escaped, Arthur had his knights go look for them.
Quotes
"I shall give chase. Spread out and go after them. Slay them on sight."
"Now, let us see the power of your so-called sacred sword."
"Pursue me at your own peril, weakling."
"Bah! A fool of a knight not even worth slaying."
"It seems your impersonation of a knight has improved somewhat."
"Then let us have a another look at that unsightly swordsmanship."
"You shall regret the day you ever raised your sword against me!"
"It appears you are good at only one thing: running away."
"There is no escape!"
"Haaah!"
"I shall blast you into dust!"
"You blue pest! Roar Deathcalibur!" - King Arthur charges his Soul Surge.
"Heh heh heh... I am immortal. You cannot defeat me!"
"How can this be?!" - King Arthur shocked by the power of the Sacred Swords.
"Noooooo!" - When he was defeated by Sonic and Caliburn.
"Very well." - When being selected in Battle Mode.
"I accept." - When being selected in Battle Mode.
"Must I even join this?" - When being selected in Battle Mode.
"Those bring their swords to bear against me will regret it." - When being selected in Battle Mode.
"I will show you my true power!" - When being selected in Battle Mode.
"Time for battle!" - After being accepted as the character being played in Battle Mode.
"You shall regret, challenging me" - Spoken before battle in Battle Mode.
"I shall take you with me to the underworld!" - Arthur in Battle Mode after swinging with remote six times for the first time or something and make combos, but has not defeated yet.
"Your very presence offends the eye." - After Sonic fails a counter attack.
Trivia
A black knight is a stock literary character, typically a villain. It is a knight who has no liege-lord or does not want to be identified and so does not bear any heraldic standards. Several black knights appeared in the tales of King Arthur.
Dragons are a key symbol of King Arthur.[6]
While he is the titular Black Knight, Arthur's armor is actually gold, albeit a very dark gold.
King Arthur's theme song is "Fight the Knight", a song by Crush 40 for the two boss fights Sonic has with him. In the first boss battle against him, the song is instrumental. The song in the second boss battle against him has lyrics.
King Arthur is unlockable in battle mode by collecting the five books detailing the story of King Arthur during regular gameplay.
King Arthur is the only multiplayer character in Sonic and the Black Knight that is not a recurring Sonic character or at least a character who is portrayed as one. He is also the only one who is incapable of jumping as well as the slowest (even though all characters don't run in multiplayer mode).
Sonic's battle with King Arthur at Avalon may have referenced Arthur's end in the Arthurian legends where Arthur is taken after being mortally wounded by his son Mordred.
In the second battle against King Arthur, he never faces Sonic in battle face-to-face since he is always dashing away. He even hypocritically taunts: "It appears you are good at only one thing: running away."
References
---
Main article | Script | Staff | Manuals | Glitches | Beta elements | Gallery
Playable characters
Sonic (Excalibur Sonic) | King Arthur | Blacksmith | Lancelot | Gawain | Percival | Galahad* | Lamorak* | Shadow* | Knuckles* | Blaze* | Amy*
Non-playable characters
Caliburn (Excalibur) | Merlina (Dark Queen) | King Arthur's horse | Nimue | Merlin | King Uther Pendragon | Lady Igraine | Sir Ector | Townsperson | Troll

Areas

Grand Kingdom
Camelot Castle | Shrouded Forest | Knight's Passage | Deep Woods | Dark Hollow
Outlands
Misty Lake | Molten Mine | The Cauldron
Highlands
Titanic Plain | Crystal Cave | Great Megalith | Dragon's Lair
Avalon
Faraway Avalon
Enemies
Crawling-One | Eyeball-One | Fish-One (Red, Blue, Yellow, Purple, White) | Flapper | Giant-One | Soldier-One (Sword, Spear, Axe, Crossbow)
Bosses
Mist Dragon | King Arthur | Lancelot | Gawain | Percival | Earth Dragon | Dark Queen
Moves/
Techniques
Basic
Guard | Homing Dash | Jump Dash | Lock-on
Special
Back Step | Crouch | Grind Step | Grinding | Wall Climb | Wall Shuffle | Wall Slide
Soul Surges
Arthur's Soul Surge | Blacksmith's Soul Surge* | Chaos Punishment | Excalibur Sonic's Soul Surge | Flames of Kilekion | Gail Meteor | Galahad's Soul Surge* | Rose Typhoon* | Sonic's Soul Surge
Gimmicks and obstacles
Bat | Bottomless pits | Breakable Block | Butterfly | Corner Pole | Dash Panel | Explosion Trap | Giant spear | Goal Plate | Grind Rail | Horse-Drawn Wagon | Iron ball | Jump Panel | Log | Minecart | Mushroom | Mystery Circle | Slime | Spikes | Spring | Thunder dragon | Wide spring
Items
Apple | Black onyx | Fairy | Goal Ring | Rich Ring | Ring | Ring Container | Treasure chest | Will 'o Wisps
Treasury
Weapons
Steel Longsword | Cursed Longsword | Rusty Longsword | Bronze Longsword | Katana | Cursed Dagger | Rusty Dagger | Bronze Dagger | Steel Dagger | Cursed Rapier | Rusty Rapier | Bronze Rapier | Steel Rapier | Cursed Spear | Rusty Spear | Bronze Spear | Steel Spear | Cursed Axe | Rusty Axe | Bronze Axe | Steel Axe
Armor
Steel Gauntlet | Cursed Gauntlet | Rusty Gauntlet | Bronze Gauntlet | Cursed Helmet | Rusty Helmet | Bronze Helmet | Steel Helmet | Samurai Helmet
Necklaces
String of Pearls | Mermaid's Tear | Pendant of Eons | Chain Bracelet | Thorn Anklet | Flower Amulet | Wooden Belt | Bright Red Ribbon | Expensive Broach | Rabbit's Tail | Poison Broach | Stone Broach | Ice Broach | Cure-all Broach
Medicines
Healing Potion | Healing Draught | Antidote | Superior Antidote | Paralysis Cure | Paralysis Immunity | Stone Protection | Petrification Immunity | Vial of Calm | Philter of Tranquility | Fiery Quaff | Hot Fiery Quaff | Herb of Toughness | Herb of Strength
Books
Arthur's Legend 1 | Arthur's Legend 2 | Arthur's Legend 3 | Arthur's Legend 4 | Arthur's Legend 5 | Tome of Arms | Tome of Armor | Tome of Medicines | Tome of Amulets | Tome of Games | Tome of Jewels | Tome of Minerals | Tome of Plants | Tome of Feasts | Tome of Rings | Encyclopedia Arcana
Rings
Yellow Ring | Green Ring | Red Ring | Blue Ring | Aqua Ring | White Ring | Purple Ring | Poison Ring | Doughnut | Onion Ring
Plants
Carnation | Violet | Daffodil | Sweetpea | Lily | Rose | Larkspur | Gladiolus | Morning Glory | Marigold | Daisy | Narcissus | Herb
Gem stones
Garnet | Amethyst | Aquamarine | Diamond | Emerald | Moonstone | Ruby | Peridot | Sapphire | Opal | Topaz | Turquoise
Toys
Pawn | Rook | King | Queen | Bishop | Knight | Ace of Spades | Ace of Clubs | Ace of Hearts | Ace of Diamonds | Joker | Medal of Sonic | Medal of Gawain | Medal of Lancelot | Medal of Percival | Dart | Dartboard | Die | Big the Cat Mask | Building Block | Fishing Pole | Doll
Minerals
Stone | Lump of Iron | Lump of Bronze | Aluminum Ore | Skipping Stone | Rock Salt | Beautiful Crystal | Ice Crystal | Lava Jewel | Flintstone | Mintstone | Gold Ingot | Quasi-Magic Stone | Mithril | Hardtack | Burnt Bread | Moonrock | Wavestone | Dragon-Eye Stone | Orichalcum
Foods
Moist Cookie | Tart | Fresh Milk | Spongy Bread | Aromatic Tea | Chilidog | Herb of Calm | Lollipop | Ham
Special items
Flag | Ballista Arrowhead | Raven's Feather | Mouse Tail | Oar | Lantern | Broken Trap | Egg | Cheese | Magical Moth Dust | Plant Thorn | Giant Flower Seed | Troll's Eyelash | Broken Lock | Rabbit Fur | Lizard Tail | Prison Key | Iron Shackle | Highland Mushroom | Silk Clothing | Silk Shoe | Dragon Scale | Dragon Claw | Dragon's Fang | Shovel | Pickaxe | Wheelbarrow | Bat's Fang | Broken Brick | Soft-Boiled Egg | Lithograph | Letter
Swords
Clarent | Arondight | Rubious | Morglay | Gastiga | Secace | Altachiara | Durendal | Aduro Cutlass | Aduro Khopesh | Precieuse | Espadon | Ddraig Goch | Galatine | Battleaxe | Labrys | Hauteclaire | Gringolet | Balmung | Sanglamore | Chrysaor | Almace | Caledfwlch | Flaming Kopis | Flamberge | Laevatein | Corrougue | Colada | Ktuga | Brinnig | Solais Rapier | Claiomh Solais | Fragarach | Curtana | Ignis Fleuret | Glorious | Joyeuse
Misc.
Mastery Star | Music Notes | Map | Knight's Banner | Painting | Emblem Component | Skill Scroll | Knight's Seal | Deadly Swordsman | Windblade | Destroyer | Quickblade | Blade without Equal | Despised One | Chicken | Weakling | Coward | Ruffian
English voice actors
Jason Griffith (Sonic, Shadow, Lancelot, Lamorak) | Casey Robertson (Caliburn) | Melissa Hutchison (Merlina) | Gavin Hammon (Arthur) | Amy Palant (Blacksmith) | Lisa Ortiz (Amy, Nimue) | Dan Green (Gawain, Knuckles) | Bella Hudson (Percival, Blaze) | Pete Capella (Galahad)
Japanese voice actors
Jun'ichi Kanemaru (Sonic) | Hiroaki Hirata (Caliburn) | Mamiko Noto (Merlina) | Hidekatsu Shibata (Arthur) | Ryō Hirohashi (Blacksmith) | Taeko Kawata (Amy, Nimue) | Kouji Yusa (Shadow, Lancelot) | Nobutoshi Canna (Gawain, Knuckles) | Nao Takamori (Percival, Blaze) | Daisuke Ono (Galahad) | Daisuke Kishio (Lamorak)

Music

Songs
"Knight of the Wind" | "With Me" | "Fight the Knight" | "Through the Fire" | "Live Life" | "Seven Rings In Hand"
Albums
Tales of Knighthood: Sonic and the Black Knight Original Soundtrax | Face to Faith: Sonic and the Black Knight Vocal Trax
Other
Acts of Chivalry | Barrier stone | Battle Mode | Cavalier Style | Chaos Blast | Chaos Control | Chaos Spear | Diehard Challenge | Dragon | Drifting | Followers | Freeze | Hit | King Arthur and the Knights of the Round Table | Knight Style | Knight's Honor Bonus | Knights of the Round Table | Knights of the Underworld | Legacy Mission | Paladin Style | Rank | Real-Time Interaction | Reflecting pool | Sacred sword | Scabbard of Excalibur | Skill | Sonic Knight In Training | Sonic and the Black Knight (manga) | Soul Gauge | Soul Gauge energy | Title | Underworld | World of Camelot

"*" Appears exclusively in Battle Mode.