Jump on panel No. 1. It will take you to panels 2 and 3. Jump as soon as you land on the panel, or else you'll fall.

— Tikal, Sonic Adventure
The Jump Panel (ジャンプパネル Janpu paneru?) is a type of gimmick that appear´s in Sonic Adventure, Sonic Rivals 2 and Sonic Generations. They are a sequence of panels the player can jump to in-between in order to proceed through a stage.
DescriptionEdit
The Jump Panels are a bunch of five or more panels that the player can use to reach higher places that are hard to access as a shortcut. When using the Jump Panels, the player have to go to the first panel and then press the jump bottom to be warped at light speed to the second panel, and then to the rest, even if the Jump Panels are set on vertical walls. However, if the player does not press the jump button quickly once warped to the next panel, the playable character will fall off it and the player has to restart.
Game appearencesEdit
Sonic AdventureEdit
Number panels first appeared in Sonic Adventure and later in the remake. In this game, they are five panels numbered in order, and are colored orange, yellow and green (they will turn into black when the playable character is standing in them). They appear in Emerald Coast, Windy Valley, Icecap and Red Mountain.
Sonic Rivals 2Edit
Sonic Generations (3DS)Edit
The number panels reappeared in the Nintendo 3DS version of Sonic Generations, where they only appear in both Acts of Emerald Coast. They have the same design as in Sonic Adventure, but due to the gameplay being in 2.5D, the panels have a numbered sprite with a circle around looking at the camera. Also, when Sonic first touches a Jump Panel or jumps off of it, it releases a rainbow aura.
In order to use a Jump Panel in gameplay, the player must press

.
The idea of jumping between walls was reused in Sonic the Hedgehog (2006) to jump from wall to wall, however the Jump Panels that enable the move did not appear in the game but instead Sonic and Shadow stuck in the wall and jump by pressing the Jump button without using the Jump Panels.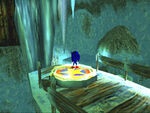 In the prototype images for Sonic Adventure (particularly from the autodemo), the Jump Panel had a Target Switch-like pad that marked the spot where the player would land after using the Jump Panels.
Jump Panels appear in LEGO Dimensions, within the Emerald Coast portion of the Sonic Level Pack and in various places in the Adventure World.
Although the highest number of Jump Panels seen in Sonic Adventure is eight, a fully-functional ninth jump panel was present in the AutoDemo version of Speed Highway, and can still be found in the game's files.
---
Main article | Gallery | Beta elements | Staff | Glitches | Re-releases (DX | 2010) Scripts (Sonic, Tails, Knuckles, Amy, Big, Gamma, Super Sonic)
Playable characters
Sonic (Super Sonic) | Tails | Knuckles | Amy | E-102 Gamma | Big | Metal Sonic*
Non-playable characters
Dr. Eggman | Beta (Mark II) | Chao | Chaos (Chaos 1, Chaos 2, Chaos 4, Chaos 6, Perfect Chaos) | Cream* | Delta | Epsilon | Froggy | Grandma | Mr. Know-It-All | Pachacamac | Tikal | Unnamed Sonic robot* | ZERO | Zeta | Animals (Deer, Elephant, Gorilla, Kangaroo, Koala, Lion, Mole, Parrot, Peacock, Penguin, Rabbit, Seal, Sea Otter, Skunk, Swallow)
Adventure Fields
Egg Carrier | Mystic Ruins | Station Square
Action Stages
Emerald Coast | Windy Valley | Casinopolis | IceCap | Twinkle Park | Speed Highway | Red Mountain | Sky Deck | Lost World | Hot Shelter | Final Egg
Sub Games
Sky Chase | Sand Hill | Hedgehog Hammer | Twinkle Circuit | Boss
Enemies
Beat | Bladed Spinner | Boa-Boa | Buyoon | Cart Kiki | Cop Speeder | Egg Keeper | Electro Spinner | Fighter Aircraft A | Fighter Aircraft B | Gola | Ice Ball | Icecap's unnamed aircraft | Kiki | Leon | mechanical fish | Pirate | Rhinotank | Sky Deck's unnamed jet fighter | Spiky Spinner | Sweeper
Bosses
Chaos 0 | Chaos 2 | Chaos 4 | Chaos 6 | E-101 Beta | E-101 Mark II | E-102 Gamma | E-103 Delta | E-104 Epsilon | E-105 Zeta | Egg Carrier | Egg Hornet | Egg Viper | Egg Walker | Knuckles the Echidna | Perfect Chaos | Sonic the Hedgehog | ZERO
Moves/
Techniques
Playable characters
Bolt of lightning | Climb | Dig | Flight Mode | Glide | Hammer Attack | Hammer Jump | Hover | Homing Attack | Homing Missile Launch | Jump Attack | Laser Gun | Light Speed Attack | Light Speed Dash | Lure Attack | Maximum Heat Knuckles Attack | Pick | Propeller Flight | Punch Attack | Rapid Tails Attack | Spin Dash | Spin Hammer Attack | Spin Jump | Tails Attack
NPCs
Arm Punch | Bomb Attack | Bomb Gun Attack | Charge | Double Punch | Earthquake Attack | Electric Arm | Energy Ball Attack | Flame Thrower Attack | Guiding Missiles | Instantaneous Liquefaction | Laser Beam Attack | Homing Tail Slice | Inhale Attack | Marble Attack | Phantom Shadow Move | Punch | Quarter Attack | Scorpion Attack | Shockwave Attack (Chaos 6) | Sonic Boom | Spin Attack | Spinning Spike Attack | Spouting Attack | Squash Roll Attack | Swing Punch
Gimmicks and obstacles
Bumper | Bumper Car | Cannon | Conveyor Belt | Crank | Dash Panel | Dash Ring | Drum Can | Explosion Trap | Fan | Flipper | Fountain | Goal Balloon | Hanging Bell | Helicopter | Hint Box | Hint Orb | Icicle | Iron ball | Jump Panel (plate) | Jump Panel (ramp) | Laser field | Lit Panel | Mirror | Monkey Detonation Switch | Orca | Power cube | Rocket | Satellite | Slot machine | Spring | Spring Catapult | Switch | Teleporter | Trick Jump Panel | Wide spring | Wind Path | Zip Line
Objects
General
Air Bubble | Capsule | Cart pass | Chao Egg | Chaos Emerald | Doll | Emblem | Emerald Shard | Employee ID Card | Item Box (5 Rings, 10 Rings, Bomb, Extra Life, High-Speed Shoes, Invincibility, Lightning Shield, Random Rings, Shield) | Key Stone (Gold Statue, Ice Stone, Silver Statue, Wind Stone) | Point Marker | Ring | Sandboard | Snowboard | Sonic Token
Level Up Items
Ancient Light | Crystal Ring | Fighting Gloves | Jet Anklet | Jet Booster | Laser Blaster | Life Belt | Light Speed Shoes | Long Hammer | Lure | Power Rod | Rhythm Badge | Shovel Claw | Warrior Feather
English voice actors
Ryan Drummond (Sonic) | Corey Bringas (Tails) | Michael McGaharn (Knuckles) | Deem Bristow (Eggman) | Jennifer Douillard (Amy) | Jon St. John (Big) | Elara Distler (Tikal, Station Square Train Voice, Default Menu Voice) | Steve Broadie (Gamma, Pachacamac, Mystic Ruins Train Voice) | Tomoko Sasaki (Chao)
Japanese voice actors
Jun'ichi Kanemaru (Sonic) | Kazuki Hayashi (Tails) | Nobutoshi Canna (Knuckles) | Chikao Ōtsuka (Eggman) | Taeko Kawata (Amy) | Shun Yashiro (Big) | Kaori Asoh (Tikal) | Jōji Nakata (Gamma) | Tōru Ōkawa (Pachacamac) | Kaho Kōda (Station Square Train Voice) | Nobutoshi Canna (Mystic Ruins Train Voice) | Elara Distler (Default Menu Voice) | Tomoko Sasaki (Chao)
Music
Songs
Believe In Myself | It Doesn't Matter | Lazy Days | My Sweet Passion | Open Your Heart | Unknown from M.E.
Albums
Sonic Adventure Original Sound Track (Digi-Log Conversation) | Sonic Adventure Remix | Sonic Adventure: Songs With Attitude Vocal Mini-Album | Sonic Adventure Original Soundtrack 20th Anniversary Edition | Passion & Pride: Anthems with Attitude from the Sonic Adventure Era
Other
777 Slots Pinball | Angel Island | Auto Running | Black Market | Card & Pinball | Chao Garden (Station Square Garden, Mystic Ruins Garden, Egg Carrier Island) | Chao Stadium | Chao in Space | Chao Machine | Chao Search* | Corkscrew loop | Debug Mode | E-100 Series | Egg Carrier | Egg Carrier 2 | Emerald Radar | Freeze | Life gauge | Mission Mode | Mystic Ruins | Shrine of Knuckles's race | Shuttle loop | Sonic Adventure (LCD) | Station Square | Station Square Police Department | Tails' Lab | Tornado | Tornado 2 | Transporter Machine

*Exclusive to Sonic Adventure DX: Director's Cut.
---
Main article | Gallery | Script (Console/PC, 3DS) | Beta elements | Staff (Console/PC, 3DS) | Glitches
Playable characters
Modern Sonic (Modern Super Sonic) | Classic Sonic (Classic Super Sonic)
Non-playable characters
Dr. Eggman | Time Eater | Tails | Classic Tails | Amy | Knuckles | Shadow | Cream | Cheese | Silver | Blaze | Omochao | Team Chaotix (Espio, Vector, Charmy) | Orbot | Cubot | Animals (Flicky, Picky, Pecky, Cucky)
Wisps
Cyan** | Orange* | Pink* | Red**
Stages
Console/PC*
Green Hill | Chemical Plant | Sky Sanctuary | Speed Highway | City Escape | Seaside Hill | Crisis City | Rooftop Run | Planet Wisp | Casino Night
Nintendo 3DS**
Green Hill | Casino Night | Mushroom Hill | Emerald Coast | Radical Highway | Water Palace | Tropical Resort
Challenge Acts*
Doppelganger Race! | The Buzz Bombers' Revenge! | Knuckles: Horde of Enemies | Swingset Circus | High Speed Challenge | Look Out Below! | Tails: Way Past Fast | Jump Rush | 300% Boost Gauge Challenge | Tails: Toxic Skies | Which Switch is Which? | Aqua Shield Challenge | Invincibility Challenge | One Ring Challenge | Amy: Taking the Leap Together! | Grappling with Grabbers | Underwater Ring Machine | Eggrobo Rush | Aerial Paradise | Ring Time Challenge | Amy: Topsy Turvy | Knuckles: Buried Treasure | 200% Boost Gauge Challenge | Balloon Bonanza | High-Speed Hijinks (Modern) | Cream: Chao Hunt | Hot Pursuit (Classic) | High Speed Challenge 2 | Resisting Arrest | Overdrift | Hot Pursuit (Modern) | Drill Baby Drill | Espio: Master of Camouflage | Lord of the Board | Thunder Shield Challenge | Rouge: The Bombardier | Rite of Spring | Cream: Helping Hand | Dash Ring 1-2-3 (Modern) | Topsy-Turvy | High-Speed Hijinks 2 | Rescue the Animals! | Espio: Way of the Ninja | High-Speed Hijinks (Classic) | Underwater Challenge | Rouge: The Temptress | Trick Island | Surf, Sea, and Sand | Terror From the Deep | Goal Post Juggle | Vector: Through the Storm | Flame Shield Challenge | Ring Time Challenge 2 | Power Stomp Challenge | Switcheroo | Blaze: Piercing the Flames | Four-way Cannon Cavalcade | High-Rise Balloon Climb | Dash Ring 1-2-3 (Classic) | Charmy: Don't Bug Me! | One Ring Challenge 2 | Barrel Ring Bonus | Rooftop Rail Grind | Endless Boost | Vector: Pick Up the Beat | With Your Powers Combined | Goal Post Juggle 2 | Chase After Blaze | Rescue the Animals 2! | Cart Challenge | Charmy: High in the Sky | Action Master | Orange Rocket, Blast Off!
Enemies
Aero-Cannon* | Butterdroid** | Buzz Bomber | Buzzer | Chopper | Cop Speeder* | Crabmeat | Crawl** | Dragonfly** | Flapper** | Egg Chaser* | Egg Diver** | Egg Fighter* | Egg Fighter: Sword* | Egg Launcher (H)* | Egg Launcher (H+V)* | Egg Launcher (V)* | Egg Pawn | Egg Pawn (spear) | Eggrobo* | Giant Chopper* | Gold Beetle** | Grabber* | Gun Beetle* | Gun Hunter | Iblis's Minions (Iblis Biter, Iblis Taker, Iblis Worm)* | Kiki** | Klagen** | Madmole** | Mono Beetle | Moto Bug | Mushmeanie** | Newtron | Rhinotank** | Sandworm* | Spinner | Spiny* | Sprinkler* | Sweeper** | Thunder Spinner
Bosses
Console/PC*
Metal Sonic | Death Egg Robot | Shadow the Hedgehog | Perfect Chaos | Silver the Hedgehog | Egg Dragoon | Time Eater
Nintendo 3DS**
Metal Sonic | Big Arm | Shadow the Hedgehog | Biolizard | Silver the Hedgehog | Egg Emperor | Time Eater
Moves/
Techniques
Playable characters
Air Boost | Bound Jump* | Crouch | Double Jump* | Drift* | Freestyle Tricks* | Grind Step | Grinding | Homing Attack | Hop | Jump Dash | Kick boost | Lightspeed Dash* | Mid-Air Dash* | Quick Step* | Boost | Slide | Skydiving* | Spin Dash | Spin Jump | Stomp | Super Sonic Boost | Super Sonic Missile | Super Sonic Spinning | Wall Jump
NPCs
Chaos Spear | Drill Attack* | Fire Beam* | Heart Effect* | Ice Wave* | Meteor Smash* | Ninja Arts: Camouflage* | Propeller Flying* | Psychic Knife | Restraint Trap | Ring Spark Field | Sun Burst | V. Maximum Overdrive Attack | Warping arm attack | Whirlwind*
Color Powers
Cyan Laser** | Orange Rocket* | Pink Spikes* | Red Burst**
Skills*
Aqua Shield | Flame Shield | Thunder Shield | Twin Spin Attack | Invincible Start | Shield | Power Sneakers | Long Spin Dash | Treasure Scanner | Homing Attack | Hercules Muscles | Breath Holder | Boardmaster | Ring Time | Blast Off | Speed Up | Direct Jump | Power Stomp | Quick Slide | Acceleration | Smasher Bonus | Ring Energy Bonus | Boost Gauge Up | Serial Homing | Auto-Gauge | Gauge Rebooter | Trick Mastery | Endless Boost | Power Brake | Sure-Footed | Safety Net | Last Chance | 10-Second Rings | Athleticism | Time Break | Super Sonic | Sega Genesis Controller
Gimmicks and obstacles
Balloon | Barrel | Big Balloon | Bomb | Bonus Bell* | Bottomless pit | Bumper | Cannon | Cart | Cloud* | Conveyor Belt** | Crusher | Dash Panel | Dash Rail | Dash Ring | Dimensional Bomb | Explosion Trap | Fan | Flipper | Four-way Cannon* | Gear Platform | Gondola* | GUN Military Truck* | Hanging Bell* | Heart bomb* | Helicopter* | High-speed warp tube | Horizontal Bar | Iron ball | Jump Panel (plate) | Jump Panel (ramp) | Kao | Laser field | Meteorite | Movable box | Mushroom** | Pole Elevator | Prism** | Propeller | Propeller Spring | Pulley | Rainbow Ring | Rocket | Route Signal* | Seed Propeller** | Seesaw | Slot machine | Spring | Spring Catapult | Spring Pole | Spike Trap | Spinning Top | Spinning Platform | Spotlight | Switch | Trap Spring | Wall Jump Block | Warp Point | Wide spring | Zip Line
Objects
Air Bubble | Boss Gate | Boss Gate Key* | Buoy | Capsule | Chaos Emerald | Container (Case, Spike Block, Steel Container, Unbreakable Container, Wooden Container) | Crank | Energy Core | Goal Ring | Information Pod* | Item Box (1-Up, Aqua Shield*, Flame Shield*, Invincible, Power Sneakers*, Skateboard*, Super Ring, Thunder Shield) | Medal | Mega Mack* | Musical note* | Red Star Ring* | Ring | Snowboard | Sphere** | Star Post | Stomping Shoes** | Time Bonus | Wisp Capsule
English voice actors
Roger Craig Smith (Sonic) | Mike Pollock (Eggman) | Kate Higgins (Tails) | Travis Willingham (Knuckles) | Cindy Robinson (Amy) | Kirk Thornton (Shadow) | Quinton Flynn (Silver) | Laura Bailey (Omochao, Blaze) | Karen Strassman (Rouge) | Michelle Ruff (Cream) | Keith Silverstein (Vector) | Troy Baker (Espio) | Colleen O'Shaughnessey (Charmy)
Japanese voice actors
Junichi Kanemaru (Sonic) | Chikao Ōtsuka (Eggman) | Ryo Hirohashi (Tails (Modern)) | Takuto Yoshinaga (Tails (Classic)) | Nobutoshi Canna (Knuckles) | Taeko Kawata (Amy) | Koji Yusa (Shadow) | Rumi Ochiai (Rouge) | Daisuke Ono (Silver) | Nao Takamori (Blaze) | Sayaka Aoki (Cream) | Kenta Miyake (Vector) | Yuuki Masuda (Espio) | Youko Teppozuka (Charmy) | Etsuko Kozakura (Omochao)
Music
Songs
Back 2 Back | Escape from the City* | Vengeance is Mine** | You're My Hero
Albums
Blue Blur: Sonic Generations Original Soundtrack | Sonic Generations: 20 Years of Sonic Music | History of the 1st Stage Original Soundtrack Blue Edition | History of the 1st Stage Original Soundtrack White Edition
Other
Sonic's birthday | Boost Gauge | Chao in Space | Collection Room | Combo* | Corkscrew loop | Death Egg Robot* | Egg Dragoon* | Egg Gun | Egg Mobile | Egg Spear | Havok* | Health Gauge** | Lair of the Time Eater | Miles Electric | Orca | Perfect Bonus | Rank | Skill Shop* | Sonic Generations (manga) | Sonic Generations of Skate | Statue Room* | Time Attack | Tornado-1 | Totem Pole | White Space | Winding Tunnel | Wisp Gauge**

*Console/PC version only
**Nintendo 3DS version only