This article is about a subject in the real world.

Information in this article is about real-life people, companies, and objects, and does not relate to the in-universe Sonic series.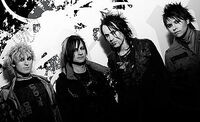 Julien-K is a music group that began as a side project for electronic music created by Amir Derakh and Ryan Shuck from Orgy, with the later addition of Brandon Belsky, Elias Andra, and Anthony 'Fu' Valcic.
Their debut album, Death to Analog, which was mixed by Tim Palmer, was released on March 10, 2009 in the U.S., and later on March 5, 2010 in Europe. The album was initially planned to be released on February 17, 2009, the date the United States switched from analog to digital television.
Julien-K's webpage was launched in the summer of 2003 with initial demo versions of songs "Look at You", "Kick the Bass", "Someday Soon", "Everyone Knows", and "Technical Difficulties", the latter of which was later featured both in the film and on the soundtrack from Michael Bay's 2007 Transformers. Up until 2007, the webpage said "Coming Soon." Since the official webpage launch, the site has been redesigned and updated with a wealth of information, links, photos, and other media.
Julien-K have also lent musical contributions to several video games, including Sonic Heroes ("This Machine"), Shadow the Hedgehog ("Waking Up"), and the official musical score for the 2009 Transformers: Revenge of the Fallen video game.
Band members
Current members
Ryan Shuck – lead vocals, rhythm guitar
Amir Derakh – lead guitar, synth, backing vocals
Anthony 'Fu' Valcic – keyboard, programming, samples
Frank Zummo - Drums
Former members
Brandon Belsky – bass guitar, backing vocals
Elias Andra – drums, percussion
Live Members
Eli James - Drums,Percussion
Trivia
According to an interview with Ryan Shuck, their contribution to Sonic Heroes got the band lots of fans.
Jun Senoue happens to be a fan of a band that Amir Derakh performed in. (The band's called Rough Cutt.)
The late Chester Bennington from Linkin Park performed some songs with Julien-K, such as Kick the Bass.