Raise a Floppa - The Loop
Play Sound
Jet the Hawk (ジェット・ザ・ホーク, Jetto za Hōku?) is a fictional character from the Sonic the Hedgehog series. He is an anthropomorphic hawk and the leader of the current generation of Babylon Rogues. He is known as the "Legendary Wind Master" (伝説の風使い, Densetsu no kaze tsukai?) due to his mastery of Extreme Gear riding, which has earned him an impressive reputation.[3]
Cocky and brash, Jet is very arrogant, prideful, and always seeks riches and fortunes. While also the Babylon Rogues' leader, Jet rarely takes his responsibilities seriously, though he knows how to assert his authority. For all his shady characteristics though, Jet is an honorable Extreme Gear rider.
Since losing to Sonic the Hedgehog in Extreme Gear, Jet has kept an intense rivalry with the hedgehog. Ever competitive, Jet has made it his foremost goal to best Sonic in speed and claim his title as the fastest thing in the universe.
Concept and creation
According to Sonic Riders game designer Takashi Yuda, Jet, Wave and Storm were conceptualized by Sonic Team to be "air pirates" that would become Sonic's rivals.[4]
Appearance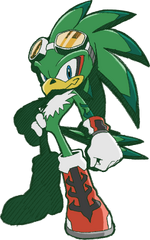 Jet is an anthropomorphic hawk with emerald green and dark emerald green feathers covering his body and white feathers on his front torso. On his arms near his wrists are dark emerald green fire-like markings. He has a golden beak and azure blue eyes with red and black markings on the sides. His hair is styled like a mohawk with dark emerald green tips. He also has three tail feathers with dark emerald green tips.
For attire, Jet wears a pair of white gloves that possess visible lining with red and black cuffs and dark gray bands around each wrist. He also wears red, black and white boots with gray soles, and goggles with yellow lenses, white frames and gray straps.
Personality
Jet is highly arrogant, confident, conceited and holds high standards. He has a massive ego, considering himself the fastest, and holds everyone else in low regard, often bragging about his skills. While he is willing to praise others, he usually makes his compliments short and follows up with an insult. Over time, Jet has matured slightly and become more of a sport as he gave Shadow and Rouge genuine compliments on their skills.
Jet is usually very rude and disrespectful, and has a snide sense of humor. He enjoys insulting others and rubbing his victory or other's losses in their faces. Even when dealing with his own teammates, Jet cites both Storm and Wave with insults and ignores them. Also, when listening to Wave's long-winded talks, he either tells her to shorten her information down and put them in simple terms, or ignores her completely.
Jet is extremely prideful and protective of his reputation, not wanting to look bad. He is also a sore loser and refuses the pity of others as he considers it a direct insult to his character. Regardless, he stands by his losses, even if it was because of unexpected events, and will work hard to overcome them. He also despises those who are faster or more confident than him.
Mostly, Jet is laid-back and nonchalant, though he chooses not to show this to people he does not explicitly know, as he is too prideful to show his less-likable traits. While he knows his duties as leader of the Babylon Rogues, he does not takes his responsibilities very seriously and remains unconcerned in the face of issues. However, he knows when to assert his authority. As a team leader, Jet is strict, has little tolerance for failure and dislikes showing any sign of weakness to anyone.[5] Over time, Jet has become a better leader and leads his team with a better attitude.
Jet is shown to have a very short temper, throwing a fit when a portrait fell on top of him and even twitching with build-up anger. While Jet has become more level-headed in some fields, such as ignoring Wave and Storm's frequent arguments, he is still prone to make angry outbursts at times.
Jet has a defined love for money and treasure, which he likes the most besides himself. His primary motivation in life is to acquire as much wealth as possible, even having daydreams of stacks of gold, and if it turns out there is no profit to be gained from a heist, Jet quickly loses all interest in the matter. When it comes to acquiring wealth, Jet is very greedy and selfish, given that when he went after Eggman to get the Key to Babylon Garden back, it was because he wanted the Treasure of Babylon, rather than stopping Eggman from using it to conquer the world.
Jet enjoys Extreme Gear racing as well as any activity that requires extreme stamina and skill, and takes enormous pride in winning. While extremely competitive and only wanting victory, Jet opposes cheating and strives to win fairly. If he cannot win using his own skills, his victory is meaningless to him, and he will actively seek a rematch to achieve absolute victory. While he may not always show good sportsmanship, Jet enjoys racing worthy opponents and can be content with whatever the outcome may be after a good race.
Powers and abilities
Jet possesses well-above physical abilities. Like many other characters in the series, he is able to move around at super speeds on foot, enough to reach velocities well above 100 "Speed".[6] He also has very high physical strength in at least his legs, enough to knock away an entire desk with a single kick.[7] Jet possesses as well above average acrobatic skills and agility, enough to reach impressive heights when jumping,[8] leap through treetops with ease,[9] and perform advanced tricks and movements while in mid-air. He also has noticeable combat skills, as he could take down a couple of MeteorTech security robots by himself in midair using various maneuvers and kicks.[10] However, he excels at attacking with warfans.[1]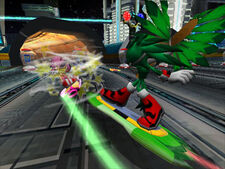 Above all else, Jet is a master on an Extreme Gear,[2] being considered the most technically gifted Extreme Gear rider in all of history.[1][5] Furthermore, his mastery of Extreme Gear are so impressive that he is revered far and wide as the "Legendary Wind Master",[11][3] which has not only earned him an impressive reputation,[3] but also signifies the immense level of skills he possesses. He is likewise very knowledgeable in the field of Extreme Gear riding, namely by knowing the secrets to become the fastest at Extreme Gear.[12] On an Extreme Gear, Jet claims he has enough skills to outclass even Sonic's running speed.[13] He can as well perform amazing fast and complex tricks and body movements with his Extreme Gear while in midair, balance and grind perfectly on Grind Rails, create currents that can blow opponents away,[14] and engage in combat with other Extreme Gear riders without losing control over his Extreme Gear. In addition, Jet has the ability to accurately read the wind streams,[5] allowing him to ride his Extreme Gear to the fullest.
Physical abilities and Extreme Gears skills aside, Jet is a talented and professional thief.[3] Having pulled off successful heists and escaped capture from the authorities,[14] Jet is a seasoned thief and talented with sleight of hand.[15]
Besides Extreme Gear, Jet likewise has good piloting skills, being able to pilot the Babylon Rogues' ship on his own.[16] Funny enough, he also has a talent for sneezing,[1] which he uses to distract his opponents by sneezing at them.
Equipment
Jet's choice of equipment is his Type-J. The Type-J is a Board type Extreme Gear, especially made for Jet by Wave for high speed. Over time, the Type-J has been redesigned to be so full of quirks so that only Jet can master it.[17][18]
Jet also wields a pair of large fans called the Bashōsens which he uses with great proficiency. With one fan, Jet can release powerful wind currents to blow opponents off course and disorientate them. He can also use both fans in melee combat, either smacking his opponents or spinning then around to knock away anyone that gets too close to him.[6]
Relationships
Babylon Rogues
Storm the Albatross
Since Jet is the leader of the Babylon Rogues, Storm the Albatross does not call Jet by name but rather "Boss", and does whatever he can to please Jet. Jet does not seem to consider Storm a close friend, usually acting like a leader and giving him missions.
Wave the Swallow
Jet is also Wave the Swallow's boss. Unlike Storm, Wave does not bother calling Jet "Boss", she simply calls him by his name. However, in Japanese, she refers to him with the honorific "-sama", indicating a degree of respect. She is the creator of Jet's Extreme Gear, Type-J. She also helps Jet by using her intelligence, but Jet sometimes seems to be bothered by her "long and boring speeches".
Sonic the Hedgehog
Jet and Sonic the Hedgehog have been rivals ever since they met. At first, when Jet was better than Sonic in Extreme Gear riding, Jet used to make fun of Sonic. In the last course in the World Grand Prix, Jet was surprised that he was actually losing against Sonic, so he (albeit unknowingly, due to Wave's deception) cheated, which allowed him to win. At the end of Sonic Riders, the two had a more friendly relationship bordering on friendship and promised each other to compete once again. In addition, although Jet desires to beat Sonic in racing, he does not wish to use unfair tactics to win against him, as he told Wave to not sabotage Sonic's Extreme Gear, and later told Wave off when he learned about the actual reason behind his win was indeed due to Wave sabotaging Sonic's Extreme Gear. Wave told Jet that it was time to split up and everyone hopped onto their Gears to go home. In Sonic Riders: Zero Gravity, they met again and had a race, but it ended up as a draw. Sonic said at the end of the game that he would compete with Jet again in the World Grand Prix. However, in the final ending, when Sonic was in the car, Jet called his name and went after him asking for one last race. Sonic accepts it and the two compete against each other. It is unknown which one of them won the race as the credits of the game start.
In Mario & Sonic at the Rio 2016 Olympic Games, Jet and Sonic have a special team animation, in which Jet does several leaps in the air while Sonic is waving to the audience. Sonic turns to Jet's direction and retracts just as the latter swipes out his hand as he finishes his movements, making Jet smirk while Sonic looks exasperated.
Friends
Neutral
Rivals
Enemies
References
---
Main article | Scripts (Heroes, Babylon) | Staff | Beta elements | Gallery
Playable characters
Sonic (Super Sonic) | Tails | Knuckles | Amy | Jet | Wave | Storm | Dr. Eggman | Cream | Rouge | Shadow | E-10000G | E-10000R | AiAi | NiGHTS | Ulala
Non-playable characters
Babylon Guardian | Jet's father | Omochao | Stolen
Courses
Heroes
Metal City | Splash Canyon | Egg Factory | Green Cave | Sand Ruins | Babylon Garden
Babylon
Night Chase | Red Canyon | Ice Factory | White Cave | Dark Desert | Sky Road | Babylon Guardian
Other
Digital Dimension | Sega Carnival | Sega Illusion
Survival
Dual Towers | Snow Valley | Space Theater
Moves/Techniques
Air Boost | Air Riding | Air Slide | Attacks | Grinding | Super Sonic Boost | Tornado | Trick Action
Gimmicks and obstacles
Accelerator | Air Pit | Automatic Trail | Barricade | Bomb | Car | Catapult | Dash Panel | Grind Rail | Trick Zone | Turbulence
Items
Air | Item Box (Air, Explosion, High Speed, Invincible Barrier, Magnetic Barrier, Rings, Speed Down, Question Item) | Ring
Extreme Gear
Accelerator | Access | Advantage-F | Advantage-P | Advantage-S | Air Broom | Air Tank | Auto-Slider | BANANA | Beginner | Berserker | Blue Star | Blue Star II | Cannonball | Channel5 | Chaos Emerald | Cover-F | Cover-P | Cover-S | Darkness | Destroyer | E-gearG | E-gearR | E-Rider | Faster | Fastest | Gambler | Grinder | Hang-On | Heavy Bike | High Booster | Hovercraft | Legend | Light Board | Magic Carpet | Night Sky | Omnipotence | Opa Opa | Pink Rose | Power Gear | Powerful Gear | Red Rock | Rengoku | Slide Booster | Smile | Speed Balancer | Super Hang-On | Temptation | The Crazy | Trap Gear | Turbo Star | Type-J | Type-S | Type-W | Yellow Tail
English voice actors
Jason Griffith (Sonic, Jet) | Amy Palant (Tails) | Dan Green (Knuckles, Storm) | Bella Hudson (Wave, Babylon Computer) | Lisa Ortiz (Amy) | Mike Pollock (Eggman) | Kathleen Delaney (Rouge) | Rebecca Honig (Cream) | Maddie Blaustein (E-10000G, E-10000R, Babylon Guardian) | Liza Jacqueline (Omochao) | Kaoru Morota (AiAi) | Apollo Smile (Ulala)
Japanese voice actors
Jun'ichi Kanemaru (Sonic) | Ryō Hirohashi (Tails) | Nobutoshi Canna (Knuckles) | Daisuke Kishio (Jet) | Chie Nakamura (Wave, Babylon Computer) | Kenji Nomura (Storm, Babylon Guardian) | Taeko Kawata (Amy) | Etsuko Kozakura (Omochao) | Kaoru Morota (AiAi) | Apollo Smile (Ulala)

Music

Songs
"Catch Me If You Can" | "Sonic Speed Riders"
Albums
Speedbeats Grand Prix: Sonic Riders Original Soundtrack
Other
Air Tank | Babylon Garden | Babylon Rogues' ship | Babylonians | Bashōsen | Chaos Control | Chaos Emerald | Eggman Empire | Emerald Detector | EX World Grand Prix | Flight Type | Freeze | Key to Babylon Garden | Loop | Mission Mode | Power Type | Rank | Robotnik Corp. | Shop | Speed Type | Time Attack
---
Main article | Scripts (Heroes, Babylon) | Staff | Glitches | Beta elements | Gallery
Playable characters
Sonic (Super Sonic) | Tails | Knuckles | Amy | Jet | Wave | Storm | Dr. Eggman | Cream | Rouge | Shadow | Silver | Blaze | SCR-GP | Amigo | NiGHTS | Billy Hatcher | SCR-HD
Non-playable characters
Master Core: ABIS
Courses/Fields
Heroes
Megalo Station | Botanical Kingdom | MeteorTech Premises | Aquatic Capital | Gigan Rocks | Crimson Crater | Astral Babylon | '80s Boulevard
Babylon
Gigan Device | Nightside Rush | Snowy Kingdom | MeteorTech Sparkworks | Tempest Waterway | Security Corridor | Mobius Strip | '90s Boulevard
Survival Battle
Gravity Pit | Labyrinth | Square Quartet
Survival Ball
MeteorTech Arsenal | Botanical Cave | Megalo Junction
Moves and techniques
Air Ride | Attacks | Gravity Control | Gravity Dive | Grinding | Meteor Burst | Slide Turn | Super Sonic Boost | Trick
Gimmicks and obstacles
Barricade | Car | Catapult | Crusher | Dash Panel | Dash Ring | Grind Rail | Trick Zone | Wall Route | Wide spring

Items

General
Gravity Ring | Item Box (Attack, Colorball, Explosion, GP Boost, High Speed, Magnetic Barrier,

Missile

, Parts Lock, Rings, Shield, Speed Down) | Ring | Time item
Gear Parts
Air Ride | Angel/Devil | Attack Time UP | Auto Wall-Run | Base Stats UP | BGM Change | Bike | Durability UP | GC Boost UP | Ghost | GP Gain UP | GP Gauge UP | GP Usage UP | Grind | Item Rank +1 | Magnetic Barrier | Max Speed UP | Parts Lock | Ring Cap UP | Starting Speed UP | Status Trap | Tank | Throttle | Trick Rank +1 | Vision Trap | Wheel | Yacht
Extreme Gear
Board
Airship | Beginner | Black Shot | Blue Star | Chaos Emerald | Faster | Fastest | Flame Lance | Gambler | GC Booster | GC Master | GP Accumulator | G Shot | Hyperdrive | Legend | Light Board | Mag | Night Sky | Omnitempus | Pink Rose | Power Egg | Psychic Wave | Rainbow | Red Rock | Rhythm Machine | Road Star | Skill Booster | Shooting Star | Smile | Temptation | The Crazy | Throttle | Turbo Star | Type-J | Type-S | Type-W | Untouchable | Wheel Custom | Wind Star | Yellow Tail
Skate
Advantage S | Cover S | Rail Linker | Shinobi | Wanted
Bike
Advantage P | Cover P | E-Rider | Hang-On | Master Off-Road | Reserve Tank
Air Ride
Advantage F | Cover F | Angel • Devil | Kunoichi
Yacht
Bingo Star | Magic Broom | Wind Catcher
Wheel
Big Bang | GP Tank | Money Crisis
Music
Songs
"Catch Me If You Can" | "Un-Gravitify"
Albums
Zero Gravity Tracks: Sonic Riders Shooting Star Story Original Soundtrack
English voice actors
Jason Griffith (Sonic, Jet, Shadow) | Amy Palant (Tails) | Dan Green (Knuckles, Storm) | Bella Hudson (Wave, Mother computer) | Lisa Ortiz (Amy) | Mike Pollock (Dr. Eggman) | Kathleen Delaney (Rouge) | Pete Capella (Silver) | Rebecca Honig (Cream) | Andrew Paull (SCR-HD, SCR-GP, Master Core: ABIS)
Japanese voice actors
Jun'ichi Kanemaru (Sonic) | Ryō Hirohashi (Tails) | Nobutoshi Canna (Knuckles) | Daisuke Kishio (Jet) | Chie Nakamura (Wave, Mother computer) | Kenji Nomura (Storm, SCR-HD, SCR-GP, Master Core: ABIS) | Taeko Kawata (Amy) | Kōji Yusa (Shadow) | Rumi Ochiai (Rouge) | Daisuke Ono (Silver) | Nao Takamori (Blaze)
Other
Ark of the Cosmos | Babylon Garden | Babylon Rogues' ship | Babylonians | Bashōsen | Black Market | Crimson Tower | Eggman Empire | Gravity Band | Gravity Point | Havok | Loop | Monopole | Mother computer | Slipstream | Rank | Time Attack | World Grand Prix
---
Main article | Scripts (Introduction, Team Heroes, Team Babylon, Team Dark, Team Rose, Final Race) | Staff | Gallery
Playable
characters
Team Heroes
Sonic (Super Sonic) | Tails | Knuckles
Team Babylon
Jet | Wave | Storm
Team Dark
Shadow | Rouge | E-10000B
Team Rose
Amy | Cream | Vector
Misc.
Blaze | Dr. Eggman | E-10000G | Silver | Metal Sonic | Xbox Live Avatar
Non-playable characters
E-10000 A | E-10000 C | E-10000 N | E-10000 O | E-10000 S | E-10000 P | E-10000 Y | Omochao
Courses
Dolphin Resort | Rocky Ridge | Frozen Forest | Metropolis Speedway | Magma Rift | Forgotten Tomb | Final Factory | Metal City
Moves/Techniques
Air Ride | Attacks | Grinding | Kick Dash | Super Sonic Boost | Trick Action
Gimmicks and obstacles
Barricade | Bobsled | Car | Catapult | Dash Ring | Grind Rail | Minecart

Items

General
Air | Item Box (Air, Bowling Strike, Free Throw, Octo-Boost, Octo-Ink, Question, Ring Can, Rings, Special Item, Soda Rocket, Target Torpedo, Tee Shot) | Ring
Gear Parts
Air Plus | Air Ride Skill | Air Saver | Big Air | Cornering UP | Durability UP | Extra Air | Grind Skill | Invisible | Item Lock: Air | Item Lock: Rings | Max Speed UP | Music Change 1 | Music Change 2 | Power Skill | Rapid Dash | Rapid Stream | Ring Eater | Start Speed UP | Trick Boost
Extreme Gears
Angel • Devil | Auto-Slider | Avatar-F | Avatar-M | Beginner | Black Shot | Blue Star | Chaos Emeralds | E-Gear | E-Rider | Explosion | Fastest | Flame Lance | Fortress | Gambler | Hang-On | Hard-Boiled | High Booster | Legend | Metal Star | Omnitempus | Pink Rose | Potential | Professional | Psychic Wave | Red Rock | Reserve Tank | Smile | Steel | Super Hang-On | Temptation | The Crazy | Turbo Star | Type-J | Type-S | Type-W | Wanted | Yellow Tail
English voice actors
Roger Craig Smith (Sonic) | Mike Pollock (Eggman) | Kate Higgins (Tails, Wave) | Travis Willingham (Knuckles, Storm) | Mike Mycheck (Jet) | Kirk Thornton (Shadow) | Karen Strassman (Rouge) | Wally Wingert (E-10000B, E-10000G) | Cindy Robinson (Amy) | Michelle Ruff (Cream) | Keith Silverstein (Vector) | Quinton Flynn (Silver) | Laura Bailey (Blaze, Omochao)
Japanese voice actors
Jun'ichi Kanemaru (Sonic) | Ryō Hirohashi (Tails) | Nobutoshi Canna (Knuckles) | Daisuke Kishio (Jet) | Chie Nakamura (Wave) | Kenji Nomura (Storm) | Kōji Yusa (Shadow) | Rumi Ochiai (Rouge) | Taeko Kawata (Amy) | Sayaka Aoki (Cream) | Etsuko Kozakura (Omochao) | Kenta Miyake (Vector) | Daisuke Ono (Silver) | Nao Takamori (Blaze)

Music

Songs
"Free" | "Theme of Dolphin Resort" | "Theme of Rocky Ridge" | "Theme of Metropolis Speedway"
Albums
Break Free: Sonic Free Riders Original Soundtrack

Other

Air Gauge | Relay Race | Rank | Time Attack | World Grand Prix