The Jet Mobile (ジェットモービル, Jettomōbiru?) is a vehicle from the Sonic the Hedgehog series. It is a blue vehicle that can change the stations created by Dr. Robotnik during the second part of the Angel Island incident.
Description
Appearance
The Jet Mobile is a half pear shaped blue shell with the Egg Mobile exposed. This "shell" contains a gold bezel, a small tube on the back of what appears to be bronze, and a blue antenna (slightly lighter than the shell). Under the Egg Mobile, there are two medium thrusters connected to this shell.
Features and abilities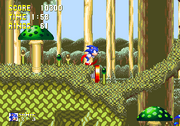 The main feature of the Jet Mobile is that its antenna can change the seasons of its beam target. The shell it contains is shown to be very tough, as it can withstand the spiked balls it hits.
Weaknesses
The Jet Mobile contains a weakness: it has the Egg Mobile exposed. By hitting this many times, the Jet Mobile becomes uncontrollable due to the errors that its controls receives. Its antenna is very vulnerable too, since with a simple Spin Attack it can be destroyed and reverse all the changes it made. Also, its rays are harmless, and the change in seasons does not appear to affect the weather, as when the Mushroom Hill Zone was switched to winter (noted by white grass), it lacked snow or some snowfall.
History
Sonic the Hedgehog 3 & Knuckles
In Sonic & Knuckles, and its lock-on version Sonic the Hedgehog 3 & Knuckles, Dr. Robotnik built the Jet Mobile when he realised that Sonic the Hedgehog and Miles "Tails" Prower were still meddling in his plans in the Mushroom Hill Zone after the Death Egg collapsed. However, this one did not last long in battle and ended up colliding into a large tree/mushroom due to a block of controls.
Much time later, the infamous Eggrobo drove a newly built Jet Mobile to dispose of Knuckles the Echidna in Mushroom Hill Zone. Like before, however, this one was hit in a tree/mushroom after its controls got blocked, and destroyed in the process.
Battle
The Jet Mobile is the boss in Mushroom Hill Zone Act 2 in Sonic & Knuckles and Sonic the Hedgehog 3 & Knuckles. It is the second and the fifteenth boss respectively in general. In Sonic & Knuckles, it is confronted either by Sonic or Knuckles in their respective stories, and in Sonic the Hedgehog 3 & Knuckles, it can also be confronted by Tails on his own or as Sonic's partner.
Boss guide
The boss first starts with the lightning-shooting antenna that changes the seasons. It can be destroyed with a Spin Attack without problems. After destroying it, Dr. Robotnik/Eggrobo shows up on the Jet Mobile, and the battle begins.
This boss is more like a minigame than a battle. Players run nonstop while chasing the Jet Mobile. They can also press the right button to gain speed. In the chase, small groups of spiked balls will appear between logs, requiring to jump at the right time, or just do nothing. The Jet Mobile will constantly go to the left and right. By getting close enough, the player can jump and hit the exposed Egg Mobile. This requires care since its thrusters are deadly to the player's health. After hitting it, the playable character will go to the left side of the area, forcing them to keep running, catch up to the Jet Mobile and hit him again.
Eight hits are required to conclude the battle. By giving those eight hits, the Jet Mobile will collide with a tree/mushroom, and the player will be able to proceed to the Capsule and then end the Zone.
Trivia
A glitch sometimes occurs during Knuckles' story, causing Robotnik to be the pilot of the machine instead of the Eggrobo.
The satellite whose destruction restores the state of Mushroom Hill Zone is likely the same environment-changing device mentioned in the Japanese manual of Sonic the Hedgehog 3.
Oddly, whenever the Jet Mobile is damaged, the spiked ball hurtles are also seen taking damage- meaning that they also flash when the Jet Mobile itself is hit.
---
Main articles (Sonic 3, Sonic & Knuckles, Sonic 3 & Knuckles, Sonic & Knuckles Collection) | Staff (Sonic 3, Sonic & Knuckles, Sonic & Knuckles Collection) | Manuals (Sonic 3, Sonic & Knuckles) | Glitches (Sonic 3, Sonic 3 & Knuckles, Sonic & Knuckles Collection) | Beta elements (Sonic 3, Sonic & Knuckles, Sonic 3 & Knuckles) | Galleries (Sonic 3, Sonic & Knuckles, Sonic & Knuckles Collection)
Characters
Sonic (Super Sonic, Hyper Sonic) | Tails (Super Tails) | Knuckles (Super Knuckles, Hyper Knuckles) | Dr. Robotnik | Mecha Sonic (Mecha Sonic's Super State) | Animals (Flicky (Flicky's Super State), Pocky, Pecky, Cucky, Ricky, Rocky)
Badniks
Batbot | Blaster | Blastoid (Carnival Night Zone) | Blastoid (Hydrocity Zone) | Bloominator | Bubbles | Bugernaut | Butterdroid | Catakiller, Jr. | Chainspike | Clamer | Cluckoid | Corkey | Dragonfly | EggRobo | Fireworm | Flybot767 | Hyudoro | Iwamodoki | Jawz | Madmole | Mantis | Mega Chopper | Monkey Dude | Mushmeanie | Orbinaut | Penguinator | Pointdexter | RhinoBot | Ribot | Rock'n | Sandworm | Skorp | Snale Blaster | Spikebonker | Spiker | Star Pointer | Technosqueek | Toxomister | Turbo Spiker
Zones
Sonic 3
Angel Island Zone | Hydrocity Zone | Marble Garden Zone | Carnival Night Zone | IceCap Zone | Launch Base Zone | Special Stages | Bonus Stages
Sonic & Knuckles
Mushroom Hill Zone | Flying Battery Zone | Sandopolis Zone | Lava Reef Zone | Hidden Palace Zone | Sky Sanctuary Zone | Death Egg Zone | The Doomsday Zone | Special Stages | Bonus Stages
Competition
Azure Lake Zone | Balloon Park Zone | Chrome Gadget Zone | Desert Palace Zone | Endless Mine Zone
Bosses
Sub-bosses
Doctor Robotnik's Flame Craft | Doctor Robotnik's Whirlpool Machine | Tunnelbot | Self D-Struct Machine | Iceball | Swing'm Spikez | Hei Hou | Gapsule | Barrier Eggman | Guardian | Heat Arms | Egg Mobile-H | Flying Eggman | Red Eye | Death Ball
Zone bosses
Doctor Robotnik's Flame Craft | Doctor Robotnik's Waterspout and Depth Charge Machine | Doctor Robotnik's Jet Drill Pod | Doctor Robotnik's Energy Ship | Doctor Robotnik's Freeze-O-Matic | Ball Shooter | Beam Rocket | Big Arm | Jet Mobile | Hang Mobile | Egg Golem | Hot Mobile | Knuckles | Mecha Sonic | Mecha Sonic's Super State | Great Eggman Robo | The Doomsday Zone
Moves/Techniques
Bound Jump | Crouch | Double Jump | Fireball Spin Dash | Glide | Gliding Knuckles Attack | Hyper Flash | Insta-Shield | Propeller Flying | Spin Jump | Spin Dash | Spin Attack | Wall Climb
Items
Air Bubble | Balloon | Banana | Bomb | Booster | Bumper | Bumper wall | Cannon | Capsule | Change | Chaos Emerald | Cloud | Continue | Fan | Jump Stand | Monitor (Water Shield, Flame Shield, Invincibility, Lightning Shield, Super Ring, Super Shoes, Extra Life, S, Eggman) | Movable box | Mushroom | Pulley | Ring | Signpost | Self-Propelled Bomb | Slow-Down Shoes | Snowboard | Sphere | Spikes | Spring | Spinning Top | Star Post (Star Circle) | Super Emerald | Switch | Transport | Vine | Zip Line
Other
Angel Island | Barrel | Blue Knuckles | Conveyor Belt | Corkscrew loop | Crusher | Death Egg | Debug Mode | Fireball Cannon | Flipper | Flywheel | Freeze | Giant spear | Goal | Gravity Control Switch | Gumball | High-speed elevator | High-speed warp tube | Icicle | Iron ball | Jewel Radar | Perfect Bonus | Platform-raising Wheel | Pole Elevator | Relief | Reverse | Ring Shooter | Rock Drill | Seesaw | Shuttle loop | Slot machine | Snowblower | Sonic & Knuckles • Sonic the Hedgehog 3 | Strange Relief | Time Attack | Tornado | Warp Point | Winding Tunnel | Wonderman
Community content is available under
CC-BY-SA
unless otherwise noted.