This article is about a subject in the real world.

Information in this article is about real-life people, companies, and objects, and does not relate to the in-universe Sonic series.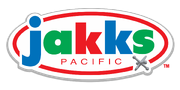 Jakks Pacific, Inc. is an American toy company founded in 1995. Jakks designs and markets a range of products including figures, electronics, role-play, and plush, and has been a licensee of many well known trademarks such as Disney and Nintendo. In 2019, it was announced that Sega of America had started a deal with Jakks to produce toys for the Sonic the Hedgehog series.[1]
History

On February 13th, 2019, it was revealed that Jakks would be making Sonic toys and the product line would be revealed at New York Toy Fair 2019 from February 16th-19th. An image accompanied the announcement of four bendy Sonic figures, Sonic, Tails, Knuckles, and Shadow.
The toys shown at Toy Fair included Classic-style plushies of Sonic, Tails, Knuckles, and Dr. Eggman, the bendable figures and smaller disk figures of sprites from Sonic Battle, and a pinball set. The set was based on a Green Hill Zone Shuttle loop and it was functional with Super Monkey Ball-like sphere figures of Classic Sonic, Tails, Knuckles, Metal Sonic, Mighty and Ray.[2] This would be the first time figurines would be made of Mighty and Ray.
At San Diego Comic-Con 2019, Jakks Pacific held a panel and showcased their upcoming products.[3] New Sonic the Hedgehog products included figures and plushes. The new figures shown were part of the second wave of bendy figures and inclued Super Sonic, Metal Sonic, Dr. Eggman and a variant of Sonic, all with a release date of spring 2020. Like the first wave, each figure was shown to come with a disk figure which used a sprite from Sonic Battle. These included Shadow, E-102 Gamma, a running version of Sonic, and a flying version of Tails. There was also a GameStop exclusive Sonic in a Green Hill Zone shuttle loop spinning package with a release date of fall 2019. A lineup of booster spheres for the pinball set were shown, now with a release date of fall 2019. A second wave of Classic plushes was shown which consisted of Super Sonic, Amy, Mighty and another Sonic, all with a release date of spring 2020.
At New York Toy Fair 2020, there was a booth for Jakks Pacific, and new Sonic toys were on display. There was the second wave of 7" plush toys, new 20" plush toys, the third wave of bendable figures, new 4" and 2.5" lines of action figures, a playset for the 2.5" action figures and toys for the Sonic movie.[4]
Sonic the Hedgehog

4" bendable action figures with accessory
Jakks' first released figures were bendable action figures with an accessory. The first wave released in late July/early August of 2019. Each figure has bendable limbs allowing for a range of posing, and a spinnable disk figure of a sprite from Sonic Battle. The disk figure is able to unfold and stand with its base, and be folded into a circle to be spun/rolled. These would be the first bendable Sonic figures since Joyride Studios's Sonic Adventure 2: Battle figures and Toy Island's Sonic X figures.
Wave 1
Released: 2019
SRP: $9.99 (USD)
Sonic with Knuckles disk
Tails with Amy disk
Knuckles with Tails disk
Shadow with Sonic disk
Sonic in Spinning Package
Exclusive to GameStop was a 4" bendable Sonic figure in a spinning Shuttle loop package. The package design is based on Green Hill Zone and features a trail of Rings in the loop.
| Image | Price |
| --- | --- |
| | $22.99 |
2.5" articulated action figures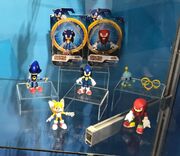 A 2.5" line of action figures will be released. Each wave will have five characters, and each figure will have five points of articulation and be compatible with a new Green Hill Zone shuttle loop playset.
Wave 1
Released: TBA
SRP: $4.99
Image
Character
Sonic
Tails
Knuckles
Neutral Chao
Metal Sonic
2.5" figure playset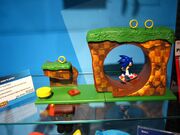 A Green Hill Zone shuttle loop playset will be released and will be compatible with the 2.5" figures. Its main play feature is figures can run around inside the loop, and the set has other features like Rings, a Spring and pegs for other figures to stand on.
4" articulated action figures with accessory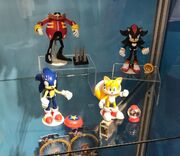 4" articulated action figures will be released and there will be four characters per wave. Each figure will have about eleven points of articulation and an accessory.
Sonic the Hedgehog Classic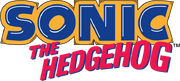 2" sphere action figures
Jakks Pacific released six booster sphere figures for the Pinball Track Set. The figures are two inches in height, and each in a unique colored sphere similar to the characters in Super Monkey Ball. The first wave of figures consisted of characters from Sonic Mania Plus, including the first figures of Mighty and Ray.
Playsets
Jakks released the Sonic Pinball Set, which was a playset based on a Shuttle loop in Green Hill Zone. The main play feature was that the included Sonic sphere figure could be launched by a spring and make it through the loop. The track was made of different segments and included decorative pieces like Badniks and scenery, allowing for customizable layouts. Six compatible booster figurines were released alongside the set.
| Image | Set | SRP (USD) |
| --- | --- | --- |
| | Sonic Pinball Set | $24.99 |
7" plush
7" plush toys released in fall 2019 of classic versions of Sonic, Tails, Knuckles and Dr. Eggman for $9.99 USD each. A second wave which will feature classic versions of Super Sonic, Amy, a variant of Sonic and the first ever plush of Mighty are to release in spring of 2020.
Wave 3
Released: September 2020[8]
SRP: TBA
20" jumbo plush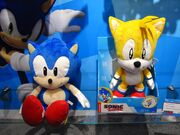 Two large 20" plush toys of Classic Sonic and Tails will be released. On their gloves are velcro so they can be connected to be able to perform the Copter Combo. Unlike the 7" line, their eyes, gloves and shoes are made of vinyl.
Released: TBA
SRP: $24.99
Classic Sonic
Classic Tails
Sonic the Hedgehog (film)
Sega of America announced the Sonic the Hedgehog film would be supported with a range of products, and Jakks Pacific would produce playsets and plush toys. Due to Sonic's redesign, the first playset and plush toy used the old designs, but the packaging was updated.[9]
| | | | |
| --- | --- | --- | --- |
| Image | | | |
| Name | "Spin Dash Sonic" playset | 8" baby Sonic plush toy | 13" jumbo talking Sonic plush toy |
| SRP (USD) | $29.99[10] | $10.99[11] | $20.99[12] |
| Release | February 26, 2020[10] | February 26, 2020[11] | February 26, 2020[12] |
| Note(s) | | | Features ten different sounds |
Trivia
The arms on the 4" Super Sonic bendable figure are miscolored yellow.
References
External links
See also
Community content is available under
CC-BY-SA
unless otherwise noted.