The Jade Wisp[1] (ジェイドウィスプ, Jeido Wisupu?) is a creature that appears in the Sonic the Hedgehog series. It is a breed of Wisps that grants the Jade Ghost Color Power.
Description
Anatomy
Like other Wisps, Jade Wisps are composed entirely of Hyper-go-on, a powerful energy that serves as their life sources.[2][3] They have a jade-colored body with a hood-like head with a pointed, zigzag protrusion that extends backwards from the top, and three tentacles that are wide near the middle and end in a jagged point. Much like the Nega-Wisps, they lack eyes and have a wide, sharp fanged-like mouth in the style of a jack-o-lantern.
Characteristics and culture
Being Wisps, the Jade Wisps are halcyon, social, bright, energetic, and pure of heart.[4] They are likewise peaceful, playful, non-hostile and friendly of nature, and enjoy spending most of their time playing with others. Due to their overall good nature, they easily get along with everybody, except bad guys.[4] Also, rather than aliens, with their floaty movements, they are more like fairies.[4] Additionally, while they are not necessarily fighters, they are nonetheless brave and very helpful towards their friends and allies.
Powers and abilities
The Jade Wisps are able to levitate in midair at will, which serves as their main method of transportation.
The Jade Wisps are able to generate and store their own unique variant of a powerful energy known as Hyper-go-on inside their own bodies, which is their life source. It is unclear to what extent they can use their own Hyper-go-on, though they have been shown being able to use it to turn invisible and pass through solid objects.[5]
The Jade Wisps are presumably able to pass on a fraction of their Hyper-go by phasing into the recipient. When organic beings or robots receive their Hyper-go-on, they can transform into the Jade Ghost which possesses ghost-like abilities.
Game appearances
Sonic Dash
In Sonic Dash, as a promotion for the release of Sonic Colors: Ultimate, the Jade Wisp appears as one of four Wisps that the player can collect every day in order to win extra rewards.
Team Sonic Racing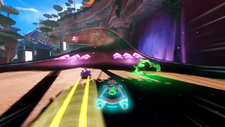 In Team Sonic Racing, which marks the first chronological appearance of the Jade Wisps in a Sonic game, the Jade Wisps appear as Item Box power-ups on the game's race tracks. In gameplay, the Jade Wisp power-ups allow the player to harness the power of the Jade Ghost, allowing them to pass through obstacles, enemies and power-ups without harm.
In the comic tie-in, during one of the early races in Dodon Pa's Grand Prix, a Jade Wisp was used by Big as a part of a collaboration attack on Dr. Eggman, who had intruded on Team Sonic and Team Dark's race.[6]
Sonic Racing
In Sonic Racing, the Jade Wisps appear as Item Box power-ups on the game's race tracks. In gameplay, the Jade Wisp power-ups allow the player to harness the power of the Jade Ghost, thus preventing them from colliding with anything while also stealing a Wisp from a nearby opponent. In addition, the Jade Wisps can be upgraded by the player to increase the range they can steal from and the level of the stolen Wisp.
Sonic Colors: Ultimate
In Sonic Colors: Ultimate, the Jade Wisps make an appearance, not only marking their debut in a Sonic platformer, but also retroactively making the Wisp incident their first canonical appearance. In gameplay, the Jade Wisps appear as Wisp Capsule power-ups that enable the Jade Ghost. They appear in every main Area in the game, except for Asteroid Coaster.
In other media
Sonic Colors: Rise of the Wisps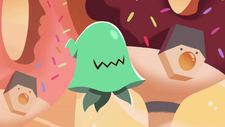 In Sonic Colors: Rise of the Wisps, a single Jade Wisp (nicknamed "Jade" by Sonic) appears as a major character. After being rescued from imprisonment in Dr. Eggman's base on Sweet Mountain by a group of vigilante Wisps, Jade attempted to help them by making Cubot incorporeal and causing him to drop several Wisp Capsules. This, however, drew the attention of Metal Sonic, who captured most of the group. As Metal Sonic approached Jade however, the Blue Wisp of the vigilante Wisps turned into a giant cube to hold back the robot long enough for her to escape. Jade later recounted this story to Sonic and Tails on Sweet Mountain, with Tails translating via his Miles Electric. Sonic, after hearing the story, subsequently set off to rescue Jade's friends.[7]
Trivia
Gallery
Artwork
Sprites
Screenshots
Miscellaneous
References
---
Main article | Script | Staff | Manuals | Beta elements | Gallery
Playable
characters
Team Sonic
Sonic | Tails | Knuckles
Team Rose
Amy | Chao (Dark Chao, Hero Chao, Neutral Chao, Omochao) | Big
Team Vector
Blaze | Silver | Vector
Team Dark
Shadow | Rouge | Omega
Team Eggman
Metal Sonic | Dr. Eggman | Zavok | Eggpawn | Death Egg
Non-playable characters
Boo | Boom Boo | Buzzer | Chopper | Crabmeat | Cubot | Dodon Pa | Egg Squid | Froggy | King Boom Boo | Mother Wisp | Orbot | Orca | Sandworm
Wisps
Black | Blue | Crimson | Cyan | Ivory | Jade | Magenta | Orange | Pink | Gray | Red | Violet | White | Yellow
Tracks
Planet Wisp
Wisp Circuit | Mother's Canyon | Doctor's Mine
Seaside Hill
Ocean View | Lost Palace | Whale Lagoon
Glacierland
Ice Mountain | Frozen Junkyard | Hidden Volcano
Casino Park
Roulette Road | Bingo Party | Pinball Highway
Sandopolis
Sand Road | Boo's House | Clockwork Pyramid
Rooftop Run
Market Street | Sky Road | Haunted Castle
Final Fortress
Thunder Deck | Dark Arsenal | Turbine Loop
Events
Boost Race | Daredevil | Destruction | Eggpawn Assault | Grand Prix | King of the Hill | Lightning Race | Ring Challenge | Rocket Race | Showdown Race | Survival Race | Team Boost Race | Team Grand Prix | Team King of the Hill | Team Lightning Race | Team Race | Team Rocket Race | Team Vampire Race | Time Trial | Traffic Attack | Vampire Race
Enemies
Eggpawn | Eggsplosive Eggpawn | Hard-boiled Eggpawn | Melee Eggpawn | Standard Eggpawn
Moves/Techniques
Drift | Item Box Transfer | Radial Burst | Rival Takedown | Skim Boost | Slingshot | Start Line Boost | Stunt | Team Ultimate
Color Powers
Black Bomb | Blue Cube | Crimson Eagle | Cyan Laser | Gray Quake | Ivory Lightning | Jade Ghost | Magenta Rhythm | Orange Rocket | Pink Spikes | Red Burst | Violet Void | Yellow Drill
Vehicles
Beat Monster | Chao Pod | Cross Dozer | Dark Reaper | Egg Booster | Formula M | Frog Cruiser | Land Breaker | Lightron | Lip Spyder | Pink Cabriolet | Road Dragoon | Royal Chariot | Speed Star | Whirlwind Sport
Gimmicks and obstacles
Boost Pad | Kao | Spring | Star Post | Wide spring
Items
Bonus Box | Credit | Item Box (Invincibility) | Key | Medal | Mod (Car Cosmetic (Horn, Paint Kit, Vinyl), Performance Part) | Mod Pod | Ring
English voice actors
Roger Craig Smith (Sonic, Wisp announcer) | Mike Pollock (Eggman) | Kyle Hebert (Big, Dodon Pa) | Colleen O'Shaughnessey (Tails) | Dave Mitchell (Knuckles) | Patrick Seitz (Zavok) | Cindy Robinson (Amy) | Kirk Thornton (Shadow, Orbot) | Karen Strassman (Rouge) | Aaron LaPlante (Omega) | Bryce Papenbrook (Silver) | Keith Silverstein (Vector) | Erica Lindbeck (Blaze, Omochao) | Wally Wingert (Cubot) | Tomoko Sasaki (Chao)
Japanese voice actors
Jun'ichi Kanemaru (Sonic) | Kotaro Nakamura (Eggman) | Katsuhisa Hōki (Dodon Pa) | Ryō Hirohashi (Tails) | Nobutoshi Canna (Knuckles) | Taeko Kawata (Amy) | Takashi Nagasako (Big) | Etsuko Kozakura (Omochao) | Kōji Yusa (Shadow) | Rumi Ochiai (Rouge) | Taiten Kusunoki (Omega) | Daisuke Ono (Silver) | Kenta Miyake (Vector) | Nao Takamori (Blaze) | Jōji Nakata (Zavok) | Mitsuo Iwata (Orbot) | Wataru Takagi (Cubot) | Tomoko Sasaki (Chao) | Fumihiko Tachiki (Wisp announcer)
Music
Songs
"Green Light Ride"
Albums
Maximum Overdrive - Team Sonic Racing Original Soundtrack | Team Sonic Racing Trailer Music Selection
Other
Death Egg Robot | Donpa Kingdom | Donpa Motors | Egg Squid | Loop | Orca | Power-Type | Sonic Racing | Speed-Type | Team Sonic Racing Overdrive ("Dangerous Distractions", "Eyes on the Prize", "The Complete Race") | Technique-Type | Ultimate Meter | Team Sonic Racing One-shot | Team Sonic Racing Plus Deluxe Turbo Championship Edition one-shot | Ultimate Energy Engine | Ultimate Team Energy