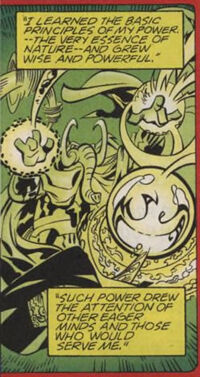 The
Ixis Magicks
are magical techniques exclusive to members of the
Order of Ixis
, having been devised by founder
Mammoth Mogul
, the first Ixis.
Overview
Of all the Ixis Magicks magics, the most obvious display of this art is the manipulation of the elements of Mobius: fire, water, air, earth, and Power Rings. Other abilities found amongst the Ixis Magicks are the ability to do battle with an opponent mentally, in which the losing enemy of such a battle can be entirely dominated by the winner; and the power to transform living or non-living substances into a green crystal that is virtually indestructible. Possibly another Ixian technique, developed solely by Ixis Naugus, is the Shadow Meld ability, in which the user can teleport to any location. (StH: #163)
External links
Community content is available under
CC-BY-SA
unless otherwise noted.