You may be looking for the Zone in Sonic Advance named Ice Mountain Zone.
Ice Mountain[1] is a race track that appears in Team Sonic Racing.
Description
Ice Mountain is a racing circuit located in Glacierland, a land consisting of ice and snow. It is made up entirely of ice and snow, with icy roads that wind around, between and above each other throughout the landscape. There are likewise mountains of ice and snow, ice caverns, and icy peaks in different formations everywhere the track leads. Noticeably, one side of the sky above Ice Mountain is bright and blue with white clouds while the other half is orange-red with black clouds as a result of a nearby active volcano that can be spotted in the background. There is also a cargo ship docked near the ice with cranes on it that are used to load goods on and off it. There are also orcas that jump over the cargo ship.
Along the racetrack are official grandstands which are incorporated into the ice. On them are several Chao watching the races and cheering on the racers. In addition, there are balloons made in the image of Sonic and Shadow's heads that float around the start of the race track. Along the route are also what appears to be metal structures embedded in the local ice walls, like buildings and giant frozen Eggpawns.
Gameplay
Along Ice Mountain's track are icicle columns that Power-Type characters can bust through with no damage and even gain Rings for doing so. Alternatively, these icicle columns can be destroyed with certain Wisp power-ups.
The track has multiple branching pathways. There are also ice patches along the tracks that slow the driver down and are slippery, making it harder for the racers to properly steer themselves while on it. However, Technique-Type characters or characters using the Super Grip Bonus Box can drive on them with no penalty. Red-and-white striped fields also appear along the roads, which non-Technique-Type characters cannot drive over without losing speed.
On the cargo ship segment of Ice Mountain are cranes that carry shipping containers over the route. These cranes will sometimes drop their shipping containers down on the racers, causing them to take damage and slow down.
Overview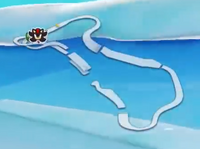 The race starts out on a straight route, which then splits into two roads. Both of these roads turn left and then to the right after splitting off from the main road. Both these roads also have a breach in the railings on the right side through which the races can fall off the road and into the abyss. Eventually, both roads end with a ramp that the player can jump off of. However, the road on the left goes higher up than the other and allows the player to execute more stunts. Regardless, both roads lead into several ice caves with destroyable icicle columns. Noticeably, by taking the road on the left back when the road first split up, the player will arrive in the upper ice cave, and on the right side of that road, they will find a ramp. By jumping off that ramp, the player will arrive on an elevated road which takes a sharp turn to the right. However, this road has no railings for the majority of it and most of it is covered in slippery ice that only Technique-Types can safety drive across. As such, the player is at great risk of falling off-course on this road.
Eventually, the roads will reconnect after the player makes another jump across a gap and towards a part in the road that has a grandstand on both side of the road. After passing these grandstands, the road makes a sharp turn to the left. From there, the road splits into two differently-elevated routes: while the left road is elevated by a couple meters and eventually splits into its own road, the right road remains at ground level. In addition, the right road has icicle columns along it, while the left one is covered in slippery ice. Eventually though, these routes will reconnect and lead towards a ramp that leads to the cargo ship, which serves as a bridge across the water. On this ship are shipping containers. Some of them are open on both sides, allowing the racers to drive straight through them. Some of them even contain Boost Pads, allowing the player to gain speed. Sometimes, however, the shipping containers are closed on one end and require a Power-Type or a Wisp power-up to have its exit busted open. In addition, the player has to watch out for falling shipping while crossing the cargo ship.
At the end of the cargo ship, the player will jump off a ramp and land on the ice track again, which subsequently turns sharply to the right. Soon after, the route will turn to the left and head straight for the finish line. During this last turn, there will be a red-and-white striped field on the left side of the road that Technique-Type characters can use to take a shortcut.
Ice Mountain also has its own mirror image version of it where the left and right sides are interchanged.
Trivia
Music
| Name | Artist(s) | Length | Music Track |
| --- | --- | --- | --- |
| "Ice Mountain: Intro Fly-by" | SEGA / Hyper Potions | 0:20 | |
| "Ice Mountain: Lap Music" | SEGA / Hyper Potions & Jun Senoue | 3:36 | |
| "Ice Mountain: Final Lap" | SEGA / Hyper Potions & Jun Senoue | 1:25 | |
| "Ice Mountain: Goal" | SEGA / Hyper Potions & Jun Senoue | 0:13 | |
Video
References
---
Main article | Script | Staff | Manuals | Beta elements | Gallery
Playable
characters
Team Sonic
Sonic | Tails | Knuckles
Team Rose
Amy | Chao (Dark Chao, Hero Chao, Neutral Chao, Omochao) | Big
Team Vector
Blaze | Silver | Vector
Team Dark
Shadow | Rouge | Omega
Team Eggman
Metal Sonic | Dr. Eggman | Zavok | Eggpawn | Death Egg
Non-playable characters
Boo | Boom Boo | Buzzer | Chopper | Crabmeat | Cubot | Dodon Pa | Egg Squid | Froggy | King Boom Boo | Mother Wisp | Orbot | Orca | Sandworm
Wisps
Black | Blue | Crimson | Cyan | Ivory | Jade | Magenta | Orange | Pink | Gray | Red | Violet | White | Yellow
Tracks
Planet Wisp
Wisp Circuit | Mother's Canyon | Doctor's Mine
Seaside Hill
Ocean View | Lost Palace | Whale Lagoon
Glacierland
Ice Mountain | Frozen Junkyard | Hidden Volcano
Casino Park
Roulette Road | Bingo Party | Pinball Highway
Sandopolis
Sand Road | Boo's House | Clockwork Pyramid
Rooftop Run
Market Street | Sky Road | Haunted Castle
Final Fortress
Thunder Deck | Dark Arsenal | Turbine Loop
Events
Boost Race | Daredevil | Destruction | Eggpawn Assault | Grand Prix | King of the Hill | Lightning Race | Ring Challenge | Rocket Race | Showdown Race | Survival Race | Team Boost Race | Team Grand Prix | Team King of the Hill | Team Lightning Race | Team Race | Team Rocket Race | Team Vampire Race | Time Trial | Traffic Attack | Vampire Race
Enemies
Eggpawn | Eggsplosive Eggpawn | Hard-boiled Eggpawn | Melee Eggpawn | Standard Eggpawn
Moves/Techniques
Drift | Item Box Transfer | Radial Burst | Rival Takedown | Skim Boost | Slingshot | Start Line Boost | Stunt | Team Ultimate
Color Powers
Black Bomb | Blue Cube | Crimson Eagle | Cyan Laser | Gray Quake | Ivory Lightning | Jade Ghost | Magenta Rhythm | Orange Rocket | Pink Spikes | Red Burst | Violet Void | Yellow Drill
Vehicles
Beat Monster | Chao Pod | Cross Dozer | Dark Reaper | Egg Booster | Formula M | Frog Cruiser | Land Breaker | Lightron | Lip Spyder | Pink Cabriolet | Road Dragoon | Royal Chariot | Speed Star | Whirlwind Sport
Gimmicks and obstacles
Boost Pad | Kao | Spring | Star Post | Wide spring
Items
Bonus Box | Credit | Item Box (Invincibility) | Key | Medal | Mod (Car Cosmetic (Horn, Paint Kit, Vinyl), Performance Part) | Mod Pod | Ring
English voice actors
Roger Craig Smith (Sonic, Wisp announcer) | Mike Pollock (Eggman) | Kyle Hebert (Big, Dodon Pa) | Colleen O'Shaughnessey (Tails) | Dave Mitchell (Knuckles) | Patrick Seitz (Zavok) | Cindy Robinson (Amy) | Kirk Thornton (Shadow, Orbot) | Karen Strassman (Rouge) | Aaron LaPlante (Omega) | Bryce Papenbrook (Silver) | Keith Silverstein (Vector) | Erica Lindbeck (Blaze, Omochao) | Wally Wingert (Cubot) | Tomoko Sasaki (Chao)
Japanese voice actors
Junichi Kanemaru (Sonic) | Kotaro Nakamura (Eggman) | Katsuhisa Hōki (Dodon Pa) | Ryo Hirohashi (Tails) | Nobutoshi Canna (Knuckles) | Taeko Kawata (Amy) | Takashi Nagasako (Big) | Etsuko Kozakura (Omochao) | Kōji Yusa (Shadow) | Rumi Ochiai (Rouge) | Taiten Kusunoki (Omega) | Daisuke Ono (Silver) | Kenta Miyake (Vector) | Nao Takamori (Blaze) | Jōji Nakata (Zavok) | Mitsuo Iwata (Orbot) | Wataru Takagi (Cubot) | Tomoko Sasaki (Chao) | Fumihiko Tachiki (Wisp announcer)
Music
Songs
Green Light Ride
Albums
Maximum Overdrive - Team Sonic Racing Original Soundtrack | Team Sonic Racing Trailer Music Selection
Other
Death Egg Robot sentinel | Donpa Kingdom | Donpa Motors | Egg Squid | Orca | Power-Type | Sonic Racing | Speed-Type | Team Sonic Racing Overdrive (Dangerous Distractions, Eyes on the Prize, The Complete Race) | Technique-Type | Ultimate Meter | Team Sonic Racing One-shot | Team Sonic Racing Plus Deluxe Turbo Championship Edition one-shot | Ultimate Energy Engine | Ultimate Team Energy
Community content is available under
CC-BY-SA
unless otherwise noted.