Give your opponents a sub-zero surprise and put their intentions on ice.


— Description, Sonic Forces: Speed Battle
The Ice Mine is a Trap Item that appears in Sonic Forces: Speed Battle.
Description
The Ice Mines take the form of iron balls made entirely of light blue ice.
Overview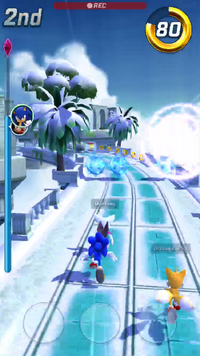 In gameplay, the Ice Mine can only be obtained at random from Item Boxes by Amy, Chaos, and Sonic. As with all other Items, Metal Sonic can also use the Ice Mine if he uses the Steal Item to steal it from the aforementioned users.
When used, three ice blocks will be dropped some distance ahead of the user's current location on the lanes that the user is not currently on. Touching an Ice Mine with a playable character (including the user) will cause them to freeze instantly. Frozen opponents are unable to jump, slide, use their items or change path. This effect will last for a short amount of time or until the player gets hit by an obstacle or falls into a bottomless pit. The Ice Mines can be upgraded for each individual user by leveling them to levels 4, 10 and 16, increasing the duration a hit character stays frozen.
To avoid Ice Mines, the player must either jump over them or run in between them.
---
Main article | Gallery
| | |
| --- | --- |
| Playable characters | Sonic | Tails | Knuckles | Amy | Cream | Classic Sonic | Shadow | Rouge | Omega | Silver | Blaze | Espio | Charmy | Vector | Big | Jet | Wave | Storm | Chaos | Metal Sonic | Zavok | Zazz | Witch Rouge | Vampire Shadow | Elf Classic Sonic | Santa Big | Lunar Blaze | Lantern Silver |
| Badniks | Aero-Chaser | Buzz Bomber | Egg Pawn |
| Tracks | Ancient Isles | Celestial Skyway | Celestial Skyway R | Corkscrew Canyon | Dash Vegas | Desert Falls | Electric Arbor | Glowing Grotto | Lambent Grove | Parched Palms | Parched Palms R | Pinnacle Peaks | Pyramid Valley | Pyramid Valley R | Red Gate Bay | Red Gate Bay R | Red Gate Ruins | Sandy Hills | Spiral Heights | Splash Highway | Splash Highway R | Sunset Bridge | Tangled Tunnels | Temple Gate | Temple Gate R | Viaduct Valley |
| Moves/techniques | Grinding | Slide | Spin Jump |
| Gimmicks and obstacles | Conveyor Belt | Dash Panel | Grind Rail | Spikes |
| Objects | Chest | Item Box (Bashosen, Booby Trap, Bubble Bomb, Bunny Boost, Chao Attack, Chao-nado, Chopper Chomp, Drac-O'-Lantern, Dragon Dance, Electro Boost, Explosive Mine, Festive Umbrella Boost, Fire Boost, Fire Whirl, Fireball, Firework Flurry, Flue Shot, Frozen Chopper Chomp, Ice Boost, Ice Mine, Ice Wave, Illusion Boost, Illusion Mine, Invincibility, Lava Bomb, Lightning, Lilytrap, Moto-Bug, Power Sneakers, Pyro-Mine, Shield, Star Trail, Steal, Storm Cloud, Tornado, Umbrella Boost, Whirlwind, Wind Boost, Wrench Rush, Zap Trap) | Phantom Ruby prototype | Red Star Ring | Ring | Trophy |
| Misc. | Cheese | Froggy | Type-J | Type-S | Type-W |