The Iblis Biter (イブリースバイター, Iburīsubaitā?), also known as simply the Biter,[1] is an enemy that appears in the Sonic the Hedgehog series. It is a type of fire-based creature amongst Iblis's Minions, and by far the most common form of its kind.
Appearance
The Iblis Biters are lizard-like creatures made entirely of red and orange lava. They have hardened armor on their head, back and limbs. Their head armor in particular resembles a shark fin. Despite their reptilian shape, they maneuver more like canines.
Game appearances
Sonic the Hedgehog (2006)
In Sonic the Hedgehog (2006), Iblis Biters crawl on the ground and walls like lizards. They can also jump on enemies and breathe flames, which they can direct. They usually seen in groups. They are the least powerful enemies out of Iblis' minions, taking only one hit to destroy.
Sonic Generations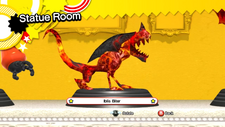 In the console/PC version of Sonic Generations, Iblis Biters from somewhere across spacetime appear as enemies in both Acts of Crisis City. Additionally, the player can unlock a statue of it in the Statue Room.
Merchandise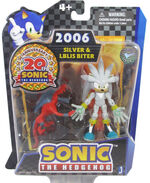 Following the 20th anniversary of the Sonic the Hedgehog series, a Jazwares figure of the Iblis Biter was released for the first time alongside a Silver the Hedgehog figure in 2011. The label on the box was incorrectly spelled "Lblis Biter" instead of "Iblis Biter".
As of 2012, the spelling has not been corrected despite the fact that Jazwares added a new sticker to cover the 20th Anniversary logo from the box (since Sonic's 20th anniversary ended).
Gallery
Artwork
Models
Screenshots
References
↑ Black, Fletcher (14 November 2006). "Enemy gallery • Monster Menagerie".

Sonic the Hedgehog: Official Game Guide

. Prima Games. p. 329. ISBN 978-0761555100.
---
Main article | Script (Sonic, Shadow, Silver, Last) | Staff | Manuals | Glitches | Beta elements | Gallery
Playable characters
Sonic (Super Sonic) | Tails | Knuckles | Shadow (Super Shadow) | Rouge | Omega | Silver (Super Silver) | Blaze | Amy
Non-playable characters
Accordion Player | Adrianna | Alan | Alberto Robert | Alfano | Anna | Antonio | Aristo | Berruni | Bishop | Claudia | Dante | Eggman | Duchess of Soleanna | Duke of Soleanna | Elkan | Frances | Francesca | GUN Soldier | Galienna | Gina | Hatsun | Herman | Iblis | Ken Williams | Ladies-in-waiting | Liza | Lord Regis | Mancini | Mels | Mephiles (Mephiles's monstrous form) | Mikhail | Nicolo | Paganini | Parr | Pele | Pinto | Porta | Priest | Princess Elise the Third | Prodi | Puccini | Renzo | Roberta | Rossi | Sabrina | Sandro | Solaris | Soleanna Boys (Pucci) | Soleanna Royal Guards (Alessio, Fabio, Giorgio, Guido, Pietro) | Solomon | Solsaliente (Monica) | Sonic Man | Sophia | Zof
Action Stages
Wave Ocean | Dusty Desert | White Acropolis | Crisis City | Flame Core | Radical Train | Tropical Jungle | Kingdom Valley | Aquatic Base | End of the World
Town Stages
Soleanna Castle Town | Soleanna New City | Soleanna Forest
DLC Stages
Sonic Boss Attack | Shadow Boss Attack | Silver Boss Attack | Team Attack Amigo
Town Missions
Sonic
1 | 2 | 3 | 4 | 5 | 6 | 7 | 8 | 9 | 10 | 11 | 12 | 13 | 14 | 15 | 16 | 17 | 18 | 19 | 20
Shadow
1 | 2 | 3 | 4 | 5 | 6 | 7 | 8 | 9 | 10 | 11 | 12 | 13 | 14 | 15
Silver
1 | 2 | 3 | 4 | 5 | 6 | 7 | 8 | 9 | 10 | 11 | 12 | 13 | 14 | 15 | 16 | 17 | 18
Enemies
Eggman's mechs
Egg Armor | Egg Bomber | Egg Buster | Egg Buster (Egg Gunner) | Egg Cannon | Egg Chaser | Egg Commander | Egg Flyer | Egg Guardian | Egg Gunner | Egg Hunter | Egg Keeper | Egg Lancer | Egg Liner | Egg Rounder | Egg Searcher | Egg Stinger | Egg Sweeper | Egg Walker
Iblis's Minions
Gazer | Golem | Iblis Biter | Iblis Taker | Iblis Worm | Shadows | Stalker | Titan | Tricker
Bosses
Egg-Cerberus | Egg-Genesis | Egg-Wyvern | Iblis | Mephiles | Shadow | Silver | Solaris | Sonic
Moves/Techniques
Arrow of Light | Accelerator Tornado | Attack | Blast Jump | Bomb | Bomb Snipe | Bound Jump | Chaos Attack | Chaos Boost (Chaos Blast, Chaos Lance, Chaos Snap) | Chaos Spear | Climb | Custom Action (Gun Drive, Homing Smash, Mach Speed, Scale, Slow, Thunder Guard, Tornado) | Crouch | Double Jump | Dummy Ring Blitz | Dummy Ring Bomb | Dummy Ring Snipe | Edge Attack | Fire Claw | Fly | Glide | Grab All | Ground Shaker | Hammer Attack | Heart Mine | Hold Smash | Homing Attack | Hover | Invisibility | Jump Dash | Levitate | Light Dash | Lock-On Shot | Omega Launcher | Omega Shot | Psychokinesis | Psycho Shock | Psycho Smash | Punch Attack | Screwdriver | Shield of Light | Sliding Attack | Spear of Light | Spin Dash | Spin Jump | Spin Kick | Spinning Claw | Teleport Dash | Turbo Boost | Wall Jump | Wings of Light
Vehicles
Bike | Buggy | Hover Craft | Glider
Gimmicks and obstacles
Bungee Rope | Conveyor Belt | Cylinder | Eagle | Eye of Solaris | Hanging Bell | Hint Ring | Horizontal Bar | Jump Panel | Laser field | Lotus | Mechanical Ring | Mirror of Soleanna | Orb statue | Orca | PK mark | Purple orb | Point Marker | Pulley | Rainbow Ring | Silver Sphere | Sphere | Spiked bar | Spotlight | Spring | Switch | Tightrope | Trick Jump Panel | Turtle | Vine | Warp Hole | Wide spring | Wind switch
Items
General
Apple | Barrel | Chaos Drive | Car | Container (Blue crate, Case, Explosive crate, Steel Container, Wooden Container) | Custom Shoes | Dummy Ring | Explosion Trap | Goal Ring | Heart bomb | Item Box (Extra Life, Gauge Up, High Speed, Invincible, Rings) | Key | Light Core | Medal | Minecart | Ring | Snowboard
Level Up Items
Air Chip | Antigravity | Bounce Bracelet | Gem (Blue Gem, Green Gem, Purple Gem, Rainbow Gem, Red Gem, Sky Gem, White Gem, Yellow Gem) | Heart of Wind | Light Chip | Memory Shard (black) | Memory Shard (blue) | Memory Shard (red) | Power Bracelet | Shock Bracelet | Single-Layered Extreme
English voice actors
Jason Griffith (Sonic, Shadow) | Pete Capella (Silver) | Lacey Chabert (Elise) | Mike Pollock (Eggman, Narrator) | Amy Palant | (Tails, Ladies-in-waiting) | Lisa Ortiz (Amy, Ladies-in-waiting) | Bella Hudson (Blaze) | Dan Green (Knuckles, Mephiles, Solaris Project scientists) | Kathleen Delaney (Rouge) | Maddie Blaustein (Omega) | David Wills (Duke, G.U.N communitcator)
Japanese voice actors
Jun'ichi Kanemaru (Sonic) | Kōji Yusa (Shadow) | Daisuke Ono (Silver) | Maaya Sakamoto (Elise) | Chikao Ōtsuka (Eggman) Kenji Utsumi (Narrator, Duke) | Ryō Hirohashi (Tails) | Hikari Yono (Ladies-in-waiting) | Nao Takamori (Blaze) | Nobutoshi Canna (Knuckles) | Takayuki Sakazume (Mephiles) | Keiji Okuda (Solaris Project scientist, G.U.N. communicator) | Yoshikazu Kozuma (Solaris Project scientist) | Rumi Ochiai (Rouge) | Taeko Kawata (Amy) | Taiten Kusunoki (Omega)
Music
Songs
"All Hail Shadow" | "Dreams of an Absolution" | "His World" | "My Destiny" | "Solaris Phase 1" | "Sweet Dreams AKON Mix"
Albums
Sonic the Hedgehog Original Soundtrack | Sonic the Hedgehog Vocal Traxx: Several Wills
Other
Action Gauge | Auto Running | Chao in Space | Day of Disaster | Dual Chaos Control | Eggman's chair | Egg Carrier | Egg train | Festival of the Sun | Havok | Health Gauge | Life | Loop | Rank | Rimlight | Scepter of Darkness | Shop | Soleanna | Solaris Project | Sonic the Hedgehog CHAOS CRUSH! | Super-Speed Stage | Water
---
Main article | Script | Staff | Glitches | Beta elements | Gallery
Playable characters
Sonic (Modern) (Super Sonic (Modern)) | Sonic (Classic) (Super Sonic (Classic))
Non-playable characters
Amy | Animals (Flicky, Picky, Pecky, Cucky) | Blaze | Cheese | Cream | Cubot | Dr. Eggman (Classic) | Dr. Eggman (Modern) | Knuckles | Metal Sonic | Omochao | Orbot | Perfect Chaos | Rouge | Shadow | Silver | Tails (Classic) | Tails (Modern) | Team Chaotix (Charmy, Espio, Vector) | Time Eater
Wisps
Orange | Pink
Stages
Green Hill | Chemical Plant | Sky Sanctuary | Speed Highway | City Escape | Seaside Hill | Crisis City | Rooftop Run | Planet Wisp | Casino Night
Challenge Acts
Doppelganger Race! | The Buzz Bombers' Revenge! | Knuckles: Horde of Enemies | Swingset Circus | High Speed Challenge | Look Out Below! | Tails: Way Past Fast | Jump Rush | 300% Boost Gauge Challenge | Tails: Toxic Skies | Which Switch is Which? | Aqua Shield Challenge | Invincibility Challenge | One Ring Challenge | Amy: Taking the Leap Together! | Grappling with Grabbers | Underwater Ring Machine | Eggrobo Rush | Aerial Paradise | Ring Time Challenge | Amy: Topsy Turvy | Knuckles: Buried Treasure | 200% Boost Gauge Challenge | Balloon Bonanza | High-Speed Hijinks (Modern) | Cream: Chao Hunt | Hot Pursuit (Classic) | High Speed Challenge 2 | Resisting Arrest | Overdrift | Hot Pursuit (Modern) | Drill Baby Drill | Espio: Master of Camouflage | Lord of the Board | Thunder Shield Challenge | Rouge: The Bombardier | Rite of Spring | Cream: Helping Hand | Dash Ring 1-2-3 (Modern) | Topsy-Turvy | High-Speed Hijinks 2 | Rescue the Animals! | Espio: Way of the Ninja | High-Speed Hijinks (Classic) | Underwater Challenge | Rouge: The Temptress | Trick Island | Surf, Sea, and Sand | Terror From the Deep | Goal Post Juggle | Vector: Through the Storm | Flame Shield Challenge | Ring Time Challenge 2 | Power Stomp Challenge | Switcheroo | Blaze: Piercing the Flames | Four-way Cannon Cavalcade | High-Rise Balloon Climb | Dash Ring 1-2-3 (Classic) | Charmy: Don't Bug Me! | One Ring Challenge 2 | Barrel Ring Bonus | Rooftop Rail Grind | Endless Boost | Vector: Pick Up the Beat | With Your Powers Combined | Goal Post Juggle 2 | Chase After Blaze | Rescue the Animals 2! | Cart Challenge | Charmy: High in the Sky | Action Master | Orange Rocket, Blast Off!
Enemies
Aero-Cannon | Buzz Bomber (Classic) | Buzz Bomber (Modern) | Buzzer (Classic) | Buzzer (Modern) | Chopper (Classic) | Chopper (Modern) | Cop Speeder | Crabmeat (Classic) | Crabmeat (Modern) | Egg Chaser | Egg Fighter | Egg Fighter: Sword | Egg Launcher (H) | Egg Launcher (H+V) | Egg Launcher (V) | Egg Pawn | Eggrobo | Giant Chopper | Grabber | Gun Beetle | Gun Hunter | Iblis's Minions (Iblis Biter, Iblis Taker, Iblis Worm) | Mono Beetle | Moto Bug (Classic) | Moto Bug (Modern) | Sandworm | Spinner | Spiny | Sprinkler | Thunder Spinner
Bosses
Metal Sonic | Death Egg Robot | Shadow | Perfect Chaos | Silver | Egg Dragoon | Time Eater
Moves/
Techniques
Playable characters
Air Boost | Atomic Spin | Boost | Bound Jump | Cartwheel | Crouch | Double Jump | Drift | Freestyle Tricks | Grind Step | Grinding | Homing Attack | Hop | Insta-Shield | Jump Dash | Kick boost | Lightspeed Dash | Mid-Air Dash | Quick Step | Slide | Skydiving | Spin | Spin Dash | Spin Jump | Stomp | Super Sonic Boost | Super Sonic Missile | Wall Jump
NPCs
Chaos Spear | Dig | Drill Attack | Fire Beam | Heart Effect | Ice Wave | Meteor Smash | Ninja Arts: Camouflage | Propeller Flying | Psychic Knife | Restraint Trap | Ring Spark Field | Sun Burst | V. Maximum Overdrive Attack | Warping arm attack | Whirlwind
Color Powers
Orange Rocket | Pink Spikes
Skills
Aqua Shield | Flame Shield | Thunder Shield | Twin Spin Attack | Invincible Start | Shield | Power Sneakers | Long Spin Dash | Treasure Scanner | Homing Attack | Hercules Muscles | Breath Holder | Boardmaster | Ring Time | Blast Off | Speed Up | Direct Jump | Power Stomp | Quick Slide | Acceleration | Smasher Bonus | Ring Energy Bonus | Boost Gauge Up | Serial Homing | Auto-Gauge | Gauge Rebooter | Trick Mastery | Endless Boost | Power Brake | Sure-Footed | Safety Net | Last Chance | 10-Second Rings | Athleticism | Time Break | Super Sonic | Sega Genesis Controller*
Gimmicks and obstacles
Balloon | Barrel | Big Balloon | Bomb | Bonus Bell | Bottomless pit | Bumper | Cannon | Capsule | Car | Cart | Cloud | Crusher | Dash Panel | Dash Rail | Dash Ring | Dimensional Bomb | Explosion Trap | Fan | Flipper | Four-way Cannon | Gear Platform | Goal Plate | Gondola | GUN Military Truck | Hanging Bell | Heart bomb | Helicopter | High-speed warp tube | Horizontal Bar | Iron ball | Jump Panel | Kao | Laser field | Meteorite | Movable box | Pole Elevator | Propeller Spring | Pulley | Rainbow Ring | Rocket | Route Signal | Saw | Seesaw | Slot machine | Spike Trap | Spikes | Spinning Top | Spinning Platform | Spotlight | Spring | Spring Catapult | Spring Pole | Star Post | Switch | Trap Spring | Trick Jump Panel | Wall Jump Block | Warp Point | Wide spring | Zip Line
Items
Air Bubble | Boss Gate | Boss Gate Key | Buoy | Chaos Emerald | Container (Case, Spike Block, Steel Container, Unbreakable Container, Wooden Container) | Energy Core | Goal Ring | Information Pod | Item Box (1-Up, Aqua Shield, Flame Shield, Invincible, Power Sneakers, Skateboard, Super Ring, Thunder Shield) | Medal | Mega Mack | Musical note | Red Star Ring | Ring | Snowboard | Time Bonus | Wisp Capsule
English voice actors
Roger Craig Smith (Sonic (Modern), Wisp announcer) | Mike Pollock (Eggman (Classic), Eggman (Modern)) | Kate Higgins (Tails (Classic), Tails (Modern)) | Travis Willingham (Knuckles) | Cindy Robinson (Amy) | Kirk Thornton (Shadow) | Quinton Flynn (Silver) | Laura Bailey (Blaze, Omochao) | Karen Strassman (Rouge) | Michelle Ruff (Cream) | Keith Silverstein (Vector) | Troy Baker (Espio) | Colleen O'Shaughnessey (Charmy)
Japanese voice actors
Jun'ichi Kanemaru (Sonic (Modern)) | Chikao Ōtsuka (Eggman (Classic), Eggman (Modern)) | Ryō Hirohashi (Tails (Modern)) | Takuto Yoshinaga (Tails (Classic)) | Nobutoshi Canna (Knuckles) | Taeko Kawata (Amy) | Kōji Yusa (Shadow) | Rumi Ochiai (Rouge) | Daisuke Ono (Silver) | Nao Takamori (Blaze) | Sayaka Aoki (Cream) | Kenta Miyake (Vector) | Yūki Masuda (Espio) | Yōko Teppōzuka (Charmy) | Etsuko Kozakura (Omochao) | Fumihiko Tachiki (Wisp announcer)
Music
Songs
"Escape from the City" | "You're My Hero" | "Open Your Heart"
Albums
20 Years of Sonic Music | Blue Blur: Sonic Generations Original Soundtrack | History of the 1st Stage Original Soundtrack White Edition
Other
Boost Gauge | Chao in Space | Collection Room | Combo | Corkscrew | Death Egg (Classic) | Death Egg (Modern) | Death Egg Robot | Egg Dragoon | Egg Gun | Egg Mobile | Egg Spear | Havok | Lair of the Time Eater | Life | Loop | Miles Electric | Orca | Perfect Bonus | Rank | Sonic's birthday | Sonic Generations (manga) | Sonic Generations of Skate | Statue Room | Time Hole | Tornado-1 | Totem pole | Tunnel | Water | White Space

* Appears only in the console version