Iblis is a boss encountered in Sonic the Hedgehog (2006). It is fought in all three storylines of the game, where Sonic the Hedgehog and Shadow the Hedgehog fight Iblis' second form, while Silver the Hedgehog fights its first and third form.
Story
When Iblis surfaced in Crisis City, Silver and Blaze confronted it. Although they won the fight, they knew Iblis could just resurrect itself.
When looking for a Chaos Emerald in Flame Core to travel back to their original time frame, Sonic and Shadow were forced to fight off Iblis (who had adapted a worm-like form) when it attacked them.
After shattering the Flame of Disaster's core inside Flame Core, Silver and Blaze confronted Iblis, who was getting closer to its final form, again. After beating it, Blaze sacrificed herself to seal Iblis away in another dimension.
Iblis Phase 1
Boss guide
When the battle begins, the player must collect Rings and fast. There are four lines of Rings in the arena: two in the air near the center of the platform and two on the extreme edges. While getting the Rings, the player must use their PK to pick up the nearby debris and start hurling it at Iblis. The monster has a significant amount of armor made out of cooled molten earth. However, the armor falls away as repeated attacks are launched on Iblis, exposing its pure flame interior. To make an accurate volley, Silver must be pointed directly at Iblis in order to fling the debris at the beast. Iblis will raise its arms from time to time, blocking his face. When Iblis is guarding itself, the player must not waste time throwing any debris at it. The player must watch for when Iblis raises all four arms. As when Iblis exposes its chest, a torrent of molten rock explodes forth, peppering the platform. Some of the fireballs actually remain on the ledge, though, which can be picked up with PK and fling back at the beast. When Iblis lowers its upper arms into the lava, Iblis will pick up a skyscraper. The monster raises the building high above the platform before bringing it down, casting a large shadow. The player must then get out of the shadow to escape damage. The smashed building leaves behind debris that the player can use against Iblis. After much of Iblis's Health Gauge is depleted, the monster resorts to breathing fire on the platform. The sweeping fire attack cannot be deflected in any way, so head for the sides of the platform to avoid getting burned to a crisp. After that, the player must keep hurling debris at the titanic Iblis to bring it down.
Music
Video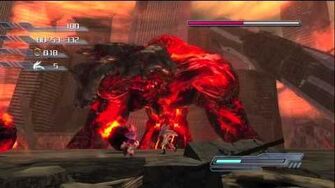 Iblis Phase 2
Boss guide
Sonic/Shadow
When the battle begins, the player has a few seconds to seek out Rings on the stone platforms in the lava. (The platforms are really fallen stalactites that were shaken loose from the lava dome's ceiling.) Firstly, the player must collect some of the Rings for safety, but also leave some behind as a back-up supply should they get a damage. After the first volley of fieballs, Iblis sinks into the lava for a short time and then makes a large leap toward the player's location. So, the player must run away from the area of his impact or Sonic/Shadow will be damaged along the collapsed footholds. After that, he will bring down a batch of stalactites which creates a make-shift bridge to the three Purple orbs in the center of the chamber. When this happens, the player must make haste to the orbs, and avoid giving Iblis another opportunity to fling more fireballs at them. Then, the player should land a Homing Attack to slam into an orb and make it light up. The illumination stemming from the activated orb attracts Iblis, and the monster clumsily lunges for the orb with its pincers. If the player stands underneath the orb when Iblis arrives, they will be knocked off the platform. Therefore, after lighting the orb, the player should jump back one row of platforms to give the brute ample clearance to investigate the orb. When the worm's forehead eye opens up, jump forward and use a Homing Attack. If this is done correctly, this attack should result in a loss of one-quarter of the monster's health, and launch Sonic/Shadow back to the chamber's far side, near where they started. If any Rings have been lost during the attack, pick up some replacements now. Iblis drops more stalactites into the lava after dealing the damage that was dealt to him, but these do not create a path to the orbs. These break the existing bridges. Jump back and forth around the remaining platforms to avoid the incoming blasts. Note that Iblis never creates the same path to the orbs, and sometimes only specific orbs will be available, such as the central one's. So, the player must use the available path to them in order to do damage to him, and through the same way. When Iblis has only a quarter of its health remaining, it changes its tactics. After lighting one of the orbs, the worm sinks into the lava, swims behind the platforms, and surfaces under the platforms. When Iblis surfaces, the player must use a Homing Attack to zero in on its green eye one last time, ending the battle.
If the player wants to earn a "S" Rank in this boss battle, they should do the following: Gather up some Rings and jump into the lava. Head to one of the orbs on the solid footholds and activate it during each time Iblis tries to sink into the lava. When Iblis is about to slam the activated orb, jump back off the orb quickly and do a Homing Attack at Iblis right after he has collided with the orb.
Music
Videos
Iblis Phase 3
Boss guide
When the battle begins, Iblis raises his arms to issue forth his initial salvo of fireballs. Silver's platform is long enough to run to either extreme and avoid the volleys. The player should pick up Rings as they move. Several cooling balls of lava are sitting on the platform so the player can lift with PK and hurl them across the molten ocean to chip away at Iblis's armor. After the first batch of cooling balls has been exhausted, the player must wait out Iblis's fireball attacks to gather some projectiles to throw. Iblis's fireballs do not last for a long time, unlike their cooling variant, so the player has to use them as soon as they get them. If Iblis is building up an attack, do not throw at him as this raises the risk of hitting only one of Iblis's projectiles instead of the lava leviathan itself. After he withstands several of the attacks launched at him, Iblis moves in for the kill. While he is approaching the foothold, Iblis will unleash a series of shockwaves that speed across the lava toward Silver's platform. The player can either jump over or duck under the shockwaves as they roll into range. If the player is struck by a shockwave, they will lose Rings, and there is a good chance the ripple will wash them right off the platform. After reaching the foothold, the living flame will slam its arms down on the platform, shattering the edges and making it smaller. The player can avoid the shockwaves made by this impact by Levitating as high as possible over the foothold. When it lowers its head, the player can spy its weak spot: the green eye in the middle of its forehead. A PK mark appears on the eye, signaling that it is now the chance to attack. When this happens, the player should Levitate over to Iblis's head and stand on the marker, and then unleash a blast of PK to damage the living flame, forcing it to recoil back across the sea of lava. While he is falling back, several cooling fireballs rise to the foothold which can be used to attack him more. After having half of his Health Gauge depleted, Iblis will raise his arms and conjures up a massive lava sphere. The player will have just a few seconds to watch Iblis gather up the lava before it catapults the sphere across the foothold. When the lava sphere is almost upon the foothold, use PK to take control of it, just like a normal fireball. Still facing Iblis, throw the sphere back to deal damage to him. If the player misses the sphere as it descends on the platform, the sphere will destroy a great part of the foothold and cause damage to Silver.
If the player has not managed to defeat Iblis after the lava sphere attack yet, he will go into approaching the foothold in order to break another part of it again. The Shockwaves that he sends during his approach are more and at a faster rate this time. But, other than that, the rest of the fight works the same as before.
Music
Video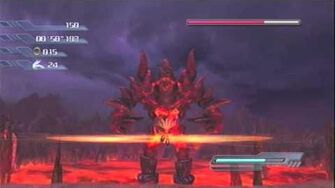 Trivia
---
Main article | Script (Sonic, Shadow, Silver, Last) | Staff | Manuals | Glitches | Beta elements | Gallery
Playable characters
Sonic (Super Sonic) | Tails | Knuckles | Shadow (Super Shadow) | Rouge | Omega | Silver (Super Silver) | Blaze | Amy
Non-playable characters
Accordion Player | Adrianna | Alan | Alberto Robert | Alfano | Anna | Antonio | Aristo | Berruni | Bishop | Claudia | Dante | Dr. Eggman | Duchess of Soleanna | Duke of Soleanna | Elkan | Frances | Francesca | GUN Soldier | Galienna | Gina | Hatsun | Herman | Iblis | Ken Williams | Ladies-in-waiting | Liza | Lord Regis | Mancini | Mels | Mephiles (Mephiles's monstrous form) | Mikhail | Monica | Nicolo | Paganini | Parr | Pele | Pinto | Porta | Priest | Princess Elise the Third | Prodi | Pucci (Soleanna Boys) | Puccini | Renzo | Roberta | Rossi | Sabrina | Sandro | Solaris | Soleanna Royal Guards (Alessio, Fabio, Giorgio, Guido, Pietro) | Solomon | Sonic Man | Sophia | Zof
Action Stages
Wave Ocean | Dusty Desert | White Acropolis | Crisis City | Flame Core | Radical Train | Tropical Jungle | Kingdom Valley | Aquatic Base | End of the World
Town Stages
Castle Town | Forest | New City
DLC Stages
Sonic Boss Attack | Shadow Boss Attack | Silver Boss Attack | Team Attack Amigo
Town Missions
Sonic
1 | 2 | 3 | 4 | 5 | 6 | 7 | 8 | 9 | 10 | 11 | 12 | 13 | 14 | 15 | 16 | 17 | 18 | 19 | 20
Shadow
1 | 2 | 3 | 4 | 5 | 6 | 7 | 8 | 9 | 10 | 11 | 12 | 13 | 14 | 15
Silver
1 | 2 | 3 | 4 | 5 | 6 | 7 | 8 | 9 | 10 | 11 | 12 | 13 | 14 | 15 | 16 | 17 | 18
Enemies
Dr. Eggman's mechs
Egg Armor | Egg Bomber | Egg Buster | Egg Buster (Egg Gunner) | Egg Cannon | Egg Chaser | Egg Commander | Egg Flyer | Egg Guardian | Egg Gunner | Egg Hunter | Egg Keeper | Egg Lancer | Egg Liner | Egg Rounder | Egg Searcher | Egg Stinger | Egg Sweeper | Egg Walker
Iblis's Minions
Gazer | Golem | Iblis Biter | Iblis Taker | Iblis Worm | Shadows | Stalker | Titan | Tricker
Bosses
Egg-Cerberus | Egg-Genesis | Egg-Wyvern | Iblis | Mephiles | Shadow | Silver | Solaris | Sonic
Moves/Techniques
Arrow of Light | Accelerator Tornado | Attack | Blast Jump | Bomb | Bomb Snipe | Bound Jump | Chaos Attack | Chaos Boost (Chaos Blast, Chaos Lance, Chaos Snap) | Chaos Spear | Climb | Custom Action (Gun Drive, Homing Smash, Mach Speed, Scale, Slow, Thunder Guard, Tornado) | Crouch | Double Jump | Dummy Ring Blitz | Dummy Ring Bomb | Dummy Ring Snipe | Edge Attack | Fire Claw | Fly | Glide | Grab All | Ground Shaker | Hammer Attack | Heart Mine | Hold Smash | Homing Attack | Hover | Invisibility | Jump Dash | Levitate | Light Dash | Lock-On Shot | Omega Launcher | Omega Shot | Psychokinesis | Psycho Shock | Psycho Smash | Punch Attack | Screwdriver | Shield of Light | Sliding Attack | Spear of Light | Spin Dash | Spin Jump | Spin Kick | Spinning Claw | Teleport Dash | Turbo Boost | Wall Jump | Wings of Light
Vehicles
Bike | Buggy | Hover Craft | Glider
Gimmicks and obstacles
Bungee Rope | Conveyor Belt | Cylinder | Eagle | Eye of Solaris | Hanging Bell | Hint Ring | Horizontal Bar | Jump Panel | Laser field | Lotus | Mechanical Ring | Mirror of Soleanna | Orb statue | Orca | PK mark | Purple orb | Point Marker | Pulley | Rainbow Ring | Silver Sphere | Sphere | Spiked bar | Spotlight | Spring | Switch | Tightrope | Trick Jump Panel | Turtle | Vine | Warp Hole | Wide spring | Wind switch
Items
General
Apple | Barrel | Chaos Drive | Container (Blue crate, Case, Explosive crate, Steel Container, Wooden Container) | Custom Shoes | Dummy Ring | Explosion Trap | Goal Ring | Heart bomb | Item Box (Extra Life, Gauge Up, High Speed, Invincible, Rings) | Key | Light Core | Medal | Minecart | Ring | Snowboard
Level Up Items
Air Chip | Antigravity | Bounce Bracelet | Gem (Blue Gem, Green Gem, Purple Gem, Rainbow Gem, Red Gem, Sky Gem, White Gem, Yellow Gem) | Heart of Wind | Light Chip | Memory Shard (black) | Memory Shard (blue) | Memory Shard (red) | Power Bracelet | Shock Bracelet | Single-Layered Extreme
English voice actors
Jason Griffith (Sonic, Shadow the Hedgehog) | Pete Capella (Silver the Hedgehog) | Lacey Chabert (Princess Elise) | Mike Pollock (Dr. Eggman, Narrator) | Amy Palant | (Tails, Ladies-in-waiting) | Lisa Ortiz (Amy, Ladies-in-waiting) | Bella Hudson (Blaze) | Dan Green (Knuckles, Mephiles, Solaris Project scientists) | Kathleen Delaney (Rouge) | Maddie Blaustein (Omega) | David Wills (Duke, G.U.N communitcator)
Japanese voice actors
Jun'ichi Kanemaru (Sonic) | Kōji Yusa (Shadow) | Daisuke Ono (Silver) | Maaya Sakamoto (Princess Elise) | Chikao Ōtsuka (Dr. Eggman) Kenji Utsumi (Narrator, Duke) | Ryō Hirohashi (Tails) | Hikari Yono (Ladies-in-waiting) | Nao Takamori (Blaze) | Nobutoshi Canna (Knuckles) | Takayuki Sakazume (Mephiles) | Keiji Okuda (Solaris Project scientist, G.U.N. communicator) | Yoshikazu Kozuma (Solaris Project scientist) | Rumi Ochiai (Rouge) | Taeko Kawata (Amy) | Taiten Kusunoki (Omega)
Music
Songs
All Hail Shadow | Dreams of an Absolution | His World | My Destiny | Solaris Phase 1 | Sweet Dreams AKON Mix
Albums
Sonic the Hedgehog Original Soundtrack | Sonic the Hedgehog Vocal Traxx: Several Wills
Other
Action Gauge | Auto Running | Chao in Space | Sonic the Hedgehog CHAOS CRUSH! | Day of Disaster | Doctor Eggman's chair | Egg Carrier | Egg train | Festival of the Sun | Havok | Health Gauge | Rank | Rimlight | Scepter of Darkness | Shop | Soleanna | Solaris Project | Super-Speed Stage
Community content is available under
CC-BY-SA
unless otherwise noted.