Fire Emblem Warriors: Three Hopes - The Loop
Play Sound
This article is about a subject in the real world.

Information in this article is about real-life people, companies, and objects, which do not relate to the in-universe Sonic series.
IDW Publishing is an American comic book company founded in 1999. IDW, short for "Idea and Design Works," has the publishing rights to several licensed comic series, including The Transformers and Teenage Mutant Ninja Turtles. The company publishes the current Sonic the Hedgehog comic book series.
History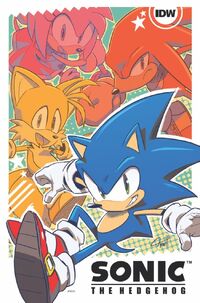 On 21 July 2017, Sega and IDW Publishing announced that they would be collaborating together to deliver a new Sonic the Hedgehog comic series in 2018 following the cancellation of Archie Comics' long running Sonic the Hedgehog comic book.[1] The first official creative summit was conducted on 3 August 2017.[2]
At New York Comic Con 2017, the first tidbits regarding IDW's publication of the Sonic comics were revealed on flyers, which promised "brand-new stories" featuring "characters old and new," and that the first issues were scheduled to be released in April 2018.[3] It was then revealed that a four-week long event would be held during the month of April 2018 where an issue of the comic will be released each week. With this announcement, it was also confirmed that Ian Flynn, former writer of the Archie Sonic comics, was confirmed to be also writing for the IDW Sonic comics.[4] Later, on 16 January 2018, it was revealed that Tracy Yardley, a long-time Sonic artist at Archie Comics, would be joining the IDW Sonic team as well.[5]
List of publications
Comic series
Sonic the Hedgehog Annual:
One-shots
Paperback and hardcover collections
IDW Games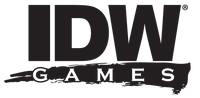 IDW Games is a division of IDW Publishing that publishes licensed tabletop games. With the acquisition of the Sonic comic license, they have released multiple games based on the series:
References
↑ Sonic the Hedgehog on Twitter. Twitter (21 July 2017). Retrieved on 21 July 2017. "Sonic the Hedgehog: SEGA and IDW are thrilled to announce a partnership to bring Sonic Comics to fans new and old. The new series arrives 2018!"
↑ Chris Ryall on Tumblr. Tumblr (3 August 2017). Retrieved on 3 August 2017.
↑ T-Bird (5 October 2017). IDW Sonic Comic Teaser Features Tyson Hesse Artwork. Sonic Stadium. Retrieved on 6 October 2017. "Thank you for joining us for the first ever IDW/Sonic Town Hall! IDW and SEGA are proud to bring you an all-new chapter of Sonic the Hedgehog comics! After more than 25 years, Sonic's adventures have captured the imaginations of countless fans, and have inspired one of the most passionate fan bases in the world. We look forward to bringing you brand-new stories, featuring characters old and new, that continue this proud legacy of the fastest comics around! SPEEDING YOUR WAY APRIL 2018!"
↑ IDW Publishing and SEGA® Welcome Veteran Sonic Writer Ian Flynn. IDW Publishing (8 October 2017). Retrieved on 8 October 2017. "A new era of Sonic comics will begin next April with a four-week event. IDW will be moving at Sonic-like speeds to publish the first four issues of the new series in the span of four weeks. Those issues will be written by Flynn with a team of artists joining him to be announced at a later date."
↑ SSF1991 (16 January 2018). Tracy Yardley! Confirmed For IDW Sonic Team, One Of Multiple Covers For Issue #1 Released. TSSZ News. Retrieved on 17 January 2018.
External links