Hyudoros (ヒュードロ, Hyūdoro?), also known as simply Ghosts,[1] are enemies in the Sonic the Hedgehog series. They are a breed of ghosts that lurk in the Sandopolis Zone and other haunted areas.
Appearance
Hyudoros are ghosts with a horrific appearance that reside in dark places. In Sonic & Knuckles, they are ghosts captured by Eggman and forced into a single Capsule. As they start to appear, they are shown to be small ghosts. As the lights start to turn off, they grow slightly larger and gain two horns on their head, as well as distinctly sharper eyes.
Game appearances
Sonic & Knuckles

In Sonic & Knuckles, the player encounters the Hyudoros in Sandopolis Zone Act 2 after the player opens a lonely Capsule. Hyudoros cannot be destroyed; if the player jumps, they will follow them. If the player goes too fast, the Hyudoros will disappear and meet the player wherever they are. They do not try to hurt the player until it is completely dark. The player also cannot touch them as they fly above until they are in their perfect form.
Hyudoros appear in three different forms, depending on how dark the act currently is. The darker the act becomes, the stronger the Hyudoros will be:
In full light, there are no Hyudoros.
In semi-brightness, one small Hyudoro appears to be floating above.
In semi-darkness, two evil-looking Hyudoros appear hovering, while they don't start attacking.
In complete darkness, three Hyudoros with horns on their heads appear and start to attack the player.
The only way to make the Hyudoros disappear for a short time is to pull down the light switches located around the level. The Hyudoros will disappear completely and the lights will turn on automatically when the player falls into the arena where the boss of the zone is encountered. The player can Spin Jump on them during their attack, but they will reappear after a second and continue their assault. A similar effect will occur if the player is invincible. As Knuckles the Echidna, the ghosts seem to already be free, since Sonic opened the capsule before Knuckles reached Sandopolis Zone. This is especially dangerous at the beginning of Act 2, since the act starts off completely dark and Knuckles has no Rings.
Sonic Rivals 2
In Sonic Rivals 2, the Hyudoros appear as enemies in Mystic Haunt Zone. In this game, only one Hyudoro appears during one mansion section of the level. The player cannot defeat the Hyudoro, but it is possible to make it disappear by pressing down the switches to light up the interior mansion before the Hyudoro attacks.
In other media
Sonic the Comic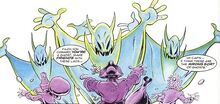 In the Sonic the Comic series published by Fleetway, the Hyudoros are ghosts inhabiting the Lost Pyramid of Sandopolis. As a part of the pyramid's curse, they will attack any intruders when the light starts to fade. During the comic's run, they attacked Captain Plunder and his crew when they tried to steal the pyramid's treasure and the Chaotix Crew when they paid a visit.
Trivia
As the Sonic Jam strategy guide states, Hyudoros weren't created by Dr. Eggman. It also reveals that Eggman infiltrated into the pyramid and trapped the ghosts inside the Capsule, working very hard.[2]

Several media mentions that Sandopolis Zone Act 2 takes place in a cursed pyramid, with Dr. Robotnik trying to trap Sonic inside.

When the capsule is opened inside of the pyramid, it releases six Hyudoros even though only three of them start to follow the player. It is unknown where the three others have gone, although it is possible that as one of the Hyudoros disappear, another one comes to take place.
In Sonic & Knuckles, even though players can avoid opening the capsule containing Hyudoros with Debug Mode or glitching, they will still appear if the player touches any Checkpoint.
Hyudoros and Boos are considered to be separate ghost species, but there are a few similarities. Both of them have resided in a dark pyramid and are able to disappear and come back.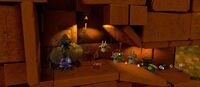 Three Hyudoro make an appearance in the Sandopolis Zone sub-area of the Sonic the Hedgehog World in Lego Dimensions. As in Sonic & Knuckles, they appear after opening a lone capsule. Upon being freed, they split a Gold Brick into three pieces and hide in dark corners of the map. The player must use the Shift Keystone to get near their hiding spots, then push a switch to open the doors they hide behind and defeat them using a character with the Illumination ability.
The Hyudoros' name is a Japanese onomatopoeia for the sound a ghost would make.
Gallery
References
↑ "Here's the desert stage, something that hadn't appeared in the series until this point, so we were able to make it relatively free of earlier influences. The ghosts appearing in the second half are the first enemies who weren't made by Eggman. When he infiltrated the pyramid, he must have worked very hard to trap them inside that box." - Takashi Iizuka, Sonic Team Commentary in Sonic Jam Strategy Guide.
---
Main articles (Sonic 3, Sonic & Knuckles, Sonic 3 & Knuckles, Sonic & Knuckles Collection) | Gallery (Sonic 3, Sonic & Knuckles, Sonic & Knuckles Collection) | Beta elements (Sonic 3, Sonic & Knuckles) | Staff (Sonic 3, Sonic & Knuckles, Sonic & Knuckles Collection) | Glitches (Sonic 3, Sonic 3 & Knuckles, Sonic & Knuckles Collection)
Characters
Sonic (Super Sonic, Hyper Sonic) | Tails (Super Tails) | Knuckles (Super Knuckles, Hyper Knuckles) | Dr. Robotnik | Mecha Sonic (Mecha Sonic's Super State) | Animals (Flicky (Flicky's Super State), Pocky, Pecky, Cucky, Ricky, Rocky)
Badniks
Batbot | Blaster | Blastoid (Carnival Night Zone) | Blastoid (Hydrocity Zone) | Bloominator | Bubbles | Bugernaut | Butterdroid | Catakiller, Jr. | Chainspike | Clamer | Cluckoid | Corkey | Dragonfly | EggRobo | Fireworm | Flybot767 | Hyudoro | Iwamodoki | Jawz | Madmole | Mantis | Mega Chopper | Monkey Dude | Mushmeanie | Orbinaut | Penguinator | Pointdexter | RhinoBot | Ribot | Rock'n | Sandworm | Skorp | Snale Blaster | Spikebonker | Spiker | Star Pointer | Technosqueek | Toxomister | Turbo Spiker
Zones
Sonic 3
Angel Island Zone | Hydrocity Zone | Marble Garden Zone | Carnival Night Zone | IceCap Zone | Launch Base Zone | Special Stages | Bonus Stages
Sonic & Knuckles
Mushroom Hill Zone | Flying Battery Zone | Sandopolis Zone | Lava Reef Zone | Hidden Palace Zone | Sky Sanctuary Zone | Death Egg Zone | The Doomsday Zone | Special Stages | Bonus Stages
Competition
Azure Lake Zone | Balloon Park Zone | Chrome Gadget Zone | Desert Palace Zone | Endless Mine Zone
Bosses
Sub-bosses
Doctor Robotnik's Flame Craft | Doctor Robotnik's Whirlpool Machine | Tunnelbot | Self D-Struct Machine | Iceball | Swing'm Spikez | Hei Hou | Gapsule | Barrier Eggman | Guardian | Heat Arms | Egg Mobile-H | Flying Eggman | Red Eye | Death Ball
Zone bosses
Doctor Robotnik's Flame Craft | Doctor Robotnik's Waterspout and Depth Charge Machine | Doctor Robotnik's Jet Drill Pod | Doctor Robotnik's Energy Ship | Doctor Robotnik's Freeze-O-Matic | Ball Shooter | Beam Rocket | Big Arm | Jet Mobile | Hang Mobile | Egg Golem | Hot Mobile | Knuckles | Mecha Sonic | Mecha Sonic's Super State | Great Eggman Robo | The Doomsday Zone
Moves/Techniques
Bound Jump | Double Jump | Fireball Spin Dash | Glide | Gliding Knuckles Attack | Hyper Flash | Insta-Shield | Propeller Flying | Spin Jump | Spin Dash | Spin Attack | Wall Climb
Items
Air Bubble | Balloon | Banana | Bomb | Booster | Bumper | Bumper wall | Cannon | Capsule | Change | Chaos Emerald | Cloud | Continue | Fan | Jump Stand | Monitor (Water Shield, Flame Shield, Invincibility, Lightning Shield, Super Ring, Super Shoes, Extra Life, S, Eggman) | Movable box | Mushroom | Pulley | Ring | Signpost | Self-Propelled Bomb | Slow-Down Shoes | Snowboard | Sphere | Spikes | Spring | Spinning Top | Star Post (Star Circle) | Super Emerald | Switch | Transport | Vine | Zip Line
Other
Angel Island | Barrel | Blue Knuckles | Conveyor Belt | Corkscrew loop | Crusher | Debug Mode | Fireball Cannon | Flipper | Flywheel | Freeze | Giant spear | Goal | Gravity Control Switch | Gumball | High-speed elevator | High-speed warp tube | Icicle | Iron ball | Jewel Radar | Perfect Bonus | Platform-raising Wheel | Pole Elevator | Relief | Reverse | Ring Shooter | Rock Drill | Seesaw | Shuttle loop | Slot machine | Snowblower | Sonic & Knuckles • Sonic the Hedgehog 3 | Strange Relief | Time Attack | Tornado | Warp Point | Winding Tunnel | Wonderman
Community content is available under
CC-BY-SA
unless otherwise noted.