Hydrocity Zone (ハイドロシティ , Haidoroshiti ?, lit. "Hydrocity") is the seventh Zone in the Mania Mode of Sonic Mania and Sonic Mania Plus, and the eight Zone in the Encore Mode of Sonic Mania Plus. This Zone is a re-imagination of Hydrocity Zone from Sonic the Hedgehog 3 for the Sega Mega Drive.
Description
Like the original Zone, this Zone is a water-filled underground system with fans and blocks. Interestingly, Act 1 uses Act 2's original background and vise versa. In the background Act 2, some of the walls are shown to have crumbled, revealing large cathedral windows.
Story
Mania Mode
After being sent to Hydrocity Zone from Stardust Speedway Zone by the Phantom Ruby's power at Eggman's hands, Sonic, Tails and Knuckles literally drop into Zone, where they resume their mission to get the Phantom Ruby away from Eggman. Midway through the Zone, a submerged Eggman tries to blow up the ruins, but the team gets back at him with his Screw Mobile when he tries to escape them. Sonic and co. also manage to escape Eggman's final trap at the end of the Zone, although the egg-shaped scientist again eludes capture. In the aftermath of the battle, a wall leading into a flooded corridor breaks down in front of Sonic and co., who use it to escape.
Encore Mode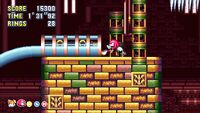 Getting themselves caught in Dr. Eggman's usage of Phantom Ruby again, Sonic, Tails, Knuckles, Mighty and Ray find themselves teleported from Stardust Speedway Zone to Hydrocity Zone. After plummeting into the Zone, the group tries to escape. Along the way, they find a submerged Eggman trying to blow up the ruins around them. However, they are able to stop him from his Screw Mobile. Later, Sonic and co. manage to defeat Eggman when he attacks them with his Laundro-Mobile, although the egg-shaped scientist again eludes capture. Afterward, Sonic and his friends use a flooded tunnel that erupts from the wall in front of them to escape the Zone.
Gameplay
The majority of Hydrocity Zone is underwater, so this requires the player to go slow and steady. Most of the new Zone designs and concepts are implemented in Hydrocity Zone Act 1. This Act's main gimmick is a mechanic that allows the player to control the local water levels by pulling down green Switch-based hooks that hang from the ceiling. By manipulating the water levels, players can utilize gimmicks like canoes to cross pools and reach new paths. In the underwater sections, there are also Switches that encapsulate the playable characters in Air Bubbles that they can ride around in underwater. While riding these bubbles, players can press left/right to steer them, press up to ascend faster, and press the jump buttons to escape them. The underwater sections also have fans in several spots that create currents the player can ride (both with and without an Air Bubble), which are often necessary to reach certain areas.
Hydrocity Zone has several underwater passages that suck the playable characters into them. Within them, the player has no movement control, although they can avoid obstacles by moving up/down the fragile poles that the characters occasionally grab onto when passing through. Some areas also have spears that periodically pop out of the surfaces.
Hydrocity Zone Act 2 features all the original gimmicks and elements from the original Hydrocity Zone Act 2, except for the moving wall and the inclusion of downard underwater currents.
Overview
Act 1
Act 1 is an obvious recreation of Act 1 of the original Zone, but harder. Eventually, the player will get to a part where they can see Dr. Robotnik swimming, where they will fight the Act's boss.
Act 2
Act 2 is more straightforward in design in comparison to Act 1, being based on Act 2 of the original Hydrocity Zone, with some level design incorporated from the original Hydrocity Zone Act 1.
Bosses
Act 1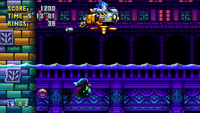 The boss of Hydrocity Zone Act 1 is Dive Eggman, who is Dr. Eggman in a scuba suit. The battle "begins" with Eggman deploying bombs that cause the water level to rise, initiating a short segment where the player must reach the Screw Mobile before getting crushed in between the rising ground and the ceiling. The player must use the Screw Mobile to suck up Eggman and damage him with the machine's blades while avoiding sucking up the bombs he deploys. The depth charges can be used to destroy the bombs though. After four hits, Eggman will be beaten.
Act 2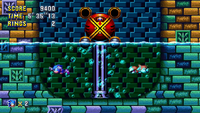 The boss of Hydrocity Zone Act 2 is the Laundro-Mobile, an underwater vehicle used by Dr. Eggman. The battle begins with Eggman using a propeller to blow the player rightwards underwater. During this phase, the player must avoid spikes while activating bombs. Hitting Eggman with the bombs damages him and produces an Air Bubble for the character to stave off drowning during this phase of the battle. After six bombs have hit, the battle changes to a regular platforming battle that mimics the Whirlpool Machine from the original Hydrocity. After eight hits, the battle is over.
Trivia
Interestingly, a rather popular glitch in the original Hydrocity Zone where the playable character could run backwards across the water (dubbed by fans as "moonwalking") was not present in the remastered version of Hydrocity Zone in Sonic Mania, but was later readded into the game with the 1.04 update released alongside Sonic Mania Plus.
This is the only Zone in Sonic Mania to originate from Sonic the Hedgehog 3 (if not counting Angel Island Zone's appearance in the Encore Mode of Sonic Mania Plus).
Normally when playing through original stages in Sonic Mania, the first Act is a slight remake of the original stage and the second Act is a complete remake. However, Act 1 is completely remade, while Act 2 is a slight remake of Hydrocity Zone's Act 2.
The prediction of Hydrocity Zone being in Sonic Mania started from a tweet from Lucas Carvalho on Twitter. He made a picture of Knuckles running through Hydrocity, but it was later deleted and changed to Flying Battery Zone.
Hydrocity Zone has the largest amount of Badnik types in Sonic Mania, at seven.
Hydrocity Zone features several references and Easter eggs:
Music
| Name | Artist | Length | Music Track |
| --- | --- | --- | --- |
| Hydro City Zone (Act 1) | Tee Lopes | 2:10 | |
| Hydro City Zone (Act 2) | Tee Lopes | 2:08 | |
Videos
See also
References
---
Main article | Gallery | Beta elements | Staff | Glitches | Re-releases (Plus)
Playable characters
Sonic the Hedgehog (Super Sonic) | Miles "Tails" Prower (Super Tails) | Knuckles the Echidna (Super Knuckles) | Mighty the Armadillo* (Super Mighty)* | Ray the Flying Squirrel* (Super Ray)*
Non-playable characters
Dr. Eggman | Hard Boiled Heavies (Heavy King, Heavy Gunner, Heavy Shinobi, Heavy Magician, Heavy Rider) | Phantom Heavies (Phantom King, Phantom Gunner, Phantom Shinobi, Phantom Magician, Phantom Rider) | Metal Sonic (Giga Metal) | Animals (Becky, Cucky, Flicky, Locky, Micky, Pecky, Picky, Pocky, Ricky, Rocky, Tocky, Wocky) | Jimmy
Zones
Angel Island Zone* | Green Hill Zone | Chemical Plant Zone | Studiopolis Zone | Flying Battery Zone | Press Garden Zone | Stardust Speedway Zone | Hydrocity Zone | Mirage Saloon Zone | Oil Ocean Zone | Lava Reef Zone | Metallic Madness Zone | Titanic Monarch Zone | Egg Reverie Zone | Special Stage | Bonus Stage | Pinball Stage*
Enemies
Armadiloid | Aquis | Asteron | Ball Hog | Batbrain | Blaster | Blastoid | Bloominator* | Bugernaut | Bumpalo | Buzz Bomber | Cactula | Catakiller, Jr. | Chopper | Clucker | Crabmeat | Dango | Dragonfly | Eggrobo | Fireworm | Flasher mk.II | Gohla | Grabber | Hotaru | IceBomba | Iwamodoki | Jawz | Jellygnite | Juggle Saw | Kabasira | Kanabun | Madmole | Matryoshka-Bom | Mega Chopper | Mic Drop | Monkey Dude* | Moto Bug | Newtron | Octus | Pointdexter | Rattlekiller | Rexon | RhinoBot* | Robot Bee | Robot Beetle | Roller mk.II | Scarab | Sentry Bug | Shutterbug | Silver Sonic | Spiny | Splats | Sweep | Technosqueek | Toxomister | Tubinaut | Turbo Spiker | Turbo Turtle | Vultron | Wall Crawl | Woodrow
Bosses
Mini-bosses
DD Wrecker | Amoeba Droid | Heavy Gunner | Big Squeeze | Shiversaw | Hotaru Hi-Watt | Dive Eggman | Uber Caterkiller | Meter Droid | Drillerdroid | Egg Pistons mk.II | Crimson Eye
Zone bosses
Death Egg Robot | Mean Bean Machine | Weather Globe | Spider Mobile | Heavy Shinobi | Metal Sonic | Laundro-Mobile | Heavy Magician | Mega Octus | Heavy Rider | Heavy King | Gachapandora | Phantom Egg | Phantom King and Klepto Mobile
Moves/Techniques
Air Glide* | Bounce Jump | Climb | Double Jump | Drop Dash | Fireball Spin Dash | Glide | Hammer Drop* | Insta-Shield | Propeller Flying | Ring Spark Field | Spin Attack | Spin Dash | Spin Jump | Super Peel Out | V. Maximum Overdrive Attack
Gimmicks and obstacles
Beanstalk | Bomb | Bumper | Bungee Rope | Bumper wall | Conveyor Belt | Crusher | Dash Panel | Electrical conduit | Fan | Fireball Cannon | Flipper | Flywheel | Goal Plate | High-speed warp tube | Ice Spring | Iron ball | Jump Panel | Platform-raising Wheel | Pulley | Ruby Mist | Seesaw | Size Beam | Snowblower | Spikes | Spring | Switch | Transport | Vine | Zip Line
Objects
Air Bubble | Capsule | Chaos Emerald | Giant Ring | Giant spear | Item Box (1-UP, Blue Shield, Bubble Shield, Character*, Hyper Ring, Eggman Mark, Fire Shield, Invincible, Lightning Shield, Player Swap, Power Sneakers, Random, S, Super Ring) | Little Planet flowers | Master Emerald | Metal Sonic Projector | Medallion | Ring | Robot transporter | Schrodinger's Capsule* | Sphere | Star Circle | Star Post | Time Warp Plate | UFO | Warp Point
Music
Sonic Mania (vinyl album) | Sonic Mania Original Soundtrack (Selected Edition) | Sonic Mania Plus Original Soundtrack
Other
Angel Island | Auto Running | Continue | Death Egg Robot | Debug Mode | Egg Mobile | Freeze | Hang Glider | Klepto Mobile | Level Select | Little Planet | Mega Mack | Perfect Bonus | Phantom Ruby | Rock Drill | Shuttle loop | Sonic Mania Adventures (Sonic Returns, Sonic and Tails, & Knuckles, Mighty and Ray, Metal Mayhem, From: A. Rose, The Complete Mini-Series) | Time Attack | Time Over | Tornado | Winding Tunnel

*Appears in Sonic Mania Plus only
Community content is available under
CC-BY-SA
unless otherwise noted.