The Hotaru[note 1][note 2] is an enemy in the Sonic the Hedgehog series. It is a mass-produced, firefly-based Badnik model created by Dr. Eggman.
Appearance
The Hotaru is a firefly-type Badnik with a yellow and pink-colored head, small antennas and front legs. Their abdomens is mainly an electric light bulb while their thoraxes are thick and red.
Game appearances
Sonic the Hedgehog CD
In their debut in Sonic the Hedgehog CD, this Badnik appears as an enemy and is referred to as Hotaru[note 1] in the internal game files. However, it is unnamed in any material. In this game, Hotarus come in two types depending on their Rounds.
In Stardust Speedway, Hotarus fly around in pairs for a short while before locking themselves into position above and below on the screen when the player approaches. They situate themselves in such a way that no matter how the player moves, they stay in the same position in relation to the player. They then shoot a line of electrified balls in between them before flying away, never to be seen again. The player can destroy them with a Spin Jump before this happens. In the Bad Future or sometimes the Present timeframe of Stardust Speedway, these Badniks will be worn down from age, showing broken light bulbs. Their attacks can also not harm Sonic and create nothing more than harmless flashes across the screen.
In Metallic Madness Zone 3 there are three Hotarus in a closed room immediately before the final boss. As they each start appearing, they fly in linear direction, shoot an electrical laser straight down to the ground, and then fly to a different part in the room to repeat the pattern. The player is required to defeat the three Hotarus in order to reach the boss. These Hotarus are always present in this room, even in the Good Future for Zone which would ordinarily remove the enemies.
Like every Badnik in the game, Hotarus are powered by Little Planet flower seeds which will pop out of them when they are defeated.
Sonic Mania

In Sonic Mania, and its expansion Sonic Mania Plus, these Badniks returned as enemies and are referred to as Houtarus in the internal game files,[note 2] but are otherwise unnamed in any materials. In terms of design, they look exactly like their pristine versions in Sonic the Hedgehog CD. In these games, they are encountered in both Acts of Stardust Speedway Zone.
Within Stardust Speedway Zone Act 1 and 2 themselves, Hotarus pursue and abandon the player like they did in Sonic the Hedgehog CD, but their attack patterns have been changed; rather than appearing pairs, Hotarus appear here alone and will attack by shooting an electrical laser straight into the ground.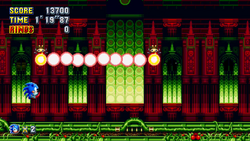 For the mini-boss of Stardust Speedway Zone, the player goes up against a Hotaru Hi-Watt, which is basically an larger Hotaru. When this boss flies off-screen during the battle, the player must then fight regular Hotarus. These Badniks comes in two waves based on their attack patterns: the first includes one Hotaru who behaves much like those faced throughout Stardust Speedway Zone Act 1, and the second includes a pair of Hotarus which appear high above the player and form a chain of electrical chain between them, before lowering themselves and the chain to damage the player. The latter wave's chain can be broken by destroying one of the Hotarus however.
Upon destroying a Hotaru in this game, it will release an Animal.
Powers and abilities
Hotarus are capable of flight and can move at speeds rivalling Sonic's. With the aid of their bulbs, they can emit electrical lasers, which they can either fire as beams or form electrical chains with when linking together with another Hotaru. Hotarus also have the ability to join together with other Hotarus to form a Hotaru Hi-Watt.
Variants
Hotaru Hi-Watt

The Hotaru Hi-Watt is a giant version of the regular Hotaru. In additon to being able to fire larger laser beams, the Hotaru Hi-Watt can assemble itself from regular Hotarus or split itself back into them.
Trivia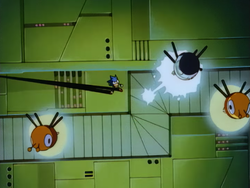 "Hotaru" (

ホタル

?

) is the Japanese word for "firefly".
Hotarus in Metallic Madness Zone 3 are first notable enemies, that are required to be destroyed in order to pass through the room or proceed in the Stage. This game mechanic is utilized much later in games such as Sonic Heroes, Sonic Rush and Sonic the Hedgehog (2006), where some groups of enemies have to be defeated in order to open the door of the closed room or activate certain item separately or inside the Case.
Hotaru have some similarities to the Flasher Badniks from Mystic Cave Zone in Sonic the Hedgehog 2, as sharing the same species being based of and both of them using the electricity.
Gallery
Concept artwork
Screenshots
Notes
↑ 1.0 1.1 While not listed in any instruction manuals, in-game source code from the Sonic Gems Collection version of Sonic the Hedgehog CD refers to this Badnik as "hotaru7" and "hotaru8"; the 7 or 8 designating which Round's version of the Badnik is being used.
↑ 2.0 2.1 The PC version of Sonic Mania listed the enemy as "Hotaru" according to the internal files of the game.
---
Main article | Staff | Glitches | Beta elements | Gallery | Re-releases (Plus)
Playable characters
Sonic (Super Sonic) | Tails (Super Tails) | Knuckles (Super Knuckles) | Mighty* (Super Mighty*) | Ray* (Super Ray*)
Non-playable characters
Dr. Eggman | Hard Boiled Heavies (Heavy King, Heavy Gunner, Heavy Shinobi, Heavy Magician, Heavy Rider) | Phantom Heavies (Phantom King, Phantom Gunner, Phantom Shinobi, Phantom Magician, Phantom Rider) | Metal Sonic (Giga Metal) | Animals (Becky, Cucky, Flicky, Locky, Micky, Pecky, Picky, Pocky, Ricky, Rocky, Tocky, Wocky) | Jimmy | Rock Drill
Zones
Angel Island Zone* | Green Hill Zone | Chemical Plant Zone | Studiopolis Zone | Flying Battery Zone | Press Garden Zone | Stardust Speedway Zone | Hydrocity Zone | Mirage Saloon Zone | Oil Ocean Zone | Lava Reef Zone | Metallic Madness Zone | Titanic Monarch Zone | Egg Reverie Zone | Special Stage | Bonus Stage | Pinball Stage*
Enemies
Armadiloid | Aquis | Asteron | Ball Hog | Batbrain | Blaster | Blastoid | Bloominator* | Bugernaut | Bumpalo | Buzz Bomber | Cactula | Canister | Catakiller, Jr. | Chopper | Clucker | Crabmeat | Dango | Dragonfly | Eggrobo | Fireworm | Flasher mk.II | Gohla | Grabber | Hotaru | IceBomba | Iwamodoki | Jawz | Jellygnite | Juggle Saw | Kabasira | Kanabun | Madmole | Matryoshka-Bom | Mega Chopper | Mic Drop | Monkey Dude* | Moto Bug | Newtron | Octus | Pointdexter | Rattlekiller | Rexon | RhinoBot* | Robot Bee | Robot Beetle | Roller mk.II | Scarab | Sentry Bug | Shutterbug | Silver Sonic | Spiny | Splats | Sweep | Technosqueek | Toxomister | Tubinaut | Turbo Spiker | Turbo Turtle | Vultron | Woodrow
Bosses
Mini-bosses
DD Wrecker | Amoeba Droid | Heavy Gunner | Big Squeeze | Shiversaw | Hotaru Hi-Watt | Dive Eggman | Uber Caterkiller | Meter Droid | Drillerdroid | Egg Pistons mk.II | Crimson Eye
Zone bosses
Death Egg Robot | Mean Bean Machine | Weather Globe | Spider Mobile | Heavy Shinobi | Metal Sonic | Laundro-Mobile | Heavy Magician | Mega Octus | Heavy Rider | Heavy King | Gachapandora | Phantom Egg | Phantom King and Klepto Mobile
Moves/Techniques
Air Glide* | Bounce Jump | Climb | Crouch | Double Jump | Drop Dash | Fireball Spin Dash | Glide | Hammer Drop* | Insta-Shield | Propeller Flying | Ring Spark Field | Spin Attack | Spin Dash | Spin Jump | Super Peel Out | Swim | V. Maximum Overdrive Attack
Gimmicks and obstacles
Beanstalk | Bomb | Bumper | Bungee Rope | Bumper wall | Cannon | Capsule | Conveyor Belt | Crusher | Dash Panel | Electrical conduit | Fan | Fireball Cannon | Flipper | Flywheel | Goal Plate | Hang Glider | High-speed warp tube | Ice Spring | Iron ball | Jump Panel | Platform-raising Wheel | Pulley | Ruby Mist | Seesaw | Size Beam | Snowblower | Spikes | Spring | Star Post | Switch | Transport | Vine | Zip Line
Items
Air Bubble | Chaos Emerald | Giant Ring | Giant spear | Item Box (1-UP, Blue Shield, Bubble Shield, Character*, Hyper Ring, Eggman Mark, Fire Shield, Invincible, Lightning Shield, Player Swap, Power Sneakers, Random, S, Super Ring) | Little Planet flowers | Master Emerald | Metal Sonic Projector | Medallion | Ring | Robot transporter | Schrodinger's Capsule* | Sphere | Star Circle | Time Warp sign | UFO | Warp Point
Music
Sonic Mania (vinyl album) | Sonic Mania Original Soundtrack (Selected Edition) | Sonic Mania Plus Original Soundtrack
Other
Angel Island | Auto Running | Continue | Death Egg Robot | Debug Mode | Egg Mobile | Freeze | Klepto Mobile | Level Select | Little Planet | Mega Mack | Phantom Ruby | Perfect Bonus | Popgun | Shuttle loop | Sonic Mania Adventures ("Sonic Returns", "Sonic and Tails", "& Knuckles", "Mighty and Ray", "Metal Mayhem", "From: A. Rose", "The Complete Mini-Series") | Time Attack | Time Over | Time Warp | Tornado | Winding Tunnel

*Appears in Sonic Mania Plus only