This article is about a subject in the real world.

Information in this article is about real-life people, companies, and objects, and does not relate to the in-universe Sonic series.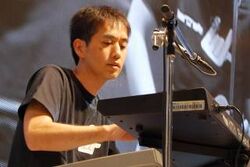 Hiroshi Kawaguchi (川口 博史, Kawaguchi Hiroshi?) is a video game music composer and musician who works for Sega. He is one of the oldest of Sega's sound team members and is still active today. He has been a part of both the S.S.T. Band (Sega Sound Team band) and the sound unit [H.] (successor to the S.S.T. Band), the latter of which he currently leads.
Kawaguchi was one of the composers for the soundtrack of the 1993 arcade game SegaSonic the Hedgehog, though it is not currently known which tracks he composed for the game. He worked closely with Yu Suzuki, and as a result, he served as the main composer for the Space Harrier, OutRun, and After Burner series, and has contributed music to many others.
Discography
Hang-On (1985)
Space Harrier (1985)
Alex Kidd: The Lost Stars (1986)
OutRun (1986)
Enduro Racer (1986)
Fantasy Zone (1986)
After Burner (1987)
After Burner II (1987)
Dynamite Dux (1988)
Power Drift (1988)
Turbo OutRun (Arcade Version) (1989)
Sword of Vermilion (1989)
G-LOC: Air Battle (Arcade Version) (1990)
GP Rider (1990)
Rent-A-Hero (1991)
Ninja Burai Densetsu (1991)
OutRunners (1992)
SegaSonic the Hedgehog (1993)
Metal Fangs (1993)
Cool Riders (1995)
WaveRunner (1996)
Sega Touring Car Championship (1996)
Rent A Hero No.1 (2000)
Crackin' DJ (2000)
Crackin' DJ Part 2 (2001)
Derby Owners Club Online (2004)
Sega Rally 2006 (2006)
Derby Owners Club 2008 (2008)
External links
Community content is available under
CC-BY-SA
unless otherwise noted.