A thrill-seeking robot that pulls off daring stunts. Better watch out for her dangerous jumps and her trusted Moto Bug, Jimmy.


— Description, Sonic Mania manual[1]
The Heavy Rider[1] (ヘビーライダー[2], Hebī Raidā?) is an antagonist that appears in the Sonic the Hedgehog series. A member of the Hard Boiled Heavies, the Heavy Rider is the enhanced version of an Egg-Robo created by Dr. Eggman after being struck with the power of the Phantom Ruby. The Heavy Rider is usually accompanied by her trusty steed, Jimmy.
Appearance
Originally an Egg-Robo, the Heavy Rider received a makeover when she stumbled upon the Phantom Ruby. Decorated as a knight, the Heavy Rider's design reflects that of a purple knight with a gray-colored helmet. She also has a black lower torso, red eyes, and gray appendages. She possesses as well three spikes on her chest and has purple forefeet.
History
Sonic Mania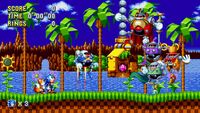 The Heavy Rider was originally an elite Egg-Robo who handled the most extreme tasks for her creator, Dr. Eggman.[3] After detecting a mysterious energy source on Angel Island, Eggman sent the Heavy Rider and the other Hard Boiled Heavies to investigate.[4] Upon reaching Angel Island, she and her troop excavated the energy source, the Phantom Ruby, just as Sonic the Hedgehog and Miles "Tails" Prower arrived. The Phantom Ruby promptly warped space-time around them,[4] transforming the Heavy Rider into her knight attire along with her troop. As a side effect of the ruby, the Heavy Rider and her team gained free wills and personalities of their own, though they were driven mad in the process.[1]
The Phantom Ruby transported the Hard Boiled Heavies, along with Sonic, Tails, and a nearby Knuckles the Echidna, to the Green Hill Zone, where the troop fled with the gemstone. After that, the Hard Boiled Heavies planned to keep the Phantom Ruby for themselves. The Heavy Rider, now having a Moto Bug named Jimmy as her steed, and her troop soon met Eggman again though, who tried to command the group. When they would not listen though, Eggman snatched the Phantom Ruby from their clutches. The Heavy Rider and her troop then fled the scene.
The Heavy Rider and Jimmy appeared soon after in the Lava Reef Zone where they fought Sonic and Tails onboard a rocket heading for Little Planet. However, the heroic duo proved too much for the Heavy Rider, who fled from the fight after being defeated.
The Heavy Rider, now modified into the Phantom Rider alongside a modified-Jimmy, would later reappear to fight Sonic and co. again during their fight with the Phantom Egg, but was unable to beat them.
Sonic Mania Plus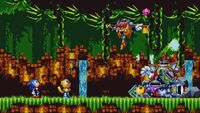 In Sonic Mania Plus, the Phantom Rider had been destroyed after the events in the Titanic Monarch Zone, her remains having been left on Angel Island with most of the other Phantom Heavies. However, after Sonic's return with the Phantom Ruby following the War to Take Back the Planet, the Heavy Magician was able to steal the Phantom Ruby and give it to the Phantom King, who used it to revive himself and the rest of the Hard Boiled Heavies, including the Phantom Rider, just as Sonic and his companion caught up to them. The group's resurrection reverted the Phantom Rider back to the Heavy Rider, while also triggering a warp that sent them all to Green Hill Zone. There, the Heavy Rider and the Hard Boiled Heavies fled with the Phantom Ruby in hand. In the meantime, the Heavy Rider regained Jimmy as her steed. When they regrouped, the group thought they could keep the Phantom Ruby to themselves. However, Eggman showed up again and took the ruby when they would not obey him, leaving the Heavy Rider and her troop to flee the scene.
When Sonic, Tails, Knuckles, Mighty and Ray boarded a rocket heading for Little Planet in the Lava Reef Zone, the Heavy Rider and Jimmy showed up to challenge the heroes. However, she lost and had to retreat. When the heroic group later fought the Phantom Egg, the Heavy Rider, now re-upgraded into the Phantom Rider once more, fought Sonic and co. when her turn came, but was unable to defeat the heroes.
Personality
The Heavy Rider is said to have gotten a couple of screws loose after receiving newfound power from the Phantom Ruby. Besides this, she is said to be a courageous thrill-seeker who loves pulling off dangerous stunts.[1] It is also implied that she has a playful attitude, as confetti and a loud "YAY!" is heard as she jumps over her stunts in her battle arena.
Powers and abilities
The Heavy Rider possesses incredible strength, enough to swing around a giant metal flail with ease. She is also shown to be a masterful driver when riding her trusty steed, Jimmy.
Weapons
The Heavy Rider's main weapon of choice is a large, gray-colored mace that she uses to protect herself and attack her opponents.
Battle
The Heavy Rider is one of the two final bosses for Lava Reef Zone (the other being the Heavy King) and the twentieth overall boss of Sonic Mania and Sonic Mania Plus.
In Sonic Mania, the Heavy Rider is fought with Sonic or Tails at the end of their version of Lava Reef Zone Act 2. In Sonic Mania Plus, she is fought with Sonic, Tails, Mighty or Ray at the end of their version of Lava Reef Zone Act 2 in Mania Mode, and with Sonic, Tails, Knuckles, Mighty or Ray at the end of Lava Reef Zone Act 2 in Encore Mode (if the right path is taken).
The fight takes place on-board a giant rocket set on a course for Little Planet. From Sonic Mania v1.0 to v1.03, the rocket never moves; as of Sonic Mania v1.04 and Sonic Mania Plus, the rocket will lift off just before the fight begins and will slowly rise up as the fight progresses.
Boss guide
During the fight, the Heavy Rider will continuously ride back and forth on Jimmy, swinging her mace around. Because of the mace and her high speed, she is a tricky foe to land hits on. If the player is about to collide with Jimmy, the Moto Bug will jump over them. Eventually, the Heavy Rider will perform one of two stunts:
She will drive up onto the ramps and make a daredevil jump over two flamethrowers that will spit fire all over the arena. This will get the crowd cheering and cause confetti to rain down on the arena. During this attack, the player must stay out of the center of the arena unless they have a Flame Shield.
She will ride off the left or right sides of the arena, rev up some speed, and zoom across to the other side with the mace held out in front of Jimmy. If she decides to do this right after the above stunt, she will leave a flaming trail that will hurt the player.
Hit the Heavy Rider eight times to have her and Jimmy flee from the scene. The player can then proceed to the Capsule and finish the Zone.
Music
Video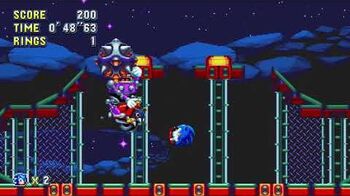 Trivia
Gallery
Concept artwork
Artwork
Screenshots
Opening animation
Lava Reef Zone
Titanic Monarch Zone
References
---
Main article | Staff | Glitches | Beta elements | Gallery | Re-releases (Plus)
Playable characters
Sonic (Super Sonic) | Tails (Super Tails) | Knuckles (Super Knuckles) | Mighty* (Super Mighty*) | Ray* (Super Ray*)
Non-playable characters
Dr. Eggman | Hard Boiled Heavies (Heavy King, Heavy Gunner, Heavy Shinobi, Heavy Magician, Heavy Rider) | Phantom Heavies (Phantom King, Phantom Gunner, Phantom Shinobi, Phantom Magician, Phantom Rider) | Metal Sonic (Giga Metal) | Animals (Becky, Cucky, Flicky, Locky, Micky, Pecky, Picky, Pocky, Ricky, Rocky, Tocky, Wocky) | Jimmy
Zones
Angel Island Zone* | Green Hill Zone | Chemical Plant Zone | Studiopolis Zone | Flying Battery Zone | Press Garden Zone | Stardust Speedway Zone | Hydrocity Zone | Mirage Saloon Zone | Oil Ocean Zone | Lava Reef Zone | Metallic Madness Zone | Titanic Monarch Zone | Egg Reverie Zone | Special Stage | Bonus Stage | Pinball Stage*
Enemies
Armadiloid | Aquis | Asteron | Ball Hog | Batbrain | Blaster | Blastoid | Bloominator* | Bugernaut | Bumpalo | Buzz Bomber | Cactula | Canister | Catakiller, Jr. | Chopper | Clucker | Crabmeat | Dango | Dragonfly | Eggrobo | Fireworm | Flasher mk.II | Gohla | Grabber | Hotaru | IceBomba | Iwamodoki | Jawz | Jellygnite | Juggle Saw | Kabasira | Kanabun | Madmole | Matryoshka-Bom | Mega Chopper | Mic Drop | Monkey Dude* | Moto Bug | Newtron | Octus | Pointdexter | Rattlekiller | Rexon | RhinoBot* | Robot Bee | Robot Beetle | Roller mk.II | Scarab | Sentry Bug | Shutterbug | Silver Sonic | Spiny | Splats | Sweep | Technosqueek | Toxomister | Tubinaut | Turbo Spiker | Turbo Turtle | Vultron | Woodrow
Bosses
Mini-bosses
DD Wrecker | Amoeba Droid | Heavy Gunner | Big Squeeze | Shiversaw | Hotaru Hi-Watt | Dive Eggman | Uber Caterkiller | Meter Droid | Drillerdroid | Egg Pistons mk.II | Crimson Eye
Zone bosses
Death Egg Robot | Mean Bean Machine | Weather Globe | Spider Mobile | Heavy Shinobi | Metal Sonic | Laundro-Mobile | Heavy Magician | Mega Octus | Heavy Rider | Heavy King | Gachapandora | Phantom Egg | Phantom King and Klepto Mobile
Moves/Techniques
Air Glide* | Bounce Jump | Climb | Crouch | Double Jump | Drop Dash | Fireball Spin Dash | Glide | Hammer Drop* | Insta-Shield | Propeller Flying | Ring Spark Field | Spin Attack | Spin Dash | Spin Jump | Super Peel Out | V. Maximum Overdrive Attack
Gimmicks and obstacles
Beanstalk | Bomb | Bumper | Bungee Rope | Bumper wall | Capsule | Conveyor Belt | Crusher | Dash Panel | Electrical conduit | Fan | Fireball Cannon | Flipper | Flywheel | Goal Plate | High-speed warp tube | Ice Spring | Iron ball | Jump Panel | Platform-raising Wheel | Pulley | Ruby Mist | Seesaw | Size Beam | Snowblower | Spikes | Spring | Star Post | Switch | Transport | Vine | Zip Line
Items
Air Bubble | Chaos Emerald | Giant Ring | Giant spear | Item Box (1-UP, Blue Shield, Bubble Shield, Character*, Hyper Ring, Eggman Mark, Fire Shield, Invincible, Lightning Shield, Player Swap, Power Sneakers, Random, S, Super Ring) | Little Planet flowers | Master Emerald | Metal Sonic Projector | Medallion | Ring | Robot transporter | Schrodinger's Capsule* | Sphere | Star Circle | Time Warp sign | UFO | Warp Point
Music
Sonic Mania (vinyl album) | Sonic Mania Original Soundtrack (Selected Edition) | Sonic Mania Plus Original Soundtrack
Other
Angel Island | Auto Running | Continue | Death Egg Robot | Debug Mode | Egg Mobile | Freeze | Hang Glider | Klepto Mobile | Level Select | Little Planet | Mega Mack | Perfect Bonus | Phantom Ruby | Rock Drill | Shuttle loop | Sonic Mania Adventures (Sonic Returns, Sonic and Tails, & Knuckles, Mighty and Ray, Metal Mayhem, From: A. Rose, The Complete Mini-Series) | Time Attack | Time Over | Time Warp | Tornado | Winding Tunnel

*Appears in Sonic Mania Plus only
Community content is available under
CC-BY-SA
unless otherwise noted.