Fire Emblem Warriors: Three Hopes - The Loop
Play Sound
The Gun Hunter[1] (ガンハンター, Ganhantā?) is an enemy that appears in the Sonic the Hedgehog series. It is a mass-produced robot model deployed by the military organization Guardian Units of Nations, and a part of the Hunter series. It is the most basic of its series, and from where all other variations are designed and modified from.
Appearance
The baseline Gun Hunters are blue, white, yellow, red, and gray humanoid robots with a top-heavy upper torso. They have a flat head with no neck, a single red eye, and a drop-shaped blue cap covering it. On their torso, they have red and blue chest plating with the number "02" on the left side and GUN's symbol on the right. They also have legs with large kneecaps, thick forearms, a hand on their left arm, and a large, red and black-barreled gun on their right arm.
Originally, the Gun Hunters' legs were portrayed as rather thin. Later, during the Time Eater incident, they were made thicker and their feet became bigger. They also gained larger shoulders, smoother curves, a more streamlined gun, and had the number "02" and GUN's symbol emblazoned on their heads.
Game appearances
Sonic Adventure 2
The Gun Hunters first appeared in Sonic Adventure 2 and Sonic Adventure 2: Battle as one of the games' more common enemies. They can be found in the following Stages:
In gameplay, Gun Hunters either drop down from above or stay in a hunched-down standby position before entering an attack mode when the player is in range. They mostly remain in one spot from where they take aim at the player, but will hover around them in rare cases. When the player leaves the area, the Gun Hunters return to standby. They usually appear alone, but can appear in groups of two to three. When destroyed, the Gun Hunters each grant one hundred points.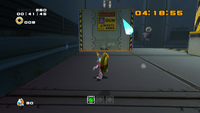 When engaging the player, Gun Hunters attack by locking onto the playable character when they are within range before firing a yellow, arrow-shaped bullet. They repeat this once every second. Their shots have a range of roughly five-six meters before they vanish, and can pass through Containers. Some Gun Hunters can also shoot blue gel which will immobilize the characters they hit, making it easier for the Gun Hunters to shoot them. However, the player can break free by pressing

/

/
.
Inactive Gun Hunters can be found all over Weapons Bed which do not hurt Eggman when he approaches them, nor do they drop Chaos Drives when destroyed. They will still earn the player points and lock-on bonuses when destroyed, though.
Sonic Rush

In Sonic Rush, Gun Hunters appear alongside other G.U.N. robots in Huge Crisis. In this game, they appear smaller than in Sonic Adventure 2 with a more rounded design and visible eyes. They sometimes arrive by teleporting. When they spot the player, they will fire gunshots which can be avoided by simply crouching or jumping.
Sonic Generations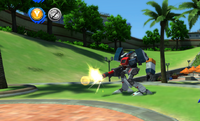 In the console/PC version of Sonic Generations, Gun Hunters from somewhere across spacetime appear as enemies in both Acts of City Escape. In this game, they were redesigned with more realistic feet, larger shoulders and jetpacks. They also do not have a crouching position like in Sonic Adventure 2, and they hold their weapon like a minigun. In gameplay, the Gun Hunters can charge their shot and fire it as a yellow bullet. They can also fly at high speeds through the air. In Act 2, they are blown away upon impact when attacked, like all of Modern Sonic's enemies, and can be used to hit other enemies if hit at the correct angle. In City Escape Act 1, a group of Gun Hunters will fly out of the GUN Military Truck to attack the player.
In the Nintendo 3DS version of Sonic Generations, the Gun Hunters appear in both Acts of Radical Highway. In gameplay, they either suddenly bump into Sonic from the sky and shoot a laser beam at him or are found stationary in specific sections and tracks Sonic's movement to shoot at them. In either case, the Gun Hunters still possess a degree of maneuverability that allow them to track Sonic even if he goes behind them, although their slowness in firing their beams allows the player to destroy them easily.
During some sections of its stage, a Gun Hunter can also be seen in the background firing its laser beam at Sonic.
In other media
Archie Comics
In the Sonic the Hedgehog comic series and its spin-offs published by Archie Comics, Gun Hunters appeared as robots utilized by the Guardian Units of the Nation in their war against the Eggman Empire.
Trivia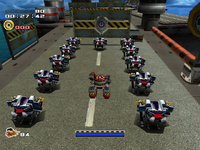 Gallery
Concept artwork
Artwork
Models
Screenshots
References
↑ Prima Development (20 June 2001). "Enemies" (in English).

Sonic Adventure 2: Prima's Official Strategy Guide

. Prima Games. p. 16. ISBN 978-0761536147.
---
Main article | Scripts (Hero, Dark, Last) | Staff | Manuals | Glitches | Beta elements | Gallery | Pre-releases (The Trial) | Re-releases (Battle, 2012)
Playable characters
Hero
Sonic (Super Sonic) | Tails | Knuckles
Dark
Shadow (Super Shadow) | Rouge | Eggman
Misc.
Amy* | Big*^ | Chao Walker* | Chaos* | Dark Chao Walker* | Metal Sonic* | Tikal*
Non-playable characters
Chao (Chao Principal, Chaolin, Chaoko, Chaos Chao, Chaosky, Dark Chao, Dinner, Happy, Hero Chao, Wacky) | Gerald | Maria | President | Scorpion Troop | Secretary | Sigma-Alpha 2 | Spider Troop | Researcher | Animals (Bat, Bear, Boar, Cheetah, Condor, Dragon, Gorilla, Half Fish, Parrot, Peacock, Penguin, Phoenix, Rabbit, Raccoon, Seal, Sea Otter, Sheep, Skeleton Dog, Skunk, Tiger, Unicorn)
Stages
Hero
City Escape | Wild Canyon | Prison Lane | Metal Harbor | Green Forest | Pumpkin Hill | Mission Street | Aquatic Mine | Route 101 | Hidden Base | Pyramid Cave | Death Chamber | Eternal Engine | Meteor Herd | Crazy Gadget | Final Rush
Dark
Iron Gate | Dry Lagoon | Sand Ocean | Radical Highway | Egg Quarters | Lost Colony | Weapons Bed | Security Hall | White Jungle | Route 280 | Sky Rail | Mad Space | Cosmic Wall | Final Chase
Misc.
Cannon's Core | Green Hill
2P Stages
Downtown Race | Grind Race | Planet Quest | Pool Quest | Deck Race | Pyramid Race
Enemies
G.U.N.
Blue Eagle | Bomb Beetle | Bomb Wing | Gold Beetle | Gun Hawk | Gun Beetle | Gun Hawk | Gun Hunter | Gun Wing | Hornet-3 | Hornet-6 | Hornet-9 | Laser Hawk | Laser Hornet | Laser Hunter | Mono Beetle | Phoenix | Rhino Cannon | Rhino Jet | Rhino Metal | Rhino Spike | Shield Hunter | Sky Hawk | Spark Beetle | Spring Beetle
Badniks
Buzz Bomber | Chopper | E-1000 | Gola | Unidus | Kiki
Misc.
Artificial Chaos (Artificial Chaos P-1, Artificial Chaos P-100, Cell, Float Type, Guard Type) | Boo | Boom Boo
Bosses
B-3x Hot Shot | Biolizard | Dr. Eggman | Egg Golem | F-6t Big Foot | Finalhazard | King Boom Boo | Knuckles | R-1/A Flying Dog | Rouge | Shadow | Sonic | Tails
Moves/Techniques
Amy Flash* | Black Shield* | Black Wave* | Booming Missile* | Bounce Attack | Captive Light* | Chaos Bind* | Chaos Control | Chaos Impact* | Chaos Screw* | Chaos Spear | Chaos Strike* | Charm Ray* | Crazy Rush* | Crouch | Dark Finish* | Dark Omochao* | Dig | Drill Claw | Drill Drive | Fire Somersault | Glide | Grind Step | Grinding | Hammer Punch* | Heaven's Justice* | Hell Bomber* | Hip Drop* | Hover | Homing Attack | Jump Dash | Kick/Kick Attack | Knuckle Spin* | Laser Missile* | Light Attack | Light Speed Dash | Lock-on | Lock-On Missile | Magic Hands | Omochao | Pick | Power Flash* | Power Laser* | Propeller Punch | Punch (Eggwalker) | Punch/Punch Attack | Rocket Launcher | Rumble Launcher* | Screw Kick | Somersault | Sonic Wind* | Speed Up* | Spin Jump | Spin Dash | Spiral Upper | Storming Heart* | Super Sonic Boost | Swim | Thunder Arrow* | Time Stop* | Volkan Cannon | Wrath of Gaia* | Zap Laser*
Gimmicks and obstacles
Ancient Ruin | Ball Switch | Bungie Vine | Dash Panel | Dynamite | Egg Beetle | Gravity Control Switch | Green energy fluid | Grind Rail | GUN Military Truck | High-speed warp tube | Hint Box | Hourglass | Iron ball | Jump Plate | Laser field | Missile | Pipe | Point Marker | Propeller Spring | Pulley | Ramp | Rocket | Safe | Sinking pool | Spikes | Spinning drum | Swing Bar | Time Stop Switch | Turtle | Warp Hole | Warp Wall | Weight | Wide spring
Items
General
Air Bubble | Balloon | Chao Egg | Chao Key | Chaos Emerald | Chaos Drive | Car | Container (Cage, Chao Container, Steel Container, Unbreakable Container, Wooden Container) | Emblem | Emerald Shard | Gate key | Goal Ring | Item Box (5 Rings, 10 Rings, 20 Rings, Bomb, Extra Life, Health, High-Speed Shoes, Invincibility, Magnetic Shield, Shield) | Key Stone (Gate Key) | Meteorite | Outfit | Ring | Snowboard
Level Up Items
Air Necklace | Air Shoes | Ancient Light | Bazooka | Booster | Bounce Bracelet | Flame Ring | Hammer Gloves | Iron Boots | Jet Engine | Large Cannon | Laser Blaster | Light Speed Shoes | Magic Gloves | Mystic Melody | Pick Nails | Protective Armor | Shovel Claw | Sunglasses | Treasure Scope
English voice actors
Ryan Drummond (Sonic) | Connor Bringas (Tails) | Scott Dreier (Knuckles, GUN Soldiers) | Jennifer Douillard (Amy) | David Humphrey (Shadow) | Lani Minella (Rouge, Omochao) | Deem Bristow (Eggman) | Moriah Angeline (Maria) | Marc Biagi (Gerald, GUN Soldiers) | Steve Broadie (President) | Shelly Fox (Default menu voice) | Jon St. John (Big) | Elara Distler (Tikal) | Tomoko Sasaki (Chao)
Japanese voice actors
Jun'ichi Kanemaru (Sonic) | Kazuki Hayashi (Tails) | Nobutoshi Canna (Knuckles) | Taeko Kawata (Amy) | Kōji Yusa (Shadow) | Rumi Ochiai (Rouge) | Chikao Ōtsuka (Eggman, Gerald) | Etsuko Kozakura (Omochao) | Yuri Shiratori (Maria) | Kinryū Arimoto (President) | Shun Yashiro (Big) | Shelly Fox (Default menu voice) | Tomoko Sasaki (Chao)
Music
Songs
"A Ghost's Pumpkin Soup" | "Believe In Myself" | "Deeper" | "Dive into the Mellow" | "E.G.G.M.A.N." | "Escape from the City" | "Fly in the Freedom" | "For True Story" | "It Doesn't Matter" | "Kick the Rock!" | "Live and Learn" | "My Sweet Passion" | "Rhythm And Balance" | "Space Trip Steps" | "Supporting Me" | "The Supernatural" | "Throw It All Away" | "Unknown from M.E." | "Vengeance is Mine"
Albums
Multi-Dimensional Sonic Adventure 2 Original Sound Track | Passion & Pride: Anthems with Attitude from the Sonic Adventure Era | Sonic Adventure 2 Battle - Sampler | Sonic Adventure 2 Official Soundtrack | SONIC ADVENTURE 2 OFFICIAL SOUNDTRACK VINYL EDITION | Sonic Adventure 2 Original Soundtrack 20th Anniversary Edition | Sonic Adventure 2 Vocal Collection: Cuts Unleashed
Other
2G Hi-Speed Shoes | Altar of Emerald | Angel Island | Auto Running | Black Market | Central City | Chao Adventure 2^ | Chao Garden (Dark, Hero, Neutral) | Chao in Space | Chao Kindergarten | Chao Lobby | Chao Machine | Chao Race | Chao Stadium | Chao Transporter^ | Chao World | Corkscrew | Cyclone | Eclipse Cannon | Eggman Bombom | Eggwalker | Emerald Radar | Fake Emerald | Game Over | Gerald Robotnik's diary | Health Gauge | Kart Race | Life | Loop | Master Emerald | Prison Island | Project Shadow | Rank | Space Colony ARK | Station Square | Teleporter | Totem pole | Tunnel | Water

*Appears or is playable in only the 2P mode
^Appears in only the original Dreamcast version
---
Main article | Staff | Script (Sonic, Blaze, Extra) | Glitches | Beta elements | Gallery
Playable characters
Sonic (Super Sonic) | Blaze (Burning Blaze)
Non-playable characters
Tails | Knuckles | Amy | Cream | Cheese | Vanilla | Dr. Eggman | Eggman Nega | Animals (Camel, Cat, Elephant, Gorilla, Koala, Kangaroo, Lion, Mole, Monkey, Parrot, Peacock, Penguin, Rabbit, Robin, Seal, Skunk, Flicky, Ricky, Pocky, Wocky)
Stages
Leaf Storm | Water Palace | Mirage Road | Night Carnival | Huge Crisis | Altitude Limit | Dead Line | Unknown | Exception | Special Stage
Enemies
Battle Flapper | Bomb Hawk | Cannon Flapper | Egg Bishop | Egg Hammer | Egg Pawn | Egg Pawn Bunny | Egg Pawn Manager (gun) | Egg Pawn Manager (SF gun) | Falco | Flapper | Gun Hunter | Klagen | Knight Pawn | Laser Flapper | Rhino Cannon | Sea Pawn | Solid Pawn
Bosses
Egg Hammer Mega | Egg Turtle | Egg Scarab | Egg Libra | Egg Hammer Fortress | Egg Eagle | Sonic/Blaze | Egg King | Egg Salamander
Moves/Techniques
Axel Jump | Axel Tornado | Boost Mode | Burning Fire Boost | Burst Dash | Burst Hover | Fire Boost | Grinding | Homing Attack | Hop Jump | Humming Top | Jump Dash | Jump Step | Scroll Screen | Spin Attack | Spin Dash | Spin Jump | Super Boost | Super Sonic Boost | Trick Action
Gimmicks and obstacles
Bungee Rope | Cannon | Checkpoint Marker | Dash Panel | Dash Rail | Dash Ring | Electrical emitter |

Giant Waterwheel

| Grind Rail | Hang Glider | High-speed warp tube | Jump Panel | Rainbow Ring | Special Generator | Spring | Spring Pole | Switch | Winding Rope | Zip Line
Items
Air Bubble | Chaos Emerald | Floating Item Box | Goal Ring | Item Box (5 Ring Bonus, Attract, Barrier, Confusion, Invincible, Magnetic Barrier, Max Tension Bonus, Max Tension Bonus (multiplayer), Random Ring Bonus, Slow, Tension Bonus) | Ring | Sol Emerald
English voice actors
Jason Griffith (Sonic) | Mike Pollock (Eggman, Eggman Nega) | Amy Palant (Tails) | Rebecca Honig (Cream) | Bella Hudson (Blaze)
Japanese voice actors
Jun'ichi Kanemaru (Sonic) | Chikao Ōtsuka (Eggman, Eggman Nega) | Ryō Hirohashi (Tails) | Sayaka Aoki (Cream) | Nao Takamori (Blaze)
Music
Songs
A New Day | Right There, Ride On | Back 2 Back | Ethno Circus | Ska Cha Cha | Jeh Jeh Rocket | Get Edgy | What U Need | Metal Scratchin' | Vela Nova | Bomber Barbara | Wrapped in Black | Raisin' Me Up
Albums
Original Groove Rush
Other
Blaze's world | Corkscrew | Health Gauge | Life | Loop | Rank | Real-Time Interaction | Time Attack | Tension Gauge | Water
---
Main article | Script | Staff | Glitches | Beta elements | Gallery
Playable characters
Sonic (Modern) (Super Sonic (Modern)) | Sonic (Classic) (Super Sonic (Classic))
Non-playable characters
Amy | Animals (Flicky, Picky, Pecky, Cucky) | Blaze | Cheese | Cream | Cubot | Dr. Eggman (Classic) | Dr. Eggman (Modern) | Knuckles | Metal Sonic | Omochao | Orbot | Perfect Chaos | Rouge | Shadow | Silver | Tails (Classic) | Tails (Modern) | Team Chaotix (Charmy, Espio, Vector) | Time Eater
Wisps
Orange | Pink
Stages
Green Hill | Chemical Plant | Sky Sanctuary | Speed Highway | City Escape | Seaside Hill | Crisis City | Rooftop Run | Planet Wisp | Casino Night
Challenge Acts
Doppelganger Race! | The Buzz Bombers' Revenge! | Knuckles: Horde of Enemies | Swingset Circus | High Speed Challenge | Look Out Below! | Tails: Way Past Fast | Jump Rush | 300% Boost Gauge Challenge | Tails: Toxic Skies | Which Switch is Which? | Aqua Shield Challenge | Invincibility Challenge | One Ring Challenge | Amy: Taking the Leap Together! | Grappling with Grabbers | Underwater Ring Machine | Eggrobo Rush | Aerial Paradise | Ring Time Challenge | Amy: Topsy Turvy | Knuckles: Buried Treasure | 200% Boost Gauge Challenge | Balloon Bonanza | High-Speed Hijinks (Modern) | Cream: Chao Hunt | Hot Pursuit (Classic) | High Speed Challenge 2 | Resisting Arrest | Overdrift | Hot Pursuit (Modern) | Drill Baby Drill | Espio: Master of Camouflage | Lord of the Board | Thunder Shield Challenge | Rouge: The Bombardier | Rite of Spring | Cream: Helping Hand | Dash Ring 1-2-3 (Modern) | Topsy-Turvy | High-Speed Hijinks 2 | Rescue the Animals! | Espio: Way of the Ninja | High-Speed Hijinks (Classic) | Underwater Challenge | Rouge: The Temptress | Trick Island | Surf, Sea, and Sand | Terror From the Deep | Goal Post Juggle | Vector: Through the Storm | Flame Shield Challenge | Ring Time Challenge 2 | Power Stomp Challenge | Switcheroo | Blaze: Piercing the Flames | Four-way Cannon Cavalcade | High-Rise Balloon Climb | Dash Ring 1-2-3 (Classic) | Charmy: Don't Bug Me! | One Ring Challenge 2 | Barrel Ring Bonus | Rooftop Rail Grind | Endless Boost | Vector: Pick Up the Beat | With Your Powers Combined | Goal Post Juggle 2 | Chase After Blaze | Rescue the Animals 2! | Cart Challenge | Charmy: High in the Sky | Action Master | Orange Rocket, Blast Off!
Enemies
Aero-Cannon | Buzz Bomber (Classic) | Buzz Bomber (Modern) | Buzzer (Classic) | Buzzer (Modern) | Chopper (Classic) | Chopper (Modern) | Cop Speeder | Crabmeat (Classic) | Crabmeat (Modern) | Egg Chaser | Egg Fighter | Egg Fighter: Sword | Egg Launcher (H) | Egg Launcher (H+V) | Egg Launcher (V) | Egg Pawn | Eggrobo | Giant Chopper | Grabber | Gun Beetle | Gun Hunter | Iblis's Minions (Iblis Biter, Iblis Taker, Iblis Worm) | Mono Beetle | Moto Bug (Classic) | Moto Bug (Modern) | Sandworm | Spinner | Spiny | Sprinkler | Thunder Spinner
Bosses
Metal Sonic | Death Egg Robot | Shadow | Perfect Chaos | Silver | Egg Dragoon | Time Eater
Moves/
Techniques
Playable characters
Air Boost | Atomic Spin | Boost | Bound Jump | Cartwheel | Crouch | Double Jump | Drift | Freestyle Tricks | Grind Step | Grinding | Homing Attack | Hop | Insta-Shield | Jump Dash | Kick boost | Lightspeed Dash | Mid-Air Dash | Quick Step | Slide | Skydiving | Spin | Spin Dash | Spin Jump | Stomp | Super Sonic Boost | Super Sonic Missile | Wall Jump
NPCs
Chaos Spear | Dig | Drill Attack | Fire Beam | Heart Effect | Ice Wave | Meteor Smash | Ninja Arts: Camouflage | Propeller Flying | Psychic Knife | Restraint Trap | Ring Spark Field | Sun Burst | V. Maximum Overdrive Attack | Warping arm attack | Whirlwind
Color Powers
Orange Rocket | Pink Spikes
Skills
Aqua Shield | Flame Shield | Thunder Shield | Twin Spin Attack | Invincible Start | Shield | Power Sneakers | Long Spin Dash | Treasure Scanner | Homing Attack | Hercules Muscles | Breath Holder | Boardmaster | Ring Time | Blast Off | Speed Up | Direct Jump | Power Stomp | Quick Slide | Acceleration | Smasher Bonus | Ring Energy Bonus | Boost Gauge Up | Serial Homing | Auto-Gauge | Gauge Rebooter | Trick Mastery | Endless Boost | Power Brake | Sure-Footed | Safety Net | Last Chance | 10-Second Rings | Athleticism | Time Break | Super Sonic | Sega Genesis Controller*
Gimmicks and obstacles
Balloon | Barrel | Big Balloon | Bomb | Bonus Bell | Bottomless pit | Bumper | Cannon | Capsule | Car | Cart | Cloud | Crusher | Dash Panel | Dash Rail | Dash Ring | Dimensional Bomb | Explosion Trap | Fan | Flipper | Four-way Cannon | Gear Platform | Goal Plate | Gondola | GUN Military Truck | Hanging Bell | Heart bomb | Helicopter | High-speed warp tube | Horizontal Bar | Iron ball | Jump Panel | Kao | Laser field | Meteorite | Movable box | Pole Elevator | Propeller Spring | Pulley | Rainbow Ring | Rocket | Route Signal | Saw | Seesaw | Slot machine | Spike Trap | Spikes | Spinning Top | Spinning Platform | Spotlight | Spring | Spring Catapult | Spring Pole | Star Post | Switch | Trap Spring | Trick Jump Panel | Wall Jump Block | Warp Point | Wide spring | Zip Line
Items
Air Bubble | Boss Gate | Boss Gate Key | Buoy | Chaos Emerald | Container (Case, Spike Block, Steel Container, Unbreakable Container, Wooden Container) | Energy Core | Goal Ring | Information Pod | Item Box (1-Up, Aqua Shield, Flame Shield, Invincible, Power Sneakers, Skateboard, Super Ring, Thunder Shield) | Medal | Mega Mack | Musical note | Red Star Ring | Ring | Snowboard | Time Bonus | Wisp Capsule
English voice actors
Roger Craig Smith (Sonic (Modern), Wisp announcer) | Mike Pollock (Eggman (Classic), Eggman (Modern)) | Kate Higgins (Tails (Classic), Tails (Modern)) | Travis Willingham (Knuckles) | Cindy Robinson (Amy) | Kirk Thornton (Shadow) | Quinton Flynn (Silver) | Laura Bailey (Blaze, Omochao) | Karen Strassman (Rouge) | Michelle Ruff (Cream) | Keith Silverstein (Vector) | Troy Baker (Espio) | Colleen O'Shaughnessey (Charmy)
Japanese voice actors
Jun'ichi Kanemaru (Sonic (Modern)) | Chikao Ōtsuka (Eggman (Classic), Eggman (Modern)) | Ryō Hirohashi (Tails (Modern)) | Takuto Yoshinaga (Tails (Classic)) | Nobutoshi Canna (Knuckles) | Taeko Kawata (Amy) | Kōji Yusa (Shadow) | Rumi Ochiai (Rouge) | Daisuke Ono (Silver) | Nao Takamori (Blaze) | Sayaka Aoki (Cream) | Kenta Miyake (Vector) | Yūki Masuda (Espio) | Yōko Teppōzuka (Charmy) | Etsuko Kozakura (Omochao) | Fumihiko Tachiki (Wisp announcer)
Music
Songs
"Escape from the City" | "You're My Hero" | "Open Your Heart"
Albums
20 Years of Sonic Music | Blue Blur: Sonic Generations Original Soundtrack | History of the 1st Stage Original Soundtrack White Edition
Other
Boost Gauge | Chao in Space | Collection Room | Combo | Corkscrew | Death Egg (Classic) | Death Egg (Modern) | Death Egg Robot | Egg Dragoon | Egg Gun | Egg Mobile | Egg Spear | Havok | Lair of the Time Eater | Life | Loop | Miles Electric | Orca | Perfect Bonus | Rank | Sonic's birthday | Sonic Generations (manga) | Sonic Generations of Skate | Statue Room | Time Hole | Tornado-1 | Totem pole | Tunnel | Water | White Space

* Appears only in the console version
---
Main article | Script | Staff | Beta elements | Gallery
Playable characters
Sonic (Modern) (Super Sonic (Modern)) | Sonic (Classic) (Super Sonic (Classic))
Non-playable characters
Biolizard | Dr. Eggman (Classic) | Dr. Eggman (Modern) | Metal Sonic | Tails (Classic) | Tails (Modern) | Shadow | Silver | Time Eater
Wisps
Cyan | Red
Stages
Green Hill | Casino Night | Mushroom Hill | Emerald Coast | Radical Highway | Water Palace | Tropical Resort | Special Stage
Enemies
Blue Eagle | Butterdroid | Buzzer (Modern) | Buzzer (Classic) | Chopper (Modern) | Chopper (Classic) | Crabmeat (Modern) | Crabmeat (Classic) | Crawl | Dragonfly | Flapper | Egg Pawn | Gold Beetle | Gun Hunter | Kiki | Klagen | Knight Pawn | Madmole | Mono Beetle | Moto Bug (Modern) | Moto Bug (Classic) | Mushmeanie | Newtron | Rhinotank | Sea Pawn | Spinner | Sweeper
Bosses
Metal Sonic | Big Arm | Shadow | Biolizard | Silver | Egg Emperor | Time Eater
Moves/
Techniques
Playable characters
Air Boost | Boost | Crouch | Freestyle Tricks | Grind Step | Grinding | Homing Attack | Hop | Jump Dash | Roll | Slide | Spin Dash | Spin Jump | Stomp | Super Sonic Boost | Wall Jump
NPCs
Chaos Spear | Ring Spark Field | V. Maximum Overdrive Attack | Warping arm attack
Color Powers
Cyan Laser | Red Burst
Gimmicks and obstacles
Bomb | Bottomless pit | Bumper | Conveyor Belt | Crusher | Dash Panel | Dash Rail | Dash Ring | Drop Target |

Exploding Balloon

| Fan | Flipper | Grind Rail | Horizontal Bar | Jump Panel (plate) | Jump Panel (ramp) | Meteorite | Mushroom | Prism | Pulley | Rainbow Ring | Rocket | Seed Propeller | Seesaw | Slot machine | Spikes | Spring | Spring Catapult | Spring Pole | Star Post | Zip Line
Items
Air Bubble | Boss Gate | Chaos Emerald | Container (Steel Container, Wooden Container) | Crank | Goal Plate | Goal Ring | Item Box (1UP, Explosion, Invincible, Magnetic Shield, Shield, Super Ring, Time Item) | Ring | Sphere | Stomping Shoes | Wisp Capsule
English voice actors
Roger Craig Smith (Sonic (Modern), Wisp announcer) | Mike Pollock (Eggman (Classic), Eggman (Modern)) | Kate Higgins (Tails (Classic), Tails (Modern)) | Kirk Thornton (Shadow) | Quinton Flynn (Silver)
Japanese voice actors
Jun'ichi Kanemaru (Sonic (Modern)) | Chikao Ōtsuka (Eggman (Classic), Eggman (Modern)) | Ryō Hirohashi (Tails (Modern)) | Takuto Yoshinaga (Tails (Classic)) | Kōji Yusa (Shadow) | Daisuke Ono (Silver) | Fumihiko Tachiki (Wisp announcer)
Music
Songs
"Back 2 Back" | "Vengeance is Mine"
Albums
20 Years of Sonic Music | Blue Blur: Sonic Generations Original Soundtrack | History of the 1st Stage Original Soundtrack Blue Edition
Other
Sonic's birthday | Boss Health Gauge | Boost Gauge | Collection | Corkscrew | Death Egg | Egg Emperor | Life | Loop | Orca | Rank | Sonic Generations (manga) | Sonic Generations of Skate | Time Attack | Time Hole | Totem pole | Tunnel | Water | White Space | Wisp Gauge