Gum is a main character from the Jet Set Radio/Jet Grind Radio video game series. She is a teenage graffiti artist who is one of the original founders of the GG's, as well as a criminal and fugitive of Tokyo-To.
Appearance
Gum is a tan skinned teenager with brown eyes who stands more than five feet tall. She wears a green stripped, long-sleeved shirt with a white shirt over it that reads her name in Japanese. She also wears a pair of green and white futuristic roller skates, as well as a gray helmet with a white stripe and yellow designs. Gum also has a green tattoo located up on her upper thigh.
In Sega Superstars Tennis, Gum's Japanese name logo that appears on her shirt appears on the back, similar to her original appearance. The logo appears on the front of her shirt in every game appearance afterwards.
Game appearances
Sonic Adventure 2
In Sonic Adventure 2, Gum appears as a cameo character, alongside Beat and Professor K. Appearing mostly in the City Escape missions, multiple identical posters with the characters on them can be seen throughout, usually on walls and billboards.
Sega All-Stars series
Sega Superstars Tennis
In Sega Superstars Tennis, Gum is a playable character. She is unlocked during the last mission in Jet Set Radio mission planet, by winning the singles championship.
Her design is taken from the original Jet Set Radio game, even including her name logo on the back of her shirt (which was moved to the front in future games).
Gum's Superstar State (called "Police!!!") releases the Tokyo-To's Police Force storm on the tennis court that charges at the other opponent(s). Her cutscene also shares an almost identical appearance (and music) to Beat's, except the music segments are changed accordingly. Her cutscene music theme is "Let Mom Sleep," one of the main themes of the Jet Set Radio series, and one of her theme songs.
Gum's ability type in this game is Speed, and is one of the four characters to have this type. When she hits the tennis ball, it is able to go faster in distance, and she is able to move around the court more smoothly.
In the DS version, Gum's Superstar State makes the ball create a zig-zag path when she hits it.
Sonic & Sega All-Stars Racing
In Sonic & Sega All-Stars Racing, Gum herself does not make a physical appearance. However, she is mentioned in Beat's in-game profile. In the in-game biography, it is stated that Gum and Tab helped to build and customize Beat's racing vehicle, the De La Custom GGs, and are also impressed by his skills, which lead them to join his gang, being one of the three original founders of the GGs.
Sonic & All-Stars Racing Transformed
In Sonic & All-Stars Racing Transformed, Gum is a playable character. She has a green and white bike similar to Beat's in design. She leaves a trail of broken hearts behind her when she unleashes her All-Star move, which act similar to a blowfish. In this game, she has got a new green tattoo on left thigh, saying "Gum" in Japanese in reference to her original appearance in Jet Set Radio. She is unlocked for 105 stars in the World Tour.
In the mobile version of Sonic & All-Stars Racing Transformed, Gum costed 3,000 golden Rings, and is the only playable Jet Set Radio character. Her All-Star Move remains practically the same.
On the Grafitti City racetrack, Gum's name in graffiti art can be spotted on multiple buildings and the main road. She also appears as an unlockable sticker, if the player wins first on the Shibuya Downtown racetrack as her (the sticker being titled "Humming the Bassline").
Compared to Sega Superstars Tennis, the logo on Gum's shirt is moved from the back to the front.
SEGA Heroes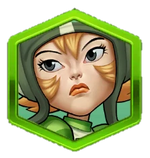 In SEGA Heroes, Gum is one of the four Jet Set Radio characters to appear. Gum first appears in Campaign as a clone, who must be fought off by the heroes, which confuses Beat. Gum can also reappear later in the game as a clone spawned by Dremagen in the final battle.
Gum was a playable green hero and could be unlocked with 25 Gum shards. She was playable in Beyondering, Arena, Survival, or other specific and special events. Her main moves included Minty Cool Flavor, Pop!, and Graffiti Trainer.
| Skill Name | Skill Type | Icon | Reagents | Description | Effects |
| --- | --- | --- | --- | --- | --- |
| Minty Cool Flavor | MAX | | Force Charm | "Gum tags an enemy with some Minty Cool Flavor." | |
| Pop! | Star | | Atomic Vial | "Gum sprays her signature on an enemy." | |
| Graffiti Trainer | Passive | | Emerald Band | "Gum teaches her allies how to be graffiti gangsters." | Gum's team gains x bonus Crit rating at the start of battle. |
Personality
Gum is an upbeat, cocky, sarcastic and charismatic teenager who has a talent for graffiti art. She is very loyal and will treat her allies and friends with the upmost respect. On the other hand, Gum is considered to be a fugitive criminal, due to her crimes of repetitive harassment, vandalism, destruction of both public and private property, and reckless endangerment. Gum also enjoys art and roller skating when she gets the chance.
Quotes
Trivia
Gum was first announced as a playable character for Sonic & All-Stars Racing Transformed exclusively in a Nintendo magazine.
Gum's All-Star theme in Sonic & All-Stars Racing Transformed is one of the two original themes from Jet Set Radio, "Let Mom Sleep". This is also the main soundtrack for the racetrack Shibuya Downtown.
The sticker (titled "Humming the Bassline") received by winning 1st place as Gum on the Shibuya Downtown racetrack in Sonic & All-Stars Racing Transformed is a reference to a song from Jet Set Radio of the same name.
External links
---
Main article | Staff | Glitches | Gallery
Playable
characters
Sonic characters
Sonic | Tails | Knuckles | Amy | Dr. Eggman | Shadow | Metal Sonic
Sega characters
AGES | AiAi | Alex Kidd | Amigo | B.D. Joe | Beat | Gilius Thunderhead | Gum | Jacky Bryant | Joe Musashi | MeeMee | NiGHTS | Pudding | Reala | Ryo Hazuki | Ulala | Vyse
Third-party characters
Xbox Live Avatar | Mii | Danica Patrick
Tracks
Dragon Cup
Ocean View | Samba Studios | Carrier Zone | Dragon Canyon
Rogue Cup
Temple Trouble | Galactic Parade | Seasonal Shrines | Rogue's Landing
Emerald Cup
Dream Valley | Chilly Castle | Graffiti City | Sanctuary Falls
Arcade Cup
Graveyard Gig | Adder's Lair | Burning Depths | Race of Ages
Classic Cup
Sunshine Tour | Shibuya Downtown | Roulette Road | Egg Hangar
Bonus
OutRun Bay
World Tour
Sunshine Coast | Frozen Valley | Scorching Skies | Twilight Engine | Moonlight Park | Superstar Showdown
Events
Battle Arena | Battle Race | Boost Challenge | Boost Race | Capture the Chao | Drift Challenge | Pursuit | Race | Ring Race | Sprint | Traffic Challenge | Versus
Vehicles
Ava-car 720 | Amigo's vehicle | Blazing Banana | Crazy Taxi | Danicar | Egg Monster | G.U.N. Auto Tread | Gum's vehicle | Land Breaker | Metal Booster | Pink Cabriolet | Spacebird 42 | Speed Star | Super Zoomer | Tails' vehicle
Moves/
Techniques
General
Drift | Start Line Boost | Stunt
All-Star Moves
Amy's All-Star Move | Gum's All-Star Move | Eggman's All-Star Move | Knuckles' All-Star Move | Metal Sonic's All-Star Move | Pudding's All-Star Move | Shadow's All-Star Move | Sonic's All-Star Move | Tails' All-Star Move | Ulala's All-Star Move
Gimmicks and obstacles
Aero-Chaser | Boost Pad | Egg Squid | Slot machine | Transformation Gate
Items
Ammo | Gate | Item Box (All-Star Item, Blowfish, Boost, Drone, Firework, Glove, Hot Rod, Ice Cannon, Super Glove, Swarm, Twister) | License | Mod | Sticker | Warp Gate
Music
Songs
We Are Burning Rangers
Albums
SEGA ALL-STARS Premium Sound Collection | Sonic & All-Stars Racing Transformed Original Soundtrack
Other
Bonus Chance | Custom game | Freeze | Orca | Sonic Universe #45
Community content is available under
CC-BY-SA
unless otherwise noted.