For the version of this title after the Super Genesis Wave, see Guardian (title). For other uses, see Guardian (disambiguation).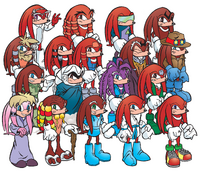 Guardian is a title that appears in the Sonic the Hedgehog comic series and its spin-offs published by Archie Comics. It is the title given to the current generation Echidna protector of Angel Island and Chaos Emerald from internal and external threats. When a Guardian comes of age and has an heir to replace himself/herself, they will typically go on to become part of the Brotherhood of Guardians in Haven.[1][2]
The title of Guardian is also bestowed upon the protector of the Sol Emerald from the Sol Zone.[3]
List of Guardians
Of Angel Island
In order of succession:
Edmund: First Guardian, as well as the first to die in the line of duty (Deceased).
Steppenwolf: Sent the Dark Legion to the Twilight Zone, dispatched Brutus Kintobor and overlanders, first to utilize the Chaos Force (Deceased).
Moonwatcher: Stopped a Dark Legion advance from the Twilight Zone. Introduced other Mobian species to the island (Deceased).
Harlan: Developed a deeper understanding and connection with the Chaos Force (Deceased).
Rembrandt: Came up with the group name "the Brotherhood", first to train his son to be self-reliant (Deceased).
Aaron: Died to stop a nuclear missile from hitting Angel Island, taking Menniker with him (Deceased).
Jordan: Aaron's brother, first to be specially trained to survive alone (Deceased).
Mathias: Built on Harlan's research and perfected astral projection. Died during Brotherhood attack on the Grand Conservatory (Deceased).
Hawking: Saved Echidnaopolis from Dingo nuclear strike, headed cleanup of Angel Island after (Deceased).
Tobor: Failed during first act as Guardian. Replaced by Dark Legion operative and lived in exile, crashed himself and Kragok into the Battle Cruiser, killing them both (Deceased).
Moritori Rex: Dark Legion spy and saboteur who impersonated Tobor, watched over Dragon Kingdom.
Spectre: Was captured and altered by the Dark Legion; fended off a Dark Legion invasion, helped Locke rescue the Brotherhood.
Sojourner: Helped look after Elias Acorn, redirected the Brotherhood's focus to world affairs.
Thunderhawk: Prevented a Dark Legion invasion led by Grandmaster Luger; watched over the continent of Downunda.
Janelle-Li: The first female Guardian. Resumed her Guardian duties after her son abstained (Deceased).
Athair: First Guardian to relinquish his role, became one of the Neo Walkers.
Sabre: Stopped the Overlanders from discovering Alicia Acorn and Elias Acorn.
Locke the Echidna: Stopped a group of Robians from stealing the Chaos Emerald, sacrificed his life to stop Enerjak (Deceased).
Knuckles the Echidna: Current Guardian; defeated several Dark Legion attacks, joined the war against Robotnik
Possible Future Guardians
Of the Sol Zone
References
External links
Community content is available under
CC-BY-SA
unless otherwise noted.