| | |
| --- | --- |
| | Information in this article may not be canonical to the storyline of the games or any other Sonic continuity. |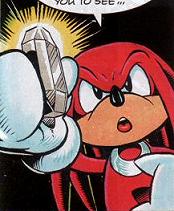 The Grey Emerald is an object that appears in the Sonic the Comic series published by Fleetway Editions. It is the seventh and final Chaos Emerald. It was the only one of the Chaos Emeralds to not be split into two in ancient times, and it had the power to control the other Emeralds.
History
The Grey Emerald remained on the Floating Island with six other Chaos Emeralds, in the care of Knuckles the Echidna, while the other six were scattered on Mobius.[1] The six Emeralds on Mobius were eventually found by Doctor Ovi Kintobor, who wanted to use them to rid the planet of evil. However, his machine, the Retro-Orbital Chaos Compressor (ROCC), was unstable without the Grey Emerald. He and Sonic attempted to find it, without success. As a result, the ROCC exploded, transforming Kintobor into Doctor Robotnik.[2]
When Robotnik crash-landed on the Floating Island in his Death Egg II,[3] he deceived Knuckles into thinking that Sonic wanted to steal his Chaos Emeralds.[4] However, while Knuckles believed Robotnik's story, he remained skeptical enough to keep the Grey Emerald hidden. Therefore, when Robotnik betrayed Knuckles, attempting to absorb the power of the six recombined Chaos Emeralds into his own body, Knuckles was able to use the Grey Emerald to siphon off his power and defeat him.[1]
References
Video games

Color Blocks | Chaos Emeralds (Extreme Gear) | Crystals | Emeralds | Emerald Shards | Forcejewels | Fake Emerald | Gems (Blue, Green, Purple, Rainbow, Red, Sky, Yellow) | Great Emeralds | Master Emerald | Phantom Ruby | Phantom Ruby prototype | Precioustone | Sol Emeralds | Super Emeralds | Time Stones
Sonic the Comic
Black Emerald | Grey Emerald | Chaos Emeralds | Master Emerald | Soul Crystal | Ultragem
Sonic the Hedgehog
Deep Power Stone | Energy Crystal | Power Rock | Time Stones
Adventures of Sonic the Hedgehog
Chaos Emeralds (Immortality, Invincibility, Invisibility, Life, Ring)

Archie Comics

Pre-SGW
Anarchy Beryls | Ancient Onyx | Chaos Emeralds (Dark Mobius, In Another Time, In Another Place) | Freedom Emeralds | Guiding Star Gem | Master Emerald (Dark Mobius) | Master Precioustone | Sol Emeralds | Super Emerald | Time Stone
Post-SGW
Chaos Emeralds | Emerald Shards | Master Emerald | Sol Emeralds | Time Stones
Sonic Underground
Chaos Emerald | Power Stone
Sonic X
Chaos Emeralds | Master Emerald
Sonic Boom
Chaos Crystals | Crystal Shards | Fregosi Sapphire | Lost Crystal of Power | Meroke Crystal | Tummel Crystal

IDW Publishing

Chaos Emeralds | Master Emerald | Sol Emeralds | Warp Topaz
Community content is available under
CC-BY-SA
unless otherwise noted.