Classic Sonic discovers Green Hill Zone is looking more dry and sandy under Eggman's rule, from the heavy desertification caused by his industries.


— Trailer description[1]
Green Hill (グリーンヒル, Gurīnhiru?) is the tenth stage in Sonic Forces, and the second stage in the game to be played as Classic Sonic. This stage is a re-imagination of the Green Hill Zone from the original Sonic the Hedgehog for the Sega Mega Drive.
The stage features the picturesque paradise with green fields that Green Hill is known for. After the area fell under Dr. Eggman's rule however, it has become dry and sandy due to the heavy desertification caused by Eggman's industries.[2]
Description
Green Hill is an overall peaceful and natural landscape with block-based brown mountains in the background and a lightly clouded blue sky. Like its original incarnation, the stage features countless blocky hills in all manner of sizes and arrangements. Most of the stage's ground is covered in green-striped grass (including on shuttle loops) that moves with the wind, and the soil itself is covered in checkerboard patterns in different shades of brown. There are also several log bridges over chasms, tall palm trees, bright flora that include purple flowers and moving sunflowers, hard-pointed bushes, square-leafed ivy, and different types of Totem Poles with all manners of facial expressions. There are also a couple of wooden scaffolds.
Green Hill has one major difference from its original incarnation: the bright lake that dominated the scenery in the background has been replaced with a sea of scorching sand, and all the stage's waterfalls have turned into sandfalls, as if a desert is sprouting from the stage itself. Also, the dried-out lake has formed deep canyons and caves in-between the hills that are nearly obscured from light. What looks like pyramids can also be spotted in the background. Other than that, the region remains relatively undamaged.[3]
Story
Lamenting that he failed Sonic when Infinite caught him in the City six months ago at the breakout of the War to Take Back the Planet, but taking solace in knowing that another Sonic has arrived to fill out for him, Tails continues his hunt for Dr. Eggman alongside Classic Sonic so they can defeat the doctor for good and win the war, while also seeking out the secret to Eggman's new power so they can get Classic Sonic home. Their search takes them to Green Hill, where Tails guides Classic Sonic through the relatively undamaged landscape, although the sight of the area's new desert where the lake should be puzzles Tails. It is not long before Tails detects Eggman close by.
Gameplay
Green Hill is a fast-paced stage. However, most obstacles just include spikes and bottomless pits. Gaps that lead into bottomless pits are marked with wooden crosses on the soil next to them. There are many pathways in the stage to choose from, whether if the player wants to go along a higher route with numerous floating platforms, the center route, or a lower pathway. There are also a lot of shuttle loops.
Many bridges and cliff edges in the stage's structure are weak and will collapse when the player steps on them just once. There are also platforms attached on chains that swing in horizontal directions. These platforms are useful when the player has to cross gap sections or reach higher ground. There are as well landmasses that move up and down, and Winding Tunnels through the hills.
Being a Classic Sonic stage, Green Hill is played entirely from a 2.5D perspective, and include Item Boxes for Classic Sonic to utilize. In addition, there are invisible Springs that only show themselves when the player steps on them.
Overview
When beginning the stage, start by going right. After the second log bridge, one can either take a Spring on an incoming cliff to reach a higher path, or skip the Spring and follow the lower path. Regardless, the paths will eventually rejoin and lead across some moving landmasses and into a Winding Tunnel. Afterwards, the path will divide again, leaving the player to either follow a higher path or lower path. Like before, these two paths will eventually come together, just before the player has to descend down some land layers to reach a Winding Tunnel at the bottom. It should be noted though that among those layers are a hidden shortcut through the walls.
After said tunnel, the player can either follow the path along the bottom or take a higher path across some floating platforms and swings. After these paths rejoin, the player has to cross a log bridge that crumbles behind Classic Sonic while Choppers jump up from below to reach the Goal Plate.
Ranking
The following are the suggested clear points for achieving a high enough score to achieve each Rank:
| S-Rank | A-Rank | B-Rank | C-rank |
| --- | --- | --- | --- |
| 900,000 | 495,000 | 330,000 | <330,000 |
Reception
After Sega had released the first trailer showcasing footage of Classic Sonic's gameplay in Green Hill Zone, fans on social media began criticizing the stage's presence in Sonic Forces. Some claimed that the implementation of the stage in recent Sonic games has been kind of repetitive, especially after it was reintroduced in several modern games, and particularly Sonic Generations.[4] However, some fans defended the stage implementation.
Trivia
Music
Video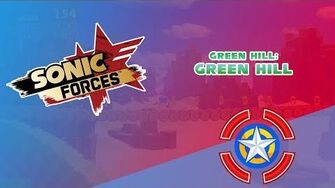 See also
References
---
Main article | Script | Staff | Manuals | Beta elements | Gallery
Playable characters
Sonic (Super Sonic) | Classic Sonic (Classic Super Sonic) | Avatar | Shadow (Episode Shadow)
Non-playable
characters
Resistance (Tails, Knuckles, Amy, Team Chaotix (Vector, Espio, Charmy), Silver, Team Dark (Shadow, Rouge, Omega)) | Dr. Eggman | Infinite | Orbot | Cubot | Metal Sonic | Chaos | Zavok | Animals (Cucky, Flicky, Pecky, Picky, Pocky, Ricky, Rocky)
Wisps
Blue Wisp | Green Wisp | Indigo Wisp | Ivory Wisp | Red Wisp | Violet Wisp | White Wisp | Yellow Wisp
World Map regions
Chemical Plant | City | Death Egg | Eggman Empire Fortress | Green Hill | Metropolis | Mystic Jungle
Stages

General

Lost Valley | Spaceport | Ghost Town | Prison Hall | VS. Zavok | Egg Gate | Arsenal Pyramid | Luminous Forest | VS. Infinite | Green Hill | VS. Eggman | Park Avenue | Casino Forest | Aqua Road | Sunset Heights | Capital City | VS. Infinite | Chemical Plant | Red Gate Bridge | Guardian Rock | Network Terminal | Death Egg | Metropolitan Highway | Null Space | Imperial Tower | Mortar Canyon | VS. Infinite | Iron Fortress | Final Judgement | VS. Death Egg Robot

Episode Shadow

Enemy Territory | Eggman's Facility | Virtual Reality
Secret
Fire Cannon 1 | Vanish Panel 1 | Bomb Block 1 | Plasma Cannon 1 | Laser Cannon 1 | Reverse Block 1
Extra
Flying Pod | Bomb Block 2 | Laser Cannon 2 | Reverse Block 2 | Vanish Panel 2 | Fire Cannon 2 | Plasma Cannon 2
Enemies
Aero-Chaser | Buzz Bomber | Chopper | Egg Pawn | Egg Tank | Egg Walker | Galaga Bee | Moto Bug | Missile Pod | Nebula | Sandworm | Sprinkler | Valkeen
Bosses
Death Egg Robot | Eggman | Egg Dragoon | Infinite | Metal Sonic | Zavok
Moves/Techniques
Air Boost | Boost | Crouch | Double Boost | Double Jump | Drop Dash | Grind Step | Grinding | Homing Attack | Side Step/Cartwheel | Skydiving | Slide | Super Sonic Boost | Spin Dash | Spin Jump | Stomp | Triple Boost | V. Maximum Overdrive Attack | Wall Jump | Wire Attack
Gimmicks and obstacles
Balloon | Bottomless pit | Bumper | Capsule | Conveyor Belt | Dash Panel | Dash Rail | Dash Ring | Fan | Flipper | Flywheel | Goal | Goal Plate | Grind Rail | High-speed warp tube | Hint Ring | Iron ball | Jump Panel | Laser field | List of pinball obstacles | Pulley | Rainbow Ring | Ring Shooter | Slot machine | Spikes | Spring | Spring Catapult | Spring Pole | Star Post | Wide spring | Wire Target | Zip Line
Items
General
Air Bubble | Blue Block | Blue Ring | Container (Unbreakable Container, Wooden Container) | Costume | Item Box (Bonus Rings, Invincibility, Power Sneakers, Shield) | Medal | Meteorite | Number Ring | Red Star Ring | Ring | Silver Moon Ring | Wisp Capsule
Wispons
Asteroid | Burst | Cube | Drill | Hover | Lightning | Void
English voice actors
Roger Craig Smith (Sonic) | Mike Pollock (Eggman) | Liam O'Brien (Infinite) | Colleen O'Shaughnessey (Tails, Charmy) | Travis Willingham (Knuckles, Zavok) | Cindy Robinson (Amy) | Kirk Thornton (Shadow, Orbot) | Karen Strassman (Rouge) | Vic Mignogna (Omega) | Quinton Flynn (Silver) | Keith Silverstein (Vector) | Matthew Mercer (Espio) | Wally Wingert (Cubot)
Japanese voice actors
Junichi Kanemaru (Sonic) | Kotaro Nakamura (Eggman) | Takashi Kondō (Infinite) | Ryo Hirohashi (Tails) | Nobutoshi Canna (Knuckles) | Taeko Kawata (Amy) | Kōji Yusa (Shadow) | Rumi Ochiai (Rouge) | Taiten Kusunoki (Omega) | Daisuke Ono (Silver) | Kenta Miyake (Vector) | Yūki Masuda (Espio) | Yōko Teppōzuka (Charmy) | Jōji Nakata (Zavok) | Mitsuo Iwata (Orbot) | Wataru Takagi (Cubot) | Fumihiko Tachiki (Narrator)
Music
Songs
Fading World | Fighting Onward | Fist Bump | Infinite | Justice | Moonlight Battlefield | Nowhere to Run | Rhythm And Balance | Set in Motion | Supporting Me | The Light of Hope | Virtual Enemies
Albums
Sonic Forces Original Soundtrack - A Hero Will Rise | Sonic Forces Vocal Traxx - On The Edge | Sonic Forces Hi-Res Collection | Sonic Forces Original Soundtrack The Vinyl Cutz
Other
Boost Gauge | Chaos Control | Challenge Mission | Daily Mission | Death Crab | Death Egg | Death Egg Robot | Death Egg Robot sentinel | Death Queen | Egg Dragoon | Egg Mobile | Eggman Army | Eggman Empire | Eggman Fleet | Experience | Health Gauge | Jackal Squad | Mega Mack | Miles Electric | Operation Big Wave | Phantom Ruby | Phantom Ruby prototype | Real-Time Interaction | Replica | Resistance HQ | Sandworm | Skill | Sonic Forces digital comic (Moment of Truth, Stress Test, Looming Shadow, Rise of Infinite) | Sonic Forces: Speed Battle | SOS Mission | Time Over | War to Take Back the Planet | Winding Tunnel | Wisp Gauge
Community content is available under
CC-BY-SA
unless otherwise noted.