Raise a Floppa - The Loop
Play Sound
The Gray Quake (グレイ・クエイク, Gurei Kueiku?) is a transformation that appears in the Sonic the Hedgehog series. It is the Color Power gained by absorbing a Gray Wisp and its Hyper-go-on, which turns the user into an iron ball.
Appearance
When using the Gray Quake, the user transforms into a gray iron ball with yellow eyes. In Sonic's case, his entire body turns into a gray rhombicuboctahedron which only shows his eyes, albeit without pupils and colored pale yellow, which take up two squares on the surface and are connected by a small string.
Game appearances
Sonic Lost World
The Gray Quake made its first appearance in the Wii U version and Nintendo 3DS version of Sonic Lost World. In the Wii U version, it is only usable in Two-Player-Race Mode, where it stuns the opponent for a few seconds when used. In the Nintendo 3DS version, it can first be used in Silent Forest Zone 1. In gameplay, using the Gray Quake turns the user into an iron ball that moves forward automatically: they can also both plow through gray-checkered walls and damage enemies upon touch, though the user can still take damage from obstacles such as iron balls. It can also damage all surrounding enemies and obstacles (including airborne ones) by slamming the ground, cross quicksand and green sludge without losing speed, and climb straight up walls by rolling into them.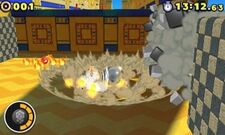 To use the Gray Quake in gameplay in the Nintendo 3DS version, the player must tap the icon of the Gray Wisp on the touchscreen while in possession of a Gray Wisp. If the player is in an area not suited for the Gray Quake however, the Gray Wisp will go dormant (which is illustrated by its on-screen icon sleeping), thus preventing the player from becoming the Gray Quake. Once transformed into the Gray Quake, the player's Wisp Gauge starts to deplete, and once it runs out, the user will revert back to normal. To extend its duration, the player has to collect more Gray Wisps. The player can also touch the Sonic icon on the touchscreen to transform back to normal, though at the cost of losing the Gray Quake. To move left and right with the Gray Quake, the player has to tilt the Nintendo 3DS to change direction. The player can also press

/

to jump and

/
during a jump to slam into the ground and damage all surrounding enemies and obstacles.
Team Sonic Racing
In Team Sonic Racing, the Gray Quake makes an appearance as a product of the Gray Wisp Item Box power-ups that can be obtained on the race tracks. In this game, rather than transforming the playable character when using the Gray Quake, the game manifests the Gray Quake's power for the playable character to use.
To use the Gray Quake in gameplay, the player has to press

/
/

while in possession of a Gray Wisp. Once activated, the player releases the Gray Wisp, who will fly ahead of all the competitors on the race track. Eventually, it will stop a set distance ahead of the leading racer. Shortly thereafter, several stone pillars will emerge from the ground on the road. These stone pillars will damage any racers who collide with them, except for the user and their teammates. It is also possible to bypass or otherwise destroy these stone pillars with Wisp power-ups, Invincibility or the Team Ultimate. Otherwise, avoiding the stone pillars is a daunting but possible task. Also, activating the Gray Quake can change the pace of the race at once.
Powers and abilities
As the Gray Quake, the user's body density is greatly increased, making them so heavy that jumping or falling down on the ground can create destructive shockwaves across the area that are powerful enough to tear apart robots and break down the environment. The Gray Quake also possesses wall-crawling abilities, allowing the user to scale walls despite their weight in this form.
Weakness
The main drawback of the Gray Quake is that it can only be used for a few seconds and requires more Hyper-go-on from Gray Wisps to be maintained.
Jingle
Gallery
Models
Screenshots
---
Main article | Script | Staff | Glitches | Gallery | Re-releases (PC)
Playable characters
Sonic (Super Sonic) | Virtual Hedgehog*
Non-playable characters
Amy | Animals (Cucky, Flicky, Pecky, Picky, Pocky, Ricky, Rocky) | Clawz | Cubot | Deadly Six (Master Zik, Zavok (Giant Zavok), Zazz, Zeena, Zomom, Zor) | Dr. Eggman | Gillwing | Gulpo | Jackle | Knuckles | Link* | Nightopian | NiGHTS | Omochao | Orbot | Puffy | Reala | Tails | Wizeman | Yacker* | Yoshi*
Wisps
Black | Crimson | Cyan | Gray* | Green | Indigo | Magenta | Orange | White* | Yellow
Levels
Worlds
Windy Hill | Desert Ruins | Tropical Coast | Frozen Factory | Silent Forest | Sky Road | Lava Mountain | Hidden World
Misc.
Circus* | NiGHTMARE Zone | The Legend of Zelda Zone* | Yoshi's Island Zone*
Enemies
Badniks
Antlion | Antlion Mother | Aquis | Balkiry | Ball Hog | Batbrain | BFB | Blowfish Transporter | Blaster | Bomb | Burrobot | Buzz Bomber | Caterkiller | Chopper | Clucker | Cluckoid | Coconuts | Crabmeat | Crawl | Crawlton | Dragonfly | Dung Beetle | Egg Pawn | Galaga Bee | Gohla | Grabber | Gustav Turtle | Jaws | Laser Grabber | Madmole | Manbou | Manta | Moto Bug | Mushmeanie | Nebula | Newtron | Octus | Orbinaut (Uni Uni, Unidasu) | Penguinator | Robot Ant | Robot Butterfly | Sandworm | Slicer | Snale Blaster | Spiker | Spikes | Sprinkler | Tarantula | Tonber | Turtloids | Utsubo
Other
Baku Baku | Boo | Boom Boo | Cactus Ball | Deku Scrub* | Keese* | Piranha Plant* | Sandworm | Sheep | Shy Guy* | Stalchild* | Yeti
Bosses
Zazz (Puffy) | Zomom | Master Zik (Gulpo) | Zeena (Clawz) | Zor (Jackle) | Zavok (Gillwing) | Deadly Six | Giant Zavok | Eggrobo
Moves/
Techniques
General
Bound Jump | Charged Dash | Dash | Double Jump | Duck | Flying Kick | Focused Homing Attack | Grinding | Ring Dash | Skydiving | Spin Dash | Spin Jump | Super Sonic Boost
Parkour
Hang | Side Step | Vault | Vault Dash | Wall Climb | Wall Jump | Wall Run | Wall Spin Dash
Color Powers
Black Bomb | Crimson Eagle | Cyan Laser | Gray Quake* | Green Hover | Indigo Asteroid | Magenta Rhythm | Orange Rocket | Yellow Drill
Gimmicks and obstacles
Balloon | Billiard Ball | Bumper | Cannon | Capsule | Cloud | Coconut | Conveyor Belt | Dash Panel | Dash Rail | Drop Target | Fireball | Flipper | Grind Rail | High-speed warp tube | Hint Ring | Iron ball | Metal nut | Minecart | Musical note | Prism | Seesaw* | Slot machine | Spring | Spring Catapult | Surprise Crocodile | Truffle Cannon | Windmill
Items
General
1-Up | Apple | Asteroid Ring | Blue Chip | Bound bell | Cage | Casino Token | Chaos Emerald | Floating Item Box | Invincible | Item Box (Warp) | Number Ring | Power Sneakers | Red Star Ring | Ring | Ring (NiGHTS) | Shield | Thunder Shield
RC Vehicles
Helicopter | Fighter Jet | Stealth Jet | Hovercraft | Balloon | UFO | Omochao
English voice actors
Roger Craig Smith (Sonic) | Mike Pollock (Eggman) | Kate Higgins (Tails) | Travis Willingham (Knuckles, Zavok) | Cindy Robinson (Amy) | Kirk Thornton (Orbot, Master Zik) | Wally Wingert (Cubot) | Liam O'Brien (Zazz) | Patrick Seitz (Zomom) | Stephanie Sheh (Zeena) | Sam Riegel (Zor)
Japanese voice actors
Jun'ichi Kanemaru (Sonic) | Chikao Ōtsuka (Eggman) | Ryō Hirohashi (Tails) | Nobutoshi Canna (Knuckles) | Taeko Kawata (Amy) | Mitsuo Iwata (Orbot) | Wataru Takagi (Cubot) | Jōji Nakata (Zavok) | Yutaka Aoyama (Zazz) | Yumi Tōma (Zeena) | Makoto Terada (Master Zik) | Chafūrin (Zomom) | Yūki Tai (Zor)
Music
Sonic Lost World Bonus Soundtrack (Special Selection) | Sonic Lost World: Wonder World EP | Without Boundaries: Sonic Lost World Original Soundtrack
Other
Auto Running | Cacophonic Conch | Egg Mobile | Extractor | Havok | Life | Life (energy) | Loop | Lost Hex | Mech Dragon | Miles Electric | Mission | Moon Mech | Rank | Secret Bonus | Sonic the Hedgehog Halloween ComicFest 2013 | Time Attack | Tornado | Totem pole | Water | Wisp Away* | Wisp Gauge | Zeti

*Appears in the Wii U version only.
---
Main article | Script | Staff | Glitches | Gallery
Playable characters
Sonic (Super Sonic) | Virtual Hedgehog
Non-playable characters
Amy | Animals (Cucky, Flicky, Pecky, Picky, Pocky, Ricky, Rocky) | Cubot | Deadly Six (Master Zik, Zavok, Zazz, Zeena, Zomom, Zor) | Dr. Eggman | Knuckles | Tails | Orbot
Wisps
Cyan | Gray | Indigo | Ivory | Red | Yellow
Worlds
Windy Hill | Desert Ruins | Tropical Coast | Frozen Factory | Silent Forest | Sky Road | Lava Mountain | Special Stage
Enemies
Badniks
Antlion | Balkiry | Batbrain | BFB | Blowfish Transporter | Buzz Bomber | Caterkiller | Clucker | Crawl | Crawlton | Egg Pawn | Gohla | Grabber | Gustav Turtle | Jaws | Moto Bug | Newtron | Orbinaut (Uni Uni, Unidasu) | Penguinator | Sandworm | Slicer | Spinner | Thunder Spinner
Other
Cactus Ball | Sandworm
Bosses
Zazz | Zomom | Master Zik | Zeena | Zor | Zavok | Eggrobo
Moves/
Techniques
General
Bound Jump | Dash | Double Jump | Focused Homing Attack | Grind Step | Grinding | Skydiving | Somersault | Spin Dash | Spin Jump
Parkour
Side Step | Wall Climb | Wall Jump | Wall Run | Wall Spin Dash
Color Powers
Cyan Laser | Gray Quake | Indigo Asteroid | Ivory Lightning | Red Burst | Yellow Drill
Gimmicks and obstacles
Bingo | Bumper | Capsule | Cloud | Dash Panel | Dash Rail | Dash Ring | Drop Target | Fan | Flipper | Flywheel | Giant Ring | Grind Rail | Hint Ring | Iron ball | Jump Panel | Minecart | Prism | Rainbow Ring | Snowball | Snowblower | Spring | Underground pipe
Items
General
5 Ring Bonus | Air Bubble | Asteroid Ring | Chaos Emerald | Gate Capsule | Item Box (1-Up, Aqua Shield, Big 50 Ring, Flame Shield, Invincible, Power Sneakers, Super Ring, Thunder Shield) | Orb | Red Star Ring | Ring | Snowboard
RC Vehicles
Helicopter | Fighter Jet | Stealth Jet | Hovercraft | Balloon | UFO | Omochao
Material
Black Material | Blue Material | Bronze Material | Gold Material | Green Material | Iron Material | Red Material | Silver Material | White Material | Yellow Material
English voice actors
Roger Craig Smith (Sonic) | Mike Pollock (Eggman) | Kate Higgins (Tails) | Travis Willingham (Knuckles, Zavok) | Cindy Robinson (Amy) | Kirk Thornton (Orbot, Master Zik) | Wally Wingert (Cubot) | Liam O'Brien (Zazz) | Patrick Seitz (Zomom) | Stephanie Sheh (Zeena) | Sam Riegel (Zor)
Japanese voice actors
Jun'ichi Kanemaru (Sonic) | Chikao Ōtsuka (Eggman) | Ryō Hirohashi (Tails) | Nobutoshi Canna (Knuckles) | Taeko Kawata (Amy) | Mitsuo Iwata (Orbot) | Wataru Takagi (Cubot) | Jōji Nakata (Zavok) | Yutaka Aoyama (Zazz) | Yumi Tōma (Zeena) | Makoto Terada (Master Zik) | Chafūrin (Zomom) | Yūki Tai (Zor)
Music
Sonic Lost World Bonus Soundtrack (Special Selection) | Sonic Lost World: Wonder World EP | Without Boundaries: Sonic Lost World Original Soundtrack
Other
Cacophonic Conch | Egg Mobile | Extractor | Freeze | Health Gauge | Life | Life (energy) | Loop | Lost Hex | Mech Dragon | Miles Electric | Moon Mech | Rank | Sonic the Hedgehog Halloween ComicFest 2013 | Tails' Lab | Tornado | Totem pole | Water | Wisp Gauge | Zeti
---
Main article | Script | Staff | Manuals | Beta elements | Gallery
Playable
characters
Team Sonic
Sonic | Tails | Knuckles
Team Rose
Amy | Chao (Dark Chao, Hero Chao, Neutral Chao, Omochao) | Big
Team Vector
Blaze | Silver | Vector
Team Dark
Shadow | Rouge | Omega
Team Eggman
Metal Sonic | Dr. Eggman | Zavok | Eggpawn | Death Egg
Non-playable characters
Boo | Boom Boo | Buzzer | Chopper | Crabmeat | Cubot | Dodon Pa | Egg Squid | Froggy | King Boom Boo | Mother Wisp | Orbot | Orca | Sandworm
Wisps
Black | Blue | Crimson | Cyan | Ivory | Jade | Magenta | Orange | Pink | Gray | Red | Violet | White | Yellow
Tracks
Planet Wisp
Wisp Circuit | Mother's Canyon | Doctor's Mine
Seaside Hill
Ocean View | Lost Palace | Whale Lagoon
Glacierland
Ice Mountain | Frozen Junkyard | Hidden Volcano
Casino Park
Roulette Road | Bingo Party | Pinball Highway
Sandopolis
Sand Road | Boo's House | Clockwork Pyramid
Rooftop Run
Market Street | Sky Road | Haunted Castle
Final Fortress
Thunder Deck | Dark Arsenal | Turbine Loop
Events
Boost Race | Daredevil | Destruction | Eggpawn Assault | Grand Prix | King of the Hill | Lightning Race | Ring Challenge | Rocket Race | Showdown Race | Survival Race | Team Boost Race | Team Grand Prix | Team King of the Hill | Team Lightning Race | Team Race | Team Rocket Race | Team Vampire Race | Time Trial | Traffic Attack | Vampire Race
Enemies
Eggpawn | Eggsplosive Eggpawn | Hard-boiled Eggpawn | Melee Eggpawn | Standard Eggpawn
Moves/Techniques
Drift | Item Box Transfer | Radial Burst | Rival Takedown | Skim Boost | Slingshot | Start Line Boost | Stunt | Team Ultimate
Color Powers
Black Bomb | Blue Cube | Crimson Eagle | Cyan Laser | Gray Quake | Ivory Lightning | Jade Ghost | Magenta Rhythm | Orange Rocket | Pink Spikes | Red Burst | Violet Void | Yellow Drill
Vehicles
Beat Monster | Chao Pod | Cross Dozer | Dark Reaper | Egg Booster | Formula M | Frog Cruiser | Land Breaker | Lightron | Lip Spyder | Pink Cabriolet | Road Dragoon | Royal Chariot | Speed Star | Whirlwind Sport
Gimmicks and obstacles
Boost Pad | Kao | Spring | Star Post | Wide spring
Items
Bonus Box | Credit | Item Box (Invincibility) | Key | Medal | Mod (Car Cosmetic (Horn, Paint Kit, Vinyl), Performance Part) | Mod Pod | Ring
English voice actors
Roger Craig Smith (Sonic, Wisp announcer) | Mike Pollock (Eggman) | Kyle Hebert (Big, Dodon Pa) | Colleen O'Shaughnessey (Tails) | Dave Mitchell (Knuckles) | Patrick Seitz (Zavok) | Cindy Robinson (Amy) | Kirk Thornton (Shadow, Orbot) | Karen Strassman (Rouge) | Aaron LaPlante (Omega) | Bryce Papenbrook (Silver) | Keith Silverstein (Vector) | Erica Lindbeck (Blaze, Omochao) | Wally Wingert (Cubot) | Tomoko Sasaki (Chao)
Japanese voice actors
Jun'ichi Kanemaru (Sonic) | Kotaro Nakamura (Eggman) | Katsuhisa Hōki (Dodon Pa) | Ryō Hirohashi (Tails) | Nobutoshi Canna (Knuckles) | Taeko Kawata (Amy) | Takashi Nagasako (Big) | Etsuko Kozakura (Omochao) | Kōji Yusa (Shadow) | Rumi Ochiai (Rouge) | Taiten Kusunoki (Omega) | Daisuke Ono (Silver) | Kenta Miyake (Vector) | Nao Takamori (Blaze) | Jōji Nakata (Zavok) | Mitsuo Iwata (Orbot) | Wataru Takagi (Cubot) | Tomoko Sasaki (Chao) | Fumihiko Tachiki (Wisp announcer)
Music
Songs
"Green Light Ride"
Albums
Maximum Overdrive - Team Sonic Racing Original Soundtrack | Team Sonic Racing Trailer Music Selection
Other
Death Egg Robot | Donpa Kingdom | Donpa Motors | Egg Squid | Loop | Orca | Power-Type | Sonic Racing | Speed-Type | Team Sonic Racing Overdrive ("Dangerous Distractions", "Eyes on the Prize", "The Complete Race") | Technique-Type | Ultimate Meter | Team Sonic Racing One-shot | Team Sonic Racing Plus Deluxe Turbo Championship Edition one-shot | Ultimate Energy Engine | Ultimate Team Energy