Gravity Control is a move used by all playable characters in Sonic Riders: Zero Gravity, which is granted by wielding an Ark of the Cosmos (or a Gravity Band in Free Play mode). This move serves as a vital game mechanic for the player, especially in single-player mode, and is often required to win several of the game's races. When performing this move, the user can manipulate gravity to quickly change their directions when riding an Extreme Gear at high speeds. This allows the user to either make sharp turns or to select an alternate course through the racing tracks.
Description
Story-wise, in order to allow a user to perform Gravity Control, the user must possess an Ark of the Cosmos/Gravity Band which is required due to their gravity-altering properties. In order to perform Gravity Control in gameplay, the user must have accumulated enough Gravity Points (GP) in their GP Gauge. If the user has even a little amount of GP, they can perform Gravity Control.
When performing Gravity Control, the user activates their Ark of the Cosmos/Gravity Band, which is signified by a small wave of light and ripples erupting from the Ark of the Cosmos/Gravity Band, followed by the Ark of the Cosmos/Gravity Band itself glowing. This causes the gravity in the user's nearby vicinity to be negated, causing nearby objects and the user itself to enter zero gravity, though the user will still move in the same direction as when the Gravity Control was activated (albeit at a slower pace). Once in mid-air, the user can directly select any new direction to head towards, even when the user were going at full speed on Extreme Gear. Once the direction has been selected, the user propels themselves forward at high speeds with a quick shift in gravity, while other objects caught in the gravity shift are destroyed, allowing the user to resume racing on their Extreme Gear at high speeds. This is sometimes referred to as "Gravity Drift".
To perform Gravity Control in gameplay, it is required that the player has Gravity Points in their GP Gauge; otherwise, any attempt to use it will fail. When performing Gravity Dive in gameplay, the player must execute the following actions:
| PS2 | Wii (remote) - forward | Wii (remote) - sideways | Wii (GameCube Controller) |
| --- | --- | --- | --- |
| Press while tilting the left analog stick in the desired direction to head in. | Press while pointing the Wii Remote or pressing in the desired direction to head in. | Press while tilting the Wii Remote or pressing in the desired direction to head in. | Press while tilting the analog stick in the desired direction to head in. |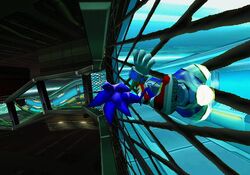 Gravity Control is foremost used to give the players an advantage in Extreme Gear races; when the player is about enter a sharp turn at high speed, Gravity Control can be used to quickly alter the player's direction when entering this turn, allowing the player to pass through the turn without ramming into the walls and lose speed. However, Gravity Control can also be used to select alternate routes on the racing tracks which are located on the walls, fittingly called Wall Routes; if the user is launched into the air by a quarter-pipe nearby a Wall Route, the player can use Gravity Control to redirect themselves towards this route and race down it vertically This will grant the player additional Gravity Points. Also, by using Gravity Control in the same manner during mid-air tricks, the player can also use it to send themselves flying towards a possible shortcut on the racing track that cannot be reached otherwise. Performing Gravity Control also affects the BGM, fast-forwarding it to a certain section. 
Wheel type Extreme Gear, however, cannot use Gravity Control to the full extent of the other Gear types, as performing Gravity Control will result in the rider to drop immediately to the ground, which is not useful in making a sharp turn and still race at high speeds. This, in effect, means that Wheel type Extrem Gear have difficulty in accessing Wall Route shortcuts. One of the Gear Parts, GC Boost UP, enables Extreme Gear that are equipped with it to be launched at a greater speed after performing Gravity Control.
Trivia
In gameplay, the eruption for this move appears identical for every character. In the CGI opening cutscene of Sonic Riders: Zero Gravity however, it appeared a blue color in Sonic's grasp instead of plain and transparent. It is unknown if this means the color of the Ark of the Cosmos and its gravitational field actually matches its user's color scheme alike.
Gallery
Screenshots
See also
---
Main article | Scripts (Heroes, Babylon) | Staff | Glitches | Gallery
Characters
Sonic (Super Sonic) | Tails | Knuckles | Amy | Jet | Wave | Storm | Dr. Eggman | Cream | Rouge | Shadow | Silver | Blaze | SCR-GP | Amigo | NiGHTS | Billy Hatcher | SCR-HD | Master Core: ABIS
Courses/Fields
Heroes
Megalo Station | Botanical Kingdom | MeteorTech Premises | Aquatic Capital | Gigan Rocks | Crimson Crater | Astral Babylon | '80s Boulevard
Babylon
Gigan Device | Nightside Rush | Snowy Kingdom | MeteorTech Sparkworks | Tempest Waterway | Security Corridor | Mobius Strip | '90s Boulevard
Survival Battle
Gravity Pit | Labyrinth | Square Quartet
Survival Ball
MeteorTech Arsenal | Botanical Cave | Megalo Junction
Advantage F | Advantage P | Advantage S | Airship | Angel • Devil | Beginner | Big Bang | Bingo Star | Black Shot | Blue Star | Chaos Emerald | Cover F | Cover P | Cover S | E-Rider | Faster | Fastest | Flame Lance | G Shot | Gambler | GC Booster | GC Master | GP Accumulator | GP Tank | Hang-On | Hyperdrive | Kunoichi | Legend | Light Board | Mag | Magic Broom | Master Off-Road | Money Crisis | Night Sky | Omnitempus | Pink Rose | Power Egg | Psychic Wave | Rail Linker | Rainbow | Red Rock | Reserve Tank | Rhythm Machine | Road Star | Shinobi | Shooting Star | Skill Booster | Smile | Super Hang-On | Temptation | The Crazy | Throttle | Turbo Star | Type-J | Type-S | Type-W | Untouchable | Wanted | Wheel Custom | Wind Catcher | Wind Star | Yellow Tail
Air Ride | Angel/Devil | Attack Time UP | Auto Wall-Run | Base Stats UP | BGM Change | Bike | Durability UP | GC Boost UP | Ghost | GP Gain UP | GP Gauge UP | GP Usage UP | Grind | Item Rank +1 | Magnetic Barrier | Max Speed UP | Parts Lock | Ring Cap UP | Starting Speed UP | Status Trap | Tank | Throttle | Trick Rank +1 | Vision Trap | Wheel | Yacht

Moves and Techniques

Air Ride | Attacks | Gravity Control | Gravity Dive | Grinding | Slide Turn | Trick

English voice actors

Jason Griffith (Sonic, Jet, Shadow) | Amy Palant (Tails) | Dan Green (Knuckles, Storm) | Bella Hudson (Wave, Mother computer) | Lisa Ortiz (Amy) | Mike Pollock (Dr. Eggman) | Kathleen Delaney (Rouge) | Pete Capella (Silver) | Rebecca Honig (Cream) | Andrew Paull (SCR-HD, SCR-GP, Master Core: ABIS)

Japanese voice actors

Jun'ichi Kanemaru (Sonic) | Ryō Hirohashi (Tails) | Nobutoshi Canna (Knuckles) | Daisuke Kishio (Jet) | Chie Nakamura (Wave, Mother computer) | Kenji Nomura (Storm, SCR-HD, SCR-GP, Master Core: ABIS) | Taeko Kawata (Amy) | Koji Yusa (Shadow) | Rumi Ochiai (Rouge) | Daisuke Ono (Silver) | Nao Takamori (Blaze)

Other

Ark of the Cosmos | Babylon Garden | Babylon Rogues' ship | Babylonians | Barricade | Bashōsen | Car | Catapult | Catch Me If You Can | Crimson Tower | Crusher | Dash Panel | Dash Ring | Fly Type | Gravity Band | Gravity Point | Grind Rail | Havok | Item Box (Attack, Colorball, Explosion, GP Boost, High Speed, Magnetic Barrier, Missile, Parts Lock, Ring, Shield, Speed Down) | Monopole | Mother computer | Ring | Slipstream | Speed Type | Power Type | Rank | Time Attack | Time item | Trick Zone | Un-Gravitify | World Grand Prix | Zero Gravity Tracks: Sonic Riders Shooting Star Story Original Soundtrack
Community content is available under
CC-BY-SA
unless otherwise noted.