Fire Emblem Warriors: Three Hopes - The Loop
Play Sound
This page is about a obstacle found in Special Stages and Bonus Stages. For the signpost-type object with the same name, see Goal (signpost).
The Goal[1] (ゴール[2][3], Gōru?), also called as Goal Block[4] is an obstacle that appears in the Sonic the Hedgehog series. They are flashing orbs/cubes-shaped objects (although the manual describes them as a block) that appear in Special Stages or Bonus Stages. If the player touches these blocks, they will be transported to the next Act or returned to the same Zone they entered the stage from.
Game appearances
Sonic the Hedgehog (16-bit)
The Goal first appeared in Sonic the Hedgehog (16-bit), where they can be encountered in the game's Special Stages. Here, they are set in rows within the walls. When the player touches these blocks, he/she will leave the Special Stage without earning a Chaos Emerald, which the player's goal in the Special Stages.
Sonic & Knuckles
Goals later appeared in the slot machine-type Bonus Stage in Sonic & Knuckles and the lock-on game Sonic the Hedgehog 3 & Knuckles. They function as they did in the previous game and can be found in small gaps in each corner of the stage. Here, touching the Goal will send the player back to the Zone where he/she entered the Bonus Stage. If the player hits the colored blocks multiple times or stays on them for too long, they will change their color and, eventually, transform into a Goal block (blue > green > yellow > red > Goal block).
Knuckles' Chaotix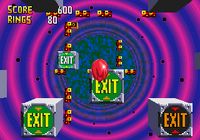 Different looking, but identically functioning objects titled Exit[5] appear in the Bonus Stages of Knuckles' Chaotix. These objects are simple gray cubes with a red-and-green flashing circle in the middle that has "Exit" written on it. When the player falls onto one of these cubes, he/she will be transported back to the place where the player found the Giant Ring for the Bonus Stage.
Sonic the Hedgehog 4: Episode I
The Goal blocks returned in the Special Stages of Sonic the Hedgehog 4: Episode I. In this game, they are simple red, circular blocks with a white exclamation mark written in their center instead of "Goal". Despite their artistic change, they work exactly like they did in the original Sonic the Hedgehog.
Trivia
Gallery
References
---
Playable characters
Sonic (Super Sonic*) | Tails (Super Tails*) | Knuckles* (Super Knuckles*)
Non-playable characters
Dr. Robotnik | Animals (Flicky, Pocky, Pecky, Cucky, Ricky, Picky, Rocky)

Zones

Green Hill Zone | Marble Zone | Spring Yard Zone | Labyrinth Zone | Star Light Zone | Scrap Brain Zone | Final Zone | Special Stages

Enemies

Ball Hog | Batbrain | Bomb | Burrobot | Buzz Bomber | Caterkiller | Chopper | Crabmeat | Jaws | Moto Bug | Newtron | Orbinaut (Uni Uni, Unidasu) | Roller | Spikes | Splats
Bosses
Egg Wrecker | Egg Scorcher | Egg Stinger | Egg Mobile | Egg Spiker | Egg Crusher
Moves/Techniques
Climb* | Crouch | Drop Dash* | Glide* | Insta-Shield* | Propeller Flying* | Spin Attack | Spin Dash* | Spin Jump | Swim*
Gimmicks and obstacles
Bomb | Bumper | Capsule | Chaos Emerald | Color Block | Conveyor Belt | Crusher | Dropping platform | Electric shocker | Elevator | Fan | Fireball | Floating stone | Flywheel | Giant spear | Goal | Goal Plate | Giant Ring | Iron ball | Jump Stand | Lamppost | Reverse | Saw | See-saw | Spikes | Spring | Switch | Up and Down
Items
Air Bubble | Ring | Video Monitor (Aqua Shield*, Chaos Emerald*, Eggman Mark*,

Elemental Shields

*, Extra Life, Flame Shield*,

Goggles

*, Invincible, Power Sneakers, S*, Shield, Spikes*, Super Ring, Thunder Shield*)
Music
Sonic the Hedgehog 1&2 Soundtrack
Other
Continue | Debug Mode | Egg Mobile | Life | Lock-on technology | Loop | Madonna | Secret Bonus | Sonic the Hedgehog (1991 U.S Gold) | Sonic the Hedgehog (promotional comic) | Sonic the Hedgehog Band (Max, Mach, Sharps, Vector) | Sonic the Hedgehog Story Comic | South Island | Time Attack* | Time Over | Totem pole | Tunnel | Water

*Appears in re-releases of the game only
---
Main article (Blue Sphere, Knuckles in Sonic 2, Sonic 3 & Knuckles) | Credits | Manuals | Beta elements | Gallery
Playable characters
Sonic (Super Sonic) | Knuckles (Super Knuckles)
Non-playable characters
Dr. Robotnik | Tails | Rock Drill | Mecha Sonic (Super Mecha Sonic) | Animals (Flicky, Pocky, Pecky, Cucky, Ricky, Rocky)
Enemies
Blaster | Butterdroid | Chainspike | Cluckoid | Dragonfly | EggRobo | Fireworm | Hyudoro | Iwamodoki | Madmole | Mushmeanie | Rock'n | Sandworm | Skorp | Spikebonker | Technosqueek | Toxomister
Zones
Mushroom Hill Zone | Flying Battery Zone | Sandopolis Zone | Lava Reef Zone | Hidden Palace Zone | Sky Sanctuary Zone | Death Egg Zone | The Doomsday Zone | Special Stage | Bonus Stage
Bosses
Sub-bosses
Hey Ho | Gapsule | Barrier Eggman | Guardian | Heat Arms | Egg Mobile-H | Flying Eggman | Red Eye | Death Ball
Zone bosses
Egg Scrambler | Egg Hanger | Egg Golem | Egg Inferno | Knuckles | Mecha Sonic | Super Mecha Sonic | Giant Eggman Robo | Final Weapon
Moves/Techniques
Bound Jump | Crouch | Double Jump | Drop Dash* | Fireball Spin Dash | Glide | Insta-Shield | Punch Attack | Spin Attack | Spin Dash | Spin Jump | Wall Climb
Gimmicks and obstacles
Bomb | Booster | Bumper | Capsule | Cloud | Crusher | Electrical emitter | Elevator | Fan | Fire | Fireball | Flipper | Goal | Goal Plate | Gravity Control Switch | High-speed warp tube | Iron ball | Jump Stand | Lighting switch | Magnetic sphere | Movable box | Mushroom | Pole Elevator | Reverse | Ring Shooter | Seesaw | Sinking pool | Slot machine | Spikes | Spring | Star Post | Switch | Transport | Warp Point
Items
Chaos Emerald | Continue | Giant Ring | Gumball | Monitor (Robotnik, Extra Life, Flame Shield, Invincibility, Lightning Shield, S, Super Ring, Super Shoes, Water Shield) | Ring | Sphere | Star Circle
Music
Sonic & Knuckles • Sonic the Hedgehog 3
Other
Altar of Emerald | Death Egg | Debug Mode | Floating Island | Life | Lock-on technology | Loop | Perfect Bonus | Tornado | Tunnel

*Appears in re-releases only
---
Main article | Staff | Glitches | Beta elements | Pre-releases (1207 Beta) | Gallery
Playable characters
Charmy | Espio | Knuckles | Mighty | Vector | Bomb | Heavy | **********
Non-playable characters
Dr. Robotnik | Metal Sonic (Metal Sonic Kai) | Amy | Tails | Sonic
Stages
Isolated Island | Botanic Base | Speed Slider | Amazing Arena | Techno Tower | Marina Madness | World Entrance | Special Stage | Bonus Stage
Enemies
Am-Bush | Beatal | Blitz | Bombbearer | Burboom | Bushbubble | Catalurcher | Dribbler | Floatsam | Gotcha | Gut Buster | Hoverby Mk II | Liftor | Marina Madness Badnik 1, 2 | Motorspike | Needlenose | Piranha | Poptank | Ringleader | Spiketower | Triclod | Ticktock | Trundull
Bosses
Amazing Arena boss | Amazing Arena sub-boss | Botanic Base boss | Marina Madness boss | Speed Slider boss | Techno Tower boss | Metal Sonic | Metal Sonic Kai
Moves/
Techniques
Playable characters
Axel Spin | Climb | Crouch | Dash | Glide | Power Boost | Spin Dash | Spin Jump | Super Spin | Wall Jump
NPCs
V. Maximum Overdrive Attack | Plasma Pulse Attack
Gimmicks and obstacles
"X" Bumper | Balloon | Bumper Ball | Chopper Block | Elevator | Exit | Giant Ring | Goal Plate | High-speed warp tube | Iron ball | Ring Power | Saw | Spring | Switch
Items
Bound Rings | Chaos Ring | Dark Ring | Monitor (Change, Combi Catcher, Combine Ring, Grow, Invincible, Power Sneakers, Shield, Shrink, Stage Select, Super Ring, Swap) | Ring | Sphere
Other
Archie Knuckles' Chaotix | Combi Catcher | Debug Mode | Loop | Newtrogic High Zone | Sonic Crackers