No Man's Sky Update - The Loop
Play Sound
The Gizoid Guardian is an enemy that appears in Sonic Chronicles: The Dark Brotherhood. It is a Gizoid model created and deployed by the Nocturnus Clan. They serve as the elite bodyguards of Imperator Ix.
Appearance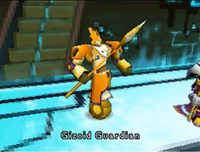 The Gizoid Guardians' design are very different from the regular known Gizoid models. The Gizoid Guardians are at least twice the size of an regular Gizoid and are much more bulky, standing with a wide chest area and abdomen, broad shoulders and large arms. Only their heads are very much the same as a regular Gizoid, except the fin plates on their heads are much larger. They have a single, wide wheel in place of their feet, and are carrying a massive pole-arm around which they use to attack.
Description
Gizoid Guardians are only encountered during the second phase of the second-to-last boss battle in Sonic Chronicles: The Dark Brotherhood, where a pair of Gizoid Guardians accompanies Imperator Ix.
The Gizoid Guardians' basic attack is striking the opponent with their spear. Their POW moves are Immunity and Crippling Arc, which can inflict Weaken.
Statistics
Trivia
Gallery
Concept artwork
Models
Notes
References
---
Main article | Staff | Gallery | Chapters (1 | 2 | 3 | 4 | 5 | 6 | 7 | 8 | 9 | 10)
Playable characters
Sonic (Super Sonic) | Amy | Tails | Rouge | Big | Knuckles | Cream | Eggman | Shadow | Omega | Shade
Non-playable characters
Dexter | G.U.N. (Commander) | Nocturnus Clan (Imperator Ix (Super State), Nestor, Gizoid, Emerl, Scylla, Charyb) | Knuckles Clan | Egg Bot | Swat Bot | Kron (Foreman Krag) | Zoah (Syrax, Raxos, Gentleman, Haniman, Telra) | N'rrgal (N'rrgal Queen) | Voxai (Thebes, Thelxe, Overmind) | Twilight Cage Pirates | Precursors | Chao | Argus | Team Chaotix (Vector) | Doctor Madden | Sal | Croesus
Chao
Common
Barbo | Cheezlet | Choo | Churdle | Ghise | Griff | Jirna | Knickt | Koolet | Korus | Oolean | Perty | Pyraz | Rugle | Seeri | Seggo | Stebsly | Stiglin | Velk | Zimba
Rare
Belgog | Bepke | Blayze | Bobo | Dusty | Fess | Gibber | Hayda | Joy | Kayla | Keroyo | Luunan | Oldarg | Radu | Zousar
Unique
Cheese | Choopaloo | Ferox | Ovus | Spartoi | Viral Chao (Baki, Farfinkle, Fimbley, Pooki, Stugs)
Areas
Green Hill Zone | Central City | Blue Ridge Zone | Mystic Ruins | Angel Island | Metropolis | Metropolis Ground Zero | Kron Colony | Twilight Cage | Zoah Colony | N'rrgal Colony | Voxai Colony Alpha | Voxai Colony Beta | Nocturne
Enemies
Assault Drone | Assault Drone Mk. II | Bomb Pawn | Colossal Worm | Dominated Voxai Citizen | Dragodon | Egg Bot | Enraged Armadillo | Giant Millipede | Giant Scorpion | Gizoid | Gizoid Centurion | Gizoid Guardian | Gizoid Mk. II | Guardian Pawn | Guardian Pawn Mk. II | Gun Pawn | Gun Pawn Mk. II | Kron Warrior | Laser Drone | Laser Drone Mk. II | Leucosia | Ligaia | Marauder Scout | Marauder Vet Scout | Nocturne Decurion | Nocturne Equites | Nocturne Hastatus | Nocturne High Praetorian | Nocturne Praetorian | Nocturne Princeps | Nocturne Triarius | Nocturnus Velite | Nrrgal Drone | Nrrgal Warrior | Power Pylon | Queen Wasp | Raptor Hawk | Riadne | Robodillo | Seeker Drone | Sentry Drone | Sentry Mk. II | Shield Pawn | Shield Pawn Mk. II | Swat Bot | Swatbot Mk. II | Voxai Conspirators | Wasp Swarm | Wild Boar | Zoah Brute
POW Moves
Sonic
Axe Kick | Blue Bomber | Fastball | Hail Storm | Super Sonic (Super Sonic only) | Triple Tornado | Whirlwind
Amy
Blow Kiss | Flower Power | Low Blow | Spin Cycle | Tantrum | Tarot Draw
Tails
Adrenaline Rush | Flash Bang | Medi Bot | Scan | Shield Bot | Tinker
Rouge
Distract | Jewel Storm | Plunder | Rising Knuckle | Shriek | Tornado Kick
Big
Battering Ram | Feel No Pain | Froggy Poison | Froggy Rain | Lure Whip | Taunt
Knuckles
Hard Line | Knuckles Express | Knuckles Sandwich | Quake Punch | Revolver Slam | Uppercut
Cream
Cure | Demoralize | Heal | Refresh | Revive | Tough
Eggman
Bombardment | Sabotage
Shadow
Atomic Strike | Chaos Blast | Chaos Rift | Chaos Spear | Focus Field | Metal Storm
Omega
Beam Cannon | Blazing Tornado | Flamethrower | Machine Gunner | Temporal Field | Wrecking Ball
Shade
Blade Drop | Blade Rush | Cloak | Echidna Rush
Enemies
Acid Spit | Air Shield | Bash | Buzz Saw | Buzz Swarm | Charging! | Crippling Arc | Crusher | Cyclone | Dark Anomaly | Doom Orb | Drain Life | Energize! |

Evading

| Feather Barrage |

Full Auto

|

Full Power

|

Hellfire

|

Immunity

|

Leech Blade

|

Leech Wave

|

Lightning Shield

|

Lock On!

|

Mega Blaster

|

Mighty Slash

| Overload |

Parry

|

Phase

|

Poison Quill

|

Power Blast

|

Power Burst

| Psi-Confuse | Psi-Dazzle | Psi-Slow | Psychic Wave | Quake |

Regenerate

|

Regeneration

|

Reinforcements

|

Rocket Volley

|

Roller Ball

|

Self Destruct

|

Self Repair

|

Shields Up!

|

Shocker

|

Slime Shot

|

Stasis Grenade

|

Super Bomb

|

Super Nova

|

Super Shot

|

Swallow

| Tail Blast | Tail Swipe | Water Shield
Status Effects
Cursed | Distracted | Empowered | Focused | Fortified | Hyper | Lucky | Poisoned | Sluggish | Stunned | Vulnerable | Weakened
Items
Equipment
Alloy Boots | Alloy Slippers | Angel Amulet | Blunt Claws | Boxing Gloves | Chao Print Dress | Cloth Gloves | Cursed Claws | Cursed Gloves | Dura-Hydraulics | Earth Ring | Economizer | Golden Gloves | Grapple Claws | Gritty Gloves | Ice Ring | Immunity Idol | Iron Claws | Iron Hydraulics | Kron Hammer | Light Boots | Light Sneakers | Lightning Ring | Lucky Gloves | Master Hydraulics | Mirror Gloves | Nimble Slippers | Nocturne Blade | Oily Hydraulics | Polymer Gloves | Power Gloves | Pretty Dress | Refresher | Replenisher | Rubber Gloves | Rusty Hydraulics | Serrated Claws | Shielded Sneakers | Sparkly Gloves | Speedy Sneakers | Spiked Gloves | Spiked Slippers | Spiked Sneakers | Spiny Claws | Spooky Charm | Steel Toe Boots | Stiff Sneakers | Swift Boots | Titanium Claws | Tough Slippers | Voxai Teleporter | Water Ring | Wind Ring | Work Boots | Work Gloves | Zoah Shield
Consumables
Antidote | Bug Spray | Clover Juice | Crazy Beans | Cure All Spray | Health Leaf | Health Root | Health Seed | Immunity Booster | Iron Tonic | Med Emitter | POW Candy | POW Drink | POW Gum | Prune Juice | Psychic Water | Revival Ring | Refresher Wave | Ring of Life | Rock Salt | Speed Bar
Quest Items
Beam Cannon | Chaos Emerald (1, 2, 3, 4, 5, 6, 7) | Communicator | Eggman Detector | Eggman Device | GUN Official | Little Boy |

Nocturnus Tech

| Pattern Generator | Precursor Tablet | Prized Stapler | Timothy |

Weapon Part

Other
Air Bubble | Argus Event | Armor Piercing | Blast | Blue Cyclone | Chao Egg | Combat statistics | Dimensional Buffer | Experience Point | Full Auto | Great Emerald | Health Gauge | Item Theft | Leech | Loop | Real-Time Interaction | Shop | Sonic Chronicles: The Dark Brotherhood (Flash) | South Island | Teleporter | Tornado | Twilight Conference | Warp Belt