Plummet from the peak of the mountains where the shooting star legends were born.


— In-game description
Gigan Rocks is a course in Sonic Riders: Zero Gravity.
Overview
The Gigan Rocks is set at a mountainous region of an oriental-inspired civilization near ancient ruins. The area contains ancient ruins that are built on and in the mountain.
Story
With Sonic, Tails and Knuckles having caught up with Amy at Aquatic Capital, they saw her with a broken SCR-HD. Amy recalled Storm grabbing an Ark of the Cosmos that matched something they found earlier at a "Gigan" location, which Knuckles confirming it to be the Gigan Rocks. The heroes were then intent on visiting the Gigan Rocks to learn more about the Arks of the Cosmos with Knuckles leading the way.
Description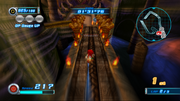 The course starts with two large jumps, the first one having shortcuts for every type leading off of it (the Power and Grind shortcuts are accessed through either wall route of either side from the first jump. After these jumps, a turn leads to a cave, with yet another jump, that takes the racers inside the mountain.
Once landing inside the mountain, there's a Power shortcut for Bikes and Wheel gears and the course's only Spring shortcut if the character is on-foot/Attack mode. After a turn, the player must go to a stretch of course that rises as the racers ride on it until it's going straight up (this is the best time to use Gravity Dive). At the top of the stretch is another jump. The racers land outside near another Power shortcut. There are also grind and air ride shortcuts, but the latter can only be accessed if another character in front has created a slipstream path. There's also another shortcut that can be access via the same slipstream path that can be used by any gear type. After a sharp-turn that can be avoided if the racer used any of the shortcuts mentioned, there is a quick stretch of land that leads to the finish line.
Missions
Mission
Objective
Character
Rank requirements
1
Find the fastest route to the goal and reach it within 1 min 12 sec!
Sonic

Normal: 1:12:00-1:10:00
Super: 1:09:99-1:07:00
Extreme: <1:06:00

2
Reach the goal with at least 125 Rings!
Knuckles

Normal: 125-174 Rings
Super: 175-199 Rings
Extreme: 200 or more Rings

3
Score at least 18 points by performing stunning tricks!
Tails

Normal: 18-26 points
Super: 27-35 points
Extreme: 36 or more points

4
Break at least 22 pots before reaching the goal!
Knuckles

Normal: 22-31 pots
Super: 32-38 pots
Extreme: 39 pots

5
Earn 7 points performing meteor bursts reaching the goal!
Sonic

Normal: 7-9 points
Super: 10-13 points
Extreme: 14 or more points

6
Use gravity dives to destroy at least 9 on the targets set up on the course
Knuckles

Normal: 9-11 targets
Super: 12-15 targets
Extreme: 16 targets

7
Reach the goal with at least 110 points remaining!
Amy

Normal: 110-
Super:
Extreme: -200
In other media
Archie Comics
In the Sonic the Hedgehog comic series and its spin-offs published by Archie Comics, there is a location based on the Gigan Rocks on Mobius named the "Gigan Mountains". Jet, Wave and Storm visited this location to get the Key to Babylon Garden.
Trivia
This course, along with Gigan Device, is the only course in the game to have more than two shortcuts for power type characters.
This is the only course to have only one Attack shortcut.
A 100 Ring Capsule is located at the end of the course, behind a pile of rocks that can be destroyed using Gravity Control.
In the second grinding section, that rail has the rider move at the fastest grind speed in normal races (speed value of 261).
The pillars in Gigan Rocks give the most Gravity Points when bursted on, potentially giving more than 300 GP.
Both this course and Gigan Device are named after Gigan, a monster from the Godzilla series.
Gallery
Concept artwork
Artwork
Screenshots
Music
| Name | Artist | Length | Music Track |
| --- | --- | --- | --- |
| Sealed Ground | N/A | 3:46 | |
Video
---
Main article | Scripts (Heroes, Babylon) | Staff | Glitches | Gallery
Characters
Sonic (Super Sonic) | Tails | Knuckles | Amy | Jet | Wave | Storm | Dr. Eggman | Cream | Rouge | Shadow | Silver | Blaze | SCR-GP | Amigo | NiGHTS | Billy Hatcher | SCR-HD | Master Core: ABIS
Courses/Fields
Heroes
Megalo Station | Botanical Kingdom | MeteorTech Premises | Aquatic Capital | Gigan Rocks | Crimson Crater | Astral Babylon | '80s Boulevard
Babylon
Gigan Device | Nightside Rush | Snowy Kingdom | MeteorTech Sparkworks | Tempest Waterway | Security Corridor | Mobius Strip | '90s Boulevard
Survival Battle
Gravity Pit | Labyrinth | Square Quartet
Survival Ball
MeteorTech Arsenal | Botanical Cave | Megalo Junction
Advantage F | Advantage P | Advantage S | Airship | Angel • Devil | Beginner | Big Bang | Bingo Star | Black Shot | Blue Star | Chaos Emerald | Cover F | Cover P | Cover S | E-Rider | Faster | Fastest | Flame Lance | G Shot | Gambler | GC Booster | GC Master | GP Accumulator | GP Tank | Hang-On | Hyperdrive | Kunoichi | Legend | Light Board | Mag | Magic Broom | Master Off-Road | Money Crisis | Night Sky | Omnitempus | Pink Rose | Power Egg | Psychic Wave | Rail Linker | Rainbow | Red Rock | Reserve Tank | Rhythm Machine | Road Star | Shinobi | Shooting Star | Skill Booster | Smile | Super Hang-On | Temptation | The Crazy | Throttle | Turbo Star | Type-J | Type-S | Type-W | Untouchable | Wanted | Wheel Custom | Wind Catcher | Wind Star | Yellow Tail
Air Ride | Angel/Devil | Attack Time UP | Auto Wall-Run | Base Stats UP | BGM Change | Bike | Durability UP | GC Boost UP | Ghost | GP Gain UP | GP Gauge UP | GP Usage UP | Grind | Item Rank +1 | Magnetic Barrier | Max Speed UP | Parts Lock | Ring Cap UP | Starting Speed UP | Status Trap | Tank | Throttle | Trick Rank +1 | Vision Trap | Wheel | Yacht

Moves and Techniques

Air Ride | Attacks | Gravity Control | Gravity Dive | Grinding | Slide Turn | Super Sonic Boost | Trick

English voice actors

Jason Griffith (Sonic, Jet, Shadow) | Amy Palant (Tails) | Dan Green (Knuckles, Storm) | Bella Hudson (Wave, Mother computer) | Lisa Ortiz (Amy) | Mike Pollock (Dr. Eggman) | Kathleen Delaney (Rouge) | Pete Capella (Silver) | Rebecca Honig (Cream) | Andrew Paull (SCR-HD, SCR-GP, Master Core: ABIS)

Japanese voice actors

Jun'ichi Kanemaru (Sonic) | Ryō Hirohashi (Tails) | Nobutoshi Canna (Knuckles) | Daisuke Kishio (Jet) | Chie Nakamura (Wave, Mother computer) | Kenji Nomura (Storm, SCR-HD, SCR-GP, Master Core: ABIS) | Taeko Kawata (Amy) | Koji Yusa (Shadow) | Rumi Ochiai (Rouge) | Daisuke Ono (Silver) | Nao Takamori (Blaze)

Other

Ark of the Cosmos | Babylon Garden | Babylon Rogues' ship | Babylonians | Barricade | Bashōsen | Black Market | Car | Catapult | Catch Me If You Can | Crimson Tower | Crusher | Dash Panel | Dash Ring | Eggman Empire | Fly Type | Gravity Band | Gravity Point | Grind Rail | Havok | Item Box (Attack, Colorball, Explosion, GP Boost, High Speed, Magnetic Barrier, Missile, Parts Lock, Ring, Shield, Speed Down) | Monopole | Mother computer | Ring | Slipstream | Speed Type | Power Type | Rank | Time Attack | Time item | Trick Zone | Un-Gravitify | World Grand Prix | Zero Gravity Tracks: Sonic Riders Shooting Star Story Original Soundtrack
Community content is available under
CC-BY-SA
unless otherwise noted.