This character exists primarily within the Sonic Boom continuity.

Information in this article may not be canonical to the storyline of the games or any other Sonic continuity.
The Gentleman Wolf[2] is a character that appears in the Sonic Boom television series. He is an anthropomorphic wolf and a sophisticated resident of Seaside Island.
Appearance
The Gentleman Wolf is an anthropomorphic wolf of average build and height, being approximately as tall as Mr. Slate. He has dark gray fur with peach skin on his muzzle and inner ears, and possesses light blue eyes. His muzzle in particular is medium-long with a black nose similar to Sonic's. He also has a long bushy tail with a light gray tip. For attire, he wears a brown jacket with a white shirt underneath, a brown butterfly, white gloves, brown and white sneaker-like shoes with buttons, and a brown top hat with a dark band. Sometimes, he also carries a red walking stick.[3]
History
TV series
Season one
The Gentleman Wolf was one of the attendees at the Awardy Awards. When the award was being handed out however, the Gentleman Wolf fled as Dr. Eggman attacked the event with his robots to claim the award for himself. Once Team Sonic took care of Eggman though, the Gentleman Wolf returned to the gala.[3] When Knuckles later served as deputy mayor, the Gentleman Wolf had Knuckles approve a permit that let him hold a parade in the Village to celebrate his half-birthday, before going for a snack at Meh Burger.[1]
When his walking stick got stolen by what looked like Sonic, the Gentleman Wolf joined an angry mob at town hall where Knuckles them promised to bring in Sonic. The Gentleman Wolf later got his stuff back when Sonic returned them and proved it was Eggman's doing.[4] Another time, the Gentleman Wolf came to the Robot Battle Royale, where he saw Eggman steal Tails' Hypnobot at the end.[5]
Season two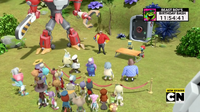 Hearing from Dr. Eggman in the Village Center that an asteroid would impact the earth, the Gentleman Wolf showed up to buy a spot in Eggman's bunker to ride out the impending apocalypse in. Although the Gentleman Wolf did not get a spot, Team Sonic would stop the asteroid.[6] After watching the opening of the new scissor factory, the Gentleman Wolf came to one of Sticks' interviews after she got a popular TV news gig. As Sticks admitted she had sold herself out to the media though, the Gentleman Wolf was inspired by the repentant Sticks to "fight the power." He and the villagers thus began a random revolt before getting calmed and directed into destroying Eggman's latest device when he showed it.[7]
Hypnotized by Dreamcaster's TV broadcasts, the Gentleman Wolf became Dr. Eggman's zombie slave. He and the hypnotized villagers would later attack Sticks when she came to the rescue, but were freed when Team Sonic foiled Eggman's plan.[8] The Gentleman Wolf would some time afterward take a trip to the beach.[9]
Personality
The Gentleman Wolf has a penchant for celebrating himself in extravagant ways, like planning a parade through town to celebrate his "half-birthday".[1]
Trivia
The Gentleman Wolf uses the same character model as Wolfie, the only difference between them being the attire they wear.
References
↑ 1.0 1.1 1.2 Harrison, Reid (20 July 2015). "Mayor Knuckles". Sonic Boom. Season 1. Episode 32. Cartoon Network.
↑ Bill Freiberger on Twitter. Twitter (4 November 2016). Retrieved on 5 November 2016. "Tailooey Fan: What is the name from the Wolf of My Fair Sticksy? / Bill Freiberger: The wold in "My Fair Sticksy" is called Fancy Gentleman. / Alexander Soerensen: The one with the brown suit? / Bill Freiberger: The one in the brown suit is Gentleman Wolf."
↑ 3.0 3.1 Lieblich, Doug (22 November 2014). "My Fair Sticksy". Sonic Boom. Season 1. Episode 5. Cartoon Network.
↑ Harrison, Reid (19 September 2015). "It Wasn't Me, It Was the One-Armed Hedgehog". Sonic Boom. Season 1. Episode 44. Cartoon Network.
↑ Van Liemt, Romain; Grenier, Benoit (26 September 2015). "Robot Battle Royale". Sonic Boom. Season 1. Episode 45. Cartoon Network.
↑ Sellner, Joelle (19 November 2016). "Spacemageddonocalypse". Sonic Boom. Season 2. Episode 54. Boomerang.
↑ Freiberger, Sam (26 November 2016). "Nutwork". Sonic Boom. Season 2. Episode 55. Boomerang.
↑ Shriver, Pauk (31 December 2016). "In the Midnight Hour". Sonic Boom. Season 2. Episode 60. Boomerang.
↑ Lachenaud, Marine; Lachenaud, Cedric (22 April 2017). "Eggman's Brother". Sonic Boom. Season 2. Episode 76. Boomerang.
Community content is available under
CC-BY-SA
unless otherwise noted.