Fire Emblem Warriors: Three Hopes - The Loop
Play Sound
The Gate key,[1] also known as the Eggman Key[2] or secret key, is an object that appears in the Sonic the Hedgehog series. It is a type of key themed after Dr. Eggman.
Description
The Gate key resembles a typical key. It has a gray shaft with rectangular teeth resembles those from a skeleton key on one end. On the other end of its shaft, however, is a white and somewhat rugged guard resembling the wide smile of Dr. Eggman's, complete with sides resembling the doctor's mustache. Lastly, it has two blue rings with red insides on top of its guard that resemble Eggman's classes and an orange centerpiece resembling Eggman's nose.
In gameplay, there are multiple Gate keys hidden around the levels where they can be found. Once they have all been collected, the player is given a form of reward for their efforts.
Game appearances
Sonic Adventure 2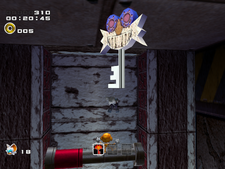 In Sonic Adventure 2 and its enhanced port Sonic Adventure 2: Battle, these keys are referred to as Gate keys.[1] In this game, they can be found in Death Chamber and Egg Quarters.
In gameplay, the goal in the respective stages for Knuckles and Rouge, is to find the three Gate keys hidden in the environment, just like the Emerald Shards. When the player gets close to a Gate key, their Emerald Radar will react to its presence. They player can also consult Hint Boxes in order to receive cryptic clues as to where the Gate keys are hidden.
Sonic Speed Simulator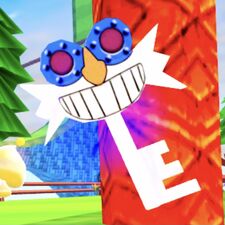 In Sonic Speed Simulator, the Gate keys are referred to as the Eggman Keys[2] and secret keys. In this game, they can be found in every world of the game. Accordingly, the Eggman Keys were originally in Knuckles' possession, but by freeing Amy from her crystal prison during "Save Amy Event", it created a blast that scattered the Eggman Keys all over the worlds.[3]
In gameplay, the Eggman Keys are objects that spawn at random in random worlds during the "Treasure Hunt Event", where collecting thirty of them will unlock the Knuckles Chao and contribute to the unlocking of Treasure Hunter Knuckles as a playable character. Eggman Keys appear in irregular intervals in a specific world in the game. In addition, they are hidden in well-covered places, like amidst tall plants, behind structures, underneath roads, inside tree crowns, etc. After spawning, the player will have seven minutes to collect as many Eggman Keys as possible before they disappear. When an Eggman Key has been found, the player can touch it in order to collect it. When collected, a gauge will then appear on the left side of the HUD that shows how many Eggman Keys the player has left to collect before unlocking the Knuckles Chao.
If the player collects the required amount of Eggman Keys, they will not spawn anymore. However, players who do not have the required amount still have a chance to collect them.
Gallery
Models
Screenshots
References
---
Main article | Scripts (Hero, Dark, Last) | Staff | Manuals | Glitches | Beta elements | Gallery | Pre-releases (The Trial) | Re-releases (Battle, 2012)
Playable characters
Hero
Sonic (Super Sonic) | Tails | Knuckles
Dark
Shadow (Super Shadow) | Rouge | Eggman
Misc.
Amy* | Big*^ | Chao Walker* | Chaos* | Dark Chao Walker* | Metal Sonic* | Tikal*
Non-playable characters
Chao (Chao Principal, Chaolin, Chaoko, Chaos Chao, Chaosky, Dark Chao, Dinner, Happy, Hero Chao, Wacky) | Gerald | Maria | President | Scorpion Troop | Secretary | Sigma-Alpha 2 | Spider Troop | Researcher | Animals (Bat, Bear, Boar, Cheetah, Condor, Dragon, Gorilla, Half Fish, Parrot, Peacock, Penguin, Phoenix, Rabbit, Raccoon, Seal, Sea Otter, Sheep, Skeleton Dog, Skunk, Tiger, Unicorn)
Stages
Hero
City Escape | Wild Canyon | Prison Lane | Metal Harbor | Green Forest | Pumpkin Hill | Mission Street | Aquatic Mine | Route 101 | Hidden Base | Pyramid Cave | Death Chamber | Eternal Engine | Meteor Herd | Crazy Gadget | Final Rush
Dark
Iron Gate | Dry Lagoon | Sand Ocean | Radical Highway | Egg Quarters | Lost Colony | Weapons Bed | Security Hall | White Jungle | Route 280 | Sky Rail | Mad Space | Cosmic Wall | Final Chase
Misc.
Cannon's Core | Green Hill
2P Stages
Downtown Race | Grind Race | Planet Quest | Pool Quest | Deck Race | Pyramid Race
Enemies
G.U.N.
Blue Eagle | Bomb Beetle | Bomb Wing | Gold Beetle | Gun Hawk | Gun Beetle | Gun Hawk | Gun Hunter | Gun Wing | Hornet-3 | Hornet-6 | Hornet-9 | Laser Hawk | Laser Hornet | Laser Hunter | Mono Beetle | Phoenix | Rhino Cannon | Rhino Jet | Rhino Metal | Rhino Spike | Shield Hunter | Sky Hawk | Spark Beetle | Spring Beetle
Badniks
Buzz Bomber | Chopper | E-1000 | Gola | Unidus | Kiki
Misc.
Artificial Chaos (Artificial Chaos P-1, Artificial Chaos P-100, Cell, Float Type, Guard Type) | Boo | Boom Boo
Bosses
B-3x Hot Shot | Biolizard | Dr. Eggman | Egg Golem | F-6t Big Foot | Finalhazard | King Boom Boo | Knuckles | R-1/A Flying Dog | Rouge | Shadow | Sonic | Tails
Moves/Techniques
Amy Flash* | Black Shield* | Black Wave* | Booming Missile* | Bounce Attack | Captive Light* | Chaos Bind* | Chaos Control | Chaos Impact* | Chaos Screw* | Chaos Spear | Chaos Strike* | Charm Ray* | Crazy Rush* | Crouch | Dark Finish* | Dark Omochao* | Dig | Drill Claw | Drill Drive | Fire Somersault | Glide | Grind Step | Grinding | Hammer Punch* | Heaven's Justice* | Hell Bomber* | Hip Drop* | Hover | Homing Attack | Jump Dash | Kick/Kick Attack | Knuckle Spin* | Laser Missile* | Light Attack | Light Speed Dash | Lock-on | Lock-On Missile | Magic Hands | Omochao | Pick | Power Flash* | Power Laser* | Propeller Punch | Punch (Eggwalker) | Punch/Punch Attack | Rocket Launcher | Rumble Launcher* | Screw Kick | Somersault | Sonic Wind* | Speed Up* | Spin Jump | Spin Dash | Spiral Upper | Storming Heart* | Super Sonic Boost | Swim | Thunder Arrow* | Time Stop* | Volkan Cannon | Wrath of Gaia* | Zap Laser*
Gimmicks and obstacles
Ancient Ruin | Ball Switch | Bungie Vine | Dash Panel | Dynamite | Egg Beetle | Gravity Control Switch | Green energy fluid | Grind Rail | GUN Military Truck | High-speed warp tube | Hint Box | Hourglass | Iron ball | Jump Plate | Laser field | Missile | Pipe | Point Marker | Propeller Spring | Pulley | Ramp | Rocket | Safe | Sinking pool | Spikes | Spinning drum | Swing Bar | Time Stop Switch | Turtle | Warp Hole | Warp Wall | Weight | Wide spring
Items
General
Air Bubble | Balloon | Chao Egg | Chao Key | Chaos Emerald | Chaos Drive | Car | Container (Cage, Chao Container, Steel Container, Unbreakable Container, Wooden Container) | Emblem | Emerald Shard | Gate key | Goal Ring | Item Box (5 Rings, 10 Rings, 20 Rings, Bomb, Extra Life, Health, High-Speed Shoes, Invincibility, Magnetic Shield, Shield) | Key Stone (Gate Key) | Meteorite | Outfit | Ring | Snowboard
Level Up Items
Air Necklace | Air Shoes | Ancient Light | Bazooka | Booster | Bounce Bracelet | Flame Ring | Hammer Gloves | Iron Boots | Jet Engine | Large Cannon | Laser Blaster | Light Speed Shoes | Magic Gloves | Mystic Melody | Pick Nails | Protective Armor | Shovel Claw | Sunglasses | Treasure Scope
English voice actors
Ryan Drummond (Sonic) | Connor Bringas (Tails) | Scott Dreier (Knuckles, GUN Soldiers) | Jennifer Douillard (Amy) | David Humphrey (Shadow) | Lani Minella (Rouge, Omochao) | Deem Bristow (Eggman) | Moriah Angeline (Maria) | Marc Biagi (Gerald, GUN Soldiers) | Steve Broadie (President) | Shelly Fox (Default menu voice) | Jon St. John (Big) | Elara Distler (Tikal) | Tomoko Sasaki (Chao)
Japanese voice actors
Jun'ichi Kanemaru (Sonic) | Kazuki Hayashi (Tails) | Nobutoshi Canna (Knuckles) | Taeko Kawata (Amy) | Kōji Yusa (Shadow) | Rumi Ochiai (Rouge) | Chikao Ōtsuka (Eggman, Gerald) | Etsuko Kozakura (Omochao) | Yuri Shiratori (Maria) | Kinryū Arimoto (President) | Shun Yashiro (Big) | Shelly Fox (Default menu voice) | Tomoko Sasaki (Chao)
Music
Songs
"A Ghost's Pumpkin Soup" | "Believe In Myself" | "Deeper" | "Dive into the Mellow" | "E.G.G.M.A.N." | "Escape from the City" | "Fly in the Freedom" | "For True Story" | "It Doesn't Matter" | "Kick the Rock!" | "Live and Learn" | "My Sweet Passion" | "Rhythm And Balance" | "Space Trip Steps" | "Supporting Me" | "The Supernatural" | "Throw It All Away" | "Unknown from M.E." | "Vengeance is Mine"
Albums
Multi-Dimensional Sonic Adventure 2 Original Sound Track | Passion & Pride: Anthems with Attitude from the Sonic Adventure Era | Sonic Adventure 2 Battle - Sampler | Sonic Adventure 2 Official Soundtrack | SONIC ADVENTURE 2 OFFICIAL SOUNDTRACK VINYL EDITION | Sonic Adventure 2 Original Soundtrack 20th Anniversary Edition | Sonic Adventure 2 Vocal Collection: Cuts Unleashed
Other
2G Hi-Speed Shoes | Altar of Emerald | Angel Island | Auto Running | Black Market | Central City | Chao Adventure 2^ | Chao Garden (Dark, Hero, Neutral) | Chao in Space | Chao Kindergarten | Chao Lobby | Chao Machine | Chao Race | Chao Stadium | Chao Transporter^ | Chao World | Corkscrew | Cyclone | Eclipse Cannon | Eggman Bombom | Eggwalker | Emerald Radar | Fake Emerald | Game Over | Gerald Robotnik's diary | Health Gauge | Kart Race | Life | Loop | Master Emerald | Prison Island | Project Shadow | Rank | Space Colony ARK | Station Square | Teleporter | Totem pole | Tunnel | Water

*Appears or is playable in only the 2P mode
^Appears in only the original Dreamcast version
---
Main article | Events | Glitches | Gallery
Playable characters
Roblox avatar | Sonic | Tails | Knuckles | Riders Sonic | Sailor Tails | Amy | Treasure Hunter Knuckles | Stealth Suit Sonic | Chef Amy | Summer Sonic | Metal Sonic | Birthday King Sonic | Classic Sonic | Summer Amy | Adventure Knuckles
Non-playable characters
Chao (Amy Chao, Apple Chao, Arctic Chao, Banana Chao, Beach Chao, Berry Chao, Birthday Chao, Black Chao, Bloxian Chao, Blue Chao, Cerulean Chao, Cheese Cake Chao, Cherry Tea Chao, Clover Chao, Cookies and Cream Chao, Coral Chao, Cotton Candy Chao, Crimson Chao, Cyan Chao, Dark Aquatic Chao, Dragon Fruit Chao, Gift Chao, Grape Chao, Gratitude Chao, Gray Chao, Green Chao, Green Hill Master Chao, Jewel Black Chao, Jewel Cyan Chao, Jewel Gold Chao, Jewel Green Chao, Jewel Pink Chao, Jewel Red Chao, Jewel Silver Chao, Kiwi Chao, Knuckles Chao, Lavender Chao, Lemon Lime Chao, Lilac Chao, Lychee Chao, Masked Chao, Mega Chao, Mint Chao, Mochi Chao, Mousse Chao, Mystic Chao, Navy Chao, Neon Lime Chao, Neon Orange Chao, Neon Red Chao, Neon Sakura Chao, Orange Chao, Pink Chao, Purple Chao, Ranger Chao, Red Chao, Sherbet Chao, Sonic Chao, Star Chao, Strawberry Chao, Strawberry Scoop Chao, Sunkissed Chao, Swap Chao, Tropical Chao, Tundra Chao, Violet Chao, White Chao, Watermelon Chao, Yellow Chao, Yellow Green Chao, Yogurt Chao) | Eggman | Omochao
Worlds
Green Hill | Lost Valley | Emerald Hill | Snow Valley | Hill Top | Chemical Plant | Metal Madness
Moves/Techniques
Grinding | Homing Attack | Jump Dash | Spin Dash | Spin Dash Charge | Spin Jump
Gimmicks and obstacles
Balloon | Dash Panel | Grind Rail | Jump Panel | Sky Ring | Spikes | Spring | Wide spring
Items
General
Chaos Orb | Character card fragment | Chili dog | Data Disk | Eggman Key | Emerald Shard | Enchantment Shrine | Firework | FriendDex | Giant Ring | Gift | Magnet | Mysterious Orb | Pink crystal | Ring | Spin Wheel | UGC
Trails
Aqua Electro Trail | Aqua Square Trail | Aqua Wavy Trail | Black Electro Trail | Black Square Trail | Black Trail | Black Wavy Trail | Blue Electro Trail | Blue Square Trail | Blue Trail | Default Trail | Fire Blitz Trail | Green Square Trail | Green Trail | Green Wavy Trail | Hallow Dark Trail | Indigo Square Trail | Indigo Wavy Trail | Laser Trail | Nebula Starburst Trail | Orange Wavy Trail | Pink Blossom Trail | Pink Electro Trail | Pink Wavy Trail | Purple Electro Trail | Purple Lightspeed Trail | Purple Wavy Trail | Red Electro Trail | Red Square Trail | Red Wavy Trail | Retro Neon Trail | Sonic Speed Trail | Sonic & Knuckles Trail | Spillin Rings Trail | Toxic Trail | White Electro Trail | White Wavy Trail | Yellow Electro Trail
Other
Experience Point | Loop | Master Emerald | Miles Electric | Rebirth | Shop | Tornado | Update board | Vending machine