This article is about a subject in the real world.

Information in this article is about real-life people, companies, and objects, and does not relate to the in-universe Sonic series.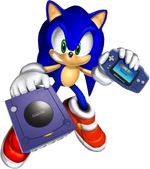 Game Boy Advance (often abbreviated as GBA) is a 32-bit handheld video game console released by Nintendo. Since the console release, several Sonic the Hedgehog games, compilations, and video cartridges have been exclusively hosted on it.
History
Contrary to the previous Game Boy models, which were all following the "portrait" form factor of the original Game Boy (designed by Gunpei Yokoi), the Game Boy Advance was designed in a "landscape" form factor, putting the buttons to the sides of the device instead of below the screen. The Game Boy Advance was designed by the French designer Gwénaël Nicolas and his Tokyo-based design studio Curiosity Inc.[4]
Nintendo's competitors in the handheld market at the time were the Neo Geo Pocket Color, WonderSwan Color, GP32, and the N-Gage. Despite the competitors' best efforts, Nintendo maintained a majority market share with the Game Boy Advance.
As of June 30, 2010, the Game Boy Advance series has sold 81.51 million units worldwide. Its successor, the Nintendo DS, was released in November 2004 and the DS is also fully compatible with Game Boy Advance software excluding DSi which had GBA slot removed.
Game Boy Player
The Game Boy Player is an add-on for the Nintendo GameCube which allows you to play the entire library of Game Boy games, Game Boy Color exclusive games, and Game Boy Advance games on your television. Some Game Boy Advance games have rumble support with GameCube controllers. The Game Boy Player does not support Super Game Boy enhancements so Game Boy games with Super Game Boy enhancements will work but all audio, custom border, and extra color enhancements will not appear. Game Boy Advance games with motion sensors will work but all motion sensors will need to be done by tilting the GameCube system itself, not the GameCube controllers and using a Game Boy Advance via the GameCube connector will not work either. The Game Boy Player lacks a infrared port so games that use the infrared port will work but features using the infrared port will not work.
Nintendo designed the Game Boy Player to block compatibility with Game Boy Advance Video cartridges to prevent illegal copying of the video.

Sonic games
Games
Compilations
Sega Smash Pack
2 Games in 1: Sonic Advance and Chu Chu Rocket
2 Games in 1: Sonic Pinball Party and Sonic Battle
2 Games in 1: Sonic Advance and Sonic Battle
Combo Pack: Sonic Advance and Sonic Pinball Party
2 Games in 1: Sonic Battle and Chu Chu Rocket
2 Games in 1: Sonic Pinball Party and Columns Crown
Characters introduced
Trivia
In Japan only, the Game Boy Advance is tied with the Nintendo GameCube for the first Nintendo system to have a Sonic game released for it (Sonic Advance and Sonic Adventure 2: Battle respectively), with both games being released on 20 December 2001.
There are some games, such as Disney's Magical Mirror Starring Mickey Mouse, that can use a Game Boy Advance GameCube Cable to get new features on a Game Boy Advance game.

There is however no Sonic Game Boy Advance game or Gamecube game that utilizes the cable.
References
External links