A Boar type robot newly developed by Dr. Eggman based on his research results from Episode I. They have been created with rich color variation, but Sonic should be extra careful of the formidable red ones that come charging towards him.


— Description, Sonic the Hedgehog 4: Episode II website
Fullboar[1] (ウリボ[2], Uribo?) is an enemy that appears in the Sonic the Hedgehog series. It is a mass-produced, boar-based Badnik model created by Dr. Eggman. They are developed by the doctor based on his research results from his uprising against Sonic.[1]
Appearance
Fullboars are warthog-based Badniks. In terms of design, they are almost hemispheric in shape, with a pig snout, two black eyes, and two gray tusks on the front. They also possess triangular ears, a black stripe of metal along the edge of their faces, and a cyan mohawk. They are also outfitted with four black wheels for easy movement on land, and possess an exhaust pipe on their rears.
Fullboars come in two different color variations. One is primarily red with a yellow face, the other is primarily yellow with an orange face.
Overview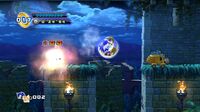 In Sonic the Hedgehog 4: Episode II, the Fullboars can be found in Sylvania Castle Zone, White Park Zone, and Sky Fortress Zone Act 2 and 3.
In gameplay, the Fullboars come in two varieties: a yellow model and a red model. The yellow variation can be found exclusively in Sylvania Castle Zone, while the red variation can be found in both Sylvania Castle Zone and Sky Fortress Zone. Yellow Fullboars simply move back and forth, while red Fullboars will charge at the playable character once they spot them. Regardless of their color, this Badnik is easily destroyed with a Spin Attack or Homing Attack. Also, upon their destruction, they release an Animal.
Powers and abilities
Fullboars do not possess any special abilities. However, some of them are capable of making fast charges.
Gallery
Concept artwork
References
---
| | |
| --- | --- |
| Characters | Sonic | Tails | Animals (Flicky, Pocky, Pecky, Cucky, Picky) | Dr. Eggman | Metal Sonic |
| Enemies | Asteron | Balkiry | Batbot | Bubbles | Burrobot | Buzzer | Chop Chop | Chopper | Clucker | Crawl | Flamer | Fullboar | Jaws | Mantis | Moto Bug | Newtron | Orbinaut (Uni Uni, Unidasu) | Sandworm | Scarabesque | Shellcracker | Slicer | Snowy | Spikes | Steelion | Turtloids | Zoomer |
| Episode II Zones | Sylvania Castle Zone | White Park Zone | Oil Desert Zone | Sky Fortress Zone | Death Egg mk.II Zone | Special Stages |
| Episode Metal Acts | Episode Metal Act 1 | Episode Metal Act 2 | Episode Metal Act 3 | Episode Metal Act 4 |
| Bosses | Egg Serpentleaf | Metal Sonic | Egg Scrap Mech | Metal Carrier | Metal Sonic and Egg Mobile | Metal Sonic | Egg Heart |
| Moves/Techniques | Copter Combo | Propeller Flying | Homing Attack | Rolling Combo | Spin Attack | Spin Dash | Spin Jump | Submarine Combo | Tornado Boost |
| Objects | Air Bubble | Bumper | Capsule | Booster | Chaos Emerald | Flipper | Giant Ring | Item Box (Super Ring, Shield, Power Sneakers, Invincible, Extra Life, Special Combination, Combination Dash) | Ring | Spring | Star Post | Red Star Ring | Spikes | Switch | Signpost |
| Other | Conveyor Belt | Crusher | Death Egg mk.II | Fan | Flip Platform | Little Planet | Level Select | Lost Labyrinth treasure | Platform-raising Wheel | Original Soundtrack (& Episode I) | Strange Relief | Ring Shooter | Stardust Speedway | Shuttle loop | Tails' rocket | Time Attack | Tornado | Totem pole |
Community content is available under
CC-BY-SA
unless otherwise noted.