Raise a Floppa - The Loop
Play Sound
"From: A. Rose" is the sixth and final episode in the Sonic Mania Adventures web series. It first aired on the official Sonic the Hedgehog YouTube Channel on 20 December 2018 as a holiday special.
Synopsis
Metal Sonic and Eggman crash into the jungle after being defeated. Broken, abandoned, and alone as seasons pass and the skies turn cold, a surprise appearance may change Metal Sonic's fate forever.[1]
Appearances
Characters:
Races and species:
Locations:
Items:
Plot
A Flicky is seen pecking the greens of Angel Island on a calm day. Suddenly however, a badly beaten Dr. Eggman and a seriously damaged Metal Sonic crash in the jungle following their defeat in the fight against Sonic and his friends. On the way down, they crack one of the palm trees while Metal Sonic lands belly first on the Flicky pecking the greens earlier. After throwing a brief tantrum, Eggman gets back on his feet and tries to wake up Metal Sonic, who is lying face down, by kicking his head. When the robot does not respond however, the frustrated Eggman leaves in a huff.
Autumn passes and winter comes, yet Metal Sonic is still stuck in the same location. With the arrival of winter however, Metal Sonic is covered completely in snow. Eventually though, a young Amy Rose emerges from the nearby bushes during a stroll, only for some snow to fall on her head. As she brushes the snow off her head while walking however, she trips over one of Metal Sonic's quills that are protruding from the snow. She takes a look back at Metal Sonic, who turns his head to face her. Amy is initially startled, but after a moment, Metal Sonic puts his face back in the snow. Amy then notices that the palm tree above Metal Sonic is beginning to break, and quickly pushes Metal Sonic away before the palm tree can fall on him. Once Metal Sonic looks at her again however, Amy gets scared and starts wracking Metal Sonic's head with her Piko Piko Hammer. Regardless, Metal Sonic makes no response to the wracking he receives and instead puts his head into the snow. Ceasing her hammering and noticing that something is wrong, Amy decides to pick up Metal Sonic. Once she makes him balance on his leg, a dazed, but angry Flicky pops out of Metal Sonic's torso and kicks him in the head, causing the broken Metal Sonic to fall back down on his back. Feeling sorry for Metal Sonic and noticing the heavy snow, Amy decides that she cannot leave Metal Sonic and must return him to Eggman.
Starting her journey, Amy drags Metal Sonic through Mushroom Hill Zone and IceCap Zone before finally arriving at Dr. Eggman's lair. Wandering up to the front door, Amy gets Metal Sonic on his feet and places a red bow on his forehead, something which Metal Sonic takes notice of. Amy then rings on Eggman's doorbell and turns to leave, only to stop as she remembers something. She subsequently places a flower in Metal Sonic's hand for him to hand over to Dr. Eggman, before turning Metal Sonic towards Eggman's front door and hiding behind some rocks. Soon after, a pyjamas-dressed Eggman emerges from his lair and notices Metal Sonic. He then takes the flower from him and looks at it closely, Taking a suspicious look around, Eggman picks up Metal Sonic and takes him into his lair. Amy is pleased by the sight while Sonic looks on, dumbfounded. Amy then sweetly gives Sonic a flower as well and takes off, leaving Sonic unamused.
Continuity
Goofs
The tree that Dr. Eggman and Metal Sonic break by crashing into it is briefly shown intact before fully snapping in two and falling to the ground.
Production
Tyson Hesse had actually written the story for this episode along with the first five. The reason the episode was able to become reality was due to the increased support and praise by fans and critics alike for the first five episodes of Sonic Mania Adventures.[3]
For this episode, Tyson received storyboard assistance from Ian Mutchler, who helped the episode receive a green light on time.[4]
Tyson requested for Tee Lopes to remix a winter version of Collision Chaos since there was not really a "theme" for Classic Amy. However, the theme for Metal Sonic at the end of the episode was an original by Tee.[5]
Trivia
Video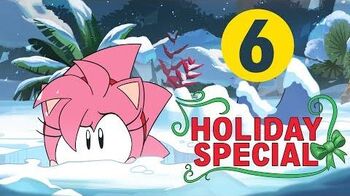 References
---
Main article | Staff | Glitches | Manuals | Beta elements | Gallery | Re-releases (Plus)
Playable characters
Sonic (Super Sonic) | Tails (Super Tails) | Knuckles (Super Knuckles) | Mighty* (Super Mighty*) | Ray* (Super Ray*)
Non-playable characters
Cluckoid | Dr. Eggman | Egg-Robo | Hard Boiled Heavies (Heavy Gunner, Heavy King, Heavy Magician, Heavy Rider, Heavy Shinobi) | Jimmy | Metal Sonic (Giga Metal) | Phantom Heavies (Phantom Gunner, Phantom King, Phantom Magician, Phantom Rider, Phantom Shinobi) | Rock Drill | Animals (Becky, Cucky, Flicky, Locky, Micky, Pecky, Picky, Pocky, Ricky, Rocky, Tocky, Wocky)
Zones
Angel Island Zone* | Green Hill Zone | Chemical Plant Zone | Studiopolis Zone | Flying Battery Zone | Press Garden Zone | Stardust Speedway Zone | Hydrocity Zone | Mirage Saloon Zone | Oil Ocean Zone | Lava Reef Zone | Metallic Madness Zone | Titanic Monarch Zone | Egg Reverie Zone | Special Stage | Bonus Stage | Pinball Stage*
Enemies
Amy Doll | Aquis | Armadiloid | Asteron | Ball Hog | Batbrain | Blaster | Blastoid | Bloominator* | Bugernator | Bumpalo | Buzz Bomber | Cactula | Canister | Caterkiller Jr. | Chopper | Clucker | Crabmeat | Dango | Dragonfly | Fireworm | Flasher Mk. II | Gohla | Grabber | Hotaru | IceBomba | Iwamodoki | Jawz | Jellygnite | Juggle Saw | Kabasira | Kanabun | Madmole | Matryoshka-Bom | Mecha-Bu | Mega Chopper | Mic Drop | Monkey Dude* | Motobug | Newtron | Octus | Poh-Bee | Pointdexter | Rattlekiller | Rexon | RhinoBot* | Roller Mk. II | Scarab | Sentry Bug | Shutterbug | Silver Sonic | Spiny | Splats | Sweep | Technosqueek | Toxomister | Tubinaut | Turbo Spiker | Turbo Turtle | Vultron | Woodrow
Bosses
Mini-bosses
DD Wrecker | Amoeba Droid | Heavy Gunner | Big Squeeze | Shiversaw | Hotaru Hi-Watt | Dive Eggman | Uber Caterkiller | Meter Droid | Drillerdroid | Egg Pistons mk.II | Crimson Eye
Zone bosses
Death Egg Robot | Mean Bean Machine | Weather Globe | Spider Mobile | Heavy Shinobi | Metal Sonic | Laundro-Mobile | Heavy Magician | Mega Octus | Heavy Rider | Heavy King | Gachapandora | Phantom Egg | Phantom King and Klepto Mobile
Moves/Techniques
Air Glide* | Bounce Jump | Climb | Crouch | Double Jump | Drop Dash | Fireball Spin Dash | Glide | Hammer Drop* | Insta-Shield | Propeller Flying | Ring Spark Field | Spin Attack | Spin Dash | Spin Jump | Super Peel Out | Swim | V. Maximum Overdrive Attack
Gimmicks and obstacles
Arrow column | Beanstalk | Bomb | Bumper | Bungee Rope | Bumper wall | Cannon | Capsule | Conveyor Belt | Crusher | Dash Panel | Dropping platform | Electrical conduit | Fan | Fireball | Flipper | Flywheel | Glove on a stick | Goal Plate | Hang Glider | High-speed warp tube | Ice Spring | Iron ball | Jump Panel | Platform-raising Wheel | Pulley | Ruby Mist | Saw | Seesaw | Sinking pool | Shrink ray | Snowblower | Spikes | Spring | Star Post | Switch | Transport | Vine | Zipline
Items
Air Bubble | Chaos Emerald | Giant Ring | Giant spear | Item Box (1-UP, Blue Shield, Bubble Shield, Character*, Hyper Ring, Eggman Mark, Fire Shield, Invincible, Lightning Shield, Player Swap, Power Sneakers, Random, S, Super Ring) | Little Planet flowers | Master Emerald | Metal Sonic Projector | Medallion | Ring | Robot transporter | Schrodinger's Capsule* | Sphere | Star Circle | Time Warp sign | UFO | Warp Point
Music
Sonic Mania (vinyl album) | Sonic Mania Original Soundtrack (Selected Edition) | Sonic Mania Plus Original Soundtrack
Other
Angel Island | Auto Running | Continue | Corkscrew | Death Egg Robot | Debug Mode | Egg Mobile | Freeze | Game Over | Klepto Mobile | Level Select | Life | Little Planet | Loop | Mega Mack | Phantom Ruby | Perfect Bonus | Popgun | Sonic Mania Adventures ("Sonic Returns", "Sonic and Tails", "& Knuckles", "Mighty and Ray", "Metal Mayhem", "From: A. Rose", "The Complete Mini-Series") | S pipe | Time Attack | Time Over | Time Warp | Tornado | Water

*Appears in only Sonic Mania Plus