Francesca is a resident of Soleanna in Sonic the Hedgehog (2006). She is an inquisitive little girl who lives in the Soleanna Castle Town area with her parents, who always look out for her. She only appears in Sonic's story of the game.
History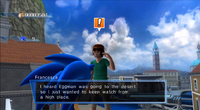 At one point, Francesca got word that Dr. Eggman was heading for the Dusty Desert region. The curious child she was, Francesca climbed up onto a high rooftop to get a closer look and keep watch, but unfortunately, she was unable to climb back down to the ground and became upset. Her parents were extremely worried about their missing daughter and had even called the Soleanna Royal Guards to investigate.
Thankfully, Sonic came to the rescue by sliding under a wall using his Antigravity Level Up Item, jumping onto the roof and bringing poor Francesca down to safety. As a reward, Sonic was allowed to access Dusty Desert and continue his adventure to rescue Princess Elise.
---
Main article | Script (Sonic, Shadow, Silver, Last) | Staff | Manuals | Glitches | Beta elements | Gallery
Playable characters
Sonic (Super Sonic) | Tails | Knuckles | Shadow (Super Shadow) | Rouge | Omega | Silver (Super Silver) | Blaze | Amy
Non-playable characters
Accordion Player | Adrianna | Alan | Alberto Robert | Alfano | Anna | Antonio | Aristo | Berruni | Bishop | Claudia | Dante | Eggman | Duchess of Soleanna | Duke of Soleanna | Elkan | Frances | Francesca | GUN Soldier | Galienna | Gina | Hatsun | Herman | Iblis | Ken Williams | Ladies-in-waiting | Liza | Lord Regis | Mancini | Mels | Mephiles (Mephiles's monstrous form) | Mikhail | Nicolo | Paganini | Parr | Pele | Pinto | Porta | Priest | Princess Elise the Third | Prodi | Puccini | Renzo | Roberta | Rossi | Sabrina | Sandro | Solaris | Soleanna Boys (Pucci) | Soleanna Royal Guards (Alessio, Fabio, Giorgio, Guido, Pietro) | Solomon | Solsaliente (Monica) | Sonic Man | Sophia | Zof
Action Stages
Wave Ocean | Dusty Desert | White Acropolis | Crisis City | Flame Core | Radical Train | Tropical Jungle | Kingdom Valley | Aquatic Base | End of the World
Town Stages
Soleanna Castle Town | Soleanna New City | Soleanna Forest
DLC Stages
Sonic Boss Attack | Shadow Boss Attack | Silver Boss Attack | Team Attack Amigo
Town Missions
Sonic
1 | 2 | 3 | 4 | 5 | 6 | 7 | 8 | 9 | 10 | 11 | 12 | 13 | 14 | 15 | 16 | 17 | 18 | 19 | 20
Shadow
1 | 2 | 3 | 4 | 5 | 6 | 7 | 8 | 9 | 10 | 11 | 12 | 13 | 14 | 15
Silver
1 | 2 | 3 | 4 | 5 | 6 | 7 | 8 | 9 | 10 | 11 | 12 | 13 | 14 | 15 | 16 | 17 | 18
Enemies
Eggman's mechs
Egg Armor | Egg Bomber | Egg Buster | Egg Buster (Egg Gunner) | Egg Cannon | Egg Chaser | Egg Commander | Egg Flyer | Egg Guardian | Egg Gunner | Egg Hunter | Egg Keeper | Egg Lancer | Egg Liner | Egg Rounder | Egg Searcher | Egg Stinger | Egg Sweeper | Egg Walker
Iblis's Minions
Gazer | Golem | Iblis Biter | Iblis Taker | Iblis Worm | Shadows | Stalker | Titan | Tricker
Bosses
Egg-Cerberus | Egg-Genesis | Egg-Wyvern | Iblis | Mephiles | Shadow | Silver | Solaris | Sonic
Moves/Techniques
Arrow of Light | Accelerator Tornado | Attack | Blast Jump | Bomb | Bomb Snipe | Bound Jump | Chaos Attack | Chaos Boost (Chaos Blast, Chaos Lance, Chaos Snap) | Chaos Spear | Climb | Custom Action (Gun Drive, Homing Smash, Mach Speed, Scale, Slow, Thunder Guard, Tornado) | Crouch | Double Jump | Dummy Ring Blitz | Dummy Ring Bomb | Dummy Ring Snipe | Edge Attack | Fire Claw | Fly | Glide | Grab All | Ground Shaker | Hammer Attack | Heart Mine | Hold Smash | Homing Attack | Hover | Invisibility | Jump Dash | Levitate | Light Dash | Lock-On Shot | Omega Launcher | Omega Shot | Psychokinesis | Psycho Shock | Psycho Smash | Punch Attack | Screwdriver | Shield of Light | Sliding Attack | Spear of Light | Spin Dash | Spin Jump | Spin Kick | Spinning Claw | Teleport Dash | Turbo Boost | Wall Jump | Wings of Light
Vehicles
Bike | Buggy | Hover Craft | Glider
Gimmicks and obstacles
Bungee Rope | Conveyor Belt | Cylinder | Eagle | Eye of Solaris | Hanging Bell | Hint Ring | Horizontal Bar | Jump Panel | Laser field | Lotus | Mechanical Ring | Mirror of Soleanna | Orb statue | Orca | PK mark | Purple orb | Point Marker | Pulley | Rainbow Ring | Silver Sphere | Sphere | Spiked bar | Spotlight | Spring | Switch | Tightrope | Trick Jump Panel | Turtle | Vine | Warp Hole | Wide spring | Wind switch
Items
General
Apple | Barrel | Chaos Drive | Car | Container (Blue crate, Case, Explosive crate, Steel Container, Wooden Container) | Custom Shoes | Dummy Ring | Explosion Trap | Goal Ring | Heart bomb | Item Box (Extra Life, Gauge Up, High Speed, Invincible, Rings) | Key | Light Core | Medal | Minecart | Ring | Snowboard
Level Up Items
Air Chip | Antigravity | Bounce Bracelet | Gem (Blue Gem, Green Gem, Purple Gem, Rainbow Gem, Red Gem, Sky Gem, White Gem, Yellow Gem) | Heart of Wind | Light Chip | Memory Shard (black) | Memory Shard (blue) | Memory Shard (red) | Power Bracelet | Shock Bracelet | Single-Layered Extreme
English voice actors
Jason Griffith (Sonic, Shadow) | Pete Capella (Silver) | Lacey Chabert (Elise) | Mike Pollock (Eggman, Narrator) | Amy Palant | (Tails, Ladies-in-waiting) | Lisa Ortiz (Amy, Ladies-in-waiting) | Bella Hudson (Blaze) | Dan Green (Knuckles, Mephiles, Solaris Project scientists) | Kathleen Delaney (Rouge) | Maddie Blaustein (Omega) | David Wills (Duke, G.U.N communitcator)
Japanese voice actors
Jun'ichi Kanemaru (Sonic) | Kōji Yusa (Shadow) | Daisuke Ono (Silver) | Maaya Sakamoto (Elise) | Chikao Ōtsuka (Eggman) Kenji Utsumi (Narrator, Duke) | Ryō Hirohashi (Tails) | Hikari Yono (Ladies-in-waiting) | Nao Takamori (Blaze) | Nobutoshi Canna (Knuckles) | Takayuki Sakazume (Mephiles) | Keiji Okuda (Solaris Project scientist, G.U.N. communicator) | Yoshikazu Kozuma (Solaris Project scientist) | Rumi Ochiai (Rouge) | Taeko Kawata (Amy) | Taiten Kusunoki (Omega)
Music
Songs
"All Hail Shadow" | "Dreams of an Absolution" | "His World" | "My Destiny" | "Solaris Phase 1" | "Sweet Dreams AKON Mix"
Albums
Sonic the Hedgehog Original Soundtrack | Sonic the Hedgehog Vocal Traxx: Several Wills
Other
Action Gauge | Auto Running | Chao in Space | Day of Disaster | Dual Chaos Control | Eggman's chair | Egg Carrier | Egg train | Festival of the Sun | Havok | Health Gauge | Life | Loop | Rank | Rimlight | Scepter of Darkness | Shop | Soleanna | Solaris Project | Sonic the Hedgehog CHAOS CRUSH! | Super-Speed Stage | Water