Raise a Floppa - The Loop
Play Sound
Fountains[1] are gimmicks that appear in the Sonic the Hedgehog series. It is a piece of architecture used to gain elevation.
Description
Fountains are architectural pieces which jets water into the air. When a playable character jumps onto the water that is coming out, the playable character will be shot upwards, allowing the player to reach higher areas that they can otherwise not reach. Usually, it is compulsory to use these fountains in order to progress.
Game appearances
Sonic Adventure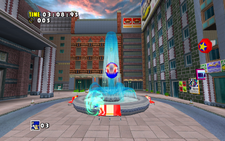 The fountain first appeared in Sonic Adventure and its enhanced port Sonic Adventure DX: Director's Cut, appearing at the last portion of Speed Highway. In this game, it is necessary for Sonic to reach the Capsule needed to finish the Action Stage. It can also be used by Knuckles when he explores the stage.
Sonic Rush Adventure
In Sonic Rush Adventure, the fountain appears in Pirates' Island. In this game, the fountain reside on water surfaces, either remaining stationary or moving left and right at a slow rate, and when launched off it with a burst of water, the player can perform Trick Actions.
Sonic Rivals 2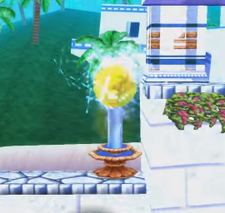 In Sonic Rivals 2, fountains appear in Blue Coast Zone. Other than that, they retrain the basic properties of a fountain.
Sonic Unleashed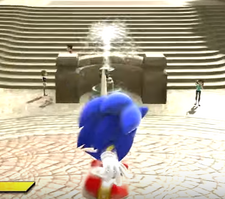 In Sonic Unleashed, fountains can only be used by Sonic during the daytime Stages. This time around, it is possible to target the fountains with the Homing Attack to make it easier to use them. They appear in both 2D and 3D sections.
Sonic Colors
In the Wii version of Sonic Colors, and the remaster Sonic Colors: Ultimate, fountains appear only in Aquarium Park. Like in the former game, they can be targeted with the Homing Attack.
Trivia
References
---
Main article | Scripts (Sonic, Tails, Knuckles, Amy, Big, Gamma, Super Sonic) | Staff | Glitches | Beta elements | Gallery | Re-releases (DX, 2010)
Playable characters
Sonic (Super Sonic) | Tails | Knuckles | Amy | Gamma | Big | Metal Sonic**^
Non-playable characters
Dr. Eggman | Beta (E-101 Mark II) | Birdie | Chao (Dark Chao**, Hero Chao**) | Chaos (Chaos 1, Chaos 2, Chaos 4, Chaos 6, Perfect Chaos) | Cream** | Delta | Epsilon | Froggy | Grandma | Knuckles Clan (Pachacamac, Tikal) | Mr. Know-It-All | NiGHTS | Station Square Police Department | Unnamed Sonic robot | ZERO | Zeta | Animals (Deer, Elephant, Gorilla, Kangaroo, Koala, Lion, Mole, Parrot, Peacock, Penguin, Rabbit, Robin, Seal, Sea Otter, Skunk)
Adventure Fields
Egg Carrier | Mystic Ruins | Station Square
Action Stages
Emerald Coast | Windy Valley | Casinopolis | Icecap | Twinkle Park | Speed Highway | Red Mountain | Sky Deck | Hot Shelter | Lost World | Final Egg
Sub Games
Sky Chase | Sand Hill | Hedgehog Hammer | Twinkle Circuit | Boss
Enemies
Beat | Bladed Spinner | Boa-Boa | Buyoon | Cart Kiki | Cop Speeder | Egg Keeper | Electro Spinner | Fighter Aircraft A | Fighter Aircraft B | Gola | Ice Ball | Icecap's unnamed aircraft | Kiki | Leon | Mechanical fish | Pirate | Rhinotank | Sky Deck's unnamed jet fighter | Spiky Spinner | Sweeper
Bosses
Chaos 0 | Chaos 2 | Chaos 4 | Chaos 6 | Beta | Mark II | Gamma | Delta | Epsilon | Zeta | Egg Carrier | Egg Hornet | Egg Viper | Egg Walker | Knuckles | Perfect Chaos | Sonic | ZERO
Moves/
Techniques
Playable characters
Bolt of lightning | Climb | Dig | Flight Mode | Glide | Hammer Attack | Hammer Jump | Hover | Homing Attack | Homing Missile Launch | Jump Attack | Laser Gun | Light Speed Attack | Light Speed Dash | Lure Attack | Maximum Heat Knuckles Attack | Pick | Propeller Flight | Punch Attack | Rapid Tails Attack | Spin Attack | Spin Dash | Spin Hammer Attack | Spin Jump | Tails Attack
NPCs
Arm Punch | Bomb Attack | Bomb Gun Attack | Charge | Double Punch | Earthquake Attack | Electric Arm | Energy Ball Attack | Flame Thrower Attack | Guiding Missiles | Instantaneous Liquefaction | Laser Beam Attack | Homing Tail Slice | Inhale Attack | Marble Attack | Phantom Shadow Move | Punch | Quarter Attack | Scorpion Attack | Shockwave Attack (Chaos 6) | Sonic Boom | Spin Attack | Spinning Spike Attack | Spouting Attack | Squash Roll Attack | Swing Punch
Gimmicks and obstacles
Bumper | Bumper Car | Cannon | Capsule | Car | Conveyor Belt | Crank | Dash Panel | Dash Ring | Drum Can | Explosion Trap | Fan | Flame dart | Flipper | Fountain | Giant Ring* | Goal Balloon | Hanging Bell | Helicopter | Hint Box | Hint Orb | Icicle | Iron ball | Jump Panel (plate) | Jump Panel (ramp) | Jump Ramp | Laser field | Lit Panel | Mirror | Monkey Detonation Switch | Orca | Point Marker | Power cube | Rocket | Satellite | Slot machine | Spiked bar | Spring | Spring Catapult | Switch | Teleporter | Wide spring | Wind Path | Zip Line
Items
General
Air Bubble | Cart pass | Chao Egg | Chaos Emerald | Doll | Emblem | Emerald Shard | Employee ID Card | Item Box (5 Rings, 10 Rings, Extra Life, High-Speed Shoes, Invincibility, Magnetic Shield, Random Rings, Shield, Smart Bomb) | Key Stone (Gold statue, Ice Stone, Silver statue, Wind Stone) | Ring | Sandboard | Snowboard | Sonic Token
Level Up Items
Ancient Light | Crystal Ring | Fighting Gloves | Jet Anklet | Jet Booster | Laser Blaster | Life Belt | Light Speed Shoes | Long Hammer | Lure | Power Rod | Rhythm Badge | Shovel Claw | Warrior Feather
English voice actors
Ryan Drummond (Sonic) | Corey Bringas (Tails) | Michael McGaharn (Knuckles) | Deem Bristow (Eggman) | Jennifer Douillard (Amy) | Jon St. John (Big) | Elara Distler (Tikal, Station Square train voice, default menu voice) | Steve Broadie (Gamma, Pachacamac, Mystic Ruins train voice) | Tomoko Sasaki (Chao)
Japanese voice actors
Jun'ichi Kanemaru (Sonic) | Kazuki Hayashi (Tails) | Nobutoshi Canna (Knuckles) | Chikao Ōtsuka (Eggman) | Taeko Kawata (Amy) | Shun Yashiro (Big) | Kaori Asoh (Tikal) | Jōji Nakata (Gamma) | Tōru Ōkawa (Pachacamac) | Kaho Kōda (Station Square train voice) | Nobutoshi Canna (Mystic Ruins train voice) | Elara Distler (Default menu voice) | Tomoko Sasaki (Chao)
Music
Songs
"Believe In Myself" | "It Doesn't Matter" | "Lazy Days (Livin' in Paradise)" | "My Sweet Passion" | "Open Your Heart" | "Unknown from M.E."
Albums
Passion & Pride: Anthems with Attitude from the Sonic Adventure Era | Sonic Adventure: Songs With Attitude Vocal Mini-Album | SONIC ADVENTURE OFFICIAL SOUNDTRACK VINYL EDITION | Sonic Adventure Original Soundtrack 20th Anniversary Edition | Sonic Adventure Original Sound Track (Digi-Log Conversation) | Sonic Adventure Remix
Other
777 Slots Pinball | Altar of Emerald | Angel Island | Auto Running | Black Market | Card & Pinball | Chao Adventure* | Chao Garden (Station Square Garden, Mystic Ruins Garden, Egg Carrier Island) | Chao Race | Chao Stadium | Chao in Space | Chao Machine | Chao Search* | Corkscrew | Debug Mode | E-100 Series | Eggmobile | Egg Carrier | Egg Carrier 2 | Emerald Radar | Freeze | Game Over | Life | Life gauge | Loop | Master Emerald | Mission Mode**^ | Mystic Ruins | Shrine of Knuckles's race | Sonic Adventure (LCD) | Sonic Adventure: Navigation Guide | Station Square | Tails's Work Shop | Tornado | Tornado 2 | Transporter Machine | Water

* Appears in only the original Dreamcast version
** Appears in only Sonic Adventure DX
^ Appears in only the Sonic Adventure DX DLC of the 2010 remaster
---
Main article | Script | Staff | Gallery
Playable characters
Sonic (Super Sonic) | Blaze (Burning Blaze)
Non-playable characters
Tails | Marine | Coconut Crew (Setter, Tabby, Colonel, Kylok, Daikun, Muzy) | Gardon | Norman | Captain Whisker | Mini & Mum | Johnny | Dr. Eggman | Eggman Nega
Stages
Whale Point | Plant Kingdom | Machine Labyrinth | Coral Cave | Haunted Ship | Blizzard Peaks | Sky Babylon | Pirates' Island | Big Swell | Deep Core | Hidden Islands (1, 2, 3, 4, 5, 6, 7, 8, 9, 10, 11, 12, 13, 14, 15, 16) | Johnny's Race
Enemies
Barrier Angler | Bomb Ghost | Crystal Head | Dive Bat | Eleki Angler | Kaizoku Bomb | Kaizoku Glider | Kaizoku Gun | Kaizoku Hogan | Kaizoku Hover Bomb | Kaizoku Hover Gunner | Kaizoku Skeleton | Kaizoku Snowball | Kaizoku Sword | Nibbles | Ptera | Rapid Crab | Shisaku-gata Dump | Shisaku-gata Jet | Shisaku-gata Spanner | Skull Fire | Sky Moon | Triceratank
Bosses
Ghost Rex | Ghost Pendulum | Ghost Kraken | Ghost Pirate | Ghost Whale | Ghost Condor | Captain Whisker and Johnny | Ghost Titan | Egg Wizard
Moves/Techniques
Axel Jump | Axel Tornado | Boost Mode | Burning Fire Boost | Burst Dash | Burst Hover | Deflect | Fire Boost | Grind Step | Hop Jump | Homing Attack | Humming Top | Jump Dash | Jump Step | Scroll Screen | Spin Attack | Spin Dash | Spin Jump | Super Boost | Super Sonic Boost | Trick Action
Vessels
Wave Cyclone | Ocean Tornado | Aqua Blast | Deep Typhoon | Magma Hurricane | SS Tornado EX | SS Marine | SS Super-Marine
Gimmicks and obstacles
Bomb | Bungee Rope | Checkpoint Marker | Dash Panel | Dash Rail | Dash Ring | Fountain | Hang Glider | High-speed warp tube | Icicle | Iron ball | Jump Panel | Minecart | Mushroom | Rainbow Ring] | Spin ring | Spring | Spring Pole | Vine | Winding Rope
Items
General
Chaos Emerald | Item Box (1UP, 5 Ring Bonus, Attract, Barrier,

Boost Up

, Confusion,

High Speed

, Invincible, Magnetic Barrier, Maximum Tension Bonus, Random Ring Bonus, Repair,

Score Bonus

, Slow, Tension Bonus, Tension Bonus (multiplayer)) | Sol Emerald | Switch | Ring | Snowboard | Treasure chest
Materials
Aqua Material | Black Material | Blue Material | Bronze Material | Gold Material | Green Material | Iron Material | Red Material | Silver Material
English voice actors
Jason Griffith (Sonic) | Mike Pollock (Eggman, Eggman Nega) | Amy Palant (Tails) | Bella Hudson (Blaze) | Lonnie Hirsch (Captain Whisker) | Christopher Pellegrini (Johnny)
Japanese voice actors
Jun'ichi Kanemaru (Sonic) | Chikao Ōtsuka (Eggman, Eggman Nega) | Ryō Hirohashi (Tails) | Nao Takamori (Blaze) | Shinya Fukumatsu (Captain Whisker) | Kota Nemoto (Johnny)
Music
Songs
A New Venture
Albums
Sonic Rush Adventure Original Soundtrack
Other
Blaze's world | Corkscrew | Combo | Freeze | Health Gauge | Jeweled Scepter | Life | Loop | Missions | Sea Chart | Sol Empire | Southern Island | Power of the Stars | Rank | Real-Time Interaction | Sonic Rush Adventure Flash | Tension Gauge | Time Attack | Water
---
Main article | Script | Credits | Glitches | Beta elements | Gallery
Playable characters
Sonic (Super Sonic, Sonic the Werehog) | Gaia Colossus
Non-playable characters
Apotos
Alexis | Anastasia | Eric | Gregorios | Hot Dog Vendor | Ice Cream Vendor | Lambros | Lucas | Milos | Sandra
Spagonia
Aida | Barbara | Ciccio | David | Denise | Dora | Elio | Federica | Franco | Gigi | Hot Dog Vendor | Ippolita | Irma | Josef | Lilli | Lucia | Marcantonio | Mauro | Natalia | Otto | Professor Pickle | Professor Pickle's Assistant | Raimondo
Mazuri
Ana | Essie | Gwek | Hog Dog Vendor | Kofi | Kwami | Kwod | Yawa | Yaya
Chun-nan
Chun | Hot Dog Vendor | Hualin | Jinlin | Lin | Shuifon | Wang | Yilin | Zonshen
Holoska
Hot Dog Vendor | Jari-Pekka | Jari-Thure | Marketa | Sarianna | Ursule
Shamar
Ara | Dimah | Ehsan | Erhan | Hizir | Hot Dog Vendor | Iman | Labib | Latif | Layla | Mufid | Musaid | Raniya | Sa'id | Sadiq | Safi | Samia | Sammar | Shadi | Utba | Yasmine
Empire City
Boss | Brenda | Charles | Def Big | Elizabeth | Hot Dog Vendor | Li'l Kate | Louie Montaine | Robert
Adabat
Hot Dog Vendor | Jamal | Kaeo | Nagi | Rudi | Teanchai
Eggmanland
EF-DC1998 | EF-MD1991 | EF-XB2006 | Hot Dog Vendor
Misc.
Amy | Chip | Dark Gaia (Perfect Dark Gaia) | Dr. Eggman | Tails | SA-55 | Su | Uh | Wentos
Town Stages
Apotos | Mazuri | Spagonia | Chun-nan | Holoska | Shamar | Empire City | Adabat | Eggmanland
Action Stages
Windmill Isle | Savannah Citadel | Rooftop Run | Dragon Road | Cool Edge | Arid Sands | Skyscraper Scamper | Jungle Joyride | Eggmanland | Tornado Defense
Enemies
Eggman's Machinery
Aero-Cannon | Aero-Chaser | Egg Blizzard | Egg Burst | Egg Fighter | Egg Fighter: Knight (Electric shield, Spring shield) | Egg Fighter: Shield (Electric shield, Spring shield) | Egg Fighter: Sword | Egg Flame | Egg Launcher (H) | Egg Launcher (H+V) | Egg Launcher (V) | Egg Shackle | Egg Shooter | Egg Typhoon | Gold Aero-Cannon | Interceptor | Little Fighter | Mole Cannon | Spinner | Thunder Ball | Thunder Spinner
Dark Gaia's minions
Big Mother | Cure Master | Dark Bat | Dark Bat Sniper | Dark Eel | Dark Fright | Deep Nightmare | Evil Flower | Fire Master | Fright Master | Killer Bee | Lightning Master | Little Rex | Nightmare | Power Master | Red Fright | Red Killer Bee | Red Rex | Thunder Bat | Titan
Bosses
Egg Beetle | Egg Cauldron | Egg Devil Ray | Egg Dragoon | Egg Lancer | Dark Gaia | Dark Gaia Phoenix | Dark Guardian | Dark Moray | Perfect Dark Gaia
Moves/
Techniques
Sonic
Air Boost | Cartwheel | Crouch | Foot Sweep | Grind Step | Grinding | Homing Attack | Hop | Jump Dash | Lightspeed Dash | Slide | Skydiving | Sonic Boost | Sonic Drift | Spin Jump | Stomp | Quick Step | Wall Jump
Werehog
Dash | Double Jump | Grab | Guard | Unleashed Mode | Wall Shuffle
Misc.
Boost | Drill Attack | Super Sonic Boost | Turbo Boost
Skills
Straight
attacks
Donkey Kick Combo | Double Axle Combo | Double Kick Combo | Feral Were-Hammer | Knuckle Sandwich Combo | Sho-Hog-Ken | Unleashed Knuckle Sandwich | Vertical Were-Hammer | Were-Hammer | Werewheel Rush
Hook
attacks
Earthshaker | Egg Scrambler | Feral Wild Whirl | Rolling Kick Combo | Sho-Claw-Ken | Ultimate Wild Combo | Unleashed Wild Combo | Wereclap | Wild Whirl | Wild Whirl Were-Hammer
Aerial
attacks
Aerial Claw Slash | Aerial Claw Slash and Spin | Aerial Piledriver | Crescent Moon Strike | Diving Bodypress | Flying Double-Punch | Flying Double-Punch Crush | Hurricane Combo | Shooting Star Combo | Typhoon Combo
Special
attacks
Comet Punch | Missile Punch | Spinning Needle Attack | Tricky Tornado Uppercut | Triple Wild Claw | Were-Claw Charge | Were-Cyclone | Were-Rush | Were-Tornado | Wild Werewhip
Gimmicks and obstacles
Balloon | Blue spring | Bobsled | Bomb | Buoy | Check Point | Conveyor Belt | Crane Lift | Crank | Dash Panel | Dash Rail | Dash Ring | Door | Fountain | Grind Rail | Hanging vine | Hint Ring | Horizontal Bar | Hourglass | Icicle | Iron ball | Jump Selector | Laser field | Lever | Movable box | Moving Crate | Rainbow Ring | Ramp | Snowblower | Spike Trap | Spikes | Springboard/Spring | Springpole | Switch | Thorn Spring | Trap Spring | Trick Jump Panel | Wide spring | Zip Line
Items
General
1UP | 5 Ring Bonus | Art Book | Audio System | Blue Tea | Bookshelf | Boss Gate | Chaos Orb | Container (Explosive crate, Steel Container, Wooden Container) | Crystal Ball | Dark Gaia Force | Edible item (Apple, Banana, Canned Juice, Chai, Chili Dog, Donut, Sundae Supreme) | Gaia Gate | Gaia Key | Goal Ring |

Gift

| Gramophone | Green Tea | Key Stone | Lovely Ring | Maiden Statue | Moon Medal | Old Necklace | Pick-Me-Up |

Pretty Bouquet

| Power Shield | Record | Red Tea | Ring | Shield Charge | Souvenir | Sun Medal | Super Claw | Super Ring | Turquoise Tea | TV | Videotape | Violet Tea | White Tea | Yellow Tea
Level Up Items
Air Boost Shoes | Light Speed Dash Shoes | Stomping Shoes | Wall Jump Shoes
English voice actors
Jason Griffith (Sonic, Werehog, Prof. Pickle's Assistant) | Amy Palant (Tails) | Lisa Ortiz (Amy) | Anthony Salerno (Chip) | Mike Pollock (Eggman, Zonshen) | Christopher Collet (SA-55) | Dan Green (Ice Cream Vendor, Prof. Pickle)
Japanese voice actors
Jun'ichi Kanemaru (Sonic) | Tomokazu Seki (Werehog) | Chikao Otsuka (Eggman) | Chō (Prof. Pickle) | Ryō Hirohashi (Tails) | Taeko Kawata (Amy) | Ryōko Shiraishi (Chip)
Music
Songs
"Endless Possibility" | "Dear My Friend"
Albums
Planetary Pieces: Sonic World Adventure Original Soundtrack
Other
Auto Running | Boost Gauge | Boost Gauge | Chao | Chaos Emerald | Chaos Energy Cannon | Chun-nan's Treasure | Collection Room | Combo | Critical Attack | Don Fachio | Dr. Eggman's chair | Earth | Eggman Fleet | Egg Dragoon | Egg Mobile | Entrance Stage | Exorcisms | Experience Point | Freeze | Gaia Manuscripts | Gaia Temple | Gaia Temple guardian | Hallowmoon | Havok | Health Gauge | Miles Electric | Mission | Real-Time Interaction | Ring Energy Gauge | Shield Gauge | Shop (Counter of Dreams 2, Eggshop, Flying Fish Beach Shop, Golden Trading Company, Josef's, Surfside Seagull Sundries, Traveling Salesman Wentos, Treeshade, Ursule's Trading Post, Wang's Emporium) | Shuttle loop | Sonic: Night of the Werehog | Sonic World Adventure (manga) | Spagonia University | SPD | Tornado-1 | Rank | Time of awakening | Unleashed Gauge