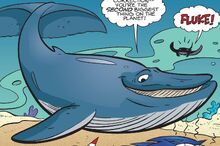 Fluke the Blue Whale, also called Big Fluke, is a Mobian blue whale member of the Forty Fathom Freedom Fighters and perhaps the largest sea creature on Mobius.
History
He assisted in the battle against Octobot, and flattened the mechanical octopus under his enormous bulk. (TMS: #1) He later repeated his performance to deal with Pseudo-Sonic, the Misfit Badniks and their island. (StH: #185)
Trivia
A fluke is a horizontally-flattened fin on the end of a whale's tail. Big Fluke was likely named such because he has a big fluke.
External links
Community content is available under
CC-BY-SA
unless otherwise noted.