This article is about a subject in the real world.

Information in this article is about real-life people, companies, and objects, and does not relate to the in-universe Sonic series.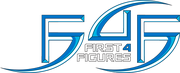 First 4 Figures is a collectible figure company that manufactures high quality statues from well-known video game licenses.[1] They were established in 2003 and are based in the United Kingdom and Hong Kong.
In 2008, First 4 Figures announced a classic Sonic the Hedgehog line of figures, then in early 2012 announced the first statue for their modern Sonic line.
5-inch vinyl figures
First 4 Figures released three Sonic vinyl figures in 2009, based on their classic Japanese designs from the Sega Mega Drive games. Each figure comes with a unique stand with the character's name printed on it.
5-inch lineup
Wii remote holder
A Wii remote holder of a classic-styled laughing Sonic was on display at a toy fair in 2008, with a release date of July 2009. Unfortunately, it went unreleased due to lack of interest. For the Sonic the Hedgehog 20th Anniversary, Mad Catz ended up making the Sonic Wii Remote Charger. Years later, several controller/device holders were made by Exquisite Gaming.
2-inch figurines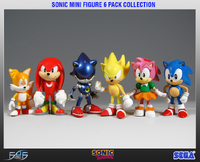 First 4 Figures made a line of miniature figurines based on the original designs of the main Sonic 1990s characters, with the exception of Dr. Eggman. The first set were Sonic, Tails and Knuckles.
On 23 July 2010, it was announced that attendees at the Summer of Sonic 2010 would receive a Metal Sonic figurine. This was the first time that the Metal Sonic figurine would be available anywhere in the world. Metal Sonic along with Super Sonic and Amy Rose were released as series 2. Not long after, all six figurines were available in a single box set.
To commemorate Sonic's 20th Anniversary,[2] the figures had been re-released at retail in the United States by Jazwares both individually and all together in a six-pack.
Large models
Classic series
Starting in May 2009, First 4 Figures released their first large model Sonic statue. It was 12 inches tall and was as a part of their classic Sonic the Hedgehog line.[3]
Over time more large model Sonic statues were released part of the classic line, such as Super Sonic, Metal Sonic, Knuckles and Tails. They were available in two versions, regular or exclusive. The exclusive versions are more expensive and contain LED lights inside that make certain areas of the statue light up for effect.
Regular
Exclusive
Modern series
In 2012, the first statue for the modern Sonic series was released, of Sonic himself.
A Modern Super Sonic model was also released, this one being 16.5 inches. The standard model was retailed at $224.99, while the exclusive version was $249.99.
In February 2017, a Silver the Hedgehog 17.5-inch model was released. Based off Silver's appearance in Sonic the Hedgehog (2006), the model came in regular and exclusive versions. The regular statue retailed at $249.99, while the exclusive statue at $284.99.
Regular
Exclusive
20th Anniversary statue
To celebrate Sonic's 20th, First 4 Figures in cooperation with Sega released a limited Sonic figure based on the anniversary artwork. The statue was not able to be purchased; it had to be won through either a contest, promotion or given as a gift by Sega.[24]
Two versions of the figure have been made, each being identical except for the picture on the computer monitor. One depicts the artwork from the US box art of Sonic the Hedgehog (1991), the other from the Japanese box art of the same game.[25] Only 900 of the Japanese version were made and 100 of the US version.
Dioramas
In November 2013, First 4 Figures announced a new line of Sonic statues for their new "Diorama" series. The dioramas are much like the larger statues, except focus on representing a scene. Also like the larger statues, the dioramas are available in standard editions, and exclusive editions which have light-up features.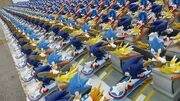 The first diorama statue was based on Sonic Generations' City Escape, which depicted Classic Sonic and Modern Sonic boarding through the level.
To celebrate the twenty-fifth anniversary of the Sonic series, First 4 Figures released a statue of Classic Sonic performing a Super Peel Out past a Goal Plate in Green Hill Zone. The statue was available in regular and exclusive options. The standard edition featured an adjustable goal post and two interchangeable magnetic plates for the post, whereas the exclusive edition featured animated LED's inside the figure-eight, an automatically rotating goal post and four interchangeable plates.
A diorama of Sonic and Tails was revealed on 12 July 2019.[26] The diorama depicts Tails lifting Sonic while flying through Angel Island Zone, including Spikes and a RhinoBot in the scene. The diorama was made available in three different editions; standard, exclusive, and Tropical Jungle. The standard and exclusive editions depict the zone on fire, whereas the Tropical Jungle edition depicts the zone normally. A combo pack was made available which included the exclusive and Tropical Jungle editions. Pre-orders went live for the diorama on the day of its reveal with an expected release in Q3 2020.
Sonic Generations

Sonic Generations (exclusive)

The Tornado
25th Anniversary

25th Anniversary (exclusive)

Sonic and Tails

Sonic and Tails (exclusive)
Sonic and Tails (Tropical Jungle)
Sonic and Tails (combo)
Regular
Sonic Generations
The Tornado
25th Anniversary
Sonic and Tails
Sonic and Tails (Tropical Jungle)
Exclusive
Sonic Generations
The Tornado
25th Anniversary
Sonic and Tails
Sonic and Tails (combo)
Parnterships
GNF Toyz
In 2017 as a part of F4F Partnerships, First 4 Figures partnered with GNF Toyz to distribute their Sonic figures. The first figures of the partnership were two classic style Sonic the Hedgehog figures in a bundle, as the Sonic the Hedgehog Boom8 Series Combo Pack. The figures in the pack were Vol. 01 and Vol. 02, respectively.[27]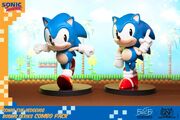 In mid 2018, two more figures for the Sonic Boom8 Series were revealed to be distributed as Combo Pack 2, being classic style figures of Tails and Knuckles. Tails being Vol. 03 and Knuckles Vol. 04.[28]
Since then, First 4 Figures has continued to distribute GNF's Sonic figures internationally, including more from the Sonic Boom8 Series and a diorama.
Products
Combo Pack
Combo Pack 2
Sonic vs Chopper Diorama
Combo Pack 3
Combo Pack 4
References
External links
Community content is available under
CC-BY-SA
unless otherwise noted.