For the level in Sonic the Hedgehog Spinball, see Showdown.
Final Showdown, also known as The Final Showdown,[1] is the fourth and final level of Sonic Spinball (8-bit). As with other levels in the game, Sonic must bounce through the pinball-like level, acquiring Chaos Emeralds. In this level, there are five to find.
Description
Story
After Sonic destroyed the Veg-O Machine in The Machine, Dr. Robotnik tried to escape to the stars in his rocket ship. However, Sonic the Hedgehog managed to get onboard the rocket ship, collecting Chaos Emeralds along the way. After successfully seizing all the Emeralds, Sonic confronted and defeated Robotnik and his vehicle, destroying the rocket ship. As Sonic and Robotnik then fell from the sky, Robotnik ended up fall back into his crumbling Veg-O Fortress as it sank into the sea.
Gameplay
Overview
Boss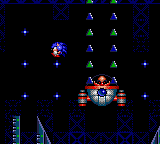 The boss of Final Showdown is a flying vehicle piloted by Dr. Robotnik. Due to the vehicle surrounding itself with a barrier, it is impossible to hit it. However, the barrier can be lowered if the player destroys four power generators. After then landing eight hits on the vehicle, the Final Showdown Boss will be defeated.
Music
| Name | Artist | Length | Music Track |
| --- | --- | --- | --- |
| N/A | Paul Gadbois | 3:23 | |
References