This article is about a real-life person.

Information in this article is about real-life people, companies, and objects, and does not relate to the in-universe Sonic series.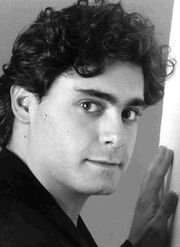 Fabrizio Vidale (born in Rome, Italy on 2 February 1970) is an Italian voice actor who dubbed Sonic the Hedgehog and Shadow the Hedgehog in Sonic X.[1]
Career
In cinema, Vidale has dubbed Marlon Wayans (in many films, including The Ladykillers), Chris Rock, Jack Black, Mos Def in The Italian Job, and David Arquette in Dream with the Fishes, while TV credits include Elmo in The Adventures of Elmo in Grouchland, Pepe the King Prawn and Kermit the Frog in The Muppets, Donatello in Teenage Mutant Ninja Turtles, Moses in Animal Farm, Lou in Cats & Dogs, J. August Richards in Angel, and Dipsy in Teletubbies. His animated feature dub credits include Piglet in the Winnie the Pooh franchise, Winkie in The Adventures of Ichabod and Mr. Toad, Young Tod in The Fox and the Hound, Young Vic in The Little Fox, Bartok in Anastasia and Bartok the Magnificent, Bladebeak in Quest for Camelot, and Pip the Mouse in Barnyard. In animated series, he has voiced Speedy Gonzales in the most recent Looney Tunes dubs, Carl and Nelson in The Simpsons, T-Bone in Clifford the Big Red Dog, Kyle in South Park, and Chip in Voltron. Vidale also appeared on-camera in the 2003 TV movie The Good Pope, as the young Pope John Paul II, and played Archie Goodwin in radio adaptations of Nero Wolfe.
Trivia
He is the son of Franco Latini and Piera Vidale, the older brother of Ilaria Latini, and the younger brother of Laura Latini.
He began his acting career at the age of 11.
References
Community content is available under
CC-BY-SA
unless otherwise noted.