Hmm! Finally decided to show up, eh? Okay, Bring it on!

— Sonic, Sonic Adventure 2
The F-6t Spider Troop Big Foot - Ground Air Combat Walker is a boss in Sonic Adventure 2. It is a G.U.N. robot controlled by a soldier. It made its first appearance in Sonic Adventure 2 as the first boss of the Hero Story. It is fought after City Escape.
Description
The Big Foot is an anti-terrorist military fighter which has mechanical legs. It is equipped with missile pods and hover jets to take off vertically and a rotary machine gun.[1]
Specifications
General Characteristics
Combat weight: 100,600 lbs.
Dimensions

Full length: 16.0 ft.
Width: 10.2 ft.
Height: 18.1 ft.

Power Plant: GUN F-series Diesel Engine / Two GUN R-series turbofan engines
Speed
Armament
One M32 A-1 22mm Gatling gun
Two four AIM-120C Advanced Medium-Range air-to-surface Missiles
Crew: One
Protection
Chobham-type armor on glacis and turret and armored bulkheads between turret and engine
Depleted uranium armor in production
Automatic fire detection and suppression
Collective overpressure Nuclear Biological and Chemical (NBC) protection
GVDR-1A radiological warning device
Games appearances
Sonic Adventure 2
In Sonic Adventure 2 and Sonic Adventure 2: Battle, it appeared as a boss after completing the City Escape stage.
Shadow the Hedgehog
In Shadow the Hedgehog, the Big Foot itself does not appear. However, there are two variants of it that appear as regular enemies: the Big Foot Type A and the Big Foot Type B. These models are slightly darker in coloration with some silver highlights, and have very solid armor that is more powerful than R7's. Both of these enemies are classified as Big Foot models.[2]
Variants
Hot Shot
The Hot Shot is almost exactly the same as Big Foot, with the same weapons and capabilities. However, it also has an added lock-on laser its front. Hot Shot is deployed to fight Shadow when he was set free from stasis by Dr. Eggman.
Big Foot Type A
The Big Foot Type A is the second strongest standard enemy belonging to G.U.N. following the F-gr Big Foot. In Shadow the Hedgehog, they carry Gatling guns which Shadow can pick up after he has defeated them. It is much stronger than the Sonic Adventure 2 variant and takes many more homing attacks to defeat.
Big Foot Type B
The Big Foot Type B is a variant that utilizing 8-Shot RPGs to attack the player, with it's AI being far more advanced than the F-6 variant, and appears only in the later levels. Because of such, it is one of the strongest enemies in the game, being G.U.N's strongest unit. After being destroyed, it drops a lock-on missile launcher.
R-1/A Flying Dog
The Flying Dog is basically the Hot Shot without legs. Without the walkers, Flying Dog remains hovering during its operation. It also has an improved defense, as it takes five strikes to destroy. When four strikes have been dealt, the Flying Dog simply stops using missiles and machine guns, and instead launches the plasma cannon repeatedly. It was deployed in security hall against Rouge the Bat, who was stealing three Chaos Emeralds from the vault located within.
Battle
Boss guide
Big Foot begins by flying up and strafing the ground with machine gun fire. It's easily seen and does not move very fast. The player can run in a wide circle to avoid it. After a few passes with the machine guns, Big Foot will land and the Missile bays will open. Predictably, Missiles shoot out at the player, who must once again run around the edge of the circle until the barrage stops. As soon as the missile pod's doors close, the player must leap high into the air and Homing Attack the Big Foot's cockpit. After four hits, Big Foot will collapse.
As an easier way to defeat the Big Foot in less than a minute, the player can jump on top of Wooden Containers before it destroys them, and launch a Homing Attack at it. It is also possible to hit Big Foot's cockpit with a Bounce Attack while it is in the air.
Video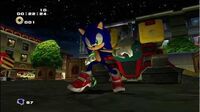 In other media
Archie Comics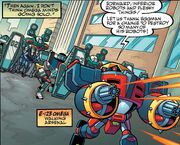 The F-6t Big Foot robots have made several cameos throughout the Sonic the Hedgehog comic series published by Archie Comics. They appeared during the brief attack by Dr. Eggman at Central City.
Sonic X
In the anime series Sonic X, the Big Foot appeared in "Shadow Knows". After escaping the Gun Beetles, Sonic was confronted by a Big Foot. Sonic used his Spin Attack to defeat the Big Foot. Not beaten entirely, the robot fired several missiles at Sonic which he directed back at it, blowing the mech to pieces.
Trivia
Big Foot is named after the legendary cryptid, the Bigfoot (or Sasquatch).
According to the official site for Sonic Adventure 2, the Big Foot belongs to the Scorpion troop.[1]
In the Dreamcast version of Sonic Adventure 2, it is possible to finish the F-6t Big Foot with the Light Speed Attack in one go. In the GameCube version and digital re-releases of the game, however, the Light Speed Attack only deals one hit's worth of damage when executed and then cancels itself.
Gallery
References
↑ 1.0 1.1 Sega. Screen shots / Boss Battle. Archived from the original on 13 March 2010. Retrieved on 1 September 2015. "A anti-terrorist military fighter which has mechanical legs. It's equipped with missile pods and hover jets to take off vertically and a rotary machine gun. It's been called in by the government military to capture Sonic. It's part of the Scorpion troop."
↑ "Vital human life signs approaching. Enemy mech Bigfoot detected!" As said by E-123 Omega when encountering a Big Foot.
---
Main article | Gallery | Beta elements | Staff | Glitches | Re-releases (Battle | 2012)
Playable characters
Sonic (Super Sonic) | Tails | Knuckles | Amy* | Shadow (Super Shadow) | Rouge | Eggman | Big*^ | Tikal* | Chaos* | Dark Chao Walker* | Chao Walker* | Metal Sonic*
Non-playable characters
Chao (Dark Chao, Hero Chao, Chaos Chao) | Gerald | Maria | President | Secretary | Sigma-Alpha 2 | Animals (Bat, Bear, Boar, Cheetah, Condor, Dragon, Gorilla, Half Fish, Parrot, Peacock, Penguin, Phoenix, Rabbit, Raccoon, Seal, Sea Otter, Sheep, Skeleton Dog, Skunk, Tiger, Unicorn)

Stages

Hero
City Escape | Wild Canyon | Prison Lane | Metal Harbor | Green Forest | Pumpkin Hill | Mission Street | Aquatic Mine | Route 101 | Hidden Base | Pyramid Cave | Death Chamber | Eternal Engine | Meteor Herd | Crazy Gadget | Final Rush
Dark
Iron Gate | Dry Lagoon | Sand Ocean | Radical Highway | Egg Quarters | Lost Colony | Weapons Bed | Security Hall | White Jungle | Route 280 | Sky Rail | Mad Space | Cosmic Wall | Final Chase
Misc.
Cannon's Core | Green Hill
2P Stages
Downtown Race | Grind Race | Planet Quest | Pool Quest | Deck Race | Pyramid Race
Enemies
G.U.N.
Blue Eagle | Bomb Beetle | Bomb Wing | Gold Beetle | Gun Beetle | Gun Hawk | Gun Hunter | Gun Wing | Hornet-3 | Hornet-6 | Hornet-9 | Laser Hawk | Laser Hornet | Laser Hunter | Mono Beetle | Phoenix | Rhino Cannon | Rhino Jet | Rhino Metal | Rhino Spike | Shield Hunter | Sky Hawk | Spark Beetle | Spring Beetle
Badniks
Buzz Bomber | Chopper | E-1000 | Gola | Unidus | Kiki
Misc
Artificial Chaos (Artificial Chaos P-1, Artificial Chaos P-100, Cell, Float Type, Guard Type) | Boo | Boom Boo
Bosses
B-3x Hot Shot | Biolizard | Dr. Eggman | Egg Golem | F-6t Big Foot | Finalhazard | King Boom Boo | Knuckles | R-1/A Flying Dog | Rouge | Shadow | Sonic | Tails
Moves/Techniques
Amy Flash* | Black Shield* | Black Wave* | Booming Missile* | Bounce Attack | Captive Light* | Chaos Bind* | Chaos Control | Chaos Impact* | Chaos Screw* | Chaos Spear | Chaos Strike* | Charm Ray* | Crazy Rush* | Crouch | Dark Finish* | Dark Omochao* | Dig | Drill Claw | Drill Drive | Fire Somersault | Glide | Grind Step | Grinding | Hammer Punch* | Heaven's Justice* | Hell Bomber* | Hip Drop* | Hover | Homing Attack | Jump Dash | Kick/Kick Attack | Knuckle Spin* | Laser Missile* | Light Attack | Light Speed Dash | Lock-on | Lock-On Missile | Magic Hands | Omochao | Pick | Power Flash* | Power Laser* | Propeller Punch | Punch (Eggwalker) | Punch/Punch Attack | Rocket Launcher | Rumble Launcher* | Screw Kick | Somersault | Sonic Wind* | Speed Up* | Spin Jump | Spin Dash | Spiral Upper | Storming Heart* | Super Sonic Boost | Swim | Thunder Arrow* | Time Stop* | Volkan Cannon | Wrath of Gaia* | Zap Laser*
Gimmicks and obstacles
Ancient Ruin | Ball Switch | Bungie Vine | Dash Panel | Dynamite | Egg Beetle | Gravity Control Switch | Green energy fluid | Grind Rail | GUN Military Truck | High-speed warp tube | Hint Box | Hourglass | Iron ball | Jump Plate | Laser field | Missile | Pipe | Propeller Spring | Pulley | Rocket | Safe | Spikes | Spinning drum | Swing Bar | Time Stop Switch | Turtle | Warp Hole | Warp Wall | Weight | Wide spring

Objects

General
Balloon | Chao Egg | Chao Key | Chaos Emerald | Chaos Drive | Container (Cage, Chao Container, Steel Container, Unbreakable Container, Wooden Container) | Emblem | Emerald Shard | Goal Ring | Item Box (Bomb, Extra Life, Health, Invincibility, Magnetic Barrier, Power Sneakers, Shield, Super Ring) | Key Stone (Gate Key) | Meteorite | Outfit | Point Marker | Ring | Snowboard
Level Up Items
Air Necklace | Air Shoes | Ancient Light | Bazooka | Booster | Bounce Bracelet | Flame Ring | Hammer Gloves | Iron Boots | Jet Engine | Large Cannon | Laser Blaster | Light Speed Shoes | Magic Gloves | Mystic Melody | Pick Nails | Protective Armor | Shovel Claw | Sunglasses | Treasure Scope
English voice actors
Ryan Drummond (Sonic) | Connor Bringas (Tails) | Scott Dreier (Knuckles/GUN Soldiers) | Jennifer Douillard (Amy Rose) | David Humphrey (Shadow the Hedgehog) | Lani Minella (Rouge/Omochao) | Deem Bristow (Doctor Eggman) | Moriah Angeline (Maria Robotnik) | Marc Biagi (Gerald/GUN Soldiers) | Steve Broadie (President) | Shelly Fox (Default menu voice) | Jon St. John (Big) | Elara Distler (Tikal) | Tomoko Sasaki (Chao)
Japanese voice actors
Jun'ichi Kanemaru (Sonic) | Kazuki Hayashi (Tails) | Nobutoshi Canna (Knuckles) | Taeko Kawata (Amy) | Kōji Yusa (Shadow) | Rumi Ochiai (Rouge) | Chikao Ōtsuka (Eggman ) | Etsuko Kozakura (Omochao) | Yuri Shiratori (Maria) | Kinryū Arimoto (President) | Shun Yashiro (Big) | Shelly Fox (Default menu voice) | Tomoko Sasaki (Chao)

Music

Songs
A Ghost's Pumpkin Soup | Believe In Myself | Deeper | Dive into the Mellow | E.G.G.M.A.N. | Escape from the City | Fly in the Freedom | For True Story | It Doesn't Matter | Kick the Rock! | Live and Learn | My Sweet Passion | Rhythm And Balance | Space Trip Steps | Supporting Me | The Supernatural | Throw It All Away | Unknown from M.E. | Vengeance is Mine
Albums
Multi-Dimensional Sonic Adventure 2 Original Sound Track | Sonic Adventure 2 Vocal Collection: Cuts Unleashed | Sonic Adventure 2 Official Soundtrack | Sonic Adventure 2 Battle - Sampler | Sonic Adventure 2 Original Soundtrack 20th Anniversary Edition | Passion & Pride: Anthems with Attitude from the Sonic Adventure Era
Other
Angel Island | Auto Running | Black Market | Central City | Chao Adventure^ | Chao Adventure 2^ | Chao Garden (Dark, Hero, Neutral) | Chao in Space | Chao Kindergarten | Chao Machine | Chao Stadium | Chao Transporter^ | Chao World | Corkscrew loop | Cyclone | Eclipse Cannon | Eggman Bombom | Eggwalker | Emerald Radar | Fake Emerald | Gerald Robotnik's diary | Health Gauge | Hi-Speed Shoes | Kart Race | Prison Island | Project Shadow | Rank | Shuttle loop | Space Colony ARK | Station Square | Teleporter | Totem Pole | Winding Tunnel

*Appears or is playable only in the 2P mode
^ Dreamcast version of Sonic Adventure 2 only
---
Main article | Gallery | Script (Main Story) | Script (Last Story) | Library Sequences | Credits | Glitches
Characters
Shadow (Hero Shadow, Dark Shadow, Super Shadow) | Black Doom (Devil Doom) | Eggman | Sonic | Tails | Knuckles | Amy | Rouge | Omega | Team Chaotix (Vector, Espio, Charmy) | Cream | Cheese | Maria | Gerald | Commander | President | Secretary | Chao
Enemies
Ark Missile Turret | Artificial Chaos (Artificial Chaos P-100, Cell) | Black Assassin | Black Hawk | Black Oak | Black Volt | Black Warrior | Black Wing | Black Worm | Big Foot Type A | Big Foot Type B | Death Leech | Death Worm | Egg Bommer | Egg Pawn | Egg Pierrot | Giant Walker | Giga Trooper | Gold Beetle | Gun Beetle | GUN Soldier | GUN Trooper | Jack Bommer | Killer Plant | Mono Beetle | Rocket Beetle | Sand Worm | Shadow Android | Spark Beetle

Stages

Air Fleet | Black Comet | Central City | Circus Park | Cosmic Fall | Cryptic Castle | Death Ruins | Digital Circuit | Final Haunt | GUN Fortress | Glyphic Canyon | Iron Jungle | Lava Shelter | Lethal Highway | Lost Impact | Mad Matrix | Prison Island | Sky Troops | Space Gadget | The ARK | The Doom | The Last Way | Westopolis
Bosses
Black Bull | Black Doom | Blue Falcon | Devil Doom | Diablon | Egg Breaker | Egg Dealer | Heavy Dog
Moves/Techniques
Chaos Arrow | Chaos Blast | Chaos Control | Chaos Spear | Crouch | Dark Spin Dash | Grinding | Grind Step | Homing Attack | Jump Dash | Light Dash | Mid-Air Attack | Missile Fever | Overturn | Pawn Fever | Pick up | Punch | Ring Fever | Shadow Fever | Slide | Spin Dash | Spin Jump | Super Sonic Boost | Swift strike | Tail Swipe | Triangle Jump

Weapons

4-Shot RPG | 8-Shot RPG | Bazooka | Big Worm Shooter | Big Barrel | Black Barrel | Black Sword | Bomb Fever | Egg Bazooka | Egg Gun | Egg Spear | Egg Vacuum | Environment Objects | Flash Shot | Gatling Gun | Grenade Launcher | Heal Cannon | Heavy Machine Gun | Heavy Shot | Laser Rifle | Light Shot | Omochao Gun | Pistol | Refractor | RPG | Samurai Blade | Satellite Gun | Semi-Auto Rifle | Shadow Rifle | Splitter | Survival Knife | Tank Cannon | Vacuum Pod | Wide Worm Shooter | Worm Shooter

OST

/

Lost and Found

All Hail Shadow | Almost Dead | Chosen One | E.G.G.M.A.N. | I Am... All of Me | Never Turn Back | Tripod Baby | Vengeance is Mine | Waking Up | Who I Am
English voice actors
Jason Griffith (Sonic, Shadow) | Sean Schemmel (Black Doom) | Mike Pollock (Eggman, Gerald) | Amy Palant (Tails) | Dan Green (Knuckles) | Lisa Ortiz (Amy) | Kathleen Delaney (Rouge) | Rebecca Honig (Cream, Maria) | Carter Cathcart (Vector) | David Wills (Espio) | Amy Birnbaum (Charmy) | Jeff Kramer (Omega) | Andrew Rannells (GUN Soldier) | Marc Thompson (Commander) | Maddie Blaustein (President) | Bella Hudson (Secretary)
Japanese voice actors
Kōji Yusa (Shadow) | Jun'ichi Kanemaru (Sonic) | Ryūzaburō Ōtomo (Black Doom) | Chikao Ōtsuka (Eggman, Gerald) | Ryō Hirohashi (Tails) | Nobutoshi Canna (Knuckles) | Taeko Kawata (Amy) | Rumi Ochiai (Rouge) | Sayaka Aoki (Cream) | Yuri Shiratori (Maria) | Kenta Miyake (Vector) | Yūki Masuda (Espio) | Yōko Teppōzuka (Charmy) | Taiten Kusunoki (Omega) | Takashi Yoshida (GUN Soldier) | Banjō Ginga (Commander) | Yutaka Nakano (President) | Junko Kitanishi (Secretary) | Ryō Hirohashi (Additional Chao)
Other
Air Saucer | Barrel | Barrier | Black Comet | Black Slab | Black Tank | Bomb Unit | Case | Cell Cannon | Chaos Emerald | Central Information Agency | City annihilator bomb | Coaster | Color Panel | Container (Special Weapon Container, Steel Container, Unbreakable Container, Wooden Container) | Convertible | Core program | Eclipse Cannon | Dark Gauge | Dark Rider | Defense Unit | Egg Balloon | Egg Monitor | Eggman Fleet | Electrified Rail | Energy Core | Expert Mode | Fan | Fire in the Sky Festival | Firewall | Flash game | Floating Item Box | Goal Ring | Gravity Control Switch | Green energy fluid | Gun Lift | GUN Motorcycle | Gun ship | GUN turret | GUN Vehicle | Heal Unit | Health Gauge | Hero Gauge | Hint Ring | HMMWV | Item Box (1-Up, Damage Recover, Heat Barrier, Invincibility, Super Ring) | Jump Panel (Prison Island) | Jump Panel (ramp) | Jump Vehicle | Junction switch | Lantern | Laser field | Laser turret | Light-speed circuit | Magnetic Barrier | Mother computer | Pole | President's escape pod | Prison Island | Prosperity ritual | Pulley | Red fruit | Red Slime | Ring | Rocket | Secret Door | Secret Key | Shield switch | Shooting Gallery | Small bomb | Surveillance camera | Tails' Spaceship | Temple jewel | Toxic marsh | Toxic river | Vine | Warp Hole | White House | Wide spring