"Eyes on the Prize" is the second and final episode in the Team Sonic Racing Overdrive web series. It first aired on the official Sonic the Hedgehog YouTube Channel on 25 April 2019.
Synopsis
It's Team Dark VS. Team Sonic as the race heats up! From trickery to teamwork, each team is trying their hardest to take the top spot. With the finish line in sight, only one team can take home the victory![1]
Appearances
Characters:
Races and species:
Locations:
Items:
Vehicles:
Misc:
Plot
Team Sonic and Team Dark once again race against each other. Knuckles can be seen driving ahead calmly in his Land Breaker. He quickly sees Rouge pull up beside him in her Lip Spyder. The bat shoots Knuckles a mischievous glare before sending a Pink Wisp to use Pink Spikes on him. The Pink Wisp pops one of the Land Breaker's rear tires, forcing Knuckles to come to a slowed stop. Once he sees what Rouge has done to his tire, he angrily hits his car in a fit. Rouge uses this as a chance to pass Knuckles and continues to make faces at him while he yelled out after her. When Rouge returns her attention to the road, she sees an Egg Pawn in the middle of it, dressed up and acting like a cat. Rouge does not think to stop and a loud crash is heard. It is revealed that the Egg Pawn moved out of the way just in time while Rouge crashed her Lip Spyder into a boulder. A stunned Rouge is left by the Egg Pawn, who returns to a snickering Dr. Eggman hiding in the bushes and gives him a wink and a high five.
Knuckles and Rouge both stand by their damaged cars, unsatisfied. Rouge then takes out her phone to call Omega for help. Omega responds to Rouge's message and quickly arrives, only to crash his Cross Dozer into her car as he was busy still looking at Rouge's message to actually concentrate on the road. Rouge is annoyed by this and turns to see that Tails also arrived in his Whirlwind Sport to help repair the Land Breaker's tire. After repairing it, Tails and Knuckles fist bump, only for Tails to be slightly injured by Knuckles' strength. Knuckles then turns and shoots Rouge a smirk. Rouge only looks on with annoyance. As Tails and Knuckles drive away, Knuckles begins to pull faces at Rouge, similar to what she was doing earlier. As Rouge and Omega stand together stranded, they see Shadow approaching in his Dark Reaper. Rouge waves to him for help, only for Shadow to completely ignore her and continue to drive. This stuns Rouge, leaving her to angrily kick Omega's Cross Dozer. Omega simply walks up to his vehicle and kicks it as well, giving Rouge a thumbs up after. However, both of their cars explode, propelling them away from their positions.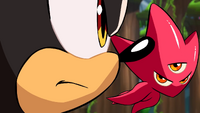 Eggman remains hidden in the bushes, grinning widely as his Egg Pawn continues to act like a cat on another section of the road. Instead of slowing down, Shadow rams into the Egg Pawn and sends it flying, leaving nothing but nuts and bolts behind. Eggman is completely shocked by this, only widening his mouth and eyes at the sight. As Tails continues along the road, he sees a sharp turn. He manages to travel round the bend safely but scares a stray White Wisp by nearly hitting it. The White Wisp faints out of shock. Tails nervously smiles and continues the race. Shadow manages to gain on Tails. He sends a Crimson Wisp to use the Crimson Eagle on the fox cub. The Whirlwind Sport takes the hit, making Tails spin out. As he does so, Shadow passes him and smirks. Sonic pulls up to Tails' side in his Speed Star, allowing Tails to steady his vehicle. Sonic gives Tails a thumbs up and the duo race off to keep up with Shadow. As Shadow sees Sonic and Tails begin to catch up to him, he pulls out a Blue Wisp and throws it backwards so that it could use the Blue Cube. The Blue Cube makes both Sonic and Tails spin out for a few seconds. As Sonic regains control, he angrily looks ahead and then looks up to see Knuckles driving off of a small cliff. The echidna lands down beside Shadow and begins to ram into his Dark Reaper with his Land Breaker. Shadow rams back into Knuckles, causing the butting of heads between the two.
As the race continues, Sonic reaches out to Knuckles, asking for an Item Box. Knuckles throws one back but it reaches Tails instead. From it, three White Wisps eject and enter into Tails' Whirlwind Sport. This gives Tails' vehicle three times the power of a regular White Boost, allowing him to catch up to Knuckles and Shadow. Realizing he is trailing behind, Sonic looks around for a way to catch up to his teammates. He manages to spot a shortcut with a Dash Panel veering slightly to the left. Happy to see it, Sonic drives onto the shortcut. The boost propels him up onto a wall, which the hedgehog drifts along. Meanwhile, Shadow manages to pull further ahead of Tails and Knuckles. As they near the finish line, Tails finds despair as he believes his team is about to lose. However, Sonic quickly swerves in to line up with his teammates. The trio look at each other determined not to lose. They then press the "R" buttons in the center of their steering wheels so that they can use their Team Ultimate. They rapidly boost off, managing to catch up to Shadow. As Shadow turns back and sees this, he realizes that he cannot win the race. Annoyed, Shadow teleports out of his Dark Reaper, allowing Team Sonic to boost through, blowing the car away. Shadow then reappears, lands on his feet and begins to speed walk. He walks all the way to the bleachers where Rouge, Omega and several Chao are sitting. While sitting, Shadow takes the popcorn from the Chao sitting next to him, which greatly upsets it.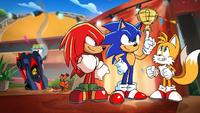 Team Sonic triumphantly cross the finish line and are given their trophy. As they stand and pose for the cameras, Sonic gives the trophy to Tails to hold and begins to annoy Knuckles. Tails soon receives a tap on the shoulder, only to see no one beside him when he turns around. As he turns back, he sees that the trophy has been stolen from him. Tails turns to see it was Eggman who took the trophy, alerting his teammates to him as well. Eggman kisses the trophy and dances around with it to mock the unimpressed Team Sonic. As Eggman continues to dance, he is crushed by the Dark Reaper, which flings the trophy out of his hands and back into Sonic's. Initially surprised by the turn of events, Team Sonic turn back to the cameras while Sonic spins the trophy on his finger. Eggman's Egg Pawn returns to meet its the former, only to see that he was hit by Shadow's vehicle. The Egg Pawn drops to its knees and wrings its arms in sorrow over its master.
Goofs
When Shadow takes away a small Chao's popcorn, it begins to cry and darkens in color. Usually, in Sonic Adventure 2, when a character that is aligned with the dark side mistreats a Chao, they become lighter in color. They only darken when a character that is aligned with the hero side mistreats them.
Trivia
Video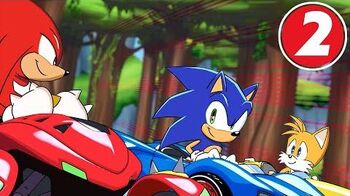 References
---
Main article | Script | Staff | Manuals | Beta elements | Gallery
Playable
characters
Team Sonic
Sonic | Tails | Knuckles
Team Rose
Amy | Chao (Dark Chao, Hero Chao, Neutral Chao, Omochao) | Big
Team Vector
Blaze | Silver | Vector
Team Dark
Shadow | Rouge | Omega
Team Eggman
Metal Sonic | Dr. Eggman | Zavok | Eggpawn | Death Egg
Non-playable characters
Boo | Boom Boo | Buzzer | Chopper | Crabmeat | Cubot | Dodon Pa | Egg Squid | Froggy | King Boom Boo | Mother Wisp | Orbot | Orca | Sandworm
Wisps
Black | Blue | Crimson | Cyan | Ivory | Jade | Magenta | Orange | Pink | Gray | Red | Violet | White | Yellow
Tracks
Planet Wisp
Wisp Circuit | Mother's Canyon | Doctor's Mine
Seaside Hill
Ocean View | Lost Palace | Whale Lagoon
Glacierland
Ice Mountain | Frozen Junkyard | Hidden Volcano
Casino Park
Roulette Road | Bingo Party | Pinball Highway
Sandopolis
Sand Road | Boo's House | Clockwork Pyramid
Rooftop Run
Market Street | Sky Road | Haunted Castle
Final Fortress
Thunder Deck | Dark Arsenal | Turbine Loop
Events
Boost Race | Daredevil | Destruction | Eggpawn Assault | Grand Prix | King of the Hill | Lightning Race | Ring Challenge | Rocket Race | Showdown Race | Survival Race | Team Boost Race | Team Grand Prix | Team King of the Hill | Team Lightning Race | Team Race | Team Rocket Race | Team Vampire Race | Time Trial | Traffic Attack | Vampire Race
Enemies
Eggpawn | Eggsplosive Eggpawn | Hard-boiled Eggpawn | Melee Eggpawn | Standard Eggpawn
Moves/Techniques
Drift | Item Box Transfer | Radial Burst | Rival Takedown | Skim Boost | Slingshot | Start Line Boost | Stunt | Team Ultimate
Color Powers
Black Bomb | Blue Cube | Crimson Eagle | Cyan Laser | Gray Quake | Ivory Lightning | Jade Ghost | Magenta Rhythm | Orange Rocket | Pink Spikes | Red Burst | Violet Void | Yellow Drill
Vehicles
Beat Monster | Chao Pod | Cross Dozer | Dark Reaper | Egg Booster | Formula M | Frog Cruiser | Land Breaker | Lightron | Lip Spyder | Pink Cabriolet | Road Dragoon | Royal Chariot | Speed Star | Whirlwind Sport
Gimmicks and obstacles
Boost Pad | Kao | Spring | Star Post | Wide spring
Items
Bonus Box | Credit | Item Box (Invincibility) | Key | Medal | Mod (Car Cosmetic (Horn, Paint Kit, Vinyl), Performance Part) | Mod Pod | Ring
English voice actors
Roger Craig Smith (Sonic, Wisp announcer) | Mike Pollock (Eggman) | Kyle Hebert (Big, Dodon Pa) | Colleen O'Shaughnessey (Tails) | Dave Mitchell (Knuckles) | Patrick Seitz (Zavok) | Cindy Robinson (Amy) | Kirk Thornton (Shadow, Orbot) | Karen Strassman (Rouge) | Aaron LaPlante (Omega) | Bryce Papenbrook (Silver) | Keith Silverstein (Vector) | Erica Lindbeck (Blaze, Omochao) | Wally Wingert (Cubot) | Tomoko Sasaki (Chao)
Japanese voice actors
Jun'ichi Kanemaru (Sonic) | Kotaro Nakamura (Eggman) | Katsuhisa Hōki (Dodon Pa) | Ryō Hirohashi (Tails) | Nobutoshi Canna (Knuckles) | Taeko Kawata (Amy) | Takashi Nagasako (Big) | Etsuko Kozakura (Omochao) | Kōji Yusa (Shadow) | Rumi Ochiai (Rouge) | Taiten Kusunoki (Omega) | Daisuke Ono (Silver) | Kenta Miyake (Vector) | Nao Takamori (Blaze) | Jōji Nakata (Zavok) | Mitsuo Iwata (Orbot) | Wataru Takagi (Cubot) | Tomoko Sasaki (Chao) | Fumihiko Tachiki (Wisp announcer)
Music
Songs
"Green Light Ride"
Albums
Maximum Overdrive - Team Sonic Racing Original Soundtrack | Team Sonic Racing Trailer Music Selection
Other
Death Egg Robot | Donpa Kingdom | Donpa Motors | Egg Squid | Loop | Orca | Power-Type | Sonic Racing | Speed-Type | Team Sonic Racing Overdrive ("Dangerous Distractions", "Eyes on the Prize", "The Complete Race") | Technique-Type | Ultimate Meter | Team Sonic Racing One-shot | Team Sonic Racing Plus Deluxe Turbo Championship Edition one-shot | Ultimate Energy Engine | Ultimate Team Energy