Fire Emblem Warriors: Three Hopes - The Loop
Play Sound
The Extreme Gear (エクストリーム・ギア, Ekusutorīmu Gia?), also referred to as just Gear, is an object that appears in the Sonic the Hedgehog series. It is a type of transportation and is used for racing. Extreme Gear come with in-game characters and can also be purchased with Rings earned in races and achieving certain requirements.
Description
Features and traits
Extreme Gear are capable of allowing their rider to fly, or at least hover, at high speeds. Depending on the model, they are powered by Air, Gravity Points, or Ring Energy. These types of fuel are used for using speed boosts to accelerate the rider to high speeds, in a technique known as Kick Dash. In addition, Extreme Gear powered by Air can drop miniature Tornadoes to trip up rivals.
Certain models of Extreme Gear each come with a variety of unique abilities, such as the ability to grind on rails, glide through the air, smash barricades and obstacles in the rider's path, or improve their own attributes. Some come with components of such abilities called Gear Parts, with which the user can alter the capabilities of their Gear. Most Extreme Gear even have their own abilities equipped in them, such as the Gambler's ability to manipulate the number of Rings the player earns in a race based on the position they come in.
It is still unknown the maximum speed Extreme Gear can reach, or whether this maximum speed is shared to all Gear or is only exclusive to certain models. However, it was once stated that Sonic himself can use Gear to go even faster than when running on foot,[1] during which he can reach hypersonic speeds[2] (roughly 3,840-7,680 mph). This hints that at least certain models of Extreme Gear can reach speeds that exceed 7,680 mph.
Types of Extreme Gear
Extreme Gear comes in several different varieties, each with different ratings in the four attributes: Limit/Top Speed, Dash/Acceleration, Curve/Handling, and Power/Durability. Some Extreme Gear comes with their own special abilities. Every character has a "starting Gear" with statistics specially designed for that rider, in most cases only that rider can use that Gear. In Sonic Riders: Zero Gravity, some Gear Parts can physically transform the Extreme Gear into another type.
Besides statistics and abilities, Extreme Gear also come in many different shapes and sizes, and many unorthodox Gear are present in the first two Sonic Riders games. In fact, the first Extreme Gear ever made is actually a Magic Carpet, similar to one a genie would use. Other unconventional Gear include a flying broomstick, a cloud, and even the Opa Opa spaceship. Despite their varying appearances, all existing Extreme Gear fall into one of the six following classes:
Board
Board type Extreme Gear are the most common type of Extreme Gear, and are the first type available to the player in all three games. In fact, they are so common that almost every character's default Gear is a Board. In Sonic Riders, Boards are the most balanced class of Gear, having average statistics and an average rate of Air-consumption. They are used in Story Mode by every character, except for Dr. Eggman. In Sonic Riders: Zero Gravity, Board type Extreme Gear are again a balanced, middle class, with average statistics, and some Boards allow the rider to grind in Grind Areas with the Grind Gear Part, an ability previously restricted to characters themselves as opposed to their Gear. In Sonic Free Riders, most Board type Gear can be equipped with two Gear Parts.
Bike
Bike type Extreme Gear are a more powerful but less maneuverable class of Extreme Gear, and they resemble hoverbikes. In Sonic Riders, Bike type Gear are less fuel-efficient, while in Sonic Riders: Zero Gravity and Sonic Free Riders, bikes allow the rider to punch through obstacles and barricades without slowing down, gaining Air/Gravity Points for each obstacle destroyed. In Sonic Free Riders, Bike type Gear can only be equipped with one Gear Part.
Skate

Skate type Extreme Gear are a less powerful class of Extreme Gear, but are more agile and, in Sonic Riders, more Air-efficient. Skate type Gear resemble roller skates. In Sonic Riders: Zero Gravity, Skate type Extreme Gear allow their rider to grind on Grind Areas, an ability which was previously restricted to Speed Type characters not their Gear, and unlike boards, they do not require Gear Parts to do so.
Air Ride
Air Ride type Extreme Gear have only appeared in Sonic Riders: Zero Gravity. Air Ride type Gear are similar in shape to the Greek letter Psi (Ψ), and they are ridden by kneeling or lying down on the Gear. Air Ride type Gear are capable of Air Riding, an ability previously restricted to characters, not their Gear. It should be noted that even though SCR-HD resembles a Wheel type Extreme Gear, it only has Air Ride type Gear properties.
Yacht
Yacht type Extreme Gear have only appeared in Sonic Riders: Zero Gravity. Despite the name, Yacht type Gear are more reminiscent of windsurfing boards rather than large boats. In addition to Air Ride type Gear properties, Yacht type Gear allows the rider to ride on slipstreams and accelerate on them while riding directly behind an opponent, which is otherwise known as "drafting". Without this trait, Yacht type Gear tend to have very poor top speed compared to the other Gear types.
Wheel
Wheel type Extreme Gear have only appeared in Sonic Riders: Zero Gravity, and appear to be based on the monowheel. Wheel type Gear are the largest Extreme Gear, as they need to be tall enough for the rider to comfortably sit inside and pilot. In addition to Bike type Gear properties, Wheel type Gear have the ability to use Slide Turns that can traverse through sharp turns This is similar to the Air Slide in Sonic Riders, although Slide Turns do not consume any fuel. The drawback of Wheel type Gear is that they cannot perform Gravity Control to the full extent of most of the other Gear types, meaning that they will have to rely on Slide Turns to traverse through sharp corners and cannot access some shortcuts that normally require it.
Extreme Gear producers
Most Extreme Gear available for purchase don't include the name of their manufacturer; however, several business corporations have been mentioned for the characters' own Extreme Gear and a few others. Some of the Gear were redesigned by Tails or Wave to fit their friends' skills.
Robotnik Corp.
Robotnik Corp. is Dr. Eggman's corporation that produces Extreme Gear. First appearing in Sonic Riders, this is the company responsible for the character boards, even Sonic, Tails, and Knuckles' boards. However, Eggman may have provided, or at least sold, the boards which Tails then modified to suit his friends' needs.
Babylon Standard
While the Babylon Rogues may be a band of thieves, they seem to also have their own brand of Extreme Gear. Since the only Gear made by Babylon Standards are the Type Gear, these Gear are created solely for themselves. In Sonic Riders: Zero Gravity the brand was never mentioned, just that Wave redesigned Type-J, Type-S, and Type-W. It's more likely that they were "standard" for the "Babylon" Rogues themselves.
Accevive Corp.
Introduced in Sonic Riders: Zero Gravity, this corporation is responsible for most of the Extreme Gear products Robotnik Corp. made in the last game, except for Blue Star, Red Rock, and Yellow Tail. The former two were redesigned by Tails, whereas the latter was built anew from the ground up. It could be a front by Dr. Eggman and that Robotnik Corp. and all its licensed Extreme Gear were sold, or they simply continue production where Robotnik Corp. finished. Either way, they now provide the character boards of the game.
Accelovice
Debuting in Sonic Free Riders, Accelovice created the Extreme Gear for the Xbox Live Avatar as well as a few other major boards and perhaps the new design or line of Extreme Gear. While the name is similar to Accevive Corp and claimed the creation of its boards, it is unconfirmed if it is the same business under a new name.
Competitive racing
The World Grand Prix is a competition for Extreme Gear racers around the world to compete with each other to see who is the fastest with riding on Extreme Gear by completing a series of race courses.
Lists of Extreme Gear
In other media
Archie Comics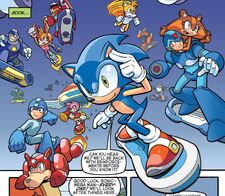 In the Sonic the Hedgehog comic series and its spin-offs published by Archie Comics, Extreme Gear are objects used as a mode of transportation. They are mostly used by the Babylon Rogues, but other characters like Sonic, Tails, Knuckles, Bean the Dynamite, and Bark the Polar Bear have been known to use them as well.
After the Super Genesis Wave, Extreme Gear became nearly identical to their game counterparts. They are one of the main modes of transportation used by the individual Freedom Fighters.
IDW Publishing
In the Sonic the Hedgehog comic series and its spin-offs published by IDW Publishing, Extreme Gear make an appearance. They were first seen being used by Sonic and Knuckles to reach Angel Island from a Resistance battleship.
---
Main article | Scripts (Heroes, Babylon) | Staff | Beta elements | Gallery
Playable characters
Sonic (Super Sonic) | Tails | Knuckles | Amy | Jet | Wave | Storm | Dr. Eggman | Cream | Rouge | Shadow | AiAi | NiGHTS | Ulala | E-10000G | E-10000R
Non-playable characters
Babylon Guardian | Jet's father | Omochao | Stolen
Courses
Heroes
Metal City | Splash Canyon | Egg Factory | Green Cave | Sand Ruins | Babylon Garden
Babylon
Night Chase | Red Canyon | Ice Factory | White Cave | Dark Desert | Sky Road | Babylon Guardian
Other
Digital Dimension | Sega Carnival | Sega Illusion
Survival
Dual Towers | Snow Valley | Space Theater
Moves/
Techniques
Air Boost | Air Riding | Air Slide | Attacks | Grinding | Super Sonic Boost | Tornado | Trick Action
Gimmicks and obstacles
Accelerator | Air Pit | Automatic Trail | Barricade | Bomb | Car | Catapult | Dash Panel | Grind Rail | Trick Zone | Turbulence
Items
Air | Item Box (Air, Explosion, High Speed, Invincible Barrier, Magnetic Barrier, Rings, Speed Down, Question Item) | Ring
Extreme Gear
Accelerator | Access | Advantage-F | Advantage-P | Advantage-S | Air Broom | Air Tank | Auto-Slider | BANANA | Beginner | Berserker | Blue Star | Blue Star II | Cannonball | Channel5 | Chaos Emerald | Cover-F | Cover-P | Cover-S | Darkness | Destroyer | E-gearG | E-gearR | E-Rider | Faster | Fastest | Gambler | Grinder | Hang-On | Heavy Bike | High Booster | Hovercraft | Legend | Light Board | Magic Carpet | Night Sky | Omnipotence | Opa Opa | Pink Rose | Power Gear | Powerful Gear | Red Rock | Rengoku | Slide Booster | Smile | Speed Balancer | Super Hang-On | Temptation | The Crazy | Trap Gear | Turbo Star | Type-J | Type-S | Type-W | Yellow Tail
English voice actors
Jason Griffith (Sonic, Jet, Shadow) | Amy Palant (Tails) | Dan Green (Knuckles, Storm) | Bella Hudson (Wave, Babylon Computer) | Lisa Ortiz (Amy) | Mike Pollock (Eggman) | Kathleen Delaney (Rouge) | Rebecca Honig (Cream) | Maddie Blaustein (E-10000G, E-10000R, Babylon Guardian) | Liza Jacqueline (Omochao) | Kaoru Morota (AiAi) | Apollo Smile (Ulala)
Japanese voice actors
Jun'ichi Kanemaru (Sonic) | Ryō Hirohashi (Tails) | Nobutoshi Canna (Knuckles) | Daisuke Kishio (Jet) | Chie Nakamura (Wave, Babylon Computer) | Kenji Nomura (Storm, Babylon Guardian) | Taeko Kawata (Amy) | Etsuko Kozakura (Omochao) | Kaoru Morota (AiAi) | Apollo Smile (Ulala)
Music
Songs
"Catch Me If You Can" | "Sonic Speed Riders"
Albums
Speedbeats Grand Prix: Sonic Riders Original Soundtrack
Other
Air Tank | Babylon Garden | Babylon Rogues' ship | Babylonians | Bashōsen | Chaos Control | Chaos Emerald | Eggman Empire | Emerald Detector | EX World Grand Prix | Flight Type | Freeze | Key to Babylon Garden | Loop | Mission Mode | Power Type | Rank | Robotnik Corp. | Shop | Speed Type | Time Attack
---
Main article | Scripts (Heroes, Babylon) | Staff | Glitches | Beta elements | Gallery
Playable characters
Sonic (Super Sonic) | Tails | Knuckles | Amy | Jet | Wave | Storm | Dr. Eggman | Cream | Rouge | Shadow | Silver | Blaze | SCR-GP | Amigo | NiGHTS | Billy Hatcher | SCR-HD
Non-playable characters
Master Core: ABIS
Courses/Fields
Heroes
Megalo Station | Botanical Kingdom | MeteorTech Premises | Aquatic Capital | Gigan Rocks | Crimson Crater | Astral Babylon | '80s Boulevard
Babylon
Gigan Device | Nightside Rush | Snowy Kingdom | MeteorTech Sparkworks | Tempest Waterway | Security Corridor | Mobius Strip | '90s Boulevard
Survival Battle
Gravity Pit | Labyrinth | Square Quartet
Survival Ball
MeteorTech Arsenal | Botanical Cave | Megalo Junction
Moves/
techniques
Air Ride | Attacks | Gravity Control | Gravity Dive | Grinding | Meteor Burst | Slide Turn | Super Sonic Boost | Trick
Gimmicks and obstacles
Barricade | Car | Catapult | Crusher | Dash Panel | Dash Ring | Grind Rail | Trick Zone | Wall Route | Wide spring
Items
General
Gravity Ring | Item Box (Attack, Colorball, Explosion, GP Boost, High Speed, Magnetic Barrier,

Missile

, Parts Lock, Rings, Shield, Speed Down) | Ring | Time item
Gear Parts
Air Ride | Angel/Devil | Attack Time UP | Auto Wall-Run | Base Stats UP | BGM Change | Bike | Durability UP | GC Boost UP | Ghost | GP Gain UP | GP Gauge UP | GP Usage UP | Grind | Item Rank +1 | Magnetic Barrier | Max Speed UP | Parts Lock | Ring Cap UP | Starting Speed UP | Status Trap | Tank | Throttle | Trick Rank +1 | Vision Trap | Wheel | Yacht
Extreme Gear
Board
Airship | Beginner | Black Shot | Blue Star | Chaos Emerald | Faster | Fastest | Flame Lance | Gambler | GC Booster | GC Master | GP Accumulator | G Shot | Hyperdrive | Legend | Light Board | Mag | Night Sky | Omnitempus | Pink Rose | Power Egg | Psychic Wave | Rainbow | Red Rock | Rhythm Machine | Road Star | Skill Booster | Shooting Star | Smile | Temptation | The Crazy | Throttle | Turbo Star | Type-J | Type-S | Type-W | Untouchable | Wheel Custom | Wind Star | Yellow Tail
Skate
Advantage S | Cover S | Rail Linker | Shinobi | Wanted
Bike
Advantage P | Cover P | E-Rider | Hang-On | Master Off-Road | Reserve Tank
Air Ride
Advantage F | Cover F | Angel • Devil | Kunoichi
Yacht
Bingo Star | Magic Broom | Wind Catcher
Wheel
Big Bang | GP Tank | Money Crisis
Music
Songs
"Catch Me If You Can" | "Un-Gravitify"
Albums
Zero Gravity Tracks: Sonic Riders Shooting Star Story Original Soundtrack
English voice actors
Jason Griffith (Sonic, Jet, Shadow) | Amy Palant (Tails) | Dan Green (Knuckles, Storm) | Bella Hudson (Wave, Mother computer) | Lisa Ortiz (Amy) | Mike Pollock (Eggman) | Kathleen Delaney (Rouge) | Pete Capella (Silver) | Rebecca Honig (Cream) | Andrew Paull (SCR-HD, SCR-GP, Master Core: ABIS)
Japanese voice actors
Jun'ichi Kanemaru (Sonic) | Ryō Hirohashi (Tails) | Nobutoshi Canna (Knuckles) | Daisuke Kishio (Jet) | Chie Nakamura (Wave, Mother computer) | Kenji Nomura (Storm, SCR-HD, SCR-GP, Master Core: ABIS) | Taeko Kawata (Amy) | Kōji Yusa (Shadow) | Rumi Ochiai (Rouge) | Daisuke Ono (Silver) | Nao Takamori (Blaze)
Other
Ark of the Cosmos | Babylon Garden | Babylon Rogues' ship | Babylonians | Bashōsen | Black Market | Crimson Tower | Eggman Empire | Gravity Band | Gravity Point | Havok | Loop | Monopole | Mother computer | Slipstream | Rank | Time Attack | World Grand Prix
---
Main article | Scripts (Introduction, Team Heroes, Team Babylon, Team Dark, Team Rose, Final Race) | Staff | Gallery
Playable
characters
Team Heroes
Sonic (Super Sonic) | Tails | Knuckles
Team Babylon
Jet | Wave | Storm
Team Dark
Shadow | Rouge | E-10000B
Team Rose
Amy | Cream | Vector
Misc.
Blaze | Dr. Eggman | E-10000G | Silver | Metal Sonic | Xbox Live Avatar
Non-playable characters
E-10000 A | E-10000 C | E-10000 N | E-10000 O | E-10000 S | E-10000 P | E-10000 Y | Omochao
Courses
Dolphin Resort | Rocky Ridge | Frozen Forest | Metropolis Speedway | Magma Rift | Forgotten Tomb | Final Factory | Metal City
Moves/Techniques
Air Ride | Attacks | Grinding | Kick Dash | Super Sonic Boost | Trick Action
Gimmicks and obstacles
Barricade | Bobsled | Car | Catapult | Dash Ring | Grind Rail | Minecart

Items

General
Air | Item Box (Air, Bowling Strike, Free Throw, Octo-Boost, Octo-Ink, Question, Ring Can, Rings, Special Item, Soda Rocket, Target Torpedo, Tee Shot) | Ring
Gear Parts
Air Plus | Air Ride Skill | Air Saver | Big Air | Cornering UP | Durability UP | Extra Air | Grind Skill | Invisible | Item Lock: Air | Item Lock: Rings | Max Speed UP | Music Change 1 | Music Change 2 | Power Skill | Rapid Dash | Rapid Stream | Ring Eater | Start Speed UP | Trick Boost
Extreme Gears
Angel • Devil | Auto-Slider | Avatar-F | Avatar-M | Beginner | Black Shot | Blue Star | Chaos Emeralds | E-Gear | E-Rider | Explosion | Fastest | Flame Lance | Fortress | Gambler | Hang-On | Hard-Boiled | High Booster | Legend | Metal Star | Omnitempus | Pink Rose | Potential | Professional | Psychic Wave | Red Rock | Reserve Tank | Smile | Steel | Super Hang-On | Temptation | The Crazy | Turbo Star | Type-J | Type-S | Type-W | Wanted | Yellow Tail
English voice actors
Roger Craig Smith (Sonic) | Mike Pollock (Eggman) | Kate Higgins (Tails, Wave) | Travis Willingham (Knuckles, Storm) | Mike Mycheck (Jet) | Kirk Thornton (Shadow) | Karen Strassman (Rouge) | Wally Wingert (E-10000B, E-10000G) | Cindy Robinson (Amy) | Michelle Ruff (Cream) | Keith Silverstein (Vector) | Quinton Flynn (Silver) | Laura Bailey (Blaze, Omochao)
Japanese voice actors
Jun'ichi Kanemaru (Sonic) | Ryō Hirohashi (Tails) | Nobutoshi Canna (Knuckles) | Daisuke Kishio (Jet) | Chie Nakamura (Wave) | Kenji Nomura (Storm) | Kōji Yusa (Shadow) | Rumi Ochiai (Rouge) | Taeko Kawata (Amy) | Sayaka Aoki (Cream) | Etsuko Kozakura (Omochao) | Kenta Miyake (Vector) | Daisuke Ono (Silver) | Nao Takamori (Blaze)

Music

Songs
"Free" | "Theme of Dolphin Resort" | "Theme of Rocky Ridge" | "Theme of Metropolis Speedway"
Albums
Break Free: Sonic Free Riders Original Soundtrack

Other

Air Gauge | Relay Race | Rank | Time Attack | World Grand Prix
---
Main article | Glitches | Events | Gallery
Playable characters
Common
Amy | Charmy | Classic Sonic | Knuckles | Omega | Silver | Sonic | Tails
Rare
Blaze | Cream | Espio | Jet | Rouge | Storm | Vector | Tangle | Wave | Whisper
Super Rare
Big | Chaos | Eggman | Gamma | Metal Sonic | Shadow | Tikal | Zavok | Zazz | Zeena
Special
All-Star Amy | Baby Sonic | DJ Vector | Elf Classic Sonic | Elite Agent Rouge | Excalibur Sonic | Ice Slicer Jet | Jingle Belle Amy | Lantern Silver | Linebacker Omega | Longclaw | Lucky Whisper | Lunar Blaze | Movie Sonic | Movie Super Sonic | Movie Tails | Nutcracker Silver | Paladin Amy | Punk Zazz | Quarterback Zavok | Reaper Metal Sonic | Santa Big | Sir Gawain | Sir Lancelot | Sir Percival | Slugger Sonic | Spring Cream | Super Sonic | Tidal Wave | Treasure Hunter Knuckles | Tropical Storm | Unicorn Cream | Vampire Shadow | Werehog | Witch Rouge
Challenger
Infinite | Movie Knuckles
Non-playable characters
Cheese | Froggy | Wisp (Black, Blue, Crimson, Cyan, Gray, Ivory, Magenta, Pink, Red, White, Yellow)
Tracks
Green Hill
Pyramid Valley | Corkscrew Canyon | Parched Palms
Sky Sanctuary
Temple Gate | Celestial Skyway | Pinnacle Peaks | Ancient Isles | Spiral Heights
City
Sunset Bridge | Splash Highway | Viaduct Valley | Red Gate Bay
Mystic Jungle
Lambent Grove | Electric Arbor | Dash Vegas | Glowing Grotto
Golden Bay
Street Retreat | Suburban Speedway | High Hill Park
Planet Wisp
Mining Mayhem | Mining Mayhem R
Emerald City
Downtown Dash | Emerald Market Blitz | Big City Sprint
Removed
Sandy Hills | Desert Falls | Parched Palms R | Pyramid Valley R | Celestial Skyway R | Temple Gate R | Red Gate Ruins | Red Gate Bay R | Splash Highway R | Tangled Tunnels
Enemies
Aero-Chaser | Badnik (Paramount) | Buzz Bomber | Egg Pawn
Moves/Techniques
Grinding | Grind Step | Slide | Spin Attack | Spin Jump
Gimmicks and obstacles
Conveyor Belt | Dash Panel | Grind Rail | Spikes
Items
Chest | Item Box (Audio Assault, Balkiry, Bashosen, Bass Boost, Bat Bomb, Beat Boost, Blazing Aura, Blizzard Bomb, Booby Trap, Brutal Barrier, Brutal Blitz, Bubble Bomb, Bunny Boost, Captive Light, Chao Attack, Chao Chase, Chao Guardians, Chao-nado, Chaos Charge, Chaos Slash, Chopper Chomp, Confusion Boost, Confusion Mine, Cyan Laser, Cyclone Charge, Dark Blast, Dead End, Deadly Replica, Drac-O'-Lantern, Dragon Dance, Dual Wield Dash, Electro Boost, EMP Boost, EMP Shield, Explosive Mine, Fearless Strike, Feral Dash, Festive Umbrella Boost, Fire Boost, Fire Whirl, Fireball, Firework Flurry, Flue Shot, Frozen Chopper Chomp, Gail Meteor, Gift Trapped, Gold Rush, Golden Boost, Green Hover, Harvest Time, Hedge Maze, Home Run, Honor Guard, Ice Boost, Ice Mine, Ice Wave, Invincibility, Jingle Boost, King's Judgement, Laevatein Lunge, Laser Blaster, Lava Bomb, Lightning, Lilytrap, Magical Boost, Meteor Charge, Missile Launch, Moto-Bug, Phantom Dash, Pink Spikes, Power Sneakers, Psychic Surprise, Pyro-Mine, Rainbow Blast, Reality Warp, Ring Portal, Rocket Boost, Rocky Road, Savage Throw, Shield, Soul Surge, Spear Trap, Star Trail, Steal, Storm Cloud, Strike Out, Super Sonic Form, Tail Spring, Tail Strike, Tornado, Trap Shot, Twin-Tail Boost, Umbrella Boost, Whirlwind, Wind Boost, Wipeout, Wrench Rush, Zap Trap) | Phantom Ruby prototype | Red Star Ring | Ring | Trophy
Other
Air Shoes | Arondight | Chaos Emerald | Chaos Spear | Corkscrew | Eggmobile | Excalibur | Extreme Gear (Type-J, Type-S, Type-W) | Flamberge | Galatine | Hover | Jet Booster | Laevatein | Loop | Phantom Ruby | Ring (Paramount) | Sonic's shoes | Super Sonic Boost | Variable Wispon