Excalibur Sonic[2] (エクスカリバーソニック, Ekusukaribā Sonikku?), also formatted Excalibur-Sonic,[1] is a transformation that appears in the Sonic the Hedgehog series. It is the form Sonic the Hedgehog can achieve with the magic of the four sacred swords, Caliburn included. During his battle with the Dark Queen, Sonic achieved this form with the aid of the Knights of the Round Table while Caliburn became Excalibur, thus giving the duo the strength needed to defeat the Dark Queen and save the world of Camelot.
Appearance
Unlike most of Sonic's other normal transformations, Sonic himself does not undergo any physical change. Instead, he dons a shining golden armor with silver accents. This armor covers his entire body (except for his tail) and is highly detailed. Noticeably, his feet armor resemble Sonic's shoes, but with upturned and pointy toes, and sharp cuffs on each side. He also gets sharp kneepads, pelvis plates, small shoulder guards, and wrist cuffs with a sharp end on each of them and a red gem embedded in them. His helmet possesses a visor with silver accents, a red gem on the forehead and wing-like ornaments on the visor joints. The armor also covers Sonic's quills and are flexible due to their multiple plates. Lastly, the armor is decorated with medieval lines in various places, and a red cape runs down the back of the armor.
Game appearances
Sonic and the Black Knight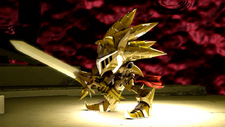 In Sonic and the Black Knight, when Sonic proclaimed his intend to defeat the Dark Queen despite having Caliburn cut in half and being outmatched against the dark wizard, his resolve awoke the long-lost light of the sacred sword. The Knights of the Round Table proceeded to send their sacred swords to Sonic, and together, their power transformed Sonic into Excalibur Sonic and restored Caliburn as his ultimate form: Excalibur. Together, Excalibur Sonic engaged the Dark Queen with Excalibur in hand. In response, the Dark Queen assumed a giant spectral form of the late King Arthur. However, even that was not enough to stop Excalibur Sonic, who ended the fight by piercing the Dark Queen's spectral form with Excalibur. With the Dark Queen reverted back to Merlina, Excalibur Sonic let his form go as well.
In this game, Excalibur Sonic is only playable during the "Defeat the Boss: The Dark Queen" Mission in Dark Hollow. When beginning the fight, Excalibur Sonic will have one hundred Rings in his possession. However, the player cannot pick up Rings throughout the Mission. In exchange, Sonic can maintain this form without sustainment from the Rings in his possession, and his Ring count will not be decreasing over time like Super Sonic's.
In gameplay, Excalibur Sonic takes damage like he would normally during any other Mission, meaning that the player will lose Rings each time Excalibur Sonic takes a hit. If Excalibur Sonic takes a hit without any Rings on him, the player will have to start the Mission over. In return, Excalibur Sonic will only lose twenty Rings for each instance of damage. Also, he can perform dodges by rolling to the left or right when pressing

/

respectively. In addition, while Excalibur Sonic can perform sword slashes by swinging the Wii Remote, the only attack in his arsenal that can damage the Dark Queen is Excalibur Sonic's Soul Surge, which can be charged up by countering the Dark Queen's sword strikes.
Mario & Sonic at the London 2012 Olympic Games
In the Wii version of Mario & Sonic at the London 2012 Olympic Games, Excalibur Sonic is mentioned as a part of one of the questions in Shy Guy's quiz minigames during London Party.
Sonic Dash
In Sonic Dash, Excalibur Sonic appears as one of the playable characters. In this game, he can be unlocked after participating in his event or in the "Storybook Sprints!" event.
Image
Unlocking Requirement
Upgrade Profile
Power-Up
Highest level

Collect 500 Excalibur Sonic tokens
(23 November 2020 - 30 November 2020)

Collect 250 Excalibur Sonic tokens
(12 November 2021 - 15 November 2021)

Collect 4 legendary items
(24 November 2021 - 8 December 2021)
(Day 1 reward)

Dash Boost
11
x2 Multiplier
8
Magnet
11
Shield
11
Headstart
9
Sonic Forces: Speed Battle
In Sonic Forces: Speed Battle, Excalibur Sonic is one of the playable characters, who was added to the game's roster in the version 2.20.0 update. He has the following gameplay characteristics:
Image
Rarity
Stats
Items
Projectile
Boost
Trap

Special

Speed: 10/10

Acceleration: 5/10

Strength: 7/10

Soul Surge

Meteor Charge

King's Judgement
Powers and abilities
In this form, Sonic is renowned as the ultimate Knight, hinting a high level of skill and power.[1] He has increased strength, allowing him to deflect the massive sword strikes from the Dark Queen's spectral form with ease, and the ability to fly at high speed. In addition, Sonic retains his skills in swordsmanship, allowing him to parry the crushing sword strikes from the Dark Queen and deflect projectiles with just Excalibur. He also gains increased acrobatic skills and reflexes that enables him to make spinning rolls in midair to avoid attacks. Lastly, he can channel a form of magical golden energy into Excalibur that greatly increases the devastating power behind his sword thrusts.
Weapons
As Excalibur Sonic, Sonic wields Caliburn in his legendary form, Excalibur, the greatest of all the sacred swords. With it, Excalibur Sonic can cut through anything, including magical barriers, and deflect magical energy projectiles. He can also use Excalibur for his most powerful attack where he thrusts Excalibur directly through his opponent while enveloped in a golden energy meteor.
Quotes
"Argh! Dodging to the right or left's the only way."
—Excalibur Sonic attempting to dodge Dark Queen's attack, Sonic and the Black Knight
"Nah, it's not gonna end. My stories only end when I stop running!"
—Excalibur Sonic response when the Dark Queen asks him if he wants to see the Arthurian realm come to an end, Sonic and the Black Knight
"Good, 'cause I don't ever want to know such one-sided sadness."
—Excalibur Sonic's response to the Dark Queen when she proclaims her sadness about the kingdom's future, Sonic and the Black Knight
"I already told you, I don't mind playing the bad guy every once in a while."
—Excalibur Sonic reminds Merlina of his earlier statement to her, Sonic and the Black Knight
"What I can't understand is how you can call such a boring sounding place 'magnificent'."
—Excalibur Sonic's opinion about the Dark Queen's ideal kingdom, Sonic and the Black Knight
Merchandise
Jazwares made an action figure of Excalibur Sonic more than three years after Sonic and the Black Knight was released.
Trivia
Excalibur Sonic is the first transformation where Sonic does not undergo any physical transformation.
Excalibur Sonic shares his title as the "Ultimate Knight" with Sir Lancelot, who has referred to himself by that title during the second fight with him.
Notes
References
---
Main article | Script | Staff | Manuals | Glitches | Beta elements | Gallery
Playable characters
Sonic (Excalibur Sonic) | King Arthur | Blacksmith | Lancelot | Gawain | Percival | Galahad* | Lamorak* | Shadow* | Knuckles* | Blaze* | Amy*
Non-playable characters
Caliburn (Excalibur) | Merlina (Dark Queen) | King Arthur's horse | Nimue | Merlin | King Uther Pendragon | Lady Igraine | Sir Ector | Townsperson | Troll
Areas
Grand Kingdom
Camelot Castle | Shrouded Forest | Knight's Passage | Deep Woods | Dark Hollow
Outlands
Misty Lake | Molten Mine | The Cauldron
Highlands
Titanic Plain | Crystal Cave | Great Megalith | Dragon's Lair
Avalon
Faraway Avalon
Enemies
Crawling-One | Eyeball-One | Fish-One (Red, Blue, Yellow, Purple, White) | Flapper | Giant-One | Soldier-One (Sword, Spear, Axe, Crossbow)
Bosses
Mist Dragon | King Arthur | Lancelot | Gawain | Percival | Earth Dragon | Dark Queen
Moves/
Techniques
Basic
Guard | Homing Dash | Jump Dash | Lock-on
Special
Back Step | Crouch | Grind Step | Grinding | Wall Climb | Wall Shuffle | Wall Slide
Soul Surges
Arthur's Soul Surge | Blacksmith's Soul Surge* | Chaos Punishment | Excalibur Sonic's Soul Surge | Flame Purgation | Sir Galahad's Soul Surge* | Rose Typhoon* | Sonic's Soul Surge | Wild Meteor
Gimmicks and obstacles
Bat | Bottomless pit | Breakable Block | Butterfly | Corner Pole | Dash Panel | Explosion Trap | Giant spear | Goal Plate | Grind Rail | Horse-Drawn Wagon | Iron ball | Jump Panel | Log | Minecart | Mushroom | Mystery Circle | Slime | Spikes | Spring | Thunder dragon | Wide spring
Items
Apple | Black onyx | Fairy | Goal Ring | Rich Ring | Ring | Ring Container | Treasure chest | Will 'o Wisps
Treasury
Weapons
Steel Longsword | Cursed Longsword | Rusty Longsword | Bronze Longsword | Katana | Cursed Dagger | Rusty Dagger | Bronze Dagger | Steel Dagger | Cursed Rapier | Rusty Rapier | Bronze Rapier | Steel Rapier | Cursed Spear | Rusty Spear | Bronze Spear | Steel Spear | Cursed Axe | Rusty Axe | Bronze Axe | Steel Axe
Armor
Steel Gauntlet | Cursed Gauntlet | Rusty Gauntlet | Bronze Gauntlet | Cursed Helmet | Rusty Helmet | Bronze Helmet | Steel Helmet | Samurai Helmet
Necklaces
String of Pearls | Mermaid's Tear | Pendant of Eons | Chain Bracelet | Thorn Anklet | Flower Amulet | Wooden Belt | Bright Red Ribbon | Expensive Broach | Rabbit's Tail | Poison Broach | Stone Broach | Ice Broach | Cure-all Broach
Medicines
Healing Potion | Healing Draught | Antidote | Superior Antidote | Paralysis Cure | Paralysis Immunity | Stone Protection | Petrification Immunity | Vial of Calm | Philter of Tranquility | Fiery Quaff | Hot Fiery Quaff | Herb of Toughness | Herb of Strength
Books
Arthur's Legend 1 | Arthur's Legend 2 | Arthur's Legend 3 | Arthur's Legend 4 | Arthur's Legend 5 | Tome of Arms | Tome of Armor | Tome of Medicines | Tome of Amulets | Tome of Games | Tome of Jewels | Tome of Minerals | Tome of Plants | Tome of Feasts | Tome of Rings | Encyclopedia Arcana
Rings
Yellow Ring | Green Ring | Red Ring | Blue Ring | Aqua Ring | White Ring | Purple Ring | Poison Ring | Doughnut | Onion Ring
Plants
Carnation | Violet | Daffodil | Sweetpea | Lily | Rose | Larkspur | Gladiolus | Morning Glory | Marigold | Daisy | Narcissus | Herb
Gem stones
Garnet | Amethyst | Aquamarine | Diamond | Emerald | Moonstone | Ruby | Peridot | Sapphire | Opal | Topaz | Turquoise
Toys
Pawn | Rook | King | Queen | Bishop | Knight | Ace of Spades | Ace of Clubs | Ace of Hearts | Ace of Diamonds | Joker | Medal of Sonic | Medal of Gawain | Medal of Lancelot | Medal of Percival | Dart | Dartboard | Die | Big the Cat Mask | Building Block | Fishing Pole | Doll
Minerals
Stone | Lump of Iron | Lump of Bronze | Aluminum Ore | Skipping Stone | Rock Salt | Beautiful Crystal | Ice Crystal | Lava Jewel | Flintstone | Mintstone | Gold Ingot | Quasi-Magic Stone | Mithril | Hardtack | Burnt Bread | Moonrock | Wavestone | Dragon-Eye Stone | Orichalcum
Foods
Moist Cookie | Tart | Fresh Milk | Spongy Bread | Aromatic Tea | Chilidog | Herb of Calm | Lollipop | Ham
Special items
Flag | Ballista Arrowhead | Raven's Feather | Mouse Tail | Oar | Lantern | Broken Trap | Egg | Cheese | Magical Moth Dust | Plant Thorn | Giant Flower Seed | Troll's Eyelash | Broken Lock | Rabbit Fur | Lizard Tail | Prison Key | Iron Shackle | Highland Mushroom | Silk Clothing | Silk Shoe | Dragon Scale | Dragon Claw | Dragon's Fang | Shovel | Pickaxe | Wheelbarrow | Bat's Fang | Broken Brick | Soft-Boiled Egg | Lithograph | Letter
Swords
Clarent | Arondight | Rubious | Morglay | Gastiga | Secace | Altachiara | Durendal | Aduro Cutlass | Aduro Khopesh | Precieuse | Espadon | Ddraig Goch | Galatine | Battleaxe | Labrys | Hauteclaire | Gringolet | Balmung | Sanglamore | Chrysaor | Almace | Caledfwlch | Flaming Kopis | Flamberge | Laevatein | Corrougue | Colada | Ktuga | Brinnig | Solais Rapier | Claiomh Solais | Fragarach | Curtana | Ignis Fleuret | Glorious | Joyeuse
Misc.
Mastery Star | Music Notes | Map | Knight's Banner | Painting | Emblem Component | Skill Scroll | Knight's Seal | Deadly Swordsman | Windblade | Destroyer | Quickblade | Blade without Equal | Despised One | Chicken | Weakling | Coward | Ruffian
English voice actors
Jason Griffith (Sonic, Lancelot, Shadow, Lamorak) | Casey Robertson (Caliburn) | Melissa Hutchison (Merlina) | Gavin Hammon (Arthur) | Amy Palant (Blacksmith) | Lisa Ortiz (Nimue, Amy) | Dan Green (Gawain, Knuckles) | Bella Hudson (Percival, Blaze) | Pete Capella (Galahad)
Japanese voice actors
Jun'ichi Kanemaru (Sonic) | Hiroaki Hirata (Caliburn) | Mamiko Noto (Merlina) | Hidekatsu Shibata (Arthur) | Ryō Hirohashi (Blacksmith) | Taeko Kawata (Amy, Nimue) | Kouji Yusa (Lancelot, Shadow) | Nobutoshi Canna (Gawain, Knuckles) | Nao Takamori (Percival, Blaze) | Daisuke Ono (Galahad) | Daisuke Kishio (Lamorak)
Music
Songs
"Knight of the Wind" | "With Me" | "Fight the Knight" | "Through the Fire" | "Live Life" | "Seven Rings In Hand"
Albums
Tales of Knighthood: Sonic and the Black Knight Original Soundtrax | Face to Faith: Sonic and the Black Knight Vocal Trax
Other
Acts of Chivalry | Barrier stone | Battle Mode | Cavalier Style | Chaos Blast | Chaos Control | Chaos Spear | Diehard Challenge | Dragon | Drifting | Followers | Freeze | Hit | King Arthur and the Knights of the Round Table | Knight Style | Knight's Honor Bonus | Knights of the Round Table | Knights of the Underworld | Legacy Mission | Paladin Style | Rank | Real-Time Interaction | Reflecting pool | Sacred sword | Scabbard of Excalibur | Skill | Sonic Knight In Training | Sonic and the Black Knight (manga) | Soul Gauge | Soul Gauge energy | Title | Underworld | World of Camelot

* Appears only in Battle Mode.