This object exists primarily within the Sonic Boom continuity.

Information in this article may not be canonical to the storyline of the games or any other Sonic continuity.
The Enerbeam (エナービーム, Enābīmu?) is an object that appears in the Sonic Boom series. It is an energy tether that can be used to pull and latch onto objects for either combat, puzzle solving, or exploration.
Concept and creation
In an interview with Bob Rafei of Big Red Button Entertainment, it is implied that the Enerbeam tether idea came from the Ring Power gimmick featured in Knuckles' Chaotix.[1]
Description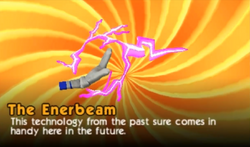 The Enerbeam, as its name implies, is a tether made of several energy bolts intertwined to form a solid whip. The Enerbeams are produced from a specific device on the user's wrist and can extend and contract when necessary. As a tool, the Enerbeam can latch onto targets to pull them in, lasso enemies, or let the user swing from point to point. Alternatively, it can be used as a make-shift rope. This makes the Enerbeam a versatile tool for both navigation and combat.
The Enerbeam's color tends to match its user's primary color scheme. In Sonic Boom: Rise of Lyric they are colored according to the characters: Sonic's Enerbeam is blue, Tails' is yellow, Amy's is pink and Knuckles' is red. In Sonic Boom: Shattered Crystal though, all the Enerbeams are purple. In the television series, the Enerbeams take on their color from Sonic Boom: Rise of Lyric, except that Sticks' is changed to lime green. In Sonic Dash 2: Sonic Boom, Shadow's Enerbeam is yellow.
History
Games
Sonic Boom: Rise of Lyric
In Sonic Boom: Rise of Lyric, when Lyric was imprisoned, he was given four Enerbeam tethers created by the Ancients to shackle him in his tomb.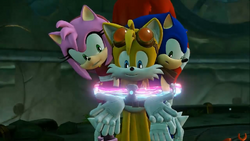 When Team Sonic accidentally reawakened Lyric a millennium later, Lyric used the tethers to bind Team Sonic while he escaped. Tails managed to free the heroes though and recalibrated them into tools that Team Sonic used during their mission to stop Lyric. During the final battle, Lyric used his technopathy to make the Enerbeams trap Team Sonic again, though his subsequent attempt to kill the team failed thanks to Dr. Eggman. In the aftermath, Tails created the Communicators for his team by replicating their Enerbeam devices.[2]
Sonic Boom: Shattered Crystal
In Sonic Boom: Shattered Crystal, the Enerbeams are Ancient technology that are implied to have been discovered by Amy and Tails while they investigated some ruins.[3] These Enerbeams were given to Sonic, Knuckles and Sticks, who used them to rescue Amy from Lyric.
Sonic Boom: Fire & Ice
In Sonic Boom: Fire & Ice, the Enerbeams were used extensively by Team Sonic during their mission to restore balance to the environment. Somehow, Eggman had also gotten his hands on the Enerbeam technology which he armed his EggBot Racers with.
TV series
Season one
Having obtained the Enerbeam, Tails originally incorporated the device into his attire, allowing him to activate it with his belt buckle and channel its tether through his gloves.[4]
The Enerbeam would be deployed scarcely. While battling Burnbot for the first time, Tails used his Enerbeam to help Sonic pull off the Speeding Swing Surprise maneuver on Burnbot.[4] Later, Tails used his Enerbeam to snatch the remote control Dr. Eggman was using to control Scrapheap Bot, which he used to stop the robot.[5] When later finding Obliterator Bot on a rampage, Tails used his Enerbeam to throw Sonic at Obliterator Bot, destroying it.[6]
When Tails' crush Zooey was caught by Giant Robot, Tails used his Enerbeam to save Zooey from harm.[7] On another occasion, all of Team Sonic would use their own Enerbeams to ride Tails' Plane into battle with Obliterator Bot.[8]
Season two
Sonic would use his own Enerbeam to tie up Obliterator Bot when saving Tommy Thunder.[9] He later used his Enerbeam again for a combat move with Knuckles, although it unintentionally lead to Knuckles ramming into a rock and getting amnesia.[10] Having re-modified his attire so it could work in tandem with his Communicator to create the Enerbeam as well, Tails would use his updated tool to tie up some Scorpion Bots and Mega Bot on separate occasions.[11][12] When a manifested Ms. Tomatopotamus then ran about, Tails tried in vain to capture her with his Enerbeam.[13] Needing later a lift to Morristown, Amy used her Enerbeam to hitch a ride on FriendBot with Sticks. On the very same day, Tails used his Enerbeam to tie up Moth Bot.[14] Tails soon after rescued a police officer with his Enerbeam when the officer was about to fall into a lava river.[15]
When intercepting Cubot in the sky to stop the Anti Gravity Ray he was using to pull villagers into space, Sonic used his Enerbeam in conjunction with Tails' Plane to reach Cubot and reverse his Anti Gravity Ray. He then used the Enerbean to return to Tails' Plane.[16] Sonic and Tails soon after used their Enerbeams to hold onto Knuckles' monster truck while they got pulled around on their Hoverboards. Tails would later use his Enerbeam to battle some Badniks. Afterward, the boys used their Enerbeams for their monster truck stunt again.[17] Getting tricked by Eggman later on, Tails used his Enerbeam to battle Eggman's Badniks when he went to confront the doctor.[18] Some time after, while battling Metal Sonic, Sonic, Tails and Knuckles used their Enerbeams to tie up the robot, thus allowing Sticks to deal the final blow.[19]
Archie Comics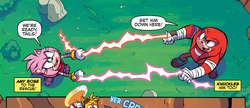 The Enerbeam was first seen deployed by Team Sonic for a failed offensive maneuver against the Big Boy.[20] Amy and Knuckles later used their Enerbeams to form a safety net for Sonic when he fell off the road during the Go-kart Pan-island Grand Prix.[21]
Gameplay
Sonic Boom: Rise of Lyric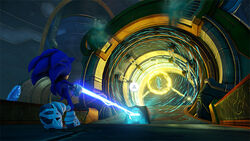 In Sonic Boom: Rise of Lyric, the Enerbeam are first obtained at the end of Lyric's Tomb. For exploration, they can be used to move and/or activate objects marked with illuminated handles by latching onto them with the Enerbeam and then pulling them in. They can also be used to ride Ener-Rails and Zip Targets. In combat, they can lasso lesser enemies. Enemies caught by the Enerbeam will be drawn towards the player for some time before finally summitting to the playable character's pull. The character will then start swinging the enemy overhead and be able to throw them away at any time. However, the Enerbeam cannot latch onto larger enemie. Instead, it can lank them and trigger their destruction when they are stunned. The Enerbeam can also pull away shields wielded by Blaster Guards, Swordsman Guards and Gunslinger Guards. If the playable character takes damage while trying to pull in an enemy with the Enerbeam however, they will let go of their captured target. The damage dealt with the Enerbeam can also be increased with the Fastball Special Power Glyph.
To use the Enerbeam to pull objects, the player must press

near a glowing handle and move the left stick. To lasso enemies, the player must press and hold

to grab them, aim with the left stick and release

to throw them.
Sonic Boom: Shattered Crystal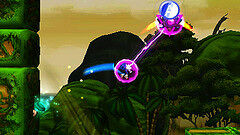 In Sonic Boom: Shattered Crystal, every playable character and rival can use the Enerbeam from the start of the game. However, they do not have different colors, and are instead all purple. The Enerbeam is mainly used to swing on Enerbeam Swings gimmicks to traverse sections over gps and cover long distances between plaforms, ride Ener-Rails, or remove energy shields from enemies. It can also destroy weak obstacles from afar. Enerbeams are also used when utilizing the Slingshot when traveling between islands or moving between the foreground and background in an adventure leve. With the "Mega Grapple" upgrade unlocked, the player can also instantly destroy enemies when ripping off their energy shields. To swipe out the Enerbeam in gameplay, the player has to press

.
Sonic Dash 2: Sonic Boom
In Sonic Dash 2: Sonic Boom, the Enerbeam is usable to all playable characters in the game. In gameplay, the Enerbeam will be activated whenever the player touches the "Enerbeam" powerup during a run. These powerups are presented as glass capsules with a red cap on the top and bottom and Sonic's Communicator on the inside.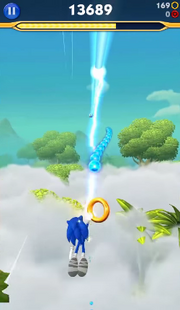 Upon its activation, the player is pulled up onto an Ener-Rail, along which Rings, Orbs, and Hoops may be found. The player can also tilt the mobile device left and right to sheer the characters while using the Enerbeam. After a certain about of time though, the characters will drop down again, although collecting Rings or equipping special Sprites can extend the duration of the Enerbeam.
Sonic Boom: Fire & Ice
In Sonic Boom: Fire & Ice, the Enerbeam works just like in Sonic Boom: Shattered Crystal and is useable to every playable character and Bot Racer from the start of the game. The Enerbeam's appearance also changes to being covered in either fire or ice, depending on whether the user is in Fire Mode or Ice Mode.
In gameplay, Enerbeams are used primarily to utilize Enerbeam Swings and ride Ener-Rails. When using the Enerbeam in gameplay, the player has to press

to swipe it out.
Trivia
In early demos of Sonic Boom: Rise of Lyric, the Enerbeam's name was stylized as "EnerBeam."
Bill Freiberger has stated that the reason the Enerbeam has not appeared too often in the Sonic Boom television series is because that, while it is good for gameplay, it is not very useful in a comedy show.[22]
References
↑ Symbotic (3 March 2014). GameZone interviews Bob Rafei, CEO of Big Red Button.
↑ Steven Frost on Twitter. Twitter (18 December 2015). Retrieved on 19 December 2015. "Alexander Soerensen: In Sonic Boom: Rise of Lyric, was Team Sonic's wrist communicators made from the Enerbeam bracelets? / Steven Frost: General idea was that Tails replicated the Enerbeam bracelets but made them into things that were even more useful."
↑ Sanzaru Games (21 November 2014). Sonic Boom: Shattered Crystal. Nintendo 3DS. Sega. Area/level: Seaside Coast. "Tails: Give me ten minutes and I'll tell you what she had for breakfast last September! I've been itching to experiment with this Ancients tech we glommed from those ruins Amy's been digging in."
↑ 4.0 4.1 Banker, Mark; Lieblich, Doug (8 November 2014). "The Sidekick". Sonic Boom. Season 1. Episode 1. Cartoon Network.
↑ Denton, Alan; Hahn, Greg (21 March 2015). "Dr. Eggman's Tomato Sauce". Sonic Boom. Season 1. Episode 18. Cartoon Network.
↑ Freiberger, Sam (21 July 2015). "Eggman the Auteur". Sonic Boom. Season 1. Episode 33. Cartoon Network.
↑ Harrison, Reid (22 August 2015). "Tails' Crush". Sonic Boom. Season 1. Episode 40. Cartoon Network.
↑ Harisson, Reid (24 October 2015). "Role Models". Sonic Boom. Season 1. Episode 49. Cartoon Network.
↑ Denton, Alan; Hahn, Greg (29 October 2016). "Tommy Thunder: Method Actor". Sonic Boom. Season 2. Episode 53. Cartoon Network.
↑ Raut-Sieuzac, Natalys (28 January 2017). "Knuck Knuck! Who's Here?". Sonic Boom. Season 2. Episode 64. Boomerang.
↑ Flynn, Ian (18 February 2017). "Og Man Out". Sonic Boom. Season 2. Episode 67. Boomerang.
↑ Robinson, Cindy (25 March 2017). "Give Bees A Chance". Sonic Boom. Season 2. Episode 72. Boomerang.
↑ Raut-Siezac, Natalys (15 April 2017). "Nominatus Rising". Sonic Boom. Season 2. Episode 75. Boomerang.
↑ Denton, Alan; Hahn, Greg; Freiberger, Bill (27 May 2017). "Robots From The Sky Part 4". Sonic Boom. Season 2. Episode 81. Boomerang.
↑ Denton, Alan; Hahn, Greg (17 June 2017). "Planes, Trains and Dude-Mobiles". Sonic Boom. Season 2. Episode 84. Boomerang.
↑ Beardmore, Marie (29 July 2017). "Eggman's Anti Gravity Ray". Sonic Boom. Season 2. Episode 90. Boomerang.
↑ Stanley, Evan (12 August 2017). "Three Men And My Baby!". Sonic Boom. Season 2. Episode 92. Boomerang.
↑ Gralewski, Françoise (7 October 2017). "Lair On Lockdown". Sonic Boom. Season 2. Episode 98. Boomerang.
↑ Raut-Sieuzac, Natalys (11 November 2017). "Eggman: The Video Game Part 2: The End of the World". Sonic Boom. Season 2. Episode 104. Boomerang.
↑ Sonic Boom #4, "Sticks and Stones"
↑ Sonic Boom #7, "Everybody's Super Sonic Racing Part 2"
↑ Bill Freiberger on Twitter. Twitter (21 March 2015). Retrieved on 26 March 2015. "Elliot Matteson: 1) Tails loving a piece of Ancients tech seems hazardous for his health. 2) Why is Tails the only one using the enerbeam? / Bill Freiberger: 2) Enerbeam is good for game play but isn't as useful in a comedy show. But there's a "Sidekick" enerbeam callback coming soon."