Emerald Coast (エメラルドコースト[1], Emerarudokōsuto?) is the first board that appears in Sonic Shuffle.
Overview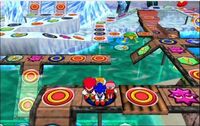 Emerald Coast is a location within Maginaryworld born from the dreams of those who enjoy peacefulness and the sun, but Void's magic is causing the tropical paradise to experience a rather unseasonal ice age with its warm islands becoming cold glaciers. Sonic and friends have to gather the Precioustones to thaw the ice and restore the paradise to its former glory.
Players can enter the water, but doing so will place a five-turn timer on them. If they stay underwater for too long without going back to the surface or passing an air bubble space, they will drown, sending them back to the surface and wasting a turn. Sea turtles act as stepping stones across water, but they cannot be crossed when they are submerged. If a player lands on a dolphin space, a flying dolphin will take them for an impromptu ride to another space somewhere on the board. Towards the end of the game, the wooden ship in the lower portion of the board takes to the sky and flies away, eliminating a valuable shortcut.
When the player lands on the Quest space, they are given eight turns to return a beached dolphin to the sea. If they make it to the sea within the allotted turns, they will complete the quest and earn an Emblem at the end of the board.
List of Mini-Games
Trivia
This is shown to be Knuckles' Dream World in the Opening.
See also
References
---
Main article | Script | Staff | Gallery
Characters
Sonic (Super Sonic) | Tails | Knuckles | Amy | Gamma | Big | Chao | Dr. Eggman* | Lumina Flowlight* | Illumina* | Void* | NiGHTS*
Boards
Emerald Coast | Fire Bird | Fourth Dimension Space | Nature Zone | Riot Train
Mini-Games
Vs 4
Egg & the Chicken | Egg in Space | Frosty Rumble | Fun Fun Sonic | Great Escape | Jump the Snake | Over the Bridge | Number Jump | Over the Rainbow | Psychic Sonic | Shadow Tag | Sonic Gun Slinger | Sonic Live | Sonic Tag | Sonic Tank | Sonicola | Stop and Go | Thor's Hammer | Tractor Beam Tag | Twister | Zero G Snap Shot
2 vs 2
Bomb Relay | Bucket-O-Rings | Shoddy Work | Sonic the Thief
1 vs 3
Bungee Jump | Eggbot's Attack! | Gargantua | Manic Maze | Sonic DJ | Sonicooking | Wrong Way Climb
Accidents
Croc-Attack | Final Frontier | Ring Lasso | Ring of Fire | Rapid Climb | Ring Tide | Sky Bridge | Sonic Parasol | Thru the Tunnel
Stage Clear
Earth Quake | Sky Diving | Sonic Surfing | Stop the Train | Void Battle
Play Order
Sonic Darts | Sonic Hi Lo | Sonic Slot
Techniques/Moves
Climbing | Froggy | Gun | Hammer Jump | Hover | Light-speed Spin Dash | Light Speed Spin Attack | Lullaby | Maximum Heat Attack | Power Throw | Propeller Flight | Rapid Spin Attack | Roller Mode | Revolving Hammer Attack | Sonic Rumble | Spin Dash
Forcejewels
1 Force March | 6 Force March | Barrier Amber | Battle Ruby | Blockite | Carbuncle | Chamelionite | Curse Opal | Deletite | Duplichaos | Fivealive | Foolmoon | Geasdain | Hi-Speederald | Hypnotite | Lose Quartz | Low Moonstone | Magnifire | Maharajite | Max-Speederald | Medium | Packlite | Preciousite | Reducite | Ringidium | Shield Quartz | Shuffire | Sonic-Speederald | Speederald | Stopnite | Swap Jewel | Teleport Ruby | Thief's Eye | Transfire | Turbo-Speederald | Warp Crystal | Warponite | Wastone
Other
Air Bubble | Card | Emblem | Magical Card | Maginaryworld | Maginaryworld Monsters | Mini-Event | Precioustone | Ring | Spaces (Arrow Space, Battle Space, Eggman Battle Space, Event Space, Jewel Shop Space, Jump Space, Minus Ring Space, No Entry Space, Plus Ring Space, Precioustone Space, Quest Space, Revolving Space, Void Preciousstone Space) | Sonic Room | Spring | Temple of Light

*Not playable
Community content is available under
CC-BY-SA
unless otherwise noted.