Eggrobo (エッグロボ, Eggurobo?), also spelled as EggRobo,[1] Egg Robo,[2] or Egg-Robo,[3] is a recurring character in the Sonic the Hedgehog series which debuted in Sonic & Knuckles. They are mass-produced Badnik models resembling their creator Dr. Eggman. In addition to being powerful soldiers on the battlefield, the Eggrobos are smart-bots designed to carry out tasks in Eggman's stead, making them a crown jewel in Eggman's attack force.[4]
Appearance
Eggrobos are fully egg-shaped humanoid Badniks, based on Dr. Eggman's likeness. Their middle torso is red with yellow downward-pointing triangles on the front while their lower torso is black with two silver buttons on the front, making their design resemble Eggman's attire from the pre-Dreamcast era. Their gray head area is clean with two small red eyes and a flat jaw fastened by yellow bolts. On their back they have two yellow and gray rockets for flight. They also have thin robotic arms and legs with round shoulders, white gloves and black shoes with white straps.
Since Sonic Generations, the Eggrobos' design became more detailed. In the same game, a different colored version of the Eggrobo appeared. These variations have complete black and gray torsos with red cape-markings and hatches on their head.
Game appearances
Sonic the Hedgehog 3 & Knuckles
In Sonic's storyline of Sonic & Knuckles and the lock-on version Sonic the Hedgehog 3 & Knuckles, Eggrobos appear as standard enemies in Sky Sanctuary Zone where they are launched from the Death Egg. In gameplay, they hover in one place and shoot lasers from their pistols. Sometimes, they also emerge from towers with Animals escaping in their wake. The player can easily defeat them with a Spin Jump.
An Eggrobo has a more prominent role in the Knuckles' storyline of Sonic & Knuckles and Sonic the Hedgehog 3 & Knuckles. Accordingly, it was sent by Dr. Eggman to eliminate Knuckles, whom Eggman had deemed a potential threat.[5] It is also implied that the Eggrobo in Knuckles' story is the same one that appeared in Sonic's imperfect ending (if the Super Emeralds are not collected), implying that this Eggrobo survived the Death Egg's destruction. This antagonistic Eggrobo appeared in the opening of Knuckles' storyline in Sonic & Knuckles and Sonic the Hedgehog 3 & Knuckles. As Knuckles relaxed in the Mushroom Hill Zone, the Eggrobo dropped a bomb near him, but only made the Animals run away. Enraged, Knuckles set off to defeat the Eggrobo.[5]
From there, the Eggrobo replaces Dr. Eggman amongst the bosses in every Zone up until the Hidden Palace Zone, excluding Flying Battery Zone.[note 1] These boss battles with the Eggrobo are more challenging and have alternate attack patterns. The Eggrobo was destroyed by Mecha Sonic in the Sky Sanctuary Zone when Knuckles escaped the Eggrobo's restraints just as Mecha Sonic charged at him, causing Mecha Sonic to destroy the Eggrobo and the Egg Mobile instead.
Sonic R
In Sonic R, the Eggrobo, renamed Eggman Robo (エッグマンロボ, Egguman Robo?) in the Japanese version, appeared as an unlockable character. It is unlocked by getting all of the five Sonic Tokens on the Regal Ruin course.
Like Metal Sonic, Tails Doll, and Metal Knuckles, the Eggrobo is the robotic counterpart for Dr. Robotnik. Like Robotnik, it can fire Homing Missiles and hover across water, albeit only for about three seconds. Though it is a bit slow and clunky, it has superior cornering ability.
Sonic Adventure 2
In the original Dreamcast version of Sonic Adventure 2, the Eggrobo could be downloaded in Eggrobo Kart Racing as a playable character to use in the Kart Racing minigame.[6] In Sonic Adventure 2: Battle and the 2012 re-release, the Eggrobo could be unlocked in the racing minigame by clearing all of Rouge the Bat's missions. However, it was not part of the game's actual story or any normal stage.
Sonic Chronicles: The Dark Brotherhood
In Sonic Chronicles: The Dark Brotherhood, a dysfunctional Eggrobo is found lying around next to a Sega Genesis and a Capsule in Metropolis.
Sonic Generations
In the PC/console version of Sonic Generations, the Eggrobos appear as enemies in Sky Sanctuary. Like in Sonic & Knuckles, they are launched from the rising Death Egg, as seen in Sky Sanctuary Act 1. Their attack pattern is relatively the same as in Sonic & Knuckles, but they do not contain any Animals.
The game introduces a darker variation of Eggrobos in Sky Sanctuary Act 2 and several Challenge Acts which missiles from their head that home in on the player, although these missiles are rather slow. A regular Eggrobo statue can also be unlocked in the Statue Room.
Sonic & All-Stars Racing Transformed
In Sonic & All-Stars Racing Transformed, Eggrobos make an appearance on the Sanctuary Falls track, which itself is based on the Sky Sanctuary Zone from Sonic & Knuckles. In this track, Eggrobos appear as both an obstacle and as a standard enemy like in their debut.
Super Smash Bros. for Nintendo 3DS
In Super Smash Bros. for Nintendo 3DS, the Eggrobos appear as common enemies in Smash Run. Unlike the original games, Eggrobos move around while in flight, and can fire their blaster at their targeted player.[7] In addition to Smash Run, it also appears as a trophy:
| Name | Picture | Description |
| --- | --- | --- |
| Egg Robo | | These robots are one of Dr. Eggman's creations from the Sonic the Hedgehog series, where they tend to hover in the air and shoot at Sonic with their laser guns. In this game, they'll deliberately keep their distance while firing both short and long beams at the fighters. Get below them to avoid their fire, and then strike! |
Sonic Mania
In Sonic Mania, and its expansion Sonic Mania Plus, Eggrobos (here written as Egg-Robos[3]) make a few appearances, although not as regular enemies. The games also introduce a group of elite Egg-Robos known as the "Hard Boiled Heavies" who are essentially Egg-Robos modified by the power of the Phantom Ruby.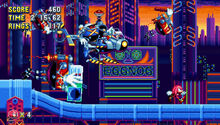 Four Egg-Robos appear during the boss battle with the Heavy Gunner in Studiopolis Zone Act 1. During the battle, they chase after the Auto Running player. One of them will hand the Heavy Gunner his bazooka, while another one pilots the Heavy Gunner's helicopter and rest of them fly around wielding batons. These Egg-Robos cannot harm the player and vise-versa. Instead, the player has to knock blue missiles back at each of them one at the time. These Egg-Robos do not release Animals after defeating them.
In Titanic Monarch Zone, Egg-Robos appear as drivers of high-speed transportation vehicles that move along rails. Hopping into these vehicles on one end of these rails will transport the playable character to the other end of the rail. However, the vehicle and the Egg-Robo will get smashed into a wall upon reaching the end, while the player gets tossed out of the vehicle without taking damage (if they have not jumped off earlier).
Powers and abilities
The Eggrobos were intended to be the strongest of Dr. Eggman's robots, including Metal Sonic and Metal Knuckles, but failed to live up to the doctor's expectations.[4] Eggman also boasts of the offensive abilities he gave them, suggesting they pack lots of firepower.[4]
All Eggrobos are capable of flight using their rockets. However, their true strength lies in their design which minimizes air resistance, allowing them to move at speeds matching even Metal Sonic's.[4] Black variations of Eggrobos introduced in Sonic Generations can also launch rockets from their heads.
Weapons
The standard Eggrobos' primary weapons are singular energy beam pistols, which they wield at all times. These pistols can shoot long-ranged neon-colored lasers.
Variants
Hard Boiled Heavies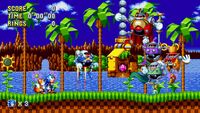 The Hard Boiled Heavies are a line of five elite Egg-Robos that handled Dr. Eggman's most dangerous missions. This group consists of the Heavy Gunner, the Heavy Shinobi, the Heavy Magician, the Heavy Rider, and the Heavy King.
Originally normal Egg-Robos, all member of the Hard Boiled Heavies got transformed into customized and distinct versions of themselves after coming into contact with the Phantom Ruby. While this transformation made them more powerful, it also granted them free will, making it harder for Eggman to control them.
In other media
Sonic the Comic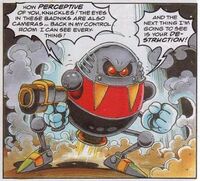 An army of EggRobos appeared in the Sonic & Knuckles adaptation from Fleetway Editions' Sonic the Comic. In this series, the EggRobos could be controlled directly by Robotnik from his control room aboard the Death Egg II. Each model had cameras fitted into its eyes, allowing Robotnik to see everything, and a voice synthesizer allowed the doctor to communicate directly via the robots.[8] EggRobos could also function as regular Badniks without Robotnik's direct control.[9][10]
Archie Comics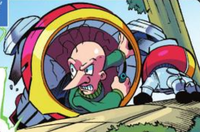 In the Sonic the Hedgehog comic series and its spin-offs published by Archie Comics, the Eggrobos were built by Snively Robotnik to be part of his own private army. They were intended to be used against Snively's uncle, Doctor Robotnik, and let him take over Mobius himself. Although Snively referred to them as "EggRobos" in their first appearance, Antoine D'Coolette called them "Eggbots," which was the name used in subsequent appearances.
Following the events of Worlds Collide, the Eggbots' history has become nearly identical to their game counterparts'.
Trivia
Notes
↑ During the boss battle of Flying Battery Zone Act 2 as Knuckles, Dr. Eggman is piloting Hang Mobile instead of Eggrobo. No reasons is known for this, but this is presumably due the lack of separated in-game sprites of Eggrobo for the vehicle.
References
---
Main articles (Sonic 3, Sonic & Knuckles, Sonic 3 & Knuckles, Sonic & Knuckles Collection) | Gallery (Sonic 3, Sonic & Knuckles, Sonic & Knuckles Collection) | Beta elements (Sonic 3, Sonic & Knuckles) | Staff (Sonic 3, Sonic & Knuckles, Sonic & Knuckles Collection) | Glitches (Sonic 3, Sonic 3 & Knuckles)
Characters
Sonic (Super Sonic, Hyper Sonic) | Tails (Super Tails) | Knuckles (Super Knuckles, Hyper Knuckles) | Dr. Robotnik | Mecha Sonic (Mecha Sonic's Super State) | Animals (Flicky (Flicky's Super State), Pocky, Pecky, Cucky, Ricky, Rocky)
Badniks
Batbot | Blaster | Blastoid (Carnival Night Zone) | Blastoid (Hydrocity Zone) | Bloominator | Bubbles | Bugernaut | Butterdroid | Catakiller, Jr. | Chainspike | Clamer | Cluckoid | Corkey | Dragonfly | EggRobo | Fireworm | Flybot767 | Hyudoro | Iwamodoki | Jawz | Madmole | Mantis | Mega Chopper | Monkey Dude | Mushmeanie | Orbinaut | Penguinator | Pointdexter | RhinoBot | Ribot | Rock'n | Sandworm | Skorp | Snale Blaster | Spikebonker | Spiker | Star Pointer | Technosqueek | Toxomister | Turbo Spiker
Zones
Sonic 3
Angel Island Zone | Hydrocity Zone | Marble Garden Zone | Carnival Night Zone | IceCap Zone | Launch Base Zone | Special Stages | Bonus Stages
Sonic & Knuckles
Mushroom Hill Zone | Flying Battery Zone | Sandopolis Zone | Lava Reef Zone | Hidden Palace Zone | Sky Sanctuary Zone | Death Egg Zone | The Doomsday Zone | Special Stages | Bonus Stages
Competition
Azure Lake Zone | Balloon Park Zone | Chrome Gadget Zone | Desert Palace Zone | Endless Mine Zone
Bosses
Sub-bosses
Doctor Robotnik's Flame Craft | Doctor Robotnik's Whirlpool Machine | Tunnelbot | Self D-Struct Machine | Iceball | Swing'm Spikez | Hei Hou | Gapsule | Barrier Eggman | Guardian | Heat Arms | Egg Mobile-H | Flying Eggman | Red Eye | Death Ball
Zone bosses
Doctor Robotnik's Flame Craft | Doctor Robotnik's Waterspout and Depth Charge Machine | Doctor Robotnik's Jet Drill Pod | Doctor Robotnik's Energy Ship | Doctor Robotnik's Freeze-O-Matic | Ball Shooter | Beam Rocket | Big Arm | Jet Mobile | Hang Mobile | Egg Golem | Hot Mobile | Knuckles | Mecha Sonic | Mecha Sonic's Super State | Great Eggman Robo | The Doomsday Zone
Moves/Techniques
Bound Jump | Double Jump | Fireball Spin Dash | Glide | Gliding Knuckles Attack | Hyper Flash | Insta-Shield | Propeller Flying | Spin Jump | Spin Dash | Spin Attack | Wall Climb
Items
Air Bubble | Balloon | Banana | Bomb | Booster | Bumper | Bumper wall | Cannon | Capsule | Change | Chaos Emerald | Cloud | Continue | Fan | Jump Stand | Monitor (Water Shield, Flame Shield, Invincibility, Lightning Shield, Super Ring, Power Sneakers, Extra Life, S, Eggman) | Movable box | Mushroom | Pulley | Ring | Signpost | Self-Propelled Bomb | Slow-Down Shoes | Snowboard | Sphere | Spikes | Spring | Spinning Top | Star Post (Star Circle) | Super Emerald | Switch | Transport | Vine | Zip Line
Other
Angel Island | Barrel | Blue Knuckles | Conveyor Belt | Corkscrew loop | Crusher | Debug Mode | Fireball Cannon | Flipper | Flywheel | Freeze | Giant spear | Goal | Gravity Control Switch | Gumball | High-speed elevator | High-speed warp tube | Icicle | Iron ball | Jewel Radar | Perfect Bonus | Platform-raising Wheel | Pole Elevator | Relief | Reverse | Ring Shooter | Rock Drill | Seesaw | Shuttle loop | Slot machine | Snowblower | Sonic & Knuckles • Sonic the Hedgehog 3 | Strange Relief | Time Attack | Tornado | Warp Point | Winding Tunnel | Wonderman
---
Main article | Gallery | Script (Console/PC, 3DS) | Beta elements | Staff (Console/PC, 3DS) | Glitches
Playable characters
Modern Sonic (Modern Super Sonic) | Classic Sonic (Classic Super Sonic)
Non-playable characters
Dr. Eggman | Time Eater | Tails | Classic Tails | Amy | Knuckles | Shadow | Cream | Cheese | Silver | Blaze | Omochao | Team Chaotix (Espio, Vector, Charmy) | Orbot | Cubot | Animals (Flicky, Picky, Pecky, Cucky)
Wisps
Cyan** | Orange* | Pink* | Red**
Stages
Console/PC*
Green Hill | Chemical Plant | Sky Sanctuary | Speed Highway | City Escape | Seaside Hill | Crisis City | Rooftop Run | Planet Wisp | Casino Night
Nintendo 3DS**
Green Hill | Casino Night | Mushroom Hill | Emerald Coast | Radical Highway | Water Palace | Tropical Resort
Challenge Acts*
Doppelganger Race! | The Buzz Bombers' Revenge! | Knuckles: Horde of Enemies | Swingset Circus | High Speed Challenge | Look Out Below! | Tails: Way Past Fast | Jump Rush | 300% Boost Gauge Challenge | Tails: Toxic Skies | Which Switch is Which? | Aqua Shield Challenge | Invincibility Challenge | One Ring Challenge | Amy: Taking the Leap Together! | Grappling with Grabbers | Underwater Ring Machine | Eggrobo Rush | Aerial Paradise | Ring Time Challenge | Amy: Topsy Turvy | Knuckles: Buried Treasure | 200% Boost Gauge Challenge | Balloon Bonanza | High-Speed Hijinks (Modern) | Cream: Chao Hunt | Hot Pursuit (Classic) | High Speed Challenge 2 | Resisting Arrest | Overdrift | Hot Pursuit (Modern) | Drill Baby Drill | Espio: Master of Camouflage | Lord of the Board | Thunder Shield Challenge | Rouge: The Bombardier | Rite of Spring | Cream: Helping Hand | Dash Ring 1-2-3 (Modern) | Topsy-Turvy | High-Speed Hijinks 2 | Rescue the Animals! | Espio: Way of the Ninja | High-Speed Hijinks (Classic) | Underwater Challenge | Rouge: The Temptress | Trick Island | Surf, Sea, and Sand | Terror From the Deep | Goal Post Juggle | Vector: Through the Storm | Flame Shield Challenge | Ring Time Challenge 2 | Power Stomp Challenge | Switcheroo | Blaze: Piercing the Flames | Four-way Cannon Cavalcade | High-Rise Balloon Climb | Dash Ring 1-2-3 (Classic) | Charmy: Don't Bug Me! | One Ring Challenge 2 | Barrel Ring Bonus | Rooftop Rail Grind | Endless Boost | Vector: Pick Up the Beat | With Your Powers Combined | Goal Post Juggle 2 | Chase After Blaze | Rescue the Animals 2! | Cart Challenge | Charmy: High in the Sky | Action Master | Orange Rocket, Blast Off!
Enemies
Aero-Cannon* | Butterdroid** | Buzz Bomber | Buzzer | Chopper | Cop Speeder* | Crabmeat | Crawl** | Dragonfly** | Flapper** | Egg Chaser* | Egg Diver** | Egg Fighter* | Egg Fighter: Sword* | Egg Launcher (H)* | Egg Launcher (H+V)* | Egg Launcher (V)* | Egg Pawn | Egg Pawn (spear) | Eggrobo* | Giant Chopper* | Gold Beetle** | Grabber* | Gun Beetle* | Gun Hunter | Iblis's Minions (Iblis Biter, Iblis Taker, Iblis Worm)* | Kiki** | Klagen** | Madmole** | Mono Beetle | Moto Bug | Mushmeanie** | Newtron | Rhinotank** | Sandworm* | Spinner | Spiny* | Sprinkler* | Sweeper** | Thunder Spinner
Bosses
Console/PC*
Metal Sonic | Death Egg Robot | Shadow the Hedgehog | Perfect Chaos | Silver the Hedgehog | Egg Dragoon | Time Eater
Nintendo 3DS**
Metal Sonic | Big Arm | Shadow the Hedgehog | Biolizard | Silver the Hedgehog | Egg Emperor | Time Eater
Moves/
Techniques
Playable characters
Air Boost | Bound Jump* | Crouch | Double Jump* | Drift* | Freestyle Tricks* | Grind Step | Grinding | Homing Attack | Hop | Jump Dash | Kick boost | Lightspeed Dash* | Mid-Air Dash* | Quick Step* | Boost | Slide | Skydiving* | Spin Dash | Spin Jump | Stomp | Super Sonic Boost | Super Sonic Missile | Super Sonic Spinning | Wall Jump
NPCs
Chaos Spear | Drill Attack* | Fire Beam* | Heart Effect* | Ice Wave* | Meteor Smash* | Ninja Arts: Camouflage* | Propeller Flying* | Psychic Knife | Restraint Trap | Ring Spark Field | Sun Burst | V. Maximum Overdrive Attack | Warping arm attack | Whirlwind*
Color Powers
Cyan Laser** | Orange Rocket* | Pink Spikes* | Red Burst**
Skills*
Aqua Shield | Flame Shield | Thunder Shield | Twin Spin Attack | Invincible Start | Shield | Power Sneakers | Long Spin Dash | Treasure Scanner | Homing Attack | Hercules Muscles | Breath Holder | Boardmaster | Ring Time | Blast Off | Speed Up | Direct Jump | Power Stomp | Quick Slide | Acceleration | Smasher Bonus | Ring Energy Bonus | Boost Gauge Up | Serial Homing | Auto-Gauge | Gauge Rebooter | Trick Mastery | Endless Boost | Power Brake | Sure-Footed | Safety Net | Last Chance | 10-Second Rings | Athleticism | Time Break | Super Sonic | Sega Genesis Controller
Gimmicks and obstacles
Balloon | Barrel | Big Balloon | Bomb | Bonus Bell* | Bottomless pit | Bumper | Cannon | Cart | Cloud* | Conveyor Belt** | Crusher | Dash Panel | Dash Rail | Dash Ring | Dimensional Bomb | Explosion Trap | Fan | Flipper | Four-way Cannon* | Gear Platform | Gondola* | GUN Military Truck* | Hanging Bell* | Heart Bombs* | Helicopter* | High-speed warp tube | Horizontal Bar | Iron ball | Jump Panel (plate) | Jump Panel (ramp) | Kao | Laser field | Meteorite | Movable box | Mushroom** | Pole Elevator | Prism** | Propeller | Propeller Spring | Pulley | Rainbow Ring | Rocket | Route Signal* | Seesaw | Slot machine | Spring | Spring Catapult | Spring Pole | Spike Trap | Spinning Top | Spinning Platform | Spotlight | Switch | Trap Spring | Wall Jump Block | Warp Point | Wide spring | Zip Line
Objects
Air Bubble | Boss Gate | Boss Gate Key* | Buoy | Capsule | Chaos Emerald | Container (Case, Spike Block, Steel Container, Unbreakable Container, Wooden Container) | Crank | Energy Core | Goal Ring | Information Pod* | Item Box (1-Up, Aqua Shield*, Flame Shield*, Invincible, Power Sneakers*, Skateboard*, Super Ring, Thunder Shield) | Medal | Mega Mack* | Musical note* | Red Star Ring* | Ring | Snowboard | Sphere** | Star Post | Stomping Shoes** | Time Bonus | Wisp Capsule
English voice actors
Roger Craig Smith (Sonic) | Mike Pollock (Eggman) | Kate Higgins (Tails) | Travis Willingham (Knuckles) | Cindy Robinson (Amy) | Kirk Thornton (Shadow) | Quinton Flynn (Silver) | Laura Bailey (Omochao, Blaze) | Karen Strassman (Rouge) | Michelle Ruff (Cream) | Keith Silverstein (Vector) | Troy Baker (Espio) | Colleen O'Shaughnessey (Charmy)
Japanese voice actors
Junichi Kanemaru (Sonic) | Chikao Ōtsuka (Eggman) | Ryo Hirohashi (Tails (Modern)) | Takuto Yoshinaga (Tails (Classic)) | Nobutoshi Canna (Knuckles) | Taeko Kawata (Amy) | Koji Yusa (Shadow) | Rumi Ochiai (Rouge) | Daisuke Ono (Silver) | Nao Takamori (Blaze) | Sayaka Aoki (Cream) | Kenta Miyake (Vector) | Yuuki Masuda (Espio) | Youko Teppozuka (Charmy) | Etsuko Kozakura (Omochao)
Music
Songs
Back 2 Back | Escape from the City* | Vengeance is Mine** | You're My Hero
Albums
Blue Blur: Sonic Generations Original Soundtrack | Sonic Generations: 20 Years of Sonic Music | History of the 1st Stage Original Soundtrack Blue Edition | History of the 1st Stage Original Soundtrack White Edition
Other
Sonic's birthday | Boost Gauge | Chao in Space | Collection Room | Combo* | Corkscrew loop | Death Egg Robot* | Egg Dragoon* | Egg Gun | Egg Mobile | Egg Spear | Havok* | Health Gauge** | Lair of the Time Eater | Miles Electric | Orca | Perfect Bonus | Rank | Skill Shop* | Sonic Generations (manga) | Sonic Generations of Skate | Statue Room* | Time Attack | Tornado-1 | Totem Pole | White Space | Winding Tunnel | Wisp Gauge**

*Console/PC version only
**Nintendo 3DS version only
---
Main article | Gallery | Beta elements | Staff | Glitches | Re-releases (Plus)
Playable characters
Sonic the Hedgehog (Super Sonic) | Miles "Tails" Prower (Super Tails) | Knuckles the Echidna (Super Knuckles) | Mighty the Armadillo* (Super Mighty)* | Ray the Flying Squirrel* (Super Ray)*
Non-playable characters
Dr. Eggman | Hard Boiled Heavies (Heavy King, Heavy Gunner, Heavy Shinobi, Heavy Magician, Heavy Rider) | Phantom Heavies (Phantom King, Phantom Gunner, Phantom Shinobi, Phantom Magician, Phantom Rider) | Metal Sonic (Giga Metal) | Animals (Becky, Cucky, Flicky, Locky, Micky, Pecky, Picky, Pocky, Ricky, Rocky, Tocky, Wocky) | Jimmy
Zones
Angel Island Zone* | Green Hill Zone | Chemical Plant Zone | Studiopolis Zone | Flying Battery Zone | Press Garden Zone | Stardust Speedway Zone | Hydrocity Zone | Mirage Saloon Zone | Oil Ocean Zone | Lava Reef Zone | Metallic Madness Zone | Titanic Monarch Zone | Egg Reverie Zone | Special Stage | Bonus Stage | Pinball Stage*
Enemies
Armadiloid | Aquis | Asteron | Ball Hog | Batbrain | Blaster | Blastoid | Bloominator* | Bugernaut | Bumpalo | Buzz Bomber | Cactula | Catakiller, Jr. | Chopper | Clucker | Crabmeat | Dango | Dragonfly | Eggrobo | Fireworm | Flasher mk.II | Gohla | Grabber | Hotaru | IceBomba | Iwamodoki | Jawz | Jellygnite | Juggle Saw | Kabasira | Kanabun | Madmole | Matryoshka-Bom | Mega Chopper | Mic Drop | Monkey Dude* | Moto Bug | Newtron | Octus | Pointdexter | Rattlekiller | Rexon | RhinoBot* | Robot Bee | Robot Beetle | Roller mk.II | Scarab | Sentry Bug | Shutterbug | Silver Sonic | Spiny | Splats | Sweep | Technosqueek | Toxomister | Tubinaut | Turbo Spiker | Turbo Turtle | Vultron | Wall Crawl | Woodrow
Bosses
Mini-bosses
DD Wrecker | Amoeba Droid | Heavy Gunner | Big Squeeze | Shiversaw | Hotaru Hi-Watt | Dive Eggman | Uber Caterkiller | Meter Droid | Drillerdroid | Egg Pistons mk.II | Crimson Eye
Zone bosses
Death Egg Robot | Mean Bean Machine | Weather Globe | Spider Mobile | Heavy Shinobi | Metal Sonic | Laundro-Mobile | Heavy Magician | Mega Octus | Heavy Rider | Heavy King | Gachapandora | Phantom Egg | Phantom King and Klepto Mobile
Moves/Techniques
Air Glide* | Bounce Jump | Climb | Double Jump | Drop Dash | Fireball Spin Dash | Glide | Hammer Drop* | Insta-Shield | Propeller Flying | Ring Spark Field | Spin Attack | Spin Dash | Spin Jump | Super Peel Out | V. Maximum Overdrive Attack
Gimmicks and obstacles
Beanstalk | Bomb | Bumper | Bungee Rope | Bumper wall | Conveyor Belt | Crusher | Dash Panel | Electrical conduit | Fan | Fireball Cannon | Flipper | Flywheel | Goal Plate | High-speed warp tube | Ice Spring | Iron ball | Jump Panel | Platform-raising Wheel | Pulley | Ruby Mist | Seesaw | Size Beam | Snowblower | Spikes | Spring | Switch | Transport | Vine | Zip Line
Objects
Air Bubble | Capsule | Chaos Emerald | Giant Ring | Giant spear | Item Box (1-UP, Blue Shield, Bubble Shield, Character*, Hyper Ring, Eggman Mark, Fire Shield, Invincible, Lightning Shield, Player Swap, Power Sneakers, Random, S, Super Ring) | Little Planet flowers | Master Emerald | Metal Sonic Projector | Medallion | Ring | Robot transporter | Schrodinger's Capsule* | Sphere | Star Circle | Star Post | Time Warp Plate | UFO | Warp Point
Music
Sonic Mania (vinyl album) | Sonic Mania Original Soundtrack (Selected Edition) | Sonic Mania Plus Original Soundtrack
Other
Angel Island | Auto Running | Continue | Death Egg Robot | Debug Mode | Egg Mobile | Freeze | Hang Glider | Klepto Mobile | Level Select | Little Planet | Mega Mack | Perfect Bonus | Phantom Ruby | Rock Drill | Shuttle loop | Sonic Mania Adventures (Sonic Returns, Sonic and Tails, & Knuckles, Mighty and Ray, Metal Mayhem, From: A. Rose, The Complete Mini-Series) | Time Attack | Time Over | Tornado | Winding Tunnel

*Appears in Sonic Mania Plus only
Sonic the Hedgehog characters