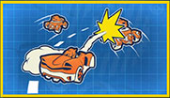 Eggpawn Assault[1] is one of the types of Events available in Team Sonic Racing. It appears exclusively in Team Adventure.
Overview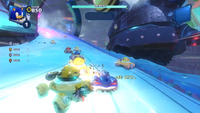 In Eggpawn Assault, the player competes as a single playable character on the race track without any teammates to race with. Here, the player races against several Eggpawns in vehicles that they have to destroy by colliding with them or by shooting them with an Orange Rocket. When destroying an Eggpawn, the player will be rewarded with points. The player's objective is to score as many points as possible within a certain time limit. This time limit is indicated by the timer and gauge at the top of the screen that appears during the Eggpawn Assault Event. As the timer decreases, the gauge will deplete. When the time is about to run out, the gauge will turn from turquoise to orange, and then red. Should the gauge empty completely, the player will run out of time and the Event will end. However, for each Eggpawn the player destroys, the player's timer will be extended by three seconds.
There are four different types of Eggpawns in the Eggpawn Assault Events, each one with different traits and giving different points when destroyed:
Standard Eggpawn: Yellow Eggpawn models. These Eggpawns are the weakest and are destroyed with just one hit. They reward 100 points upon their destruction.
Hard-boiled Eggpawn: Blue Eggpawn models. These Eggpawns take two hits to destroy. They reward 150 points upon their destruction.
Eggsplosive Eggpawn: Red, yellow and black Eggpawn models with yellow hardhats. These Eggpawns drop dangerous bombs onto the racetrack when they are destroyed that will explode like the Black Bomb and stun the playable character if they hit them. The player thus has to move away from the bomb as soon as they can so that they do not receive any damage. They reward 100 points upon their destruction.
Melee Eggpawn: Pink Eggpawn models with bunny ears. These Eggpawns are equipped with Pink Spikes, making it impossible to destroy them by touching them. The player's best option is to destroy them with the Orange Rocket. They reward 100 points upon their destruction.
Noticeably, when destroying an Eggpawn, a new one will appear immediately after to take the old one's place. Also, when starting the Eggpawn Assault Event, the player will typically start out racing against Standard Eggpawns. However, as the player accumulates more points, different types of Eggpawns will appear more frequently to take the destroyed ones' place.
To aid the player with the destruction of the Eggpawns, the Eggpawn Assault Events offer several opportunities to get Orange Wisps that can be used to fire Orange Rockets at the Eggpawns. When starting out a race, the player will possess three Orange Wisps to use at any time. When those run out, the player can pick up three new Orange Wisps from any of the Item Boxes along the race track.
The Eggpawn Assault Events feature point milestones that indicate how well the player has performed. By collecting enough points, the player will be rewarded with a specific type of medal after the Event. The more points the player gathers, the better the medal they will receive. The fourth-highest medal the player can receive is bronze, the third-highest is silver, the second-highest is gold, and the highest is platinum.
To complete an Eggpawn Assault Event, the player has to either run out of time or earn a platinum medal.
Eggpawn Assault Events in Team Adventure
Chapter 4: Cheats Never Prosper
Chapter 5: The Race Continues
Chapter 7: The Final Showdown
References
---
Main article | Script | Staff | Manuals | Beta elements | Gallery
Playable
characters
Team Sonic
Sonic | Tails | Knuckles
Team Rose
Amy | Chao (Dark Chao, Hero Chao, Neutral Chao, Omochao) | Big
Team Vector
Blaze | Silver | Vector
Team Dark
Shadow | Rouge | Omega
Team Eggman
Metal Sonic | Dr. Eggman | Zavok | Eggpawn | Death Egg
Non-playable characters
Boo | Boom Boo | Buzzer | Chopper | Crabmeat | Cubot | Dodon Pa | Egg Squid | Froggy | King Boom Boo | Mother Wisp | Orbot | Orca | Sandworm
Wisps
Black | Blue | Crimson | Cyan | Ivory | Jade | Magenta | Orange | Pink | Gray | Red | Violet | White | Yellow
Tracks
Planet Wisp
Wisp Circuit | Mother's Canyon | Doctor's Mine
Seaside Hill
Ocean View | Lost Palace | Whale Lagoon
Glacierland
Ice Mountain | Frozen Junkyard | Hidden Volcano
Casino Park
Roulette Road | Bingo Party | Pinball Highway
Sandopolis
Sand Road | Boo's House | Clockwork Pyramid
Rooftop Run
Market Street | Sky Road | Haunted Castle
Final Fortress
Thunder Deck | Dark Arsenal | Turbine Loop
Events
Boost Race | Daredevil | Destruction | Eggpawn Assault | Grand Prix | King of the Hill | Lightning Race | Ring Challenge | Rocket Race | Showdown Race | Survival Race | Team Boost Race | Team Grand Prix | Team King of the Hill | Team Lightning Race | Team Race | Team Rocket Race | Team Vampire Race | Time Trial | Traffic Attack | Vampire Race
Enemies
Eggpawn | Eggsplosive Eggpawn | Hard-boiled Eggpawn | Melee Eggpawn | Standard Eggpawn
Moves/Techniques
Drift | Item Box Transfer | Radial Burst | Rival Takedown | Skim Boost | Slingshot | Start Line Boost | Stunt | Team Ultimate
Color Powers
Black Bomb | Blue Cube | Crimson Eagle | Cyan Laser | Gray Quake | Ivory Lightning | Jade Ghost | Magenta Rhythm | Orange Rocket | Pink Spikes | Red Burst | Violet Void | Yellow Drill
Vehicles
Beat Monster | Chao Pod | Cross Dozer | Dark Reaper | Egg Booster | Formula M | Frog Cruiser | Land Breaker | Lightron | Lip Spyder | Pink Cabriolet | Road Dragoon | Royal Chariot | Speed Star | Whirlwind Sport
Gimmicks and obstacles
Boost Pad | Kao | Spring | Star Post | Wide spring
Items
Bonus Box | Credit | Item Box (Invincibility) | Key | Medal | Mod (Car Cosmetic (Horn, Paint Kit, Vinyl), Performance Part) | Mod Pod | Ring
English voice actors
Roger Craig Smith (Sonic, Wisp announcer) | Mike Pollock (Eggman) | Kyle Hebert (Big, Dodon Pa) | Colleen O'Shaughnessey (Tails) | Dave Mitchell (Knuckles) | Patrick Seitz (Zavok) | Cindy Robinson (Amy) | Kirk Thornton (Shadow, Orbot) | Karen Strassman (Rouge) | Aaron LaPlante (Omega) | Bryce Papenbrook (Silver) | Keith Silverstein (Vector) | Erica Lindbeck (Blaze, Omochao) | Wally Wingert (Cubot) | Tomoko Sasaki (Chao)
Japanese voice actors
Jun'ichi Kanemaru (Sonic) | Kotaro Nakamura (Eggman) | Katsuhisa Hōki (Dodon Pa) | Ryō Hirohashi (Tails) | Nobutoshi Canna (Knuckles) | Taeko Kawata (Amy) | Takashi Nagasako (Big) | Etsuko Kozakura (Omochao) | Kōji Yusa (Shadow) | Rumi Ochiai (Rouge) | Taiten Kusunoki (Omega) | Daisuke Ono (Silver) | Kenta Miyake (Vector) | Nao Takamori (Blaze) | Jōji Nakata (Zavok) | Mitsuo Iwata (Orbot) | Wataru Takagi (Cubot) | Tomoko Sasaki (Chao) | Fumihiko Tachiki (Wisp announcer)
Music
Songs
"Green Light Ride"
Albums
Maximum Overdrive - Team Sonic Racing Original Soundtrack | Team Sonic Racing Trailer Music Selection
Other
Death Egg Robot | Donpa Kingdom | Donpa Motors | Egg Squid | Orca | Power-Type | Sonic Racing | Speed-Type | Team Sonic Racing Overdrive ("Dangerous Distractions", "Eyes on the Prize", "The Complete Race") | Technique-Type | Ultimate Meter | Team Sonic Racing One-shot | Team Sonic Racing Plus Deluxe Turbo Championship Edition one-shot | Ultimate Energy Engine | Ultimate Team Energy
Community content is available under
CC-BY-SA
unless otherwise noted.