Fire Emblem Warriors: Three Hopes - The Loop
Play Sound
Eggmanland (エッグマンランド, Eggumanrando?), alternatively spelled as Eggman Land,[3] is a Town Stage that appears in the Xbox 360/PlayStation 3 version of Sonic Unleashed, and a location seen in the Wii/PlayStation 2 version of Sonic Unleashed. It was a large and highly advanced, yet insane amusement park on earth designed by Eggman's scientific technique and aesthetic sense with the energies harvested from Dark Gaia.[4] The brainchild of Eggman's heart and soul, it was meant to serve as the heart of the doctor's empire, but his plans for it were ruined by Sonic the Hedgehog and Chip. Following that, Eggmanland was abandoned, but it has since collapsed entirely into a ruin.[1][4]
In Sonic Unleashed. Eggmanland is first seen in the opening cutscene before the player begins its Action Stage. However, it can only be explored as a Town Stage in the Xbox 360/PlayStation 3 version of the game after completing said game; in the Wii/PlayStation 2 version, that same area only appears during its introductory cutscene.
Description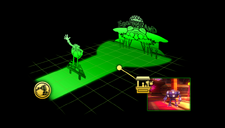 Described as the brainchild of Dr. Eggman's heart and soul, Eggmanland is a dark and cyberpunk-esque metropolis cross over with an industrial energy refinery and an amusement park. To its creator, Eggmanland is a space of love and desire.[4] In truth though, it is an amusement park and dazzling factory base merged into a vicious defense system that wreaks havoc on visitors, and the amusement park-like playground equipment creates a strong sense of uncanniness.[4] Everything here is made of stainless and smooth metal. The area is covered in a red and purple hue and neon-colored lights lid up the place. Also, while it is day, Eggmanland is covered in perpetual twilight due to the sky being overcast by purplish and black clouds.
Eggmanland's Town Stage only consists of an open road leading straight towards the entrance to the inner areas of the city, and in the middle of it is a tall and grandiose gold statue of Dr. Eggman himself. As such, there is not much to explore here. Around the Town Stage, two different Egg Fighters walk about, serving as non-hostile, non-player characters that Sonic can talk to. In addition, there is the Eggshop, which is run by EF-DC1998, where the player can buy collectibles and edible items, and a Don Fachio stand run by the local Hot Dog Vendor where the player can participate in Missions
History
Sonic Unleashed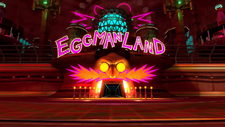 In the Xbox 360/PlayStation 3 version and Wii/PlayStation 2 version of Sonic Unleashed, Dr. Eggman schemed to harness the limitless energies of Dark Gaia to build Eggmanland. When the earth was shattered by Dark Gaia when Eggman awoke it, Eggmanland was being built by a construction system powered by Dark Gaia's energies on a lone floating continent. Unfortunately, due to Dark Gaia's premature awakening it was unable to hold itself together, and dispersed across the globe, and thus, the construction of Eggmanland was significantly delayed.[3] Eggman, however, devised a machine that drew Dark Gaia's fragments to his location, speeding up the construction of Eggmanland.
Around the time Sonic and Chip had restored the earth's sixth continent, Eggmanland was completed. Soon after, Sonic and Chip came to Eggmanland to find the final Gaia Temple and fully restore the planet. There, Eggman welcomed the duo over the speakers, before challenging Sonic to come and get him, much to Sonic's bemusement. As Chip sensed that the Gaia Temple was below Eggmanland, Sonic decided to tear it down to get there. Upon reaching the Gaia Temple at the bottom of Eggmanland, the duo restored Eggmanland's continent and afterwards defeated Eggman and put Dark Gaia to rest.
Points of interest
Trivia
Gallery
Artwork
Sprites
Screenshots
Music
See also
References
↑ 1.0 1.1 Sega (17 August 2021). ソニック & ルージュ 後編

(Japanese)

. Sonic Channel. Archived from the original on 17 August 2021. Retrieved on 26 October 2021.
↑ Sonic Team (19 December 2008). Sonic Unleashed. PlayStation 3. Sega. Area/Level: World Map.
↑ 3.0 3.1 Sonic Team (9 December 2008). Sonic Unleashed. PlayStation 3. Sega. Cutscene: Eggman's Idea. "Eggman: What's the progress on the Dark Gaia-powered Eggman Land construction system? / SA-55: Current status is... 27 percent complete. Progress is significantly behind projected timetable. Presumed cause of delay... is Dark Gaia's dispersion across the globe. / Eggman: Oh, of all the lazy... Here I go to the trouble of waking that Dark Gaia thing up, and it causes me nothing but delays! / SA-55: Dark Gaia had yet to reach maturity within the planet's core. Ergo, it was still incomplete at the time of its awakening. Ergo, it was unable to sustain its own weight upon its release. Ergo, it scattered around the world. / Eggman: I don't want to hear about its weight issues! So what if I gave it a bit of a sudden awakening!? This is unacceptable! / SA-55: Ergo, this is the repercussion of your hasty actions. / Eggman: What was that?! I'm having a bad enough day as it is... First that professor runs off with the Gaia Manuscripts, and now the planet's coming back together! / SA-55: That, Doctor, is the result of the power of the Chaos Emeralds, which you discarded along with Sonic. Ergo, another repercussion of your hasty actions. / Eggman: Q-quiet, you junk heap! That was, uh, all part of my plan! Part of the big picture! Where's the fun in having my plans succeed without any challenge?"
↑ 4.0 4.1 4.2 4.3 Sega (29 July 2021). ソニック & ルージュ 前編

(Japanese)

. Sonic Channel. Archived from the original on 29 July 2021. Retrieved on 26 October 2021.
---
Main article | Script | Credits | Glitches | Beta elements | Gallery
Playable characters
Sonic (Super Sonic, Sonic the Werehog) | Gaia Colossus
Non-playable characters
Apotos
Alexis | Anastasia | Eric | Gregorios | Hot Dog Vendor | Ice Cream Vendor | Lambros | Lucas | Milos | Sandra
Spagonia
Aida | Barbara | Ciccio | David | Denise | Dora | Elio | Federica | Franco | Gigi | Hot Dog Vendor | Ippolita | Irma | Josef | Lilli | Lucia | Marcantonio | Mauro | Natalia | Otto | Professor Pickle | Professor Pickle's Assistant | Raimondo
Mazuri
Ana | Essie | Gwek | Hog Dog Vendor | Kofi | Kwami | Kwod | Yawa | Yaya
Chun-nan
Chun | Hot Dog Vendor | Hualin | Jinlin | Lin | Shuifon | Wang | Yilin | Zonshen
Holoska
Hot Dog Vendor | Jari-Pekka | Jari-Thure | Marketa | Sarianna | Ursule
Shamar
Ara | Dimah | Ehsan | Erhan | Hizir | Hot Dog Vendor | Iman | Labib | Latif | Layla | Mufid | Musaid | Raniya | Sa'id | Sadiq | Safi | Samia | Sammar | Shadi | Utba | Yasmine
Empire City
Boss | Brenda | Charles | Def Big | Elizabeth | Hot Dog Vendor | Li'l Kate | Louie Montaine | Robert
Adabat
Hot Dog Vendor | Jamal | Kaeo | Nagi | Rudi | Teanchai
Eggmanland
EF-DC1998 | EF-MD1991 | EF-XB2006 | Hot Dog Vendor
Misc.
Amy | Chip | Dark Gaia (Perfect Dark Gaia) | Dr. Eggman | Tails | SA-55 | Su | Uh | Wentos
Town Stages
Apotos | Mazuri | Spagonia | Chun-nan | Holoska | Shamar | Empire City | Adabat | Eggmanland
Action Stages
Windmill Isle | Savannah Citadel | Rooftop Run | Dragon Road | Cool Edge | Arid Sands | Skyscraper Scamper | Jungle Joyride | Eggmanland | Tornado Defense
Enemies
Eggman's Machinery
Aero-Cannon | Aero-Chaser | Egg Blizzard | Egg Burst | Egg Fighter | Egg Fighter: Knight (Electric shield, Spring shield) | Egg Fighter: Shield (Electric shield, Spring shield) | Egg Fighter: Sword | Egg Flame | Egg Launcher (H) | Egg Launcher (H+V) | Egg Launcher (V) | Egg Shackle | Egg Shooter | Egg Typhoon | Gold Aero-Cannon | Interceptor | Little Fighter | Mole Cannon | Spinner | Thunder Ball | Thunder Spinner
Dark Gaia's minions
Big Mother | Cure Master | Dark Bat | Dark Bat Sniper | Dark Eel | Dark Fright | Deep Nightmare | Evil Flower | Fire Master | Fright Master | Killer Bee | Lightning Master | Little Rex | Nightmare | Power Master | Red Fright | Red Killer Bee | Red Rex | Thunder Bat | Titan
Bosses
Egg Beetle | Egg Cauldron | Egg Devil Ray | Egg Dragoon | Egg Lancer | Dark Gaia | Dark Gaia Phoenix | Dark Guardian | Dark Moray | Perfect Dark Gaia
Moves/
Techniques
Sonic
Air Boost | Cartwheel | Crouch | Foot Sweep | Grind Step | Grinding | Homing Attack | Hop | Jump Dash | Lightspeed Dash | Slide | Skydiving | Sonic Boost | Sonic Drift | Spin Jump | Stomp | Quick Step | Wall Jump
Werehog
Dash | Double Jump | Grab | Guard | Unleashed Mode | Wall Shuffle
Misc.
Boost | Drill Attack | Super Sonic Boost | Turbo Boost
Skills
Straight
attacks
Donkey Kick Combo | Double Axle Combo | Double Kick Combo | Feral Were-Hammer | Knuckle Sandwich Combo | Sho-Hog-Ken | Unleashed Knuckle Sandwich | Vertical Were-Hammer | Were-Hammer | Werewheel Rush
Hook
attacks
Earthshaker | Egg Scrambler | Feral Wild Whirl | Rolling Kick Combo | Sho-Claw-Ken | Ultimate Wild Combo | Unleashed Wild Combo | Wereclap | Wild Whirl | Wild Whirl Were-Hammer
Aerial
attacks
Aerial Claw Slash | Aerial Claw Slash and Spin | Aerial Piledriver | Crescent Moon Strike | Diving Bodypress | Flying Double-Punch | Flying Double-Punch Crush | Hurricane Combo | Shooting Star Combo | Typhoon Combo
Special
attacks
Comet Punch | Missile Punch | Spinning Needle Attack | Tricky Tornado Uppercut | Triple Wild Claw | Were-Claw Charge | Were-Cyclone | Were-Rush | Were-Tornado | Wild Werewhip
Gimmicks and obstacles
Balloon | Blue spring | Bobsled | Bomb | Buoy | Check Point | Conveyor Belt | Crane Lift | Crank | Dash Panel | Dash Rail | Dash Ring | Door | Fountain | Grind Rail | Hanging vine | Hint Ring | Horizontal Bar | Hourglass | Icicle | Iron ball | Jump Selector | Laser field | Lever | Movable box | Moving Crate | Rainbow Ring | Ramp | Snowblower | Spike Trap | Spikes | Springboard/Spring | Springpole | Switch | Thorn Spring | Trap Spring | Trick Jump Panel | Wide spring | Zip Line
Items
General
1UP | 5 Ring Bonus | Art Book | Audio System | Blue Tea | Bookshelf | Boss Gate | Chaos Orb | Container (Explosive crate, Steel Container, Wooden Container) | Crystal Ball | Dark Gaia Force | Edible item (Apple, Banana, Canned Juice, Chai, Chili Dog, Donut, Sundae Supreme) | Gaia Gate | Gaia Key | Goal Ring |

Gift

| Gramophone | Green Tea | Key Stone | Lovely Ring | Maiden Statue | Moon Medal | Old Necklace | Pick-Me-Up |

Pretty Bouquet

| Power Shield | Record | Red Tea | Ring | Shield Charge | Souvenir | Sun Medal | Super Claw | Super Ring | Turquoise Tea | TV | Videotape | Violet Tea | White Tea | Yellow Tea
Level Up Items
Air Boost Shoes | Light Speed Dash Shoes | Stomping Shoes | Wall Jump Shoes
English voice actors
Jason Griffith (Sonic, Werehog, Prof. Pickle's Assistant) | Amy Palant (Tails) | Lisa Ortiz (Amy) | Anthony Salerno (Chip) | Mike Pollock (Eggman, Zonshen) | Christopher Collet (SA-55) | Dan Green (Ice Cream Vendor, Prof. Pickle)
Japanese voice actors
Jun'ichi Kanemaru (Sonic) | Tomokazu Seki (Werehog) | Chikao Otsuka (Eggman) | Chō (Prof. Pickle) | Ryō Hirohashi (Tails) | Taeko Kawata (Amy) | Ryōko Shiraishi (Chip)
Music
Songs
"Endless Possibility" | "Dear My Friend"
Albums
Planetary Pieces: Sonic World Adventure Original Soundtrack
Other
Auto Running | Boost Gauge | Boost Gauge | Chao | Chaos Emerald | Chaos Energy Cannon | Chun-nan's Treasure | Collection Room | Combo | Critical Attack | Don Fachio | Dr. Eggman's chair | Earth | Eggman Fleet | Egg Dragoon | Egg Mobile | Entrance Stage | Exorcisms | Experience Point | Freeze | Gaia Manuscripts | Gaia Temple | Gaia Temple guardian | Hallowmoon | Havok | Health Gauge | Miles Electric | Mission | Real-Time Interaction | Ring Energy Gauge | Shield Gauge | Shop (Counter of Dreams 2, Eggshop, Flying Fish Beach Shop, Golden Trading Company, Josef's, Surfside Seagull Sundries, Traveling Salesman Wentos, Treeshade, Ursule's Trading Post, Wang's Emporium) | Shuttle loop | Sonic: Night of the Werehog | Sonic World Adventure (manga) | Spagonia University | SPD | Tornado-1 | Rank | Time of awakening | Unleashed Gauge