Dead Cells Final DLC - The Loop
Play Sound
Eggman Nega[3] (エッグマンネガ[3], Egguman Nega?) (real name unknown[3]), also known as Eggman-Nega[1] (エッグマンネガ[5], Egguman Nega?) or just Nega,[2] is a major antagonist in the Sonic the Hedgehog series. He is a human scientist and a distant descendant[3] of Dr. Eggman from approximately two hundred years into the future, though he initially introduced himself as Dr. Eggman's counterpart from Blaze's world.
A genius scientist whose skills are in no way inferior to Dr. Eggman, Eggman Nega seeks nothing more than the destruction of the world. Believing as well that Eggman's failures have ruined his reputation, Eggman Nega holds a deadly grudge against his ancestor.[3]
Appearance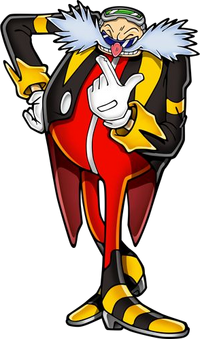 Eggman Nega bears a very strong resemblance to his ancestor, Dr. Eggman, so much in fact that others have mistaken them for each other.[6] Like Eggman, Eggman Nega is a rotund and burly human, his torso and head coming together in an egg-like shape. He possesses no visible neck, peach skin, a bald head, a bright red nose, and a very bushy moustache. He also has long, almost disproportionately thin arms and legs. Unlike Eggman, however, Eggman Nega's mustache is gray.
For attire, Eggman Nega wears a red jumpsuit with a metallic-looking vertical silver stripe going up the middle and black and yellow-striped boots with gray soles. He also wears a open black military-styled jacket over his jumpsuit. This jacket possesses long coattails, a yellow stripe on the upper arms, yellow triangular markings on the chest areas that extend over the shoulders and down the back, big yellow cuffs with two points, and two round gray buttons on the lower front. In addition, he wears white gloves with a square marking on the tops, pointy blue sunglasses, and visor-styled goggles with gray frames and a green lens. By comparison, the coloration of Eggman Nega's clothing appear to be a reversion of Eggman's.
History
Past
An inhabitant from two hundred years in the future,[7] Eggman Nega came from a long line of brilliant scientists.[8] However, that lineage was disrupted by Dr. Eggman's many failures. As a result, the world refused to recognize Eggman Nega's brilliance, denying him what he believed to be his destiny.[8] This predicament led Eggman Nega to develop a deep grudge against his ancestor.[3]
Under unspecified circumstances, Eggman Nega became involved with Blaze's world to the point where he claimed that dimension as his own, some of that dimension's inhabitants even believing this to be true.[9] He also became a personal enemy of Blaze the Cat.
Sonic Rush series
Sonic Rush
In Sonic Rush, Eggman Nega set his sights on establishing his dream world: an interdimensional Eggman Land. To do so, however, he needed both the Chaos Emerald and their counterparts from Blaze's world, the Sol Emeralds.[10] To achieve this, Eggman Nega established a partnership with his ancestor Dr. Eggman, whom he secretly plotted to use to do his dirty work for him.[9] Guiding Eggman to Blaze's world, Eggman Nega had him steal the Sol Emeralds for him. All he had to do then was wait for Eggman to deliver the Emeralds to him on Sonic's world, not caring that bringing the Sol Emeralds to Sonic's dimension would cause the two dimensions to start merging until they ceased to exist.[9][11]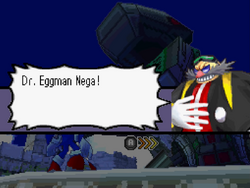 After traveling to Sonic's world, Eggman Nega met Sonic the Hedgehog for the first time at Water Palace. When Sonic mistook Eggman Nega for Eggman, the scientist politely corrected him and introduced himself properly to Sonic before promising to destroy him. In the end though, Eggman Nega and his Egg Turtle got defeated by Sonic, leaving a bitter Eggman Nega to escape in his Egg Mobile. This continued for a while as Sonic continued to chase after Eggman Nega. Eventually, after Eggman Nega made it to the Dead Line at the same time as Eggman, he was confronted by Sonic again. This time however, Blaze found him too. Surprised to see Blaze in Sonic's world, Eggman Nega deduced Eggman had made a mistake. Regardless, he remained calm and admitted his grand scheme to Blaze and his apathy towards Blaze's world, provoking Blaze's anger to the point where she swore to kill both Eggmen. When Sonic and Blaze's disagreement over what should be done led to a fight between them though, Eggman Nega found the results entertaining and watched the two duke it out. Afterward, Eggman Nega fled from Sonic while Eggman lost his last Sol Emerald to Blaze. Not long after, Eggman Nega was confronted by Sonic in Unknown. There, Sonic took out Eggman Nega and his Egg King.
Regrouping after their defeats, Eggman Nega and Eggman used their Egg Salamander mecha to attack Blaze while she was alone and drain the Sol Emeralds of their power. However, Eggman Nega became puzzled over the fact that Sonic's dimension remained stable in spite of the fact that the Chaos Emeralds and Sol Emeralds were occupying the same space, which would create explosive results. Then, to Eggman Nega's surprise, Sonic showed up with all seven Chaos Emeralds, which he knew how to keep stable. Regardless, Eggman Nega and Eggman chose to depart to prepare themselves for their showdown with Sonic and make their interdimensional Eggman Land a reality. Soon after, Eggman Nega and Eggman were confronted by Super Sonic and Burning Blaze in Exception. There, the two villains' mecha was brought to the brink of defeat by the two super-powered heroes. Unable to comprehend that his plan had failed due to a small miscalculation, Eggman Nega hoped to salvage what remained. Unfortunately, the Egg Salamander was immediately after destroyed by Super Sonic and Burning Blaze. After that, Sonic and Blaze's dimensions separated once more.
Sonic Rush Adventure
In Sonic Rush Adventure, Eggman Nega formed a partnership with Dr. Eggman once more to create an interdimensional Eggmanland, this time by harnessing the power of the so-called "Power of the Stars", a force greater than the Chaos Emeralds and Sol Emeralds combined that Eggman Nega had discovered and told Eggman about to get his cooperation. The key to unlocking this power however, was the Jeweled Scepter, an ancient artifact located somewhere in Blaze's world. To find the Jeweled Scepter, the doctors put together Captain Whisker and his crew of robotic pirates, and send them out to search for it.[12] In the meantime, the doctors had to find the place in which to use the Jeweled Scepter to unlock the Power of the Stars, which Eggman Nega discovered was beneath Southern Island after a great deal of research.[13]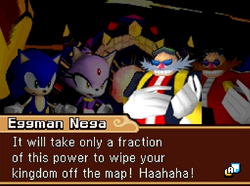 Although Whisper and his crew got defeated by Sonic, Tails, Blaze and Marine, the two former of whom the doctors had not expected would interfere with their plans, Eggman Nega and Eggman managed to steal the Jeweled Scepter themselves. They soon after appeared at Southern Island with their Egg Wizard mecha and gloated about their master plan to Sonic and his friends before heading underground in their mech. Down below, in Deep Core, the villains used the Egg Wizard to tap into the Power of the Stars with the Jeweled Scepter, giving their mech incredible power. After separating the newly-arrived Sonic and Blaze from Tails and Marine, Eggman Nega mocked Blaze by thanking her family for keeping he Jeweled Scepter safe before promising to destroy the Sol Empire with the Power of the Stars. However, Sonic and Blaze used the Chaos and Sol Emeralds to become Super Sonic and Burning Blaze to combat the doctors' Egg Wizard. As the Egg Wizard ended up on the verge of defeat however, a gleeful Eggman Nega decided to use the mecha's "Planet-Buster Laser" to destroy Super Sonic, Burning Blaze and the world, causing Eggman to panic. However, the Egg Wizard got distracted by an energy blast from Marine, which gave Super Sonic and Burning Blaze the opening needed for them to destroy the Egg Wizard, thus foiling Eggman Nega's ambitions once more.
Sonic Rivals series
Sonic Rivals
In Sonic Rivals, Eggman Nega enacted a plan to change his destiny. Arming himself with a special camera from the future that could turn anything into a card, Eggman Nega planned to remove Dr. Eggman's life and failed attempts at success in order to alter his family history forever.[8] His first act was turning the Master Emerald in his time into a card, thus causing the gem to vanish from all time frames. He then used the captured Master Emerald's power to transport Onyx Island to the present era.[14] While in this time, Eggman Nega turned Dr. Eggman into a card and began impersonating him with a disguise, and took as well control of the Eggman Empire and its Badniks. Under unspecified circumstances, he turned Amy into a card as well.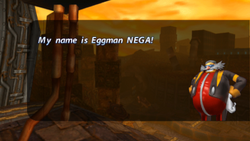 When Sonic and Tails came to Onyx Island, the duo managed to spot the disguised Eggman Nega. Having awaited them, Eggman Nega showed them the card containing Amy before turning Tails into a card as well when Sonic expressed disbelief at what Eggman Nega claimed to had done.[15] At the same time, Knuckles showed up to ask if the doctor was behind the theft of the Master Emerald. Admitting that he was by showing him the card with the Master Emerald as well, Eggman challenged Sonic and Knuckles to catch him in order to get the cards back before making his escape. Around that time, the disguised Eggman Nega met Shadow, who had answered a call for aid by Dr. Eggman, and Silver, who had pursued Eggman Nega to the past to stop his plans. However, Eggman Nega merely told Shadow to take care of Silver while he made his escape.
From then on, Eggman Nega (in the disguise of Dr. Eggman) would occasionally be caught up to by the four heroes, whom he would try to destroy with a new mecha, before being defeated and being forced to retreat again. Along the way, he would even deploy Metal Sonic against the four heroes. During this, he also turned Rouge into a card when she discovered his true identity and tried to tell Shadow about it.[16] Eventually though, Shadow and Silver saw through Eggman Nega's ruse. Seeing that it was time to stop pretending, Eggman Nega shed his diguise and admitted that they were right, though it hardly mattered to him as he was going to kill them either way. Regardless, he lost Tails and Eggman's cards along the way. After then being defeated in Death Yard Zone, Eggman Nega finally lost it and decided to turn the whole world into a card. Though this act would destroy the future, Eggman Nega cared little about that: if he could not change the future, then he would destroy it. Escaping to Meteor Base Zone, Eggman Nega prepared his Egg Destroyer rocket by equipping his camera to it. Before he could convert Amy, Rouge, and the Master Emerald's cards into energy for his device though, he got thwarted in the last minute by Sonic, Knuckles, Shadow and Silver. In the process, Eggman Nega tried to flee but lost control of his machine and got turned into a card, which Silver seemingly took possession of.
Sonic Rivals 2
In Sonic Rivals 2, Eggman Nega got his hands on some old files from his ancestor Professor Gerald Robotnik, whose writings told about an interdimensional beast called the Ifrit.[17] Learning of its world-destroying power, Eggman Nega wanted to release the Ifrit into Sonic's dimension and have it destroy the world.[17][18] To release the Ifrit from its dimension, Eggman Nega had to open a portal in the Mystic Haunt Zone. To do that however, he needed the key to the portal, which were the seven Chaos Emeralds.[17][19] Seemingly for the purpose of hunting down the Chaos Emeralds, Eggman Nega stole the Master Emerald and used it as a component in an Emerald Detector. He also hired Rouge to find the Chaos Emeralds for him without revealing his true identity to her.[20][21][22] Furthermore, to make the Ifrit invincible, Eggman Nega sought to feed it creatures that would just that—Chao.[23] As such, he kidnapped a ton of Chao and imprisoned them in a secret room in Mystic Haunt Zone.[24] To further his goal, Eggman Nega also posed as his ancestor Dr. Eggman using a disguise and took control of Eggman's Badniks.[25]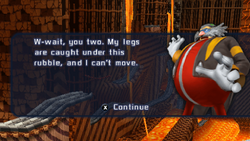 Unfortunately, Eggman Nega's activities attracted a lot of unintended attention. First, there were Sonic and Tails, who began hunting down Eggman Nega to free the Chao that he had kidnapped. Then, there were Knuckles and Rouge, who began tracking Eggman Nega in their search for the Master Emerald. There were also Shadow and Metal Sonic, who sought to foil Eggman Nega's scheme under instructions from Eggman. Finally, there were Silver and Epsio, who sought undo the destruction in Silver's future caused by the Ifrit by keeping the Chao safe and the Ifrit sealed up. Over the following period, Eggman Nega would be cornered by those opposing him on several occasions, where he would battle them in his mechas, only to be defeated and forced to escape. Along the way, he also dropped his notes about the Ifrit, which were recovered by Sonic and Tails. He also had his Emerald Detector stolen from him by Knuckles and Rouge. As for Shadow, Metal Sonic, Silver and Epsio, Eggman Nega would reveal his true identity to them after they understood who he really was in spite of his disguise. When all the individuals opposing Eggman Nega ended up in Mystic Haunt Zone, close to the portal to the Ifrit's dimension, Eggman Nega managed to deceive Shadow long enough with his Eggman disguise for Rouge to bring the six Chaos Emeralds she had and the one Metal Sonic had close enough to the portal, causing it to open. Eggman Nega then prepared to get the Chao he had kidnapped to the Ifrit, only to discover that they were gone. Regardless, Eggman headed into the portal and ordered his Metal Sonic 3.0 to go and awaken the Ifrit. However, this was but a distraction: while Metal Sonic 3.0 fought the others, Eggman Nega found the Ifrit and awoke it himself. At that point however, the portal out of the Ifrit's dimension began to close. Furthermore, the Ifrit was ultimately bought down by all the individuals opposing Eggman Nega. As everyone prepared to leave the Ifrit's dimension, Eggman Nega got his foot stuck under a pile of rubble, leaving him unable to move. As Silver and Espio were leaving the Ifrit's dimension, Nega begged them to help him. However, his plea fell on deaf ears.
Other game appearances
Mario & Sonic series
Mario & Sonic at the Olympic Winter Games
In Mario & Sonic at the Olympic Winter Games, Eggman Nega appears as a rival Skill character in both the Wii and Nintendo DS version of the game.
In the Wii version of the game, Eggman Nega is the seventh rival encountered in the Festival Mode's Single Mode and Team Mode. Here, he will appear out of nowhere to challenge the playable character(s) to the Ski Cross event at the end of Day 15 in Single Mode and Team Mode.
In Adventure Tours mode in the Nintendo DS version of the game, Eggman Nega appears as an opponent in specific events. In this mode, he is in cahoots with Dr. Eggman and Bowser to ruin the Winter Olympics by kidnapping the Snow Spirits and melting the snow. He first appears in Frostown, where he keeps Sparky locked in a cage. When Sonic and Mario find him, he challenges their crew to a Nordic Combined event. After Eggman Nega is defeated, he escapes through a portal. Later in Polastraits, Eggman Nega keeps Cuby encaged as well. When he later meets Sonic, Mario and their crew again, he challenges them to a Skeleton event. Once he is defeated though, Eggman Nega flees from the scene through a portal once more.
Mario & Sonic at the London 2012 Olympic Games
In Mario & Sonic at the London 2012 Olympic Games, Eggman Nega appears as a rival character in both the Wii and Nintendo 3DS version of the game.
In the Wii version of the game, Eggman Nega appears as one of the rivals in London Party Mode. Here, the player can speak to Eggman Nega while exploring London in Free Time to activate a Bonus Event, which will make him engage the player in a Rival Showdown featuring a Fencing - Epee event when meeting him for the first time. Defeating him will reward the player with a Sticker. Eggman Naga may later return (repeatedly) during the same London Party Mode session, where the player can challenge him to a rematch in a Dream Fencing event.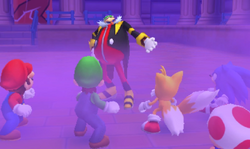 In the Nintendo 3Ds version of the game, Eggman Nega appears as both a non-playable character and rival in the game's story mode. During the events of this mode, Eggman Nega would aid Dr. Eggman and Bowser's attempt to ruin the Olympic Games with the Phantasmal Fog in exchange for information on how the Fog Machines worked. All Eggman Nega had to do to earn that info was guarding the Fog Machine at the British Museum. When Sonic, Mario, Tails, Luigi and Toad arrived at the museum, Eggman Nega went out to meet them. There, he explained his involvement with Eggman and Bowser's scheme, but was not persuaded by Toad's pleas to turn off the Fog Machine so that the Olympics could resume. As such, the heroes challenged him to an Olympic event, and if he did not accept it, they would find and destroy the Fog Machine themselves. Ultimately, Eggman Nega accepted their challenge, knowing that he had no chance against such a large group of foes. He subsequently faced the heroes in a 4x100m Relay event with a team of blue Shy Guys on his team. After he was defeated, Eggman Nega escaped the heroes without telling them where the Fog Machine was by throwing a smoke bomb. Later, after everything was back to normal, Eggman Nega attended the opening ceremony for the Olympic Games.
In the Nintendo 3DS version of the game, a badge of Eggman Nega can also be obtained from the badge machine.
Mario & Sonic at the Sochi 2014 Olympic Winter Games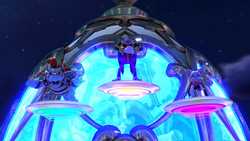 In Mario & Sonic at the Sochi 2014 Olympic Winter Games, Eggman Nega appears as rival boss character, and can be encountered during Legends Showdown. When the playable characters are about to claim the Legend Trophy at the end, Eggman Nega will appear alongside Dry Bowser and Rouge to ambush the characters and steal the trophy. The player must then face Eggman Nega and his team in the Winter Sports Champion Race event.
Mario & Sonic at the Rio 2016 Olympic Games
In the Nintendo 3DS version Mario & Sonic at the Rio 2016 Olympic Games, Eggman Nega appears as a playable character. This not only marks his first playable appearance in the Mario & Sonic series, but also his first playable appearance in the Sonic the Hedgehog series.
In the game, Eggman Nega is an unlockable main roster character that is only playable in certain events. To unlock him, the player must beat him in the Long Jump Plus event on Day 4 of Mario's Story in Road to Rio mode. He also has the following characteristics:
| Artwork | Stats | Playable events | Challenged in Road to Rio? |
| --- | --- | --- | --- |
| | | | Mario's Story Day 4 (unlock challenge) |
Mario & Sonic at the Olympic Games Tokyo 2020
In Mario & Sonic at the Olympic Games Tokyo 2020, Eggman Nega is a playable character in the Nintendo Switch version of the game.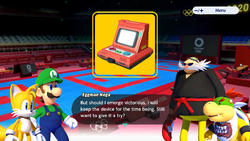 In the Nintendo Switch version of the game, Eggman Nega is a guest character that is only playable in the Karate - Kumite event. To unlock him, the player must defeat Eggman Nega in Karate - Kumite as Luigi in Chapter 5 of the game's story mode. In this mode, Eggman Nega was sought out by Bowser Jr., who brought him the Tokyo '64 gaming system. While intrigued at the device, he was soon confronted by Tails and Luigi, the latter of whom challenged Eggman Nega to an Olympic event to get the Tokyo '64 back, and won. Accepting defeat, Eggman Nega got ready to hand the Tokyo '64 over until Bowser Jr. told him to analyse it further. When Eggman Nega noticed it was a creation of Dr. Eggman's, the heroes told him that Sonic, Mario, Eggman, Bowser and Toad were trapped inside the device. This prompted Eggman Nega to run off with the Tokyo '64 and Bowser Jr., with the intention of analyzing the device further and only get the villains out of it. Although Eggman Nega and Bowser Jr. were later found by Vector, Eggman Nega had already begun his analysis. When Tails and Luigi arrived, Eggman Nega had Zazz occupy the heroes while he continued his work. Afterward, Eggman returned, his analysis mostly complete, and stated that there was no way they could get the people inside the Tokyo '64 out. Upon persuasion from Vector though, Eggman recalled that Eggman once said that gold medals had an effect inside the game. This prompted everyone to go out and collect as many gold medals as possible.
Continuing his analysis of the Tokyo '64, Eggman Nega discovered he made a mistake: collecting gold medals did have an effect on the game, but it were only the gold medals inside the game that had that effect. When the others returned with medals, Eggman Nega cracked up at his mistake. Knowing that Eggman never could defeat Sonic and get the medals needed to get out the Tokyo '64, Eggman Nega hacked the Tokyo '64's system and send power-ups to the villains inside the device, although Bower Jr.'s meddling disrupted his attempt. Bowser Jr. soon after ran off with the Tokyo '64 again, but when forced to surrender it, Eggman Nega gave it back to Tails and Luigi. However, the group noticed that the device was running out of battery, and if it ran out completely, the people inside it would disappear. Having been aware of this for a long time though, Eggman Nega had constructed a device called the Excitement Battery in advance and sent it to a Magikoopa to put the finishing touches on it. Tails and Luigi thus went to get the battery while Eggman Nega and Vector stayed behind to make sure the Tokyo '64 did not run out of battery. Just as the battery was about to die though, Tails and Luigi returned with the fully-charged Excitement Battery and inserted it into the Tokyo '64. Immediately after, Sonic, Mario, Eggman, Bowser and Toad emerged from the device, and Eggman recognized Eggman Nega for his contributions.
In the Nintendo Switch version of the game, Eggman Nega has the following characteristics:
Icon
Skill Type
Biography
Wears unique clothing
between events
Technique
Eggman Nega has inherited Dr. Eggman's scientific genius as well as his wicked sneakiness. However, Eggman Nega doesn't actually like Dr. Eggman!

✓
Personality
Having inherited Dr. Eggman's scientific genius and his wicked sneakiness,[26] Eggman Nega is a sinister, ruthless, power-hungry, violent and cruel individual who seeks to dominate the world and those beyond if it is within his ability to do so. While they are similar in many regards from an outside point of however, Eggman Nega is hinted to be quite different from his ancestor on the inside.[1]
When facing his enemies, Eggman Nega usually remains calm and composed,[6] rarely allowing his temper to dominate his behavior. He is likewise cold and calculating, yet eerily polite in manner and speech,[1] the latter of which is quite different in comparison the more rude, short tempered and loud mannerisms of Eggman's. Cold-hearted[3] and lacking in empathy or concern for any living creature besides himself, Eggman Nega cares nothing for those his ambitions affect, to the point where he did not care about the devastation that awaited Blaze's world and its inhabitants when he caused its merging with Sonic's world.[9] He likewise has a sadistic, unnerving sense of humor and enjoys to mock his victims, often taunting them with his polite mannerisms and with facts that are especially hurtful to those he mocks.[27]
What sets Eggman Nega apart from his ancestor are his more monstrous and radical goals that threaten to destroy the world,[3] making him much more dangerous than Dr. Eggman. Rather than just dominating the world(s) he seeks to conquer, Eggman Nega seems more interested in bringing down desolation and disorder upon them. In fact, his interest in conquest seems to stem from a desire to make the world his "plaything" so that he can bring an age of fear and chaos upon it.[28] He even sought to release the Ifrit simply so that it could destroy the world.[18] He himself thinks that something like this would be "glorious."[28] He also appears to be highly insane and completely lacking in common sense, even more so than Dr. Eggman himself,[29] being perfectly willing to achieve any victory by any means, even at the cost of the world or his own existence, if his plans do not proceed as initially designed. For example, when his and Eggman's Egg Wizard was about lose to Sonic and Blaze in Deep Core, Eggman Nega gleefully attempted to destroy his foes with an attack that could not only destroy Sonic and Blaze, but himself, Eggman, and the entire planet, as well. Similarly, when it became clear to him that he could not change his time in his favor, he decided to destroy it instead.[30] That said, Eggman Nega is not entirely without concerns for his own life, as he wanted to be saved from the Chaotic Inferno Zone when he got stuck there.
Despite his obvious insanity, Eggman Nega is quite manipulative and cunning; Eggman himself has even admitted that Eggman Nega is very sneaky.[31] Not only did he successfully use Dr. Eggman and Rouge to do his dirty work for him on separate occasions,[9][22] but he also managed to overthrow Eggman two times and successfully pose as him without those who were not already aware of his identity noticing it. However, he can sometimes lose track of important details while making unnecessary speeches; when his Egg Salamander was about to be defeated, all Eggman Nega did was babble about how he made a small miscalculation and could still salvage his plan, not even noticing what was going on.[32]
Alongside his villainous behavior, Eggman Nega is overconfident, arrogant and sees himself above the others with his intelligence. He does not even consider his actions being wrong and always blames either Sonic and his friends or even his own ancestor for creating the bad reputation of his family. To this end, he will get rid of any obstacle that distorts his evil reputation, including those he has inherited from his family.
Like his ancestor, Eggman Nega loves to gloat loudly, although his voice is distinctively thinner than his ancestor's. He is also distinguished by his signature laughter that sounds like "Hee hee hee" in comparison to Dr. Eggman's more bolsterous "Ho ho ho".
Powers and abilities
Possessing scientific capabilities that are in no way inferior to Dr. Eggman's,[3] Eggman Nega possesses a genius-level intellect. Over his career, he has orchestrated numerous plots and schemes for universal and/or interdimensional dominion and destruction, all of which only fail due to his overconfidence and interference from Sonic and his allies. He is a remarkable scientist and engineer, as evidenced by the armies of robots and other mechanical machines of mass-destruction he has designed and created. Eggman Nega is also an incredibly skilled pilot that can match his ancestor Dr. Eggman in piloting skills with various mechas. Through means unknown, Eggman Nega can also freely travel across time and dimensions.[33]
Weaknesses
Eggman Nega's overconfidence often gets the better of him, leading to the downfall of his plans.[4]
Relationships
Blaze the Cat
One of Eggman Nega's main foes is Blaze the Cat, whom he has a hostile past with. Showing no fear of Blaze's fiery temperament, Eggman Nega enjoys talking down to Blaze and mocking her with his politeness and her failures or inadvertently assistances in his plans. Likewise, much to his amusement, Eggman Nega is easily able to make Blaze lose her composure when she is dealing with him.[9][28]
Dr. Eggman
Eggman Nega has a turbulent relationship with his ancestor, Dr. Eggman, which has varied over time. Due to Eggman's failures in the past having ruined his family's reputation, which has likewise come to deprive Eggman Nega of what he believes to be his destiny, the doctor has developed a dislike of Eggman and holds a grudge against him.[3][8] Eggman Nega himself sees Eggman as a "blockhead"[34] and has more than once used him and his likeness as pawns in his schemes.
Despite his dislike of Eggman, Eggman Nega is not above teaming up with him when they have common goals in mind which they will be able to achieve together. However, it is implied that it is usually Eggman Nega who seeks Eggman out in the first place when they begin a collaboration.[9][12] Nonetheless, the two always are always in nearly perfect synch when they work together and never argue over what they should do during their schemes, showing that they share a similar mindset. However, while the two seem to work as equals when collaborating, Eggman Nega has admitted that he is actually using Eggman for his own benefit, all without his ancestor catching on, like when he had Eggman steal the Sol Emeralds for him.[12] Also, while the two of them share a level of insanity, Eggman Nega's more radical tendencies tend to make Eggman freak out.[29]
When they are not collaborating, Eggman Nega is usually an enemy of Eggman. He most noticeably antagonized Eggman directly during the Onyx Island incident by turning him into a card and taking over the Eggman Empire so that he could rewrite the reputation of his family in the future. Similarly, he later took over Eggman's Badniks to trash Eggman's bases and have them aid him in his scheme to unleash the Ifrit, showing that while Eggman Nega may be able to tolerate Eggman as an ally, he is not above abandoning the trust Eggman has in him in order to further his agendas. During each of these incidents, Eggman would work in opposition to Eggman Nega by seeking out or helping out those who sought to stop Eggman Nega.
Sonic the Hedgehog
Eggman Nega made himself known to Sonic the Hedgehog during his first trip to Sonic's world. When they first met, Sonic mistook him for Eggman, but Eggman Nega politely brushed that off before promising to crush him, showing that despite new acquaintances, Eggman Nega saw no reason not to kill him. Although Sonic would subsequently defeat Eggman Nega time and time again, with the doctor promising that he would not forget it, he apparently saw Sonic as nothing more than a minor nuisance, as he would casually dismiss Sonic during their confrontation in Dead Line.[35] However, he was surprised to see Sonic intervene after he and Eggman beat Blaze and taken the Sol Emeralds' power, indicating that he had underestimated Sonic. Even so, during the incident in Blaze's world, Eggman Nega would express no change in enmity towards Sonic, and instead just casually greet him when they saw each other again on Southern Island, showing that even after coming to learn about the threat Sonic posed, he remained confident that he was inconsequential.
Silver the Hedgehog
Silver the Hedgehog is one of Eggman Nega's foes from the future. Because Eggman Nega tends to go back in time to mess with the past, Silver, whose job is to safeguard the future by preserving the past, usually ends up on a collision course with him. Silver in particular seems to perfectly aware of Eggman Nega's mannertisms and speech, which has allowed him to see through Eggman Nega's disguises more than once. This has led Eggman Nega to praise Silver for being very perceptive.[36] Regardless, Eggman Nega tends to believe in his arrogance that Silver's attempts to stop him are futile.
During the Onyx Island incident, Silver followed Eggman Nega to the past to stop him from abusing his matter-converting camera, and during the Ifrit incident, Silver chased Eggman Nega to the past again to stop him from ruining their time with the Ifrit. Eggman Nega himself has admitted that he admires Silver's determination, but he nontheless refuses to let the hedgehog interfere with his plans.[37]
Shadow the Hedgehog
Shadow the Hedgehog is another of Eggman Nega's foes. They first met each other during the Onyx Island incident, where Shadow, in his search for Dr. Eggman, mistook a disguised Eggman Nega for Eggman. Despite this mistake in identity, Eggman Nega quickly tried to use Shadow to have him slow down Silver. Although Eggman Nega would subsequently tried to destroy Shadow for interfering with his plans, when Shadow finally discovered Eggman Nega's true identity, Eggman Nega found another reason to dispose of him. Later, during the Ifrit incident, Eggman Nega found Shadow opposing him yet again, although he did not let Shadow's interference stop his plans. He even went as far as to try and trick Shadow with his Dr. Eggman disguise, unafraid of retribution from Shadow, who eventually discovered his ruse and sought to make him pay for deceiving him.
Rouge the Bat
During the Onyx Island incident, Eggman Nega became an enemy of Rouge the Bat when she discovered his true identity underneath his disguise as Dr. Eggman and tried reporting him to Shadow. However, Eggman Nega swiftly dealt with her by turning her into a card. Later, during the Ifrit incident, Eggman Nega made Rouge an unware pawn in his scheme to release the Ifrit by tricking her into collecting the Chaos Emeralds that were needed for his scheme for him, namely by posing as an unspecified client who offered to pay her a reward. This shows that Eggman Nega is well aware of Rouge's greediness and weakness for valuable rewards.
Espio the Chameleon
When Espio the Chameleon was assigned to uncover the recent Chao-nappings, he came Eggman Nega. He and Silver soon after joined forces to stop him. Eggman Nega did afterward whatever he could to stop the duo, but though he failed to stop them, he remained confident that Espio's efforts were in vain. However, Espio ended up proving Eggman Nega wrong by helping stop the Ifrit when he tried to release it. When he later got stuck in the Chaotic Inferno Zone, Eggman Nega begged Espio and Silver to save him, but Espio answered back saying, "You reap what you sow, Eggman Nega", and left him trapped in that Zone.
Friends/allies
Enemies
In other media
Archie Comics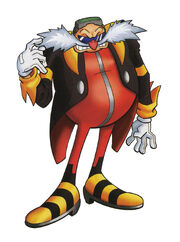 In the Sonic the Hedgehog comic series and its spin-offs, published by Archie Comics, Eggman Nega was an inter-dimensional criminal who was waging a single-man war against the Zone Cops of the No Zone. During his schemes, he encountered Sonic the Hedgehog, Tails, Blaze the Cat, and Marine the Raccoon when he tried to steal a Chaos Emerald.
Following the events of Worlds Collide which ended with the Super Genesis Wave rewriting reality, Eggman Nega became nearly identical to his game counterpart.
Theme songs
Quotes
Trivia
References