The Egg Spear[1] is a recurring weapon in the Sonic the Hedgehog series. They are spears used primarily by the Egg Pawn family of the Eggman Empire.
Description
Despite its name, the Egg Spears resemble more the stereotypical lance. They are quite long by comparison, easily over twice an Egg Pawn's height in length. Possessing a long and white, cone-shaped head with a sharp point, they have a large and round orange vamplate and a thin orange and grey grip. Over time, the Egg Spears' vamplates have gotten thicker and their heads have received an orange tip.
Game appearances
Sonic Heroes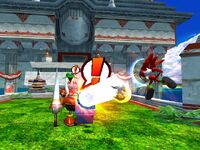 The Egg Spears first appeared in Sonic Heroes alongside the Egg Pawns themselves as one of the standard weapons wielded by several Egg Pawns, Solid Pawns and Egg Knights. In gameplay, the enemies attack the player with the Egg Spears by simply charging into the playable characters with them. Touching the Egg Spears, even when the enemies are standing idly by, will harm the player.
Shadow the Hedgehog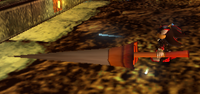 In Shadow the Hedgehog, the Egg Spear appeared as a close combat-type weapon usable to both enemies and the player. In gameplay, they are only found in certain Stages, like Sky Troops or Circus Park, where they can be wielded by Egg Pawns who will use them against the player.
Egg Spears can be dropped by defeated enemies that wield them or released from containers. Touching them will make Shadow pick them up automatically and pressing

/
/

(whether on the ground or in mid-air) makes him attack with them. As a close combat weapon, the Egg Spear is designed for face-to-face combat. A Egg Spear can be attacked with a total of six times and once those tries are spent, it becomes useless. However, it can be reloaded with another six attacks by picking up another Egg Spear.
Sonic Colors
In the Wii version of Sonic Colors, the Egg Spear is a weapon used by certain Egg Pawns against the player. Rather than charging into the player with them like in Sonic Heroes, the Egg Pawns use the Egg Spears for close-up thrusts. Unlike most other Egg Pawn weapons in this game, the Egg Spears can appear in multiple Areas, regardless of the local theme.
Sonic Generations
Egg Pawns appear once again wielding this weapon. They are seen using it in Seaside Hill, and as always, the range of the weapon is very short.
References
↑ Kaizen Media Group (22 November 2005). "Appendix". Shadow the Hedgehog: Prima Official Game Guide. Prima Games. p. 91. ISBN 978-0761551959.
---
Main article | Gallery | Beta elements | Staff | Scripts (Team Sonic, Team Dark, Team Rose, Team Chaotix, Last) | Glitches
Characters
Playable
characters
Team Sonic
Sonic | Tails | Knuckles
Team Rose
Amy | Cream | Cheese | Big
Team Dark
Shadow | Rouge | Omega
Team Chaotix
Espio | Charmy | Vector
Team Super Sonic
Super Sonic | Super Tails | Super Knuckles
Non-playable characters
Eggman | Metal Sonic (Neo Metal Sonic) | Chocola | Froggy | Shadow Android | Omochao
Stages
1P stages
Sea Gate | Seaside Hill | Ocean Palace | Grand Metropolis | Power Plant | Casino Park | BINGO Highway | Rail Canyon | Bullet Station | Frog Forest | Lost Jungle | Hang Castle | Mystic Mansion | Egg Fleet | Final Fortress | Special Stage
2P stages
BINGO Highway | Casino Course | City Course | City Top | Casino Ring | Egg Fleet | Egg Treat | Frog Forest | Grand Metropolis | Hot Elevator | Mad Express | Pinball Match | Rail Canyon | Road Rock | Seaside Course | Seaside Hill | Special Stage | Terror Hall | Turtle Shell
2P Play Mode
Action Race | Battle | Bobsled Race | Expert Race | Quick Race | Ring Race | Special Stage
Enemies
Bomb Flapper | Cameron | Cannon Flapper | E-2000 | E-2000R | Egg Bishop | Egg Hammer | Egg Knight | Egg Magician | Egg Pawn | Egg Pawn (Casino version) | Falco | Flapper | Gold Cameron | Gold Klagen | Gun Flapper | Heavy-Egg Hammer | Klagen | Laser Flapper | Needle Flapper | Pumpkin ghost | Rhinoliner | Search Flapper | Solid Flapper | Solid Pawn
Bosses
Egg Albatross | Egg Emperor | Egg Hawk | Metal Madness | Metal Overlord | Robot Carnival | Robot Storm | Team Chaotix | Team Dark | Team Rose | Team Sonic
Moves/
Techniques
Speed
Maneuvers
Homing Attack | Jump Dash | Kick | Light Dash | Lightspeed Attack | Propeller Hammer | Rocket Accel | Shuriken | Spin | Spin Jump | Swinging Hammer Attack | Tornado Jump (Black Tornado, Blue Tornado, Leaf Swirl, Tornado Hammer) | Triangle Jump
Power
Maneuvers
Auto Homing | Body Press | Bubblegum Descent | Fire Combination | Fire Dunk | Fire Launcher | Fireball Jump | Forward Power Attack | Hammer Down | Jump Fire Knock | Jump Fireball | Remote Power Attack (Fireball, Fire Knock) | Spin Jump | Triangle Dive | Umbrella Descent | Wide Power Attack (Big Fishing, Omega Arm, Vector Breath, Volcanic Dunk)
Fly
Maneuvers
Ascending Flight | Cheese Attack | Dummy Ring Bomb | Spin Jump | Sting Attack | Thunder Shoot | Quick Ascent
Team Blasts
Sonic Overdrive | Chaos Inferno | Flower Festival | Chaotix Recital | Super Sonic Power
Misc.
Chaos Control | Crouch | Crystal Attack | Grind Step | Grinding
Gimmicks and obstacles
Ball Switch | Bingo | Bobsled | Bomb | Bumper | Bumper wall | Cannon | Conveyor Belt | Dash Panel | Dash Rail | Dash Ring | Detonator Switch | Fan | Fireball | Flipper | Flower | Formation Change Gate | Giant Frog | Giant Switch | Grind Rail | Hint Ring | Iron ball | Jump Panel | Kao | Laser field | Mushroom | Orb switch | Pole | Power Gong | Propeller | Pulley | Rainbow Ring | Slot machine | Spring | Target Switch | Trolley | Vine | Warp Flower | Weight | Wide spring
Objects
Capsule | Car | Casino chip | Castle Key | Cell Key | Chaos Emerald | Chaotix Detective Agency | Check Point | Container (Cage, Case, Steel Container, Unbreakable Container, Wooden Container) | Emblem | Engine Core | Floating Item Box | Goal Ring | Hermit crab | Item Box (Barrier, Fly Charge, High Speed, Invincible, Rings, Power Core, Team Blast Ring, 1-Up) | Light spider marking | Ring | Special Stage Key | Sphere | Torch
Voice actors
English
Ryan Drummond (Sonic, Metal Sonic) | Deem Bristow (Eggman) | William Corkery (Tails) | Scott Drier (Knuckles) | David Humphrey (Shadow) | Lani Minella (Rouge, Omochao) | Jon St. John (Omega, Big) | Jennifer Douillard (Amy) | Sarah Wulfeck (Cream) | Bill Corkery (Espio) | Marc Biagi (Vector) | Emily Corkery (Charmy)
Japanese
Jun'ichi Kanemaru (Sonic, Metal Sonic) | Chikao Ōtsuka (Eggman) | Ryō Hirohashi (Tails) | Nobutoshi Canna (Knuckles) | Kōji Yusa (Shadow) | Rumi Ochiai (Rouge) | Taiten Kusunoki (Omega) | Taeko Kawata (Amy) | Sayaka Aoki (Cream) | Takashi Nagasako (Big) | Yūki Masuda (Espio) | Kenta Miyake (Vector) | Yōko Teppōzuka (Charmy) | Etsuko Kozakura (Omochao)
Music
Songs
Sonic Heroes | We Can | This Machine | Follow Me | Team Chaotix | What I'm Made of...
Albums
Complete Trinity: Sonic Heroes Original Soundtrax | Triple Threat: Sonic Heroes Vocal Trax | Sonic Heroes Official Soundtrack | Sonic Heroes Original Soundtrack 20th Anniversary Edition
Other
Armored train | Dummy Ring | Egg Bazooka | Egg Fleet | Egg Gun | Egg Spear | Fly Type | Formation Change Gate | Health Gauge | HEXAeco | Moon | Orca | Palm Plants | Power Type | Rank | Sonic Heroes Puzzle | Shuttle loop | Speed Type | Super Hard Mode | Team Blast Gauge | Tornado 2
---
Main article | Gallery | Script (Main Story) | Script (Last Story) | Library Sequences | Credits | Glitches
| | |
| --- | --- |
| Characters | Shadow (Hero Shadow, Dark Shadow, Super Shadow) | Black Doom (Devil Doom) | Eggman | Sonic | Tails | Knuckles | Amy | Rouge | Omega | Team Chaotix (Vector, Espio, Charmy) | Cream | Cheese | Maria | Gerald | Commander | President | Researcher | Secretary | Chao |
| Enemies | Ark Missile Turret | Artificial Chaos (Artificial Chaos P-100, Cell) | Black Assassin | Black Hawk | Black Oak | Black Volt | Black Warrior | Black Wing | Black Worm | Big Foot Type A | Big Foot Type B | Death Leech | Death Worm | Egg Bommer | Egg Pawn | Egg Pierrot | Giant Walker | Giga Trooper | Gold Beetle | Gun Beetle | GUN Soldier | GUN Trooper | Jack Bommer | Killer Plant | Mono Beetle | Rocket Beetle | Sand Worm | Shadow Android | Spark Beetle |
| Stages | Air Fleet | Black Comet | Central City | Circus Park | Cosmic Fall | Cryptic Castle | Death Ruins | Digital Circuit | Final Haunt | GUN Fortress | Glyphic Canyon | Iron Jungle | Lava Shelter | Lethal Highway | Lost Impact | Mad Matrix | Prison Island | Sky Troops | Space Gadget | The ARK | The Doom | The Last Way | Westopolis |
| Bosses | Black Bull | Black Doom | Blue Falcon | Devil Doom | Diablon | Egg Breaker | Egg Dealer | Heavy Dog |
| Moves/Techniques | Chaos Arrow | Chaos Blast | Chaos Control | Chaos Spear | Crouch | Dark Spin Dash | Grinding | Grind Step | Homing Attack | Jump Dash | Light Dash | Mid-Air Attack | Missile Fever | Overturn | Pawn Fever | Pick up | Punch | Ring Fever | Shadow Fever | Slide | Spin Dash | Spin Jump | Super Sonic Boost | Swift strike | Tail Swipe | Triangle Jump |
| Weapons | 4-Shot RPG | 8-Shot RPG | Bazooka | Big Worm Shooter | Big Barrel | Black Barrel | Black Sword | Bomb Fever | Egg Bazooka | Egg Gun | Egg Spear | Egg Vacuum | Environment Objects | Flash Shot | Gatling Gun | Grenade Launcher | Heal Cannon | Heavy Machine Gun | Heavy Shot | Laser Rifle | Light Shot | Omochao Gun | Pistol | Refractor | RPG | Samurai Blade | Satellite Gun | Semi-Auto Rifle | Shadow Rifle | Splitter | Survival Knife | Tank Cannon | Vacuum Pod | Wide Worm Shooter | Worm Shooter |
| OST / Lost and Found | All Hail Shadow | Almost Dead | Chosen One | E.G.G.M.A.N. | I Am... All of Me | Never Turn Back | Tripod Baby | Vengeance is Mine | Waking Up | Who I Am |
| English voice actors | Jason Griffith (Sonic, Shadow) | Sean Schemmel (Black Doom) | Mike Pollock (Eggman, Gerald) | Amy Palant (Tails) | Dan Green (Knuckles) | Lisa Ortiz (Amy) | Kathleen Delaney (Rouge) | Rebecca Honig (Cream, Maria) | Carter Cathcart (Vector) | David Wills (Espio) | Amy Birnbaum (Charmy) | Jeff Kramer (Omega) | Andrew Rannells (GUN Soldier) | Marc Thompson (Commander) | Maddie Blaustein (President) | Bella Hudson (Secretary) |
| Japanese voice actors | Kōji Yusa (Shadow) | Jun'ichi Kanemaru (Sonic) | Ryūzaburō Ōtomo (Black Doom) | Chikao Ōtsuka (Eggman, Gerald) | Ryō Hirohashi (Tails) | Nobutoshi Canna (Knuckles) | Taeko Kawata (Amy) | Rumi Ochiai (Rouge) | Sayaka Aoki (Cream) | Yuri Shiratori (Maria) | Kenta Miyake (Vector) | Yūki Masuda (Espio) | Yōko Teppōzuka (Charmy) | Taiten Kusunoki (Omega) | Takashi Yoshida (GUN Soldier) | Banjō Ginga (Commander) | Yutaka Nakano (President) | Junko Kitanishi (Secretary) | Ryō Hirohashi (Additional Chao) |
| Other | Air Saucer | Barrel | Barrier | Battle Mode | Black Comet | Black Slab | Black Tank | Bomb Unit | Case | Cell Cannon | Chaos Emerald | Central Information Agency | City annihilator bomb | Coaster | Color Panel | Container (Special Weapon Container, Steel Container, Unbreakable Container, Wooden Container) | Convertible | Core program | Eclipse Cannon | Dark Gauge | Dark Rider | Defense Unit | Egg Balloon | Egg Monitor | Eggman Fleet | Electrified Rail | Energy Core | Expert Mode | Fan | Fire in the Sky Festival | Firewall | Flash game | Floating Item Box | Goal Ring | Gravity Control Switch | Green energy fluid | Gun Lift | GUN Motorcycle | Gun ship | GUN turret | GUN Vehicle | Heal Unit | Health Gauge | Hero Gauge | Hint Ring | HMMWV | Item Box (1-Up, Barrier, Damage Recover, Heat Barrier, Invincible, Rings) | Jump Panel (Prison Island) | Jump Panel (ramp) | Jump Vehicle | Junction switch | Lantern | Laser field | Laser turret | Light-speed circuit | Magnetic Barrier | Meteorite | Mother computer | Pole | President's escape pod | Prison Island | Prosperity ritual | Pulley | Red fruit | Red Slime | Ring | Rocket | Secret Door | Secret Key | Shield switch | Shooting Gallery | Small bomb | Surveillance camera | Tails' Spaceship | Temple jewel | Toxic marsh | Toxic river | Vine | Warp Hole | White House | Wide spring |
---
Main article | Gallery | Scripts (Wii, DS) | Credits (Wii, DS) | Glitches
Playable characters
Sonic (Super Sonic) | Virtual Hedgehog*
Non-playable characters
Tails | Dr. Eggman | Yacker | Orbot | Cubot | Mother Wisp** | Cream** | Cheese** | Milk** | Blaze** | Silver** | Knuckles** | Rouge** | Team Chaotix (Vector**, Espio**, Charmy**) | Amy** | Big** | Omega** | Shadow**
Wisps
White | Cyan | Yellow | Orange | Blue* | Green* | Pink* | Red** | Purple* | Violet**
Areas
Tropical Resort | Sweet Mountain | Starlight Carnival | Planet Wisp | Aquarium Park | Asteroid Coaster | Terminal Velocity | Game Land | Special Stages**
Enemies
Batbot** | Big Chaser* | Buzzer | Chopper | Crabmeat* | Egg Chaser | Egg Pawn | Egg Hammer** | Flapper** | Jawz | Larva* | Mole | Moto Bug* | Sandworm* | Sea Monster | Spinner (Thunder Spinner, Metal Spinner*) | Spiny* | Sprinkler | Uni Uni**
Bosses
Rotatatron* | Globotron** | Captain Jelly | Frigate Orcan | Refreshinator* | Drillinator** | Admiral Jelly | Frigate Skullian | Asteroid Coaster sub-boss* | Nega-Wisp Armor | Nega-Mother Wisp**
Moves/Techniques
Air Boost | Assist* | Boost | Boost Mode** | Crouch* | Double Jump* | Drift* | Grind Step | Grinding | Homing Attack | Hop* | Jump Dash | Kick boost | Slide | Skydiving | Spin Dash | Spin Jump | Stomp | Super Sonic Boost | Ring Dash* | Wall Jump
Color Powers
Laser | Drill | Rocket | Cube* | Hover* | Spikes* | Frenzy* | Burst** | Void** | Final Color Blaster
Gimmicks and obstacles
Accelerator Gun | Bomb | Bottomless pit | Dash Panel | Dash Rail | Dash Ring | Exploding Balloon** | Fan | Fountain | Grind Rail | Hang Glider | Hint Ring* | Iron ball* | Jump Panel | Mine** | Mobile spring* | Movable box | Moving Crate | Optical cable | Prism | Pulley | Rainbow Ring | Red School | Slot machine | Spike Trap | Spring | Spring Pole | Switch | Thorn Spring | Underground Pipe | Wide spring | Zip Line
Objects
Billiard Ball | Blue Block* | Blue Ring* | Chaos Emerald | Container (Black Mound, Steel Container, Unbreakable Container, Wooden Container) | Egg Medal* | Goal Ring | Item Box** (1-Up**, 5 Ring Bonus**, Exploding Balloon**, Invincible**, Magnetic Shield**, Mine**, Power Sneakers**, Random Ring Bonus**, Reaper**, Shield**, Spring**, Steal Boost**, Steal Wisp**, Time Bonus**) | Meteorite | Prison Capsule | Question Capsule* | Ring | Special Ring | Star Post | Super Ring* | Wisp Capsule
English voice actors
Roger Craig Smith (Sonic) | Mike Pollock (Eggman) | Kate Higgins (Tails) | Travis Willingham** (Knuckles) | Cindy Robinson** (Amy) | Kirk Thornton** (Shadow) | Wally Wingert (Cubot) | Quinton Flynn** (Silver) | Laura Bailey** (Blaze) | Karen Strassman** (Rouge) | Michelle Ruff** (Cream) | Keith Silverstein** (Vector) | Troy Baker** (Espio) | Colleen O'Shaughnessey** (Charmy) | Vic Mignogna** (Omega)
Japanese voice actors
Junichi Kanemaru (Sonic) | Chikao Ōtsuka (Eggman) | Ryo Hirohashi (Tails) | Nobutoshi Canna** (Knuckles) | Taeko Kawata** (Amy) | Koji Yusa** (Shadow) | Rumi Ochiai** (Rouge) | Daisuke Ono** (Silver) | Nao Takamori** (Blaze) | Sayaka Aoki** (Cream) | Kenta Miyake** (Vector) | Yuuki Masuda** (Espio) | Youko Teppozuka** (Charmy) | Taiten Kusunoki** (Omega)
Music
Songs
Reach for the Stars | Speak with Your Heart
Albums
Vivid Sound X Hybrid Colors: Sonic Colors Original Soundtrack
Other
Auto Running | Boost Gauge | Bucket O'Sushi* | Dr. Eggman's Incredible Interstellar Amusement Park | Earth | Egg Gun | Egg Shuttle* | Egg Spear | Health Gauge** | Infinite Boost** | Miles Electric | Mind Control Ray | Moon | Nega-Wisp | Options Satellite* | Rank | Real-Time Interaction* | Shuttle loop | Time Attack** | Tractor beam generator | Wisp Gauge
---
Main article | Gallery | Script (Console/PC, 3DS) | Beta elements | Staff (Console/PC, 3DS) | Glitches
Playable characters
Modern Sonic (Modern Super Sonic) | Classic Sonic (Classic Super Sonic)
Non-playable characters
Dr. Eggman | Time Eater | Tails | Classic Tails | Amy | Knuckles | Shadow | Cream | Cheese | Silver | Blaze | Omochao | Team Chaotix (Espio, Vector, Charmy) | Orbot | Cubot | Animals (Flicky, Picky, Pecky, Cucky)
Wisps
Cyan** | Orange* | Pink* | Red**
Stages
Console/PC*
Green Hill | Chemical Plant | Sky Sanctuary | Speed Highway | City Escape | Seaside Hill | Crisis City | Rooftop Run | Planet Wisp | Casino Night
Nintendo 3DS**
Green Hill | Casino Night | Mushroom Hill | Emerald Coast | Radical Highway | Water Palace | Tropical Resort
Challenge Acts*
Doppelganger Race! | The Buzz Bombers' Revenge! | Knuckles: Horde of Enemies | Swingset Circus | High Speed Challenge | Look Out Below! | Tails: Way Past Fast | Jump Rush | 300% Boost Gauge Challenge | Tails: Toxic Skies | Which Switch is Which? | Aqua Shield Challenge | Invincibility Challenge | One Ring Challenge | Amy: Taking the Leap Together! | Grappling with Grabbers | Underwater Ring Machine | Eggrobo Rush | Aerial Paradise | Ring Time Challenge | Amy: Topsy Turvy | Knuckles: Buried Treasure | 200% Boost Gauge Challenge | Balloon Bonanza | High-Speed Hijinks (Modern) | Cream: Chao Hunt | Hot Pursuit (Classic) | High Speed Challenge 2 | Resisting Arrest | Overdrift | Hot Pursuit (Modern) | Drill Baby Drill | Espio: Master of Camouflage | Lord of the Board | Thunder Shield Challenge | Rouge: The Bombardier | Rite of Spring | Cream: Helping Hand | Dash Ring 1-2-3 (Modern) | Topsy-Turvy | High-Speed Hijinks 2 | Rescue the Animals! | Espio: Way of the Ninja | High-Speed Hijinks (Classic) | Underwater Challenge | Rouge: The Temptress | Trick Island | Surf, Sea, and Sand | Terror From the Deep | Goal Post Juggle | Vector: Through the Storm | Flame Shield Challenge | Ring Time Challenge 2 | Power Stomp Challenge | Switcheroo | Blaze: Piercing the Flames | Four-way Cannon Cavalcade | High-Rise Balloon Climb | Dash Ring 1-2-3 (Classic) | Charmy: Don't Bug Me! | One Ring Challenge 2 | Barrel Ring Bonus | Rooftop Rail Grind | Endless Boost | Vector: Pick Up the Beat | With Your Powers Combined | Goal Post Juggle 2 | Chase After Blaze | Rescue the Animals 2! | Cart Challenge | Charmy: High in the Sky | Action Master | Orange Rocket, Blast Off!
Enemies
Aero-Cannon* | Butterdroid** | Buzz Bomber | Buzzer | Chopper | Cop Speeder* | Crabmeat | Crawl** | Dragonfly** | Flapper** | Egg Chaser* | Egg Diver** | Egg Fighter* | Egg Fighter: Sword* | Egg Launcher (H)* | Egg Launcher (H+V)* | Egg Launcher (V)* | Egg Pawn | Egg Pawn (spear) | Eggrobo* | Giant Chopper* | Gold Beetle** | Grabber* | Gun Beetle* | Gun Hunter | Iblis's Minions (Iblis Biter, Iblis Taker, Iblis Worm)* | Kiki** | Klagen** | Madmole** | Mono Beetle | Moto Bug | Mushmeanie** | Newtron | Rhinotank** | Sandworm* | Spinner | Spiny* | Sprinkler* | Sweeper** | Thunder Spinner
Bosses
Console/PC*
Metal Sonic | Death Egg Robot | Shadow the Hedgehog | Perfect Chaos | Silver the Hedgehog | Egg Dragoon | Time Eater
Nintendo 3DS**
Metal Sonic | Big Arm | Shadow the Hedgehog | Biolizard | Silver the Hedgehog | Egg Emperor | Time Eater
Moves/
Techniques
Playable characters
Air Boost | Bound Jump* | Crouch | Double Jump* | Drift* | Freestyle Tricks* | Grind Step | Grinding | Homing Attack | Hop | Jump Dash | Kick boost | Lightspeed Dash* | Mid-Air Dash* | Quick Step* | Boost | Slide | Skydiving* | Spin Dash | Spin Jump | Stomp | Super Sonic Boost | Super Sonic Missile | Super Sonic Spinning | Wall Jump
NPCs
Chaos Spear | Drill Attack* | Fire Beam* | Heart Effect* | Ice Wave* | Meteor Smash* | Ninja Arts: Camouflage* | Propeller Flying* | Psychic Knife | Restraint Trap | Ring Spark Field | Sun Burst | V. Maximum Overdrive Attack | Warping arm attack | Whirlwind*
Color Powers
Cyan Laser** | Orange Rocket* | Pink Spikes* | Red Burst**
Skills*
Aqua Shield | Flame Shield | Thunder Shield | Twin Spin Attack | Invincible Start | Shield | Power Sneakers | Long Spin Dash | Treasure Scanner | Homing Attack | Hercules Muscles | Breath Holder | Boardmaster | Ring Time | Blast Off | Speed Up | Direct Jump | Power Stomp | Quick Slide | Acceleration | Smasher Bonus | Ring Energy Bonus | Boost Gauge Up | Serial Homing | Auto-Gauge | Gauge Rebooter | Trick Mastery | Endless Boost | Power Brake | Sure-Footed | Safety Net | Last Chance | 10-Second Rings | Athleticism | Time Break | Super Sonic | Sega Genesis Controller
Gimmicks and obstacles
Balloon | Barrel | Big Balloon | Bomb | Bonus Bell* | Bottomless pit | Bumper | Cannon | Cart | Cloud* | Conveyor Belt** | Crusher | Dash Panel | Dash Rail | Dash Ring | Dimensional Bomb | Explosion Trap | Fan | Flipper | Four-way Cannon* | Gear Platform | Gondola* | GUN Military Truck* | Hanging Bell* | Heart bomb* | Helicopter* | High-speed warp tube | Horizontal Bar | Iron ball | Jump Panel (plate) | Jump Panel (ramp) | Kao | Laser field | Meteorite | Movable box | Mushroom** | Pole Elevator | Prism** | Propeller | Propeller Spring | Pulley | Rainbow Ring | Rocket | Route Signal* | Seed Propeller** | Seesaw | Slot machine | Spring | Spring Catapult | Spring Pole | Spike Trap | Spinning Top | Spinning Platform | Spotlight | Switch | Trap Spring | Wall Jump Block | Warp Point | Wide spring | Zip Line
Objects
Air Bubble | Boss Gate | Boss Gate Key* | Buoy | Capsule | Chaos Emerald | Container (Case, Spike Block, Steel Container, Unbreakable Container, Wooden Container) | Crank | Energy Core | Goal Ring | Information Pod* | Item Box (1-Up, Aqua Shield*, Flame Shield*, Invincible, Power Sneakers*, Skateboard*, Super Ring, Thunder Shield) | Medal | Mega Mack* | Musical note* | Red Star Ring* | Ring | Snowboard | Sphere** | Star Post | Stomping Shoes** | Time Bonus | Wisp Capsule
English voice actors
Roger Craig Smith (Sonic) | Mike Pollock (Eggman) | Kate Higgins (Tails) | Travis Willingham (Knuckles) | Cindy Robinson (Amy) | Kirk Thornton (Shadow) | Quinton Flynn (Silver) | Laura Bailey (Omochao, Blaze) | Karen Strassman (Rouge) | Michelle Ruff (Cream) | Keith Silverstein (Vector) | Troy Baker (Espio) | Colleen O'Shaughnessey (Charmy)
Japanese voice actors
Junichi Kanemaru (Sonic) | Chikao Ōtsuka (Eggman) | Ryo Hirohashi (Tails (Modern)) | Takuto Yoshinaga (Tails (Classic)) | Nobutoshi Canna (Knuckles) | Taeko Kawata (Amy) | Koji Yusa (Shadow) | Rumi Ochiai (Rouge) | Daisuke Ono (Silver) | Nao Takamori (Blaze) | Sayaka Aoki (Cream) | Kenta Miyake (Vector) | Yuuki Masuda (Espio) | Youko Teppozuka (Charmy) | Etsuko Kozakura (Omochao)
Music
Songs
Back 2 Back | Escape from the City* | Vengeance is Mine** | You're My Hero
Albums
Blue Blur: Sonic Generations Original Soundtrack | Sonic Generations: 20 Years of Sonic Music | History of the 1st Stage Original Soundtrack Blue Edition | History of the 1st Stage Original Soundtrack White Edition
Other
Sonic's birthday | Boost Gauge | Chao in Space | Collection Room | Combo* | Corkscrew loop | Death Egg Robot* | Egg Dragoon* | Egg Gun | Egg Mobile | Egg Spear | Havok* | Health Gauge** | Lair of the Time Eater | Miles Electric | Orca | Perfect Bonus | Rank | Skill Shop* | Sonic Generations (manga) | Sonic Generations of Skate | Statue Room* | Time Attack | Tornado-1 | Totem Pole | White Space | Winding Tunnel | Wisp Gauge**

*Console/PC version only
**Nintendo 3DS version only